How a family of film buffs set up a mini-movie theatre inside a 990 sq ft BTO flat
CNA Lifestyle's Making Room series looks at small homes with big transformations. This week, it's movie magic, from blackout curtains, plush reclining seats and a Dolby sound system.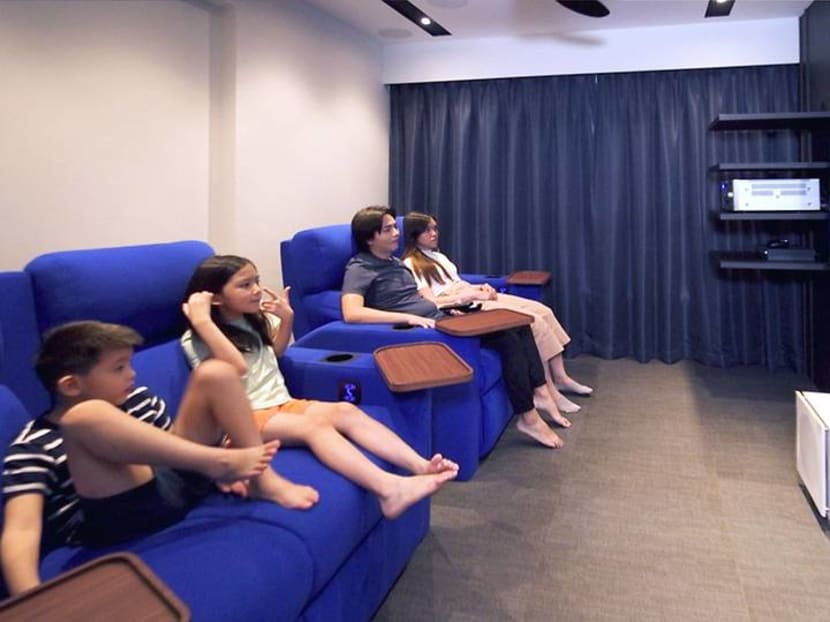 What does a family that really loves to watch films do to bring the cinematic experience closer to home? Make sure they can have that experience without ever stepping outside, of course.
That's what movie buffs Amos and Amanda did in their 990 sq ft BTO HDB flat at St George Towers in Bendemeer, where they live with their two children, Don and Dawn.
The couple, who both work as management executives, were keen to bring family film-watching to the next level – which was an added bonus given all the advantages they already had.
"We love the quiet surroundings, breathtaking views, central location, and the fact that it's near to my wife's parents' home," said Amos.
Their plans to create a bit of movie magic was so important to the couple that they saved up for it from the very beginning of their plans to buy and renovate their home. They skipped having a wedding dinner when they got married, then lived rent-free with their parents and siblings in the early years of marriage and parenthood.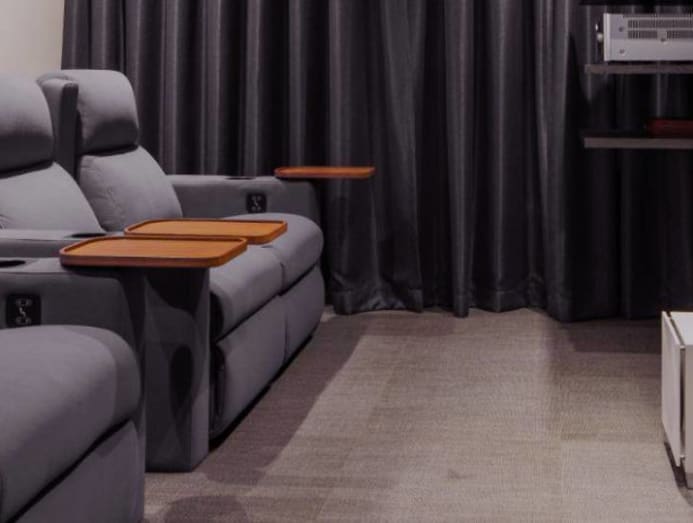 "Money spent on a wedding dinner and home rental can be burnt quickly like a matchstick, while home renovations allow the money to light up for a longer duration, like an LED lamp," Amos quipped.
To help them realise their dreams, they engaged Jack Chan of interior design firm Neu Konceptz for the renovation.
"Besides sleeping, media consumption is what we do most at home. Instead of having each family member glued to a different mobile device with limited audio and visual resolution, while compromising on comfort – think: Neck strain – I wanted the whole family to be able to come together to share music and movies, achieving a group win.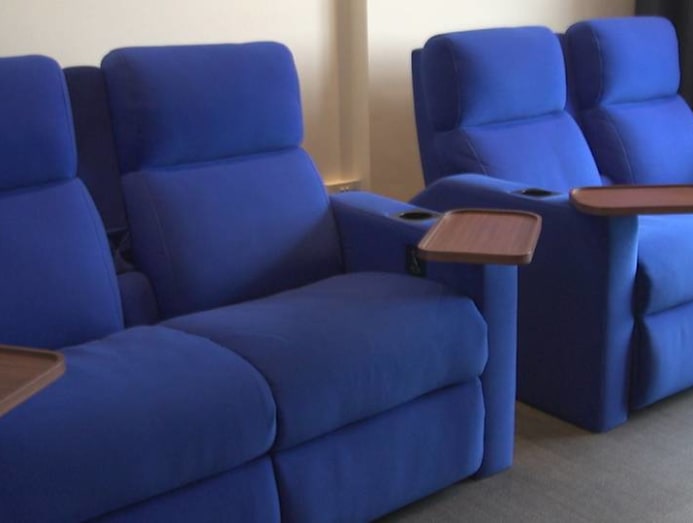 "I was inspired by the Nash Equilibrium from the movie A Beautiful Mind," explained Amos, who loves movies based on true stories, such as Schindler's List and The Pianist.
Having an immersive multichannel audio system – Dolby Atmos, no less – was key. As such, in-ceiling speakers with acoustic insulators provide optimal aural pleasure in every single room, even the bathrooms.
I wanted the whole family to be able to come together to share music and movies, achieving a group win.

The plush reclining sofas in the living room – Amos and Amanda splashed out on Ferco cinematic seats – allow viewers the option of watching movies sitting up, or lying down. These come with built-in side tables, and cup holders in the arm rests. Blackout curtains reduce unwanted glare on the flat TV screen, while dimmer lights create a cosy feel, encouraging viewers to snuggle up.
Homogenous floor tiles with a herringbone fabric lining are used throughout, and not just for their elegant appearance – they help absorb sound and reduce echo.
All the doors throughout the home resemble those used in high-end recording studios: These come with double-glazed glass panels with adjustable blinds encased within, allowing others to have quiet time or privacy when needed, or can be raised to make the apartment look larger and more open. These are soundproof as well.
A subdued palette of stark white, medium grey, dark wood, black glass and granite, and brushed gold accents are used throughout for a seamless look.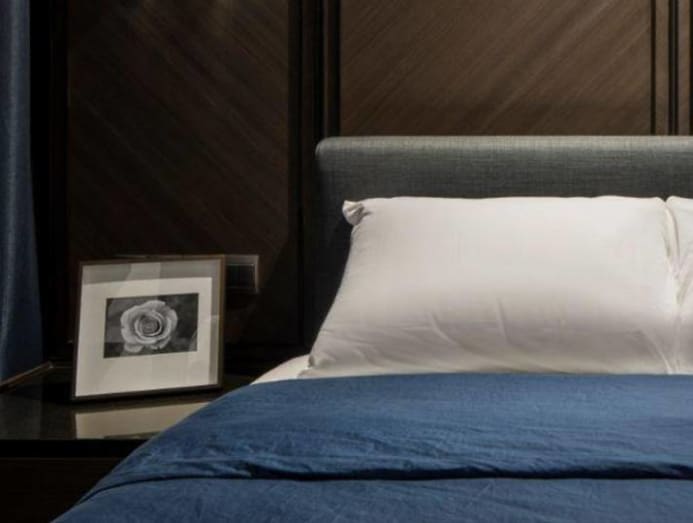 Meanwhile, the master bedroom exudes timelessly glamour, with dark wood panels, metallic wall sconces, custom-built bedside tables, a feature wall in white marble, and full blackout drapes.
Of course, each bedroom is set up for movie watching, with adjustable recliner beds that allow them to choose the perfect position for watching movies, or sleeping.
Wardrobes with aluminium-framed glass sliding doors are rust-free and easy to maintain, and make the bedrooms look spacious.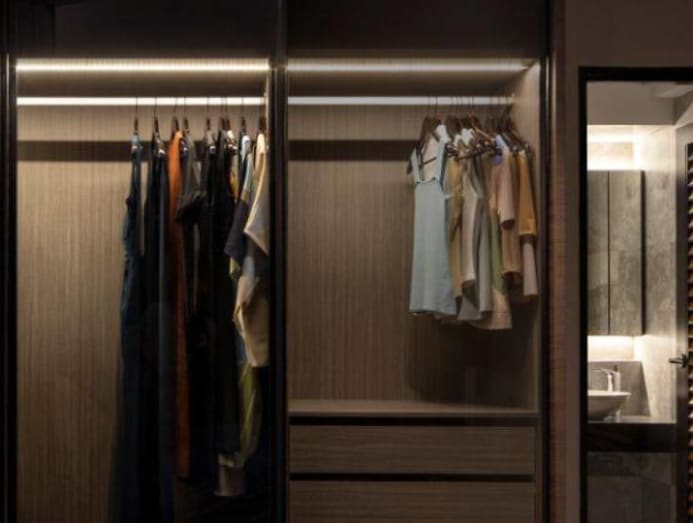 The dining set-up is more reminiscent of a conference room, with a very corporate-looking rectangular black glass-topped table surrounded by ergonomic mesh-backed office chairs instead of the more usual dining chairs.
"Before marriage, my wife and I used to travel to the airport, coffee shops and to the library to study for our degree programmes. I wanted the same blend of comfort and modernity," explained Amos.
He noted how good he felt during hours-long meetings at the interior design firm he'd engaged for his home renovations, and decided he wanted to recreate that for his home.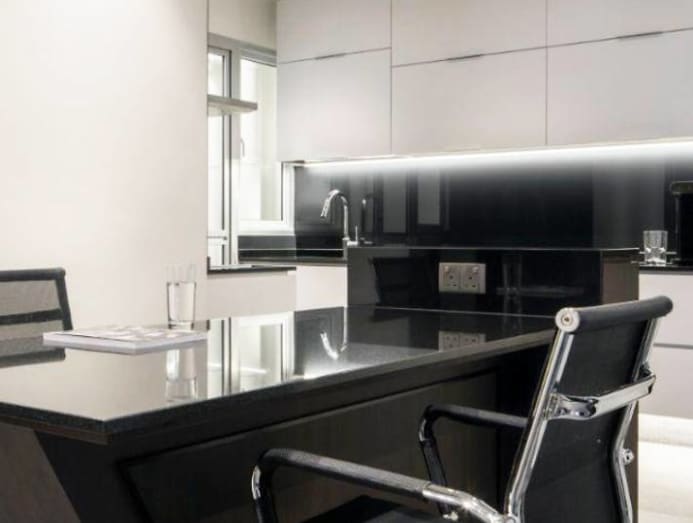 "The custom-made dining table looks simple and modern, and is perfectly proportioned for the space. The placement and warm colour of the lights above it are designed to eliminate shadows while you're writing, and to avoid that flickering effect when the ceiling fan and lights are on at the same time. 
"The chairs conform well to the body, do not trap body heat, and are easy to clean. Aside from meals, the dining area is perfect for the family's work or school Zoom meetings – something extremely useful during these COVID-19 times.
The galley kitchen features glossy white top and bottom hung cabinets and a black granite countertop.
In order to keep clutter at bay, wall cladding was used to conceal parts of the apartment, while creating extra storage space which blends seamlessly with the surroundings. For example, a concealed feature panel hides the unsightly bomb shelter door, while housing a shoe cabinet. Another panel hides electrical sockets, while providing a display shelf for the kids' books and toys.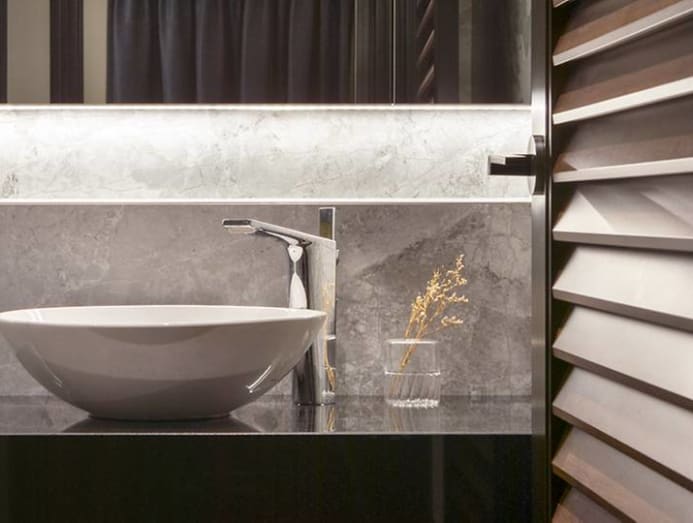 Overall, this family home manages to look clean and minimalist, even with two young children in it. "The kids have specific spots to read and play, and to put away their own toys and books, so they've been doing a good job in helping to keep the house looking tidy," Amos said. "My home accommodates all our needs; it's just nice for the four of us."