How a couple made room in their 990 sq ft HDB flat for a lot of art and a yoga studio
CNA Lifestyle's Making Room series looks at small homes with big transformations. This week, we check out an apartment that features clever tricks for displaying art pieces.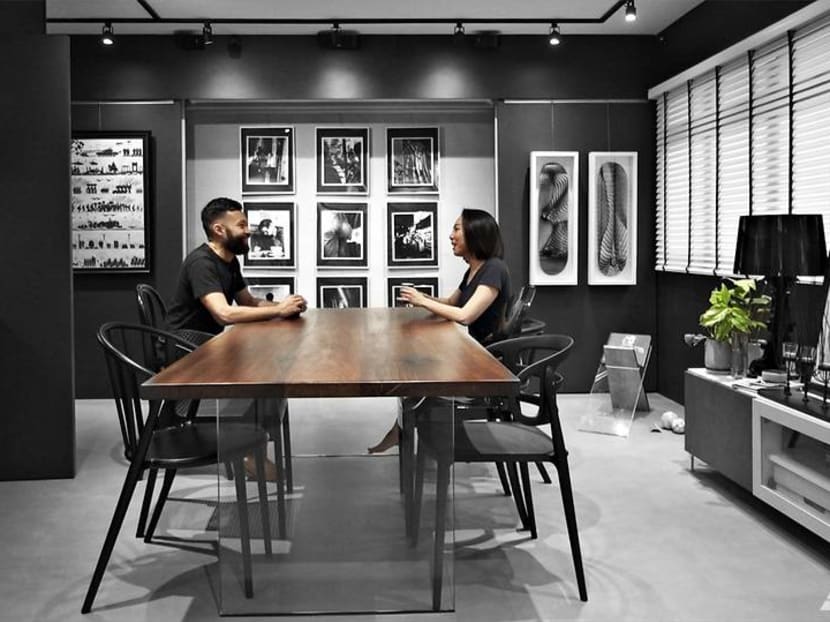 Kazuo and Caryn are avid art collectors who also happen to be huge fans of Japanese architect Tadao Ando's bold, modern design sensibilities.
So what did they do to combine both passions? The couple engaged interior design firm Craftsmen Studio for an art gallery-themed renovation, featuring a monochrome palette of white, grey, black.
CNA Lifestyle's Making Room series looks at small homes with big transformations. This week, we check out an apartment that features clever tricks for displaying art pieces.
The result is a space that showcases their impressive collection of works by renowned contemporary artists such as Ai Weiwei, Murakami, Nara, Daido Moriyama, Kevin Lyons and Panupong Tantiyothin.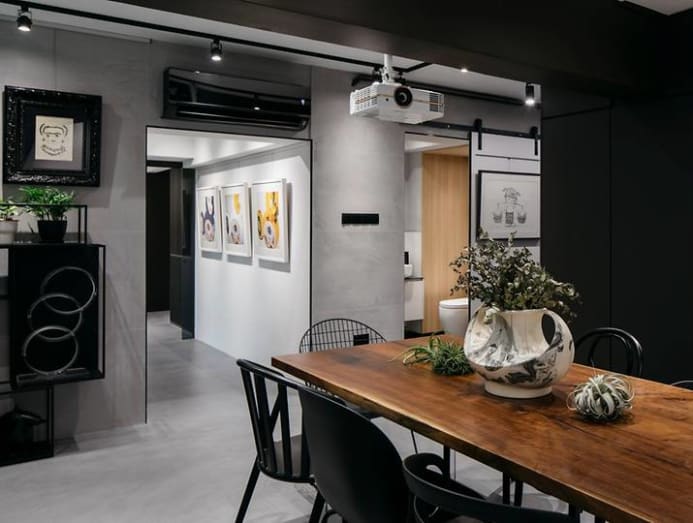 "The idea of bringing the outdoors 'street' into the indoors 'house' is the key driver of this collection. Most art galleries have high ceilings, blank canvases and open spaces to allow one to concentrate on the art. We adopted similar principles in having a clean aesthetic/background," said Kazuo, who works as a risk manager in the financial industry.
Born and raised in Sao Paulo, he spent eight years studying and working in Tokyo; his father is Japanese.
"We wanted a very immersive artistic experience within our own home," added his Singaporean wife Caryn, who does business development for a FinTech company.
Recreating the sensation of wandering in a gallery was a challenge within the 990 sq ft HDB apartment located in Tanjong Pagar.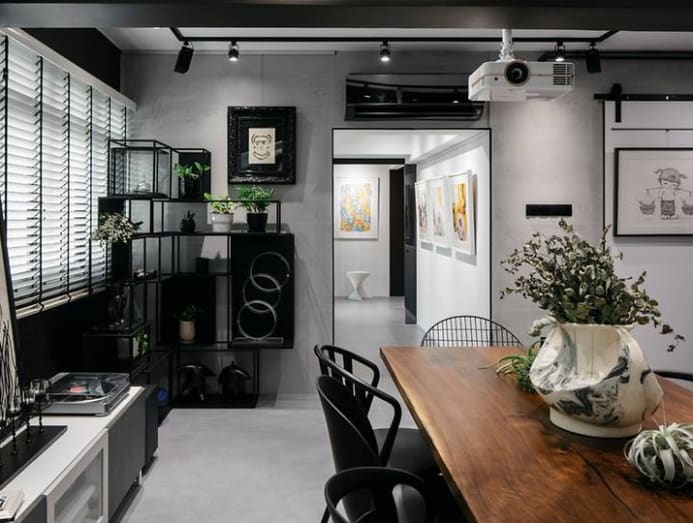 The solution? Create more space by knocking down the walls, widening the corridors, and creating convertible, multi-purpose spaces.
The showstopper of their dining/living area is a "sliding wall of art", a dynamic system comprising a recessed floor-to-ceiling niche in grey cement onto which a series of black-and-white photographic prints are mounted.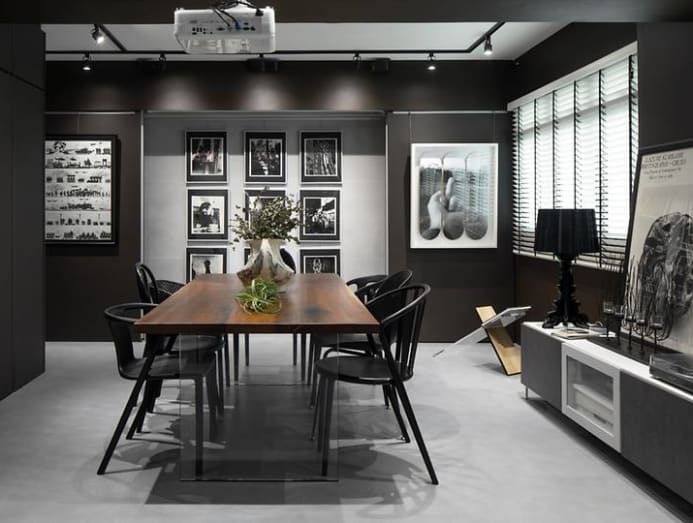 Two additional layers of double sliding panels, onto which more artwork is mounted, allow the owners to choose which pieces they want to showcase, or conceal.
Hidden within that niche is a retractable projector screen, which is lowered only when in use as "we wanted our media/movie time to be very 'intentional'," explained Kazuo.
A 10-seater rectangular walnut oak table, which the couple designed themselves, adds contrast and warmth.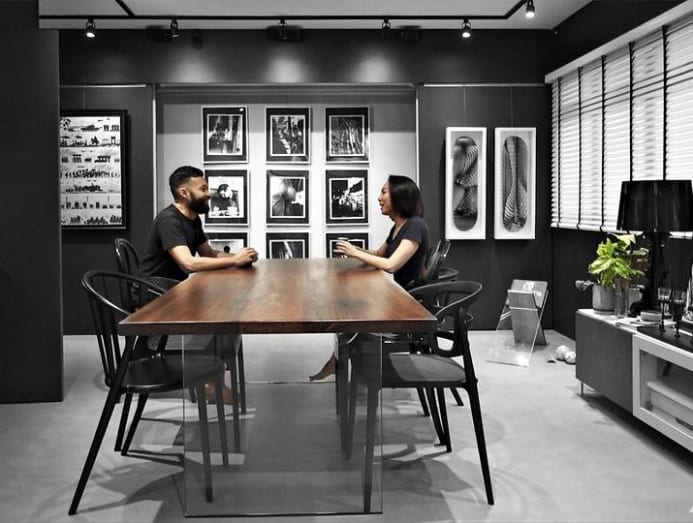 "What we really like about this table is that the legs are transparent, giving the perception that it's floating. And it's large enough to host friends and family," said Kazuo. The see-through effect also means the strong, intriguing lines of their dining chairs, which are all black but all mismatched, are further emphasised.
A low console, accented with potted plants and a vintage record turntable, a built-in nook for a home bar, and an architectural, asymmetric corner shelf in black steel housing an artful jumble of leafy plants and decor items provide relief from the otherwise stark space.
"We don't have a sofa or a TV; our kitchen is also very functional and relatively small which reflects our eating habits of fuss-free, easy-to-prepare meals," said Kazuo.
Most of the walls in the apartment are outfitted with art-gallery frame tracks that enable the couple to easily play around with which art pieces to display.
Overhead, industrial-looking track-mounted spotlights further extend the gallery concept of the space.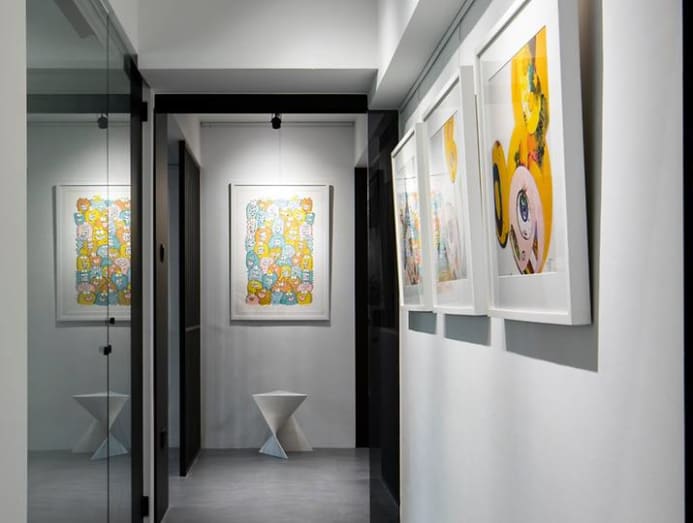 While the entire design aesthetic can best be described as very masculine, Kazuo, who spearheaded the overall design direction, ensured his wife's needs were well met.
Caryn desired a home yoga studio, which she described as "the one place in this home which is sacred to me." 
As such, a glass-fronted room enclosing a wooden platform, with wall-to-wall mirrors along one side, was created. The space can also be converted to a guest room, with the wooden platform serving as a bed. There's hidden storage under the platform, and in the built-in cabinets behind the mirrors.
The design-conscious duo also made sure to enhance underutilised areas, while creating a lot of spaces where one would not expect it to be possible to display art.
For example, Caryn's mirrored vanity counter turns an awkward corner at the master bedroom's entrance into usable space. It's where she stores her cosmetics and applies her makeup, but when she shuts its flip-top lid, it converts immediately into her workstation.
A narrow countertop in the walk-in wardrobe-cum-home office, with drawers that pull out to form a workstation for Kazuo.
An industrial-looking barn door upon which a painting is mounted, makes for an eye-catching display – and slides aside to reveal a hidden guest bathroom.
One big surprise is realising that there are no other doors within the entire apartment. Instead, screens with vertical timber slats demarcate their bedroom and bathroom, striking a balance between privacy and openness.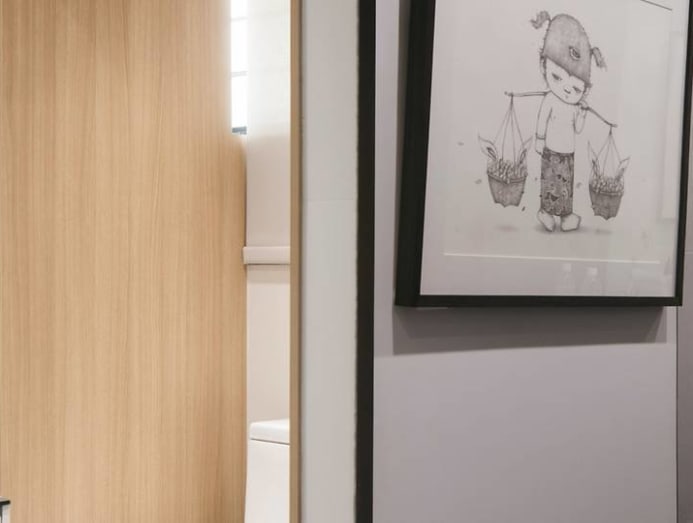 "Even our master toilet does not have a door," Caryn said.  The shower area incorporates wood-look tiled walls for an organic feel. "We brought the sink outside of the toilet, and what this allows is a much more spacious showering area, as we  as overall, a more luxe and hotel-ish vibe."
Instead of a traditional bed frame, they opted for mattress atop a wooden storage platform. A specially-commissioned, oversized childlike-like painting of a couple by a Bangkok contemporary artist serves as a headboard and focal point.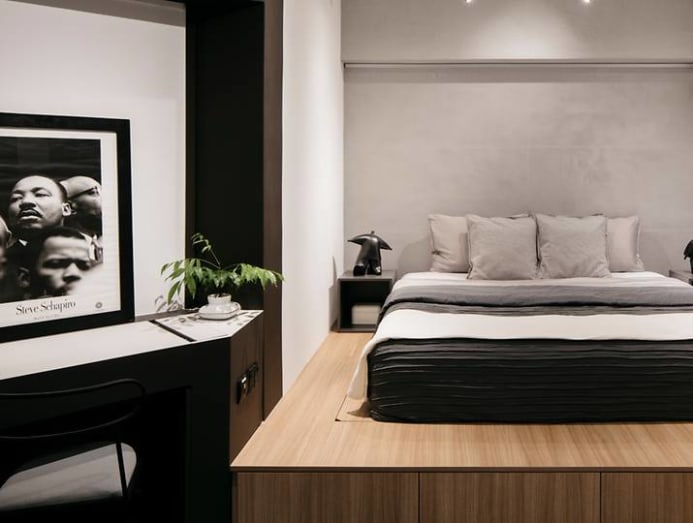 "I don't know if you can tell, but it's actually a painting of us. Hopefully, you can see the resemblance," Caryn quipped. "It is really lovely to be surrounded by all these art pieces because every single piece represents a special place in time, a certain memory."