How a 732 sq ft open-plan HDB home uses mobile furniture for a new layout every time
CNA Lifestyle's Making Room series looks at small homes that were given big transformations. This week, smart design choices allow a couple to play around with their light-filled space.
Betty Wong and Marcus Tay are both graphic designers and art directors with a penchant for collecting art and toys. And the couple have literally made room for their passions in their 732 sq ft wall-free, open-plan home in the historic Bras Basah/Bugis neighbourhood.
To do that, they engaged interior designer Dess Chew of three-d conceptwerke to create a retail-inspired home with a layout that could be easily reconfigured at whim.
"The original layout was very linear. The living area led all the way to the dining area, and the kitchen and the bedrooms were all on the other side. From the beginning we did feel like we needed to open up the space," explained Wong.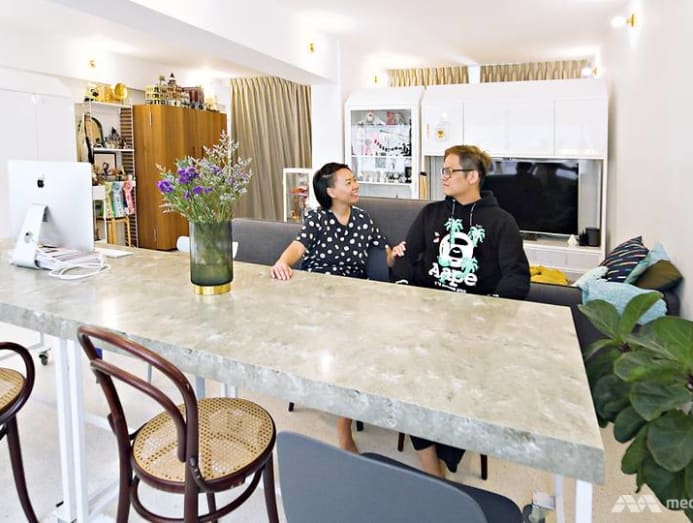 The solution? All the walls – except for the structural columns – were hacked. Aside from creating a large open expanse, one added bonus was the natural sunlight coming in to illuminate the entire flat and give it a light, airy feel.
White walls, floors finished in glossy white industrial paint, and unobstrusive lighting fixtures also helped to create a stark gallery-like feel, forming the perfect backdrop for their extensive collection of colourful framed artworks by Taiwanese-American visual artist James Jean.
"We wanted this space to be as flexible as possible such that we will be able to work from home or at the same time, within the same week, accommodate 10 people for dinner," Wong said.
In order to achieve this flexibility, the couple relied heavily on custom-made mobile furniture.
"The key design aspect of our home is the furniture pieces. Everything is movable," said Wong. "It gives us a chance to play around at home, and when our friends come over after we change the layout, they will be like 'Oh, you got a new home! It's different again'."
Movable furniture makes cleaning super easy – and allows their pet cat to run around freely, too.
As for where they've been storing their different collections, white metal storage units on industrial castors house all Bearbrick, Coarse, Kaws and Lego toys, as well as decor items picked up overseas or from art fairs. These also serve as partitions to demarcate different zones.
There are even specially designated "his" and "hers" display shelves. "Even though it is the exact same pieces for the both of us, we are able to make it work, with all my dresses hanging up, whereas he folds his shirts very neatly. This is my side. It allows me to keep some of my jewellery and I have a mirror here and all my little knick-knacks," said Wong.
"You can see our personalities are really different in the sense that mine is mostly board games and snacks," added Tay.
Meanwhile, two rectangular tables in different lengths, but of the same height and width, and clad in identical retro-looking marble laminate can be used separately, or wheeled together to form one large table – for times when the couple needs an extra-large surface for playing board games, or hosting parties.
And while their sofa is store-bought, it still reflects the couple's design ethos perfectly — flexibility of use, and ease of mobility.
"We were mindful to buy it in modular pieces so that we could split it up into a two-plus-one or in some other configurations. This sofa actually pulls out into a double sofa bed, so that we can have guests over to spend a night or two," said Wong.
"One of my favourite pieces in our home is our Bulthaup B2 Kitchen Cabinet we bought from The Madison Group. I like that it is flexible. We're able to move things around and have it as a display, or if things get a bit too messy, we can always close it back up, and everything is out of sight," she said. 
"I half regret showing my husband the Bulthaup … we both loved it so much we splurged on it … but it's an heirloom piece which I'll probably pass down to our niece as we're not planning on having kids."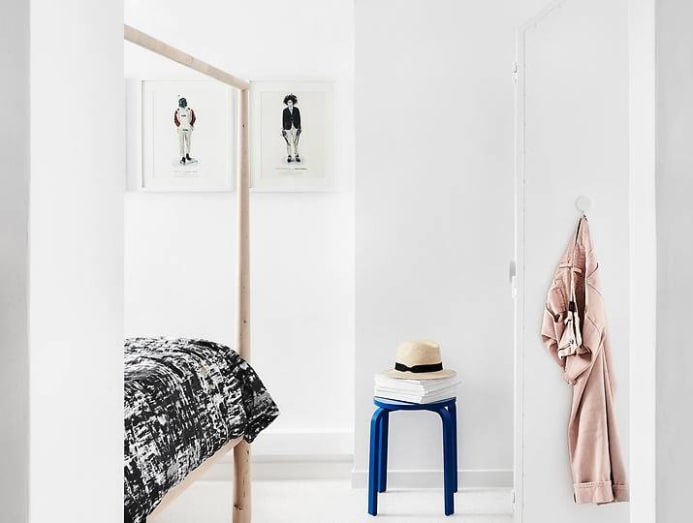 Other design highlights of the apartment include a louvred half-height saloon-style door, which offers privacy while allowing for lots of natural ventilation even when closed.
The galley kitchen, with its white tiled backsplash and white-fronted cabinets topped by a grey granite counter, is retro yet minimalist.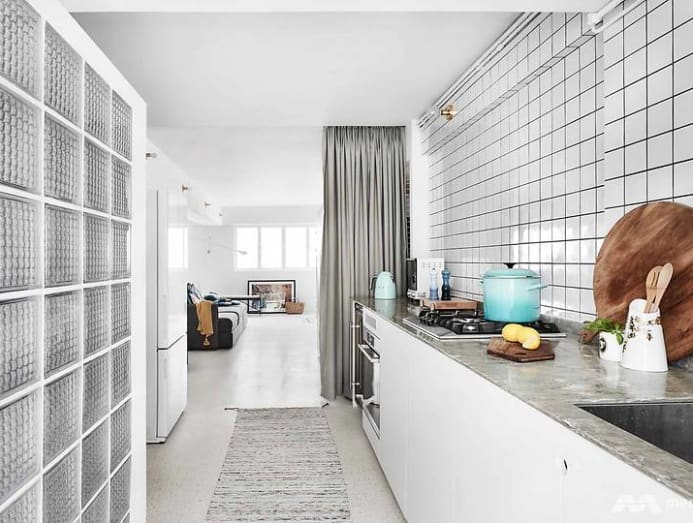 As for the bathroom, its three-quarter-height glass brick walls also help create the illusion of a bigger bathroom, while allowing for better light and ventilation, while retaining some privacy.
"The (glass) bricks have a link back to the history of our estate so we are able to bring in a little bit of that nostalgia into our home," said Wong.