How a couple turned their 990 sq ft BTO flat into a Bali resort staycation home
CNA Lifestyle's Making Room series looks at small homes with big transformations. This week, a home inspired by travels around Southeast Asia – who needs to go on a holiday or even a staycation?
Civil servants Chong Shi Yan and her husband Wilson love going on holidays around Southeast Asia – especially on trips where they can kick back and relax in a resort.
So naturally, they wanted that same blissful, tropical vibe for their 990 sq ft BTO flat in Bukit Batok.
"We decided to create a cosy pad that we can come home to at the end of a tiring day of work. We wanted to feel that we are on a holiday every day, although we are in Singapore," said Shi Yan.
To turn their dream into reality, they engaged interior design firm Design Zage – and also made sure they were on the right track by taking a trip to Bali to source for furnishing and home decor inspiration, so that every single element was perfect.
Their keen attention to detail certainly paid off, resulting in a bright, breezy, rustic-modern, tropical Asian home that feels stylish yet comfortable, luxurious yet cosy — thanks to the liberal use of warm woods, and lots of greenery, both real and artificial.
For example, the couple got exposed wooden beams installed in the ceiling of the living area, then festooned it with lifelike artificial vines, in order to add warmth and character to the space. "It's one of the ideas we brought back from our trip," said Shi Yan.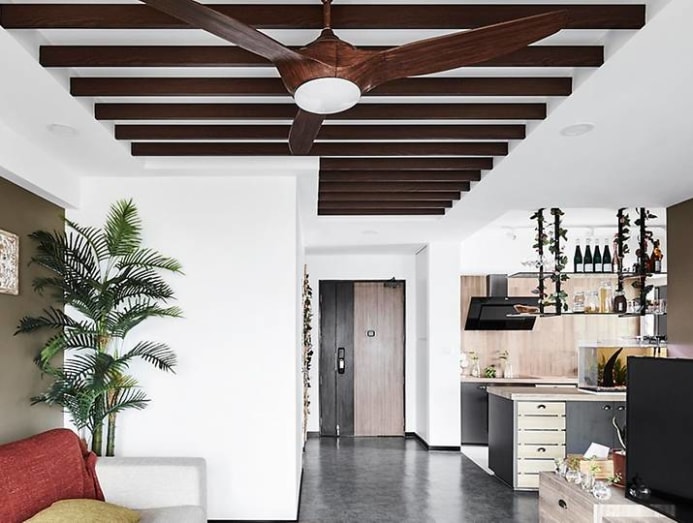 Below this indoor "trellis" is a three-seater sofa upholstered in ochre fabric. Clean-lined wooden furniture, such as a coffee table and TV console, placed over a neutral-toned rug, complete the ensemble. 
A potted palm brings the tropics indoors, while a wall-mounted wooden frame festooned with air plants is a clever way to bring in even more nature, without eating up valuable floor space. A brown-toned ceiling fan-cum-light feature blends unobtrusively into its surroundings.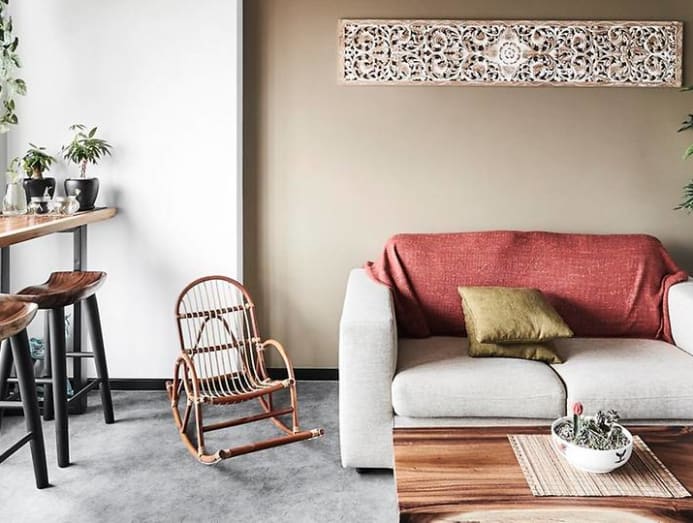 Nearby is a "souvenir corner" where a curated display of home decor items evoke fond memories of their overseas adventures, such as a monkey curio made from coconut husk from Thailand and a wooden gamelan set from Indonesia.
The setup for their dining area is rather unconventional: A customised, organically-shaped suar wood bar table with matching stools face the windows. But it takes up less space and suits the couple just fine, as they like enjoying the unobstructed view and cool breeze from 36 floors up during mealtimes.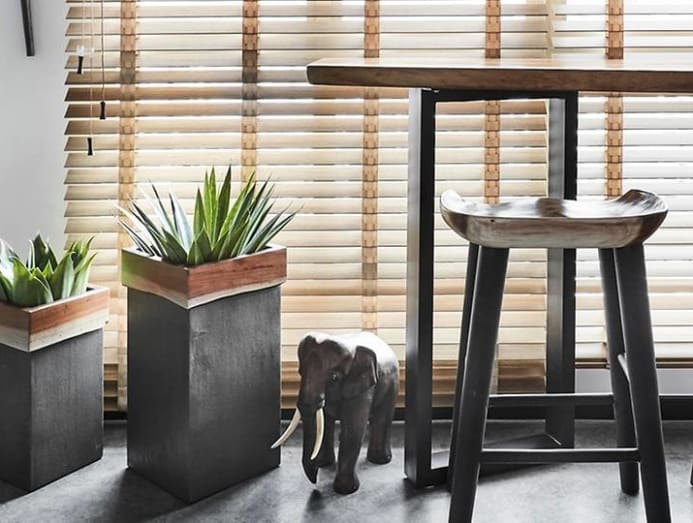 The artworks they chose to display were also perfect expressions of their love for tropical getaways.
A series of matching Balinese carved wooden panels, mounted against various feature walls painted in the same shade of khaki, serve as focal points to pull the different areas together. These help imbue the apartment with a consistent, hotel-like feel.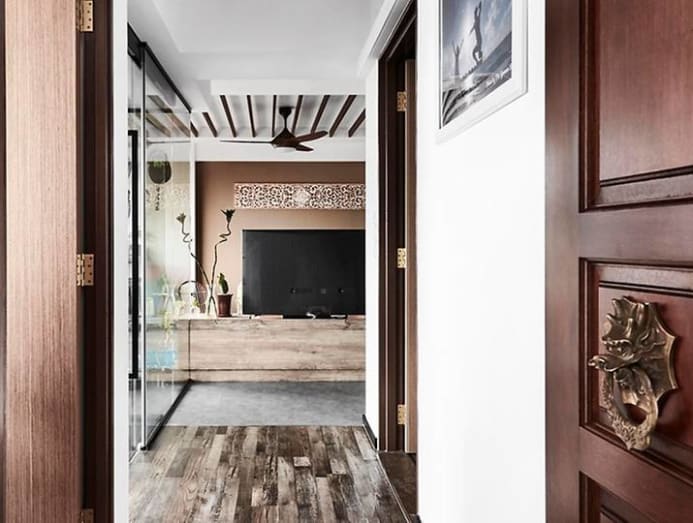 At the same time, framed, oversized photos of the pair, shot overseas within rustic settings, add a personal touch.
Opening up space is important in achieving that resort vibe, so one of the major things the couple did was to knock down walls.
An L-shaped one enclosing the kitchen was replaced with a countertop, to create an open kitchen that overlooks the living and dining areas.
Another similarly-shaped wall that enclosed the common room adjacent to the dining area was also replaced with glass walls. It was then transformed into a spacious, well-equipped home gym where the couple can get their fix of weight training, boxing, and TRX workouts (they make sure to exercise there at least once a week).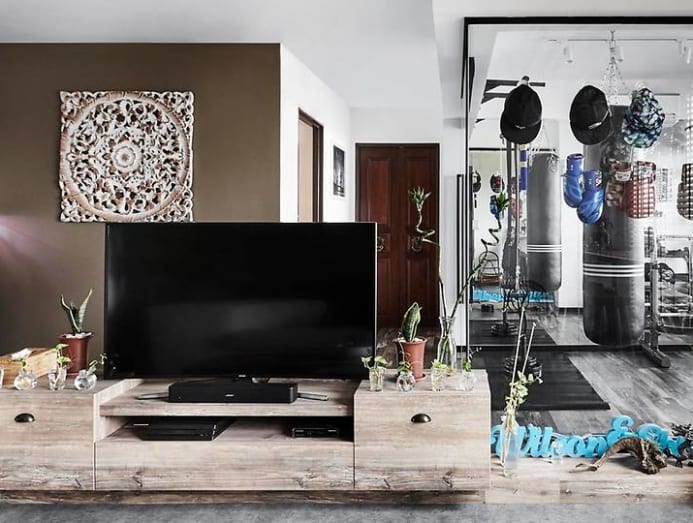 The one remaining wall in this room is completely mirrored. A must-have for that professional, hotel gym feeling, it also has the effect of making the space seem bigger and brighter.
Meanwhile, the entrance to their master bedroom is designed to evoke the decadent feeling of entering a luxury villa, thanks to the wooden French doors dramatically accented by a pair of Oriental lion head brass knockers.
They wanted a more streamlined look in their bedroom without sacrificing storage space, so a narrow walk-in wardrobe was created, essentially splitting their bedroom into two sections, with the back of the wardrobe forming a partition for the sleeping area.
The sleeping area features a mattress on a raised wooden platform, which offers plenty of storage space below. The effect? A calm, cosy, uncluttered cocoon of privacy worthy of any five-star honeymoon suite.
The master bathroom, with its cream wall tiles, and floor tiles that resemble dark wooden planks, is segregated into the wet area and the dry area. A "splash zone" demarcated with white pebbles further expands on that tropical, luxury resort feel.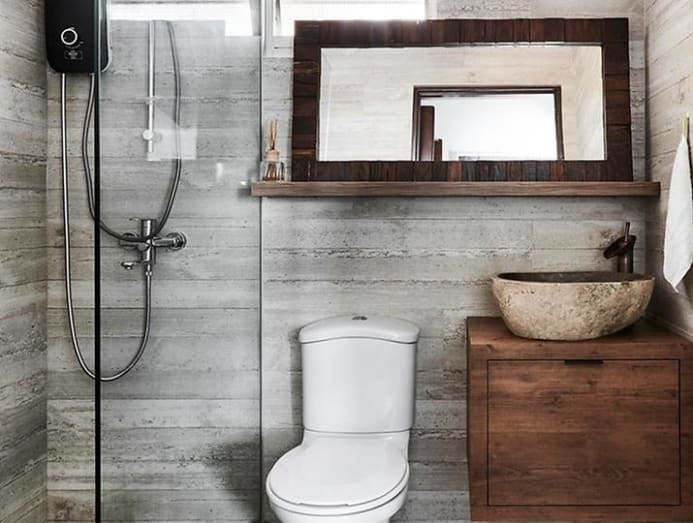 Even the kitchen manages to channel relaxed vacay vibes, thanks to wood-look countertops and walls that match perfectly with medium-toned wooden drawers. Cabinetry in medium-gray-toned laminate helps prevent an overkill of wood.
A row of clean-lined, clear glass vases filled with money plants adds a touch of green here, while the two aquariums, placed on the counter facing the living room, means that their collection of tropical fish can be admired from various vantage points of the home.
But like many Singaporeans, a resort-like home can only do so much – Shi Yan and Wilson are planning on a staycation or two, sometime soon.
"We want to chill and relax, and a staycation is very different from staying at home. Since we're unable to travel overseas, we're keen to see Singapore in a different light, and to gain different experiences locally," she added.