Transforming a 700 sq ft HDB flat into a family's very own 'luxury yacht'
CNA Lifestyle's Making Room series looks at small homes with big transformations. This week, we visit a unique home inspired by one man's love of the high seas. Ahoy there!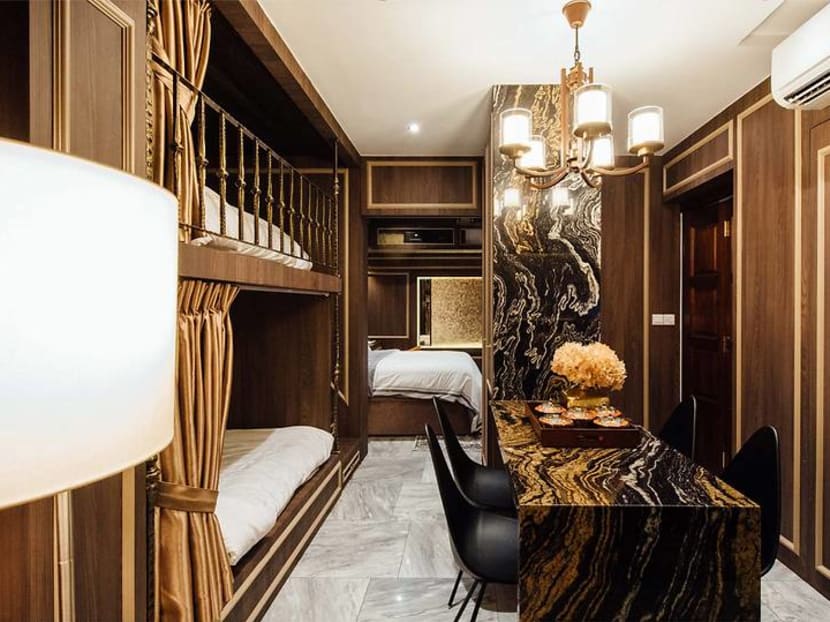 Wan Ismail has always felt a deep connection with the sea, so he decided to create a maritime-inspired family home for himself, his wife and their four kids — in a 700 sq ft BTO HDB flat in Bedok.

"This is my first home, while the sea is like my second home. I've always had a strong connection to the ocean as I took part in sailing in my primary school years; I love fishing, and I love boating. Growing up with these instilled a keen interest in any seafaring activities," said Ismail, who is an interior designer behind Fatema Design Studio.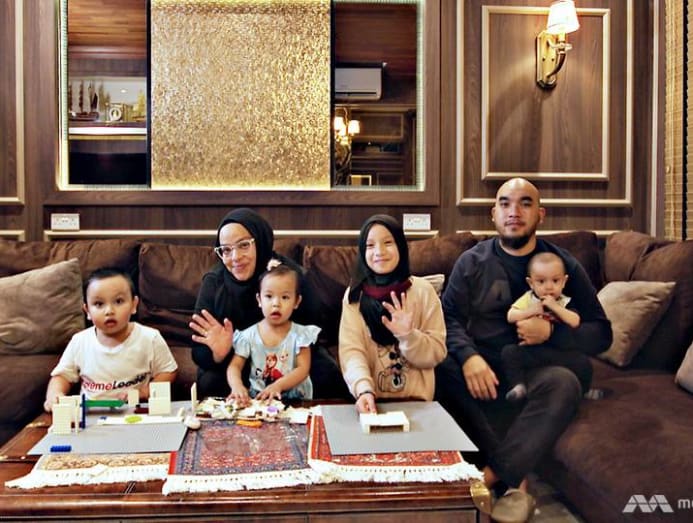 Drawing on past adventures not just on the water but also in boats, yachts, and hotels he's seen and stayed at on overseas trips, Ismail decided to combine all these elements into a unique home decor theme – "the interior of a luxury yacht" – and then imbue it with "an essence of Moroccan Islamic architecture".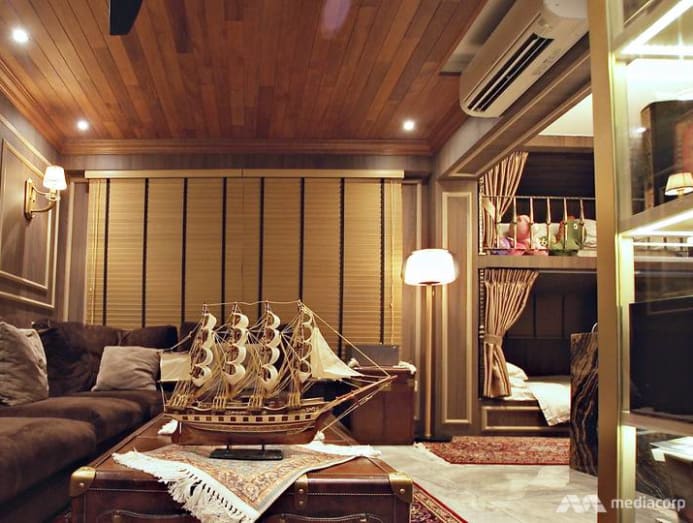 The end result is a sumptuously-appointed yet cosy family home that transports one far, far away from HDB heartland life, straight ahoy towards the high life on the high seas.
Timber-clad ceilings with neat rows of round recessed light fixtures, and beige-trimmed wood wall panels and cupboard doors used throughout the apartment create an impression of being enveloped in warmth and privacy.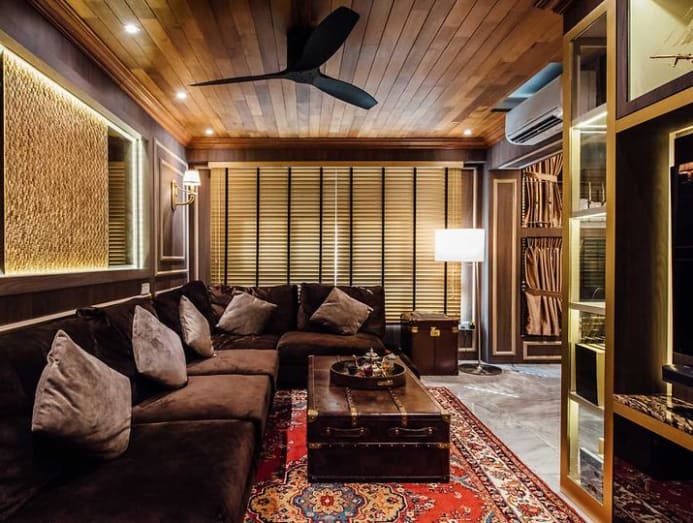 There is nary a white wall in sight, and even the bomb shelter, with its heavy metal door many consider an eyesore, is hidden beneath similar wood panels. Underfoot, white marble flooring lends an undeniably posh look.
Ismail also wanted a larger communal space where the whole family can spend time together, so he removed the walls of one of the bedrooms.
The living area features a custom-made oversized L-shaped sofa, upholstered in a deep brown fabric. This provides plenty of room for the family of six to watch TV or play games together, and even provides enough seating for when guests drop by.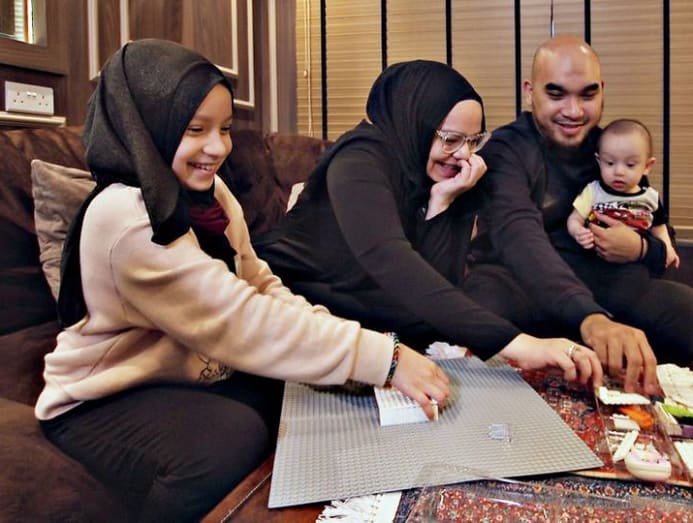 Behind the sofa, two wall sconces cast a soft glow on the handmade art piece set within a backlit frame. Ordered from the Philippines, it features overlapping Capiz shells arranged in a scale-like pattern that catch the eye, thanks to the sensuous, mesmerising shimmer of Mother-of-Pearl. A similar piece decorates the master bedroom as well.
Instead of accenting his living area with the usual coffee table and side table, Ismail opted for vintage-looking leather trunks. The flat screen TV is wall-mounted within custom-built cabinetry in glass and brass – it not only helps make the most use of the tight space, but also conceals hidden storage behind it, while displaying decor items such as Ismail's collection of miniature sailing ships.

Next to the living area, a large rectangular waterfall table, made out of three huge slabs of polished black granite with dramatic white veining, forms a strong focal point. Lit by a chandelier, it serves not just as a dining table, but also as the kids' shared study table.
The big surprise here is that none of the kids have bedrooms. Instead, they share two queen-sized bunk beds adjacent to the dining/study table. Seamless wood wall claddings, built-in panel lighting and antiqued bronze rails help create a feel that's more "luxury cabin" than "summer camp". The stairs leading to the upper bunk also conceal hidden drawers for storing the kids' belongings.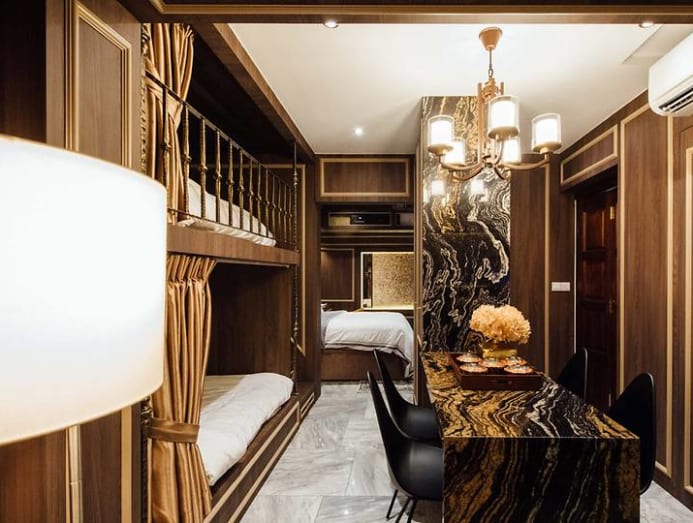 Another smart space-maximising strategy that Ismail employed was to move the entrance to the master bedroom for more privacy, such that when he has guests over, they can't peek into the bedroom when they're on their way to use the bathroom.
Changing the position of the door also allowed for more space to fit extra storage units within the master bedroom, thus affording them the luxury of separate his and hers wardrobes. It also created enough space to fit in a work station.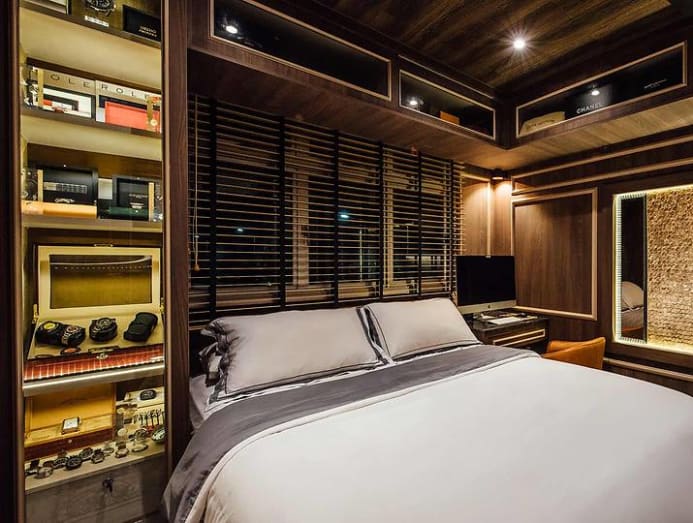 And of course, any luxury yacht owner worth his salt needs space to store and display an impressive collection of high-end watches and jewellery – which is why Ismail opted for a tall, custom-built glass-walled cabinet instead of the usual bedside table.
The liberal use of Oriental rugs in rich hues throughout the home adds a touch of timeless luxury and exoticism.
Even the galley kitchen exudes loads of glamour, thanks to the use of upmarket materials such as travertine (a natural type of rock) on the walls, and the same kind of granite on the kitchen counter-tops that was used for the dining table. The cabinetry and brass fittings match those used throughout the home. 
Ismail deliberately opted for top-hung cabinets mounted low enough in order for kitchen items to be within easy reach, then covered up all the extra vertical space with false walls and ceilings for a polished look.
"To me, spaces within a home should speak to one another, and be akin to one another, to achieve a sense of unity."