This homeowner renovated a 1,011 sq ft HDB flat and shared his tips on Instagram
CNA Lifestyle's Making Room series looks at small homes with big transformations. This week, it's a resale corner unit at Bukit Panjang with a social media-savvy homeowner.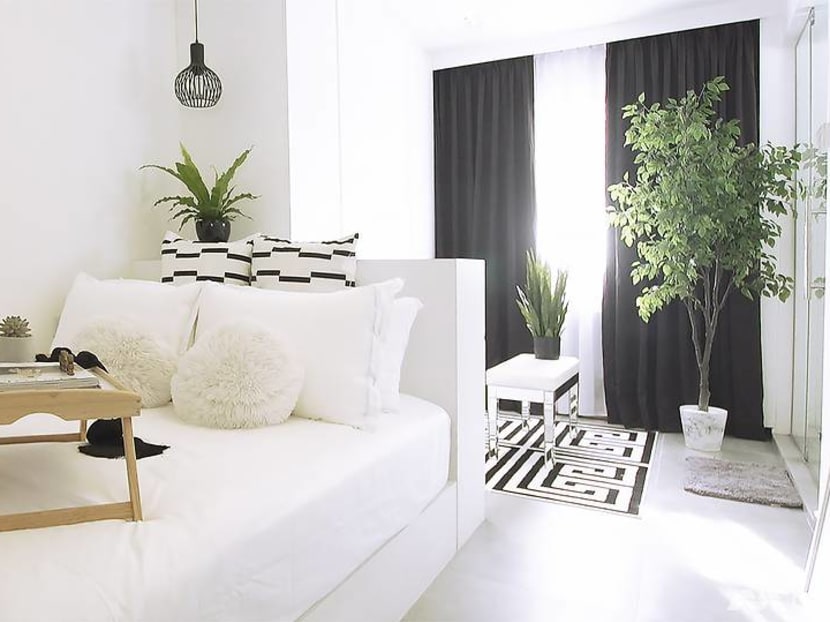 A business manager for an online wedding portal, Bob Mubarak was eager to transform the 1,011 sq ft four-room resale HDB corner unit he purchased in Bukit Panjang into a dream home.
CNA Lifestyle's Making Room series look at small homes with big transformations. This week, it's a resale corner unit at Bukit Panjang with a social media-savvy homeowner.
It would prioritise flow and functionality, be easy to maintain, and neutral enough to allow him to work from home.
A home-styling enthusiast inspired by years of watching home decor channel HGTV, Bob wanted flexibility to change the colour palette or design inspiration every year, or switch around soft furnishings to evoke different moods. With the help of Tid Plus Design, he proceeded to do so.
It starts with the entrance. "The design of the entryway is very important as it sets the tone for the rest of the house," explained Bob.
A retro-looking black metal gate and a white wooden door, over which the unit number is displayed in a mix of numbers and letters, is the first style statement one encounters, before stepping into his open, light, airy, and totally #instaworthy home.
And speaking of Instagram, he decided his reno experience was worth sharing with the world – using his own handle and a new hashtag, #bobsretirementhome, he proceeded to chronicle his home's transformation and maybe offer some tips to other future homeowners.
Aside from uploading pictures of the renovation progress, Bob would share details of the good bargains he found online, in Singapore and even in Johor Bahru. Soon after, friends and family approached him for home styling advice, and home furnishing stores such as Commune Home, Courts Singapore, and Fortytwo.SG sought him out for paid collabs.
"I was an accidental influencer," he quipped, adding that he would often turn to Pinterest for design inspo and citing brands such as Castlery, Commune Home and Second Charm for their "amazing products that may not be necessarily be super-affordable, but their craftsmanship is top-notch and worth the money". (And yes, he also loves Hooga and Ikea for affordable yet stylish home accessories.)
All these would find their way into Bob's home, as visitors would discover.
White walls and cabinetry, grey cement-look table tops and tiled floors, and concealed lighting are used throughout for a consistent feel.
The walls form a neutral backdrop for an ever-changing selection of themed artwork displays, such as botanical-style drawings of flowering plants, tropical leaf posters, modern Islamic calligraphy, or black-and-white photo prints of New York.
The sofa and dining chairs are in medium-grey, with the remaining furniture pieces, and smaller decor items – such as reed diffusers, cushions, throws, occasional stools – in white, black and grey or metallic tones.
Even the blinds and curtains used throughout are monochrome, from the sheer white day curtains and black blackout curtains in the bedroom, to the black-and-white colonial-style kitchen blinds.
Against the monochromatic backdrop, tropical potted plants such as palms and fiddle leaf fig trees in stylish stands and pots, carry an even bigger visual impact. They also help break up weird corners and lines to create fluidity in the space.
"If you look at the design, it is very clean-cut, very sleek, in order to be adaptable to whatever kind of styling I am going to incorporate. I kept the walls and the floor very simple so it can accommodate neutral colours as well as strong colours." he said.
The original storeroom was knocked down in order to create an open-concept kitchen, dining and living space. To maintain a sleek and neat design, a false ceiling was built to conceal the water and gas pipes. A new entrance to the toilet was created to keep it out of sight.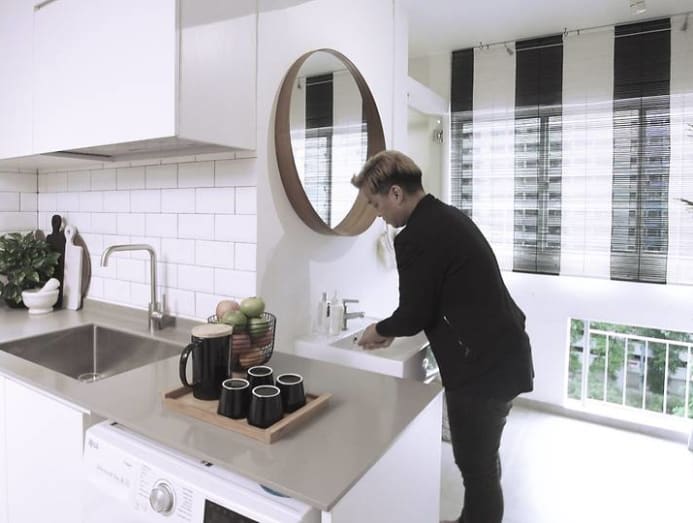 The predominantly white kitchen, with its hipster-yet-timeless subway-tiled backsplash, white gloss laminate cabinets and grey countertops, is arranged in an L-shaped configuration. A large kitchen island segues into a matching dining table of the same size.
This helped Bob achieve the ideal work flow for when he would entertain guests. "I do my kitchen prep work and washing over here, I cook here, and when I'm done with my cooking, I bring my food over here and serve my guests," Bob said, referring to the "work triangle" rule of efficient kitchen design.
The six-seater dining table is detachable from the island, allowing him to seat up to 10 people.
But Bob doesn't just focus on budget-friendly finds – he would often mix in some high-end items.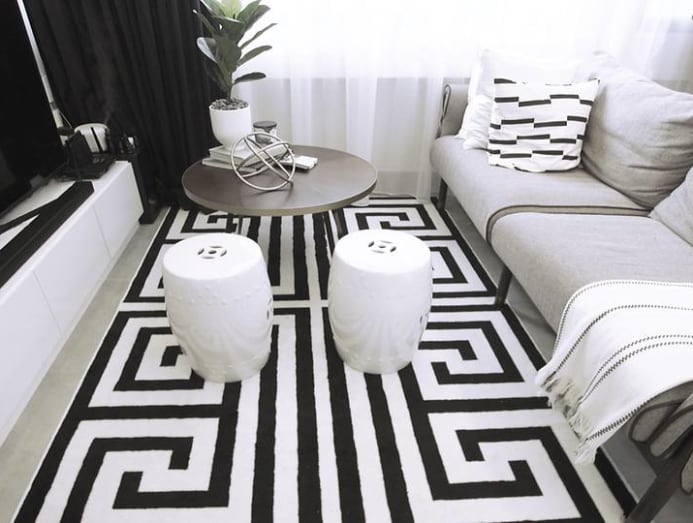 For example, he splashed out on his living room sofa, but opted for a comparatively cheaper coffee table. The TV sits atop a glossy white console, while a black-and-white rug pulls the whole look together. "Not everything has to be expensive," he noted.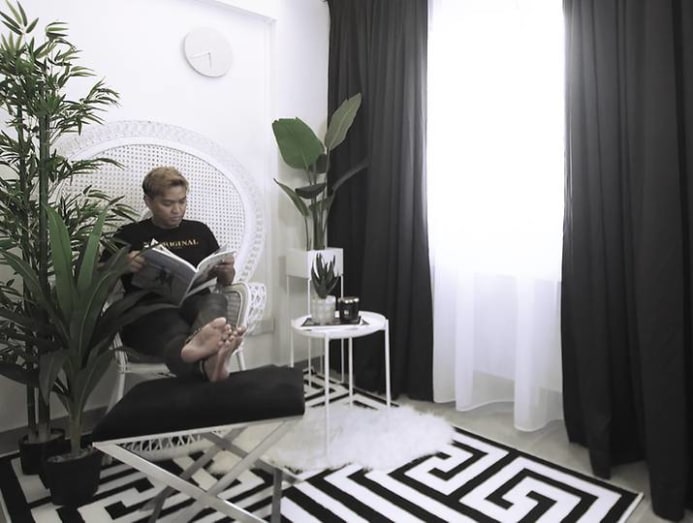 The small, enclosed reading room near the entrance of the apartment is also done up in a white-and-black theme, accented with plants for a calming, Zen feel. A throne-like white rattan peacock chair makes a perfect perch from which to read, enjoy the views from the window, or pose for a selfie.
For the master bedroom, Bob did away with the typical bedroom layout, opting for a boutique-hotel-inspired style that divides the room into a sleep-work-TV zone, and a dressing-up zone beside the bathroom.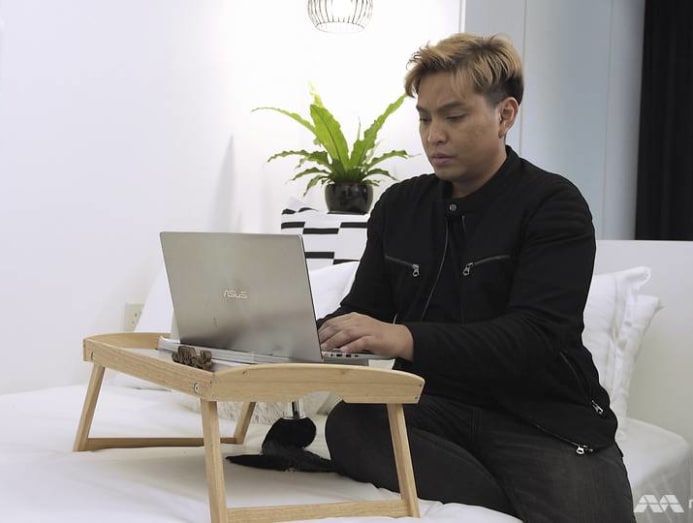 The bed is tucked away in a corner to avoid glare from the window. A wall-mounted flatscreen at its foot allows him to watch TV in comfort, while a wooden bed tray serves as a workstation, with power points located close by.
The headboard separates the work-sleep-TV zone from the dress-up zone. "It also contains drawers to store all the items I use to get dressed," Bob added.
As he lives alone, he decided on a glass-fronted bathroom— a space-saving feature often employed in boutique hotels. "After I shower, I just walk into my dressing area, get my clothes, dress up, and head out," he noted.
"At first, I knew I wanted to be minimalist, but as I understood styling better, I became more adventurous and my style began to evolve. Although I'd say my style is adaptable."