A couple's stylish 1,000 sq ft BTO flat with a DIY whisky bar and teak wood touches
CNA Lifestyle's Making Room series looks at small homes with big transformations. This week, see how a "build-it-yourself" approach resulted in a stylish home with luxurious marble, teak and brass finishes.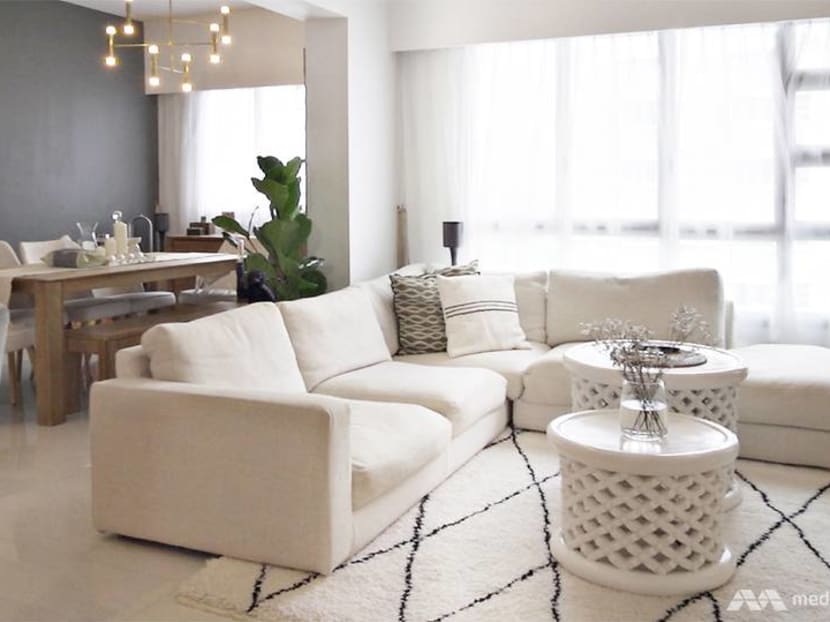 Homeowners Jasvin Kaur and Jasdep Singh wanted their 1,000 sq ft four-room HDB BTO flat in Telok Blangah to showcase a few things: A contemporary-meets-luxe aesthetic, hubby Jasdep's burgeoning whisky collection, and their Indian heritage.
And their ingenious DIY tweaks with some teak wood plays a role in realising all three.

It wasn't easy, given their different style preferences. "I always liked luxury. Jasdep likes things more contemporary," explained Jasvin, an assistant manager in a company.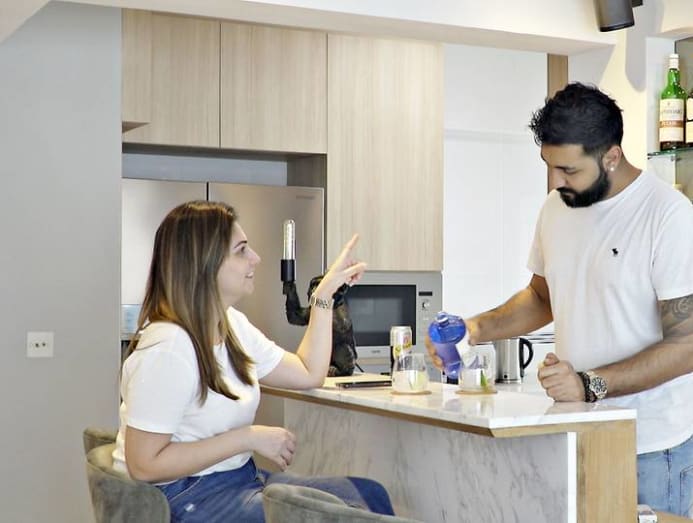 But "this was a chance to express ourselves with what we have always wanted," added Jasdep, who is a general manager at Originals, a furniture store that specialises in unique and authentic home decor pieces sourced from all over the world.
"The fact that I work in a furniture store played an important part in what you see in our home. We thought about how we were going to do it and decided, maybe we'll do it ourselves!" he added.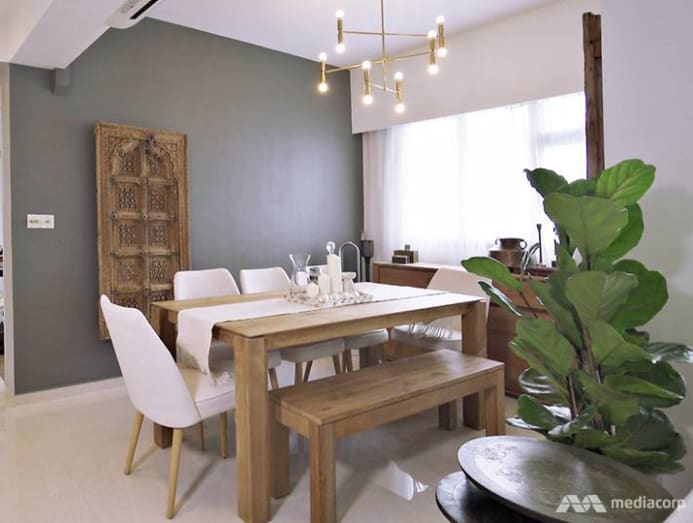 The very first thing they did was reconfigure the flat's layout to better suit their needs. The original kitchen's walls were knocked down to create an open-concept kitchen, and their second bedroom was demolished to create a dining area, a move which also allowed for a larger living room.
The first thing you see, upon entering their home, is a black Victorian-style lamp in the shape of a monkey playfully holding up an Edison bulb, perched atop a sleekly handsome white marble-and-teak wood bar counter.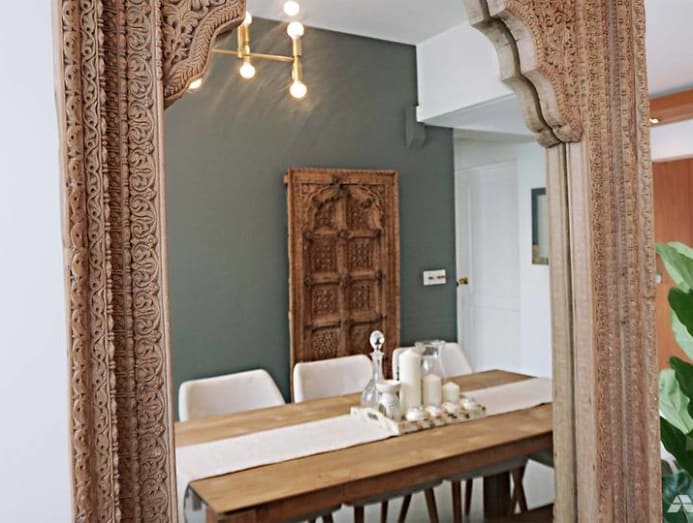 Three bar stools clad in soft grey velvet send a silent invitation to step into the rectangular space – demarcated by parquet strips hand-arranged in a timeless herringbone pattern – for a drink.
Behind the bar counter is a recessed niche neatly displaying three rows of whisky bottles, which appear to glow and float, thanks to overhead spotlights installed above glass shelves.
This glamorous setup was conceptualised and installed by Jasdep himself. He made the bar counter by making slight modifications to a store-bought teak sideboard, then clad and topped it with white marble slabs.
"It was important to have actual teak or wood that felt nice to use every day," said Jasdep, adding: "It is also a nice place to have breakfast or coffee before we go to work."
To create the whisky niche, a false wall with an indent was built, and custom-made glass shelves were installed. "We didn't want it to be too big … (it has) just enough space for my whisky collection," said Jasdep.
The bar also serves as a transition point between the living area, and the front of the kitchen.
The fridge is strategically placed between the bar and the kitchen's entryway. This way, the home bartender can easily access ice cubes and anything else he needs to fix a drink, without getting in the way of the home chef doing her cooking.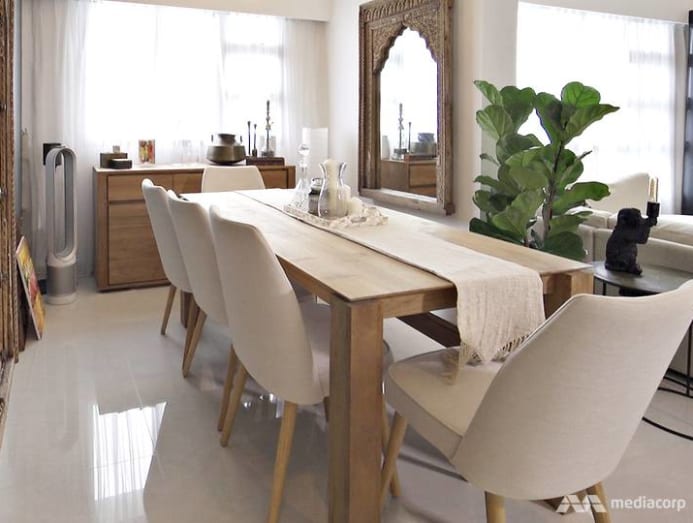 The bar counter also draws guests towards the functional and stylish kitchen, with its pristine white countertops, glossy white and matte pale wood laminate cabinets, stainless-steel appliances, and understated beige Italian floor tiles. 
Natural light floods the space, thanks to the half-height windows and glass-paned bifold doors leading to the open-air service balcony out back.
While most homeowners use this area just to hang laundry or stash mops and buckets, Jasvin had higher ambitions for it, transforming it into their home's "beauty spot".
One's attention is immediately drawn to the pretty black-white-and-beige Moroccan floor tiles she had chosen for the service balcony's floor – before being greeted by the spectacular 30th floor view of Singapore's Southern coast that lies beyond. Indeed, it has become a favourite hangout spot for guests.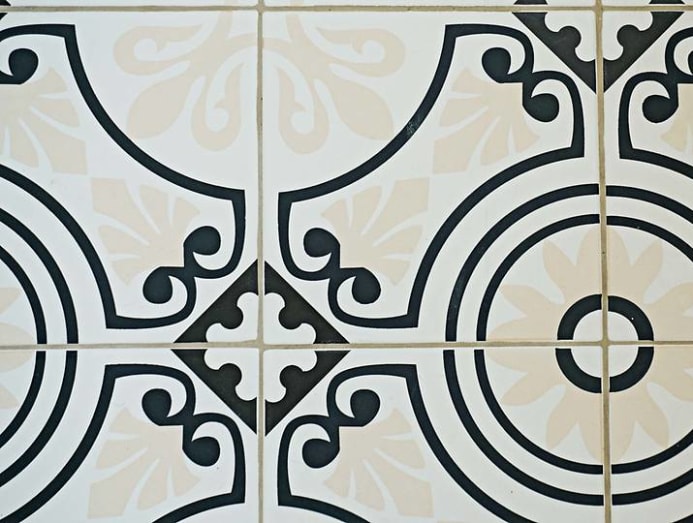 The living room's standout features – the white marble-clad wall and the 5-metre long floating shelf in front of it, which was made out of a single solid piece of teak wood, echoes the aesthetics of the bar counter, as well as the couple's DIY ethos.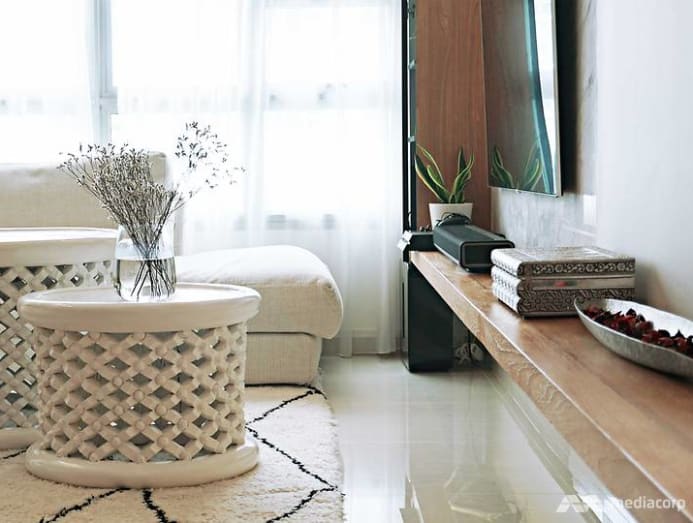 They had personally sourced the wood from a lumberyard, and Jasdep mounted the marble slab, which lies flush with the wall, by himself.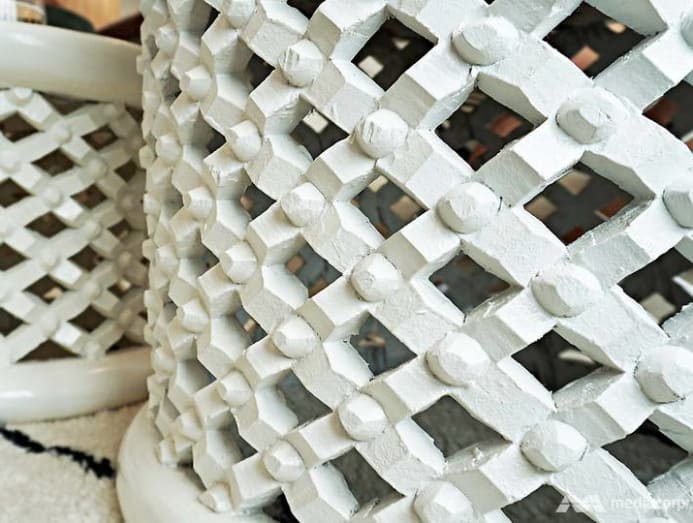 "We had to make some preparations to get the thickness absolutely correct and to have brackets at the back pulling the marble onto the wall. Once we got the console with the TV, we realised something was missing, so we constructed the cove lighting and used teak that matched the console," he explained.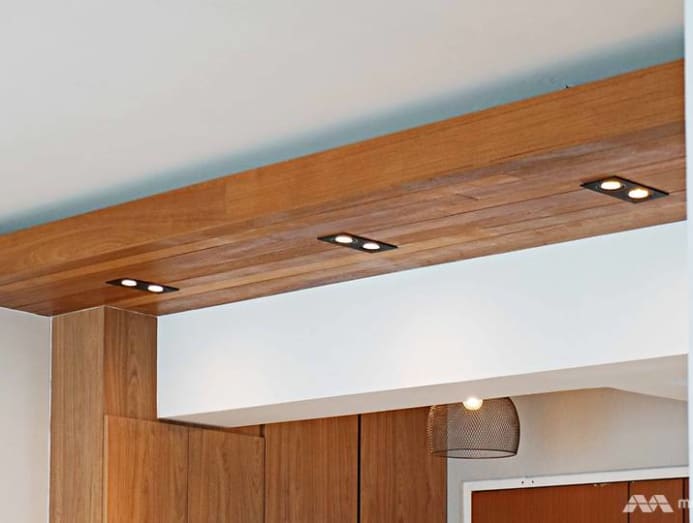 Jasdep added: "If there was a toughest moment, the part that got us all worried was when I realised the marble slab I had sourced wasn't going to fit into the lift." In the end, he had to have it cut into two pieces.
A cream L-shaped sofa, a pair of whitewashed carved West African Bamileke wooden tables and a graphic white-and-black Moroccan Berber rug imbue the living room with a light, airy elegance that marries tradition with modernity.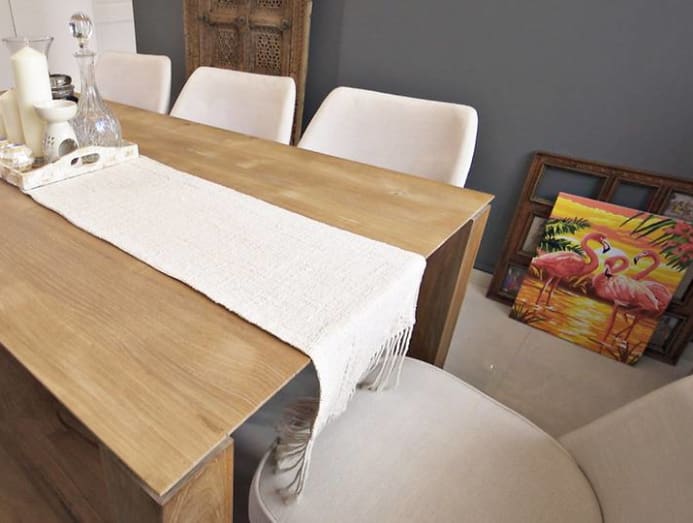 The dining area is a darker and more intimate space, thanks to the deep grey feature wall that provides a handsome contrast, against which the rectangular dining table and dining bench in pale teak, and cream-upholstered dining chairs, pop.
An intricately-hand carved wooden door and a matching mirrored window frame add a glamorously exotic feel to the dining area, while reminding the couple of the havelis or historical houses they encountered in their travels to Rajasthan in India.
Of course, given the space constraints, there were minor compromises.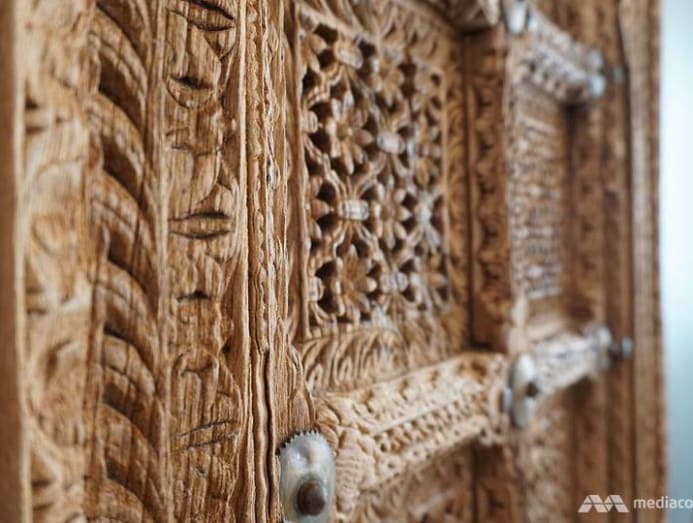 Referring to the Rajasthani door frame, Jasdep shared: "Unfortunately, with a small home, you cannot get bigger and more majestic pieces. But I thought this was a good size. It is like art, and it ties our Indian culture into the home as well."
The use of brass light switch plates, gold-toned handles on the customised French door leading to their master bedroom, and mid-century style pendant light fixtures add a touch of luxury.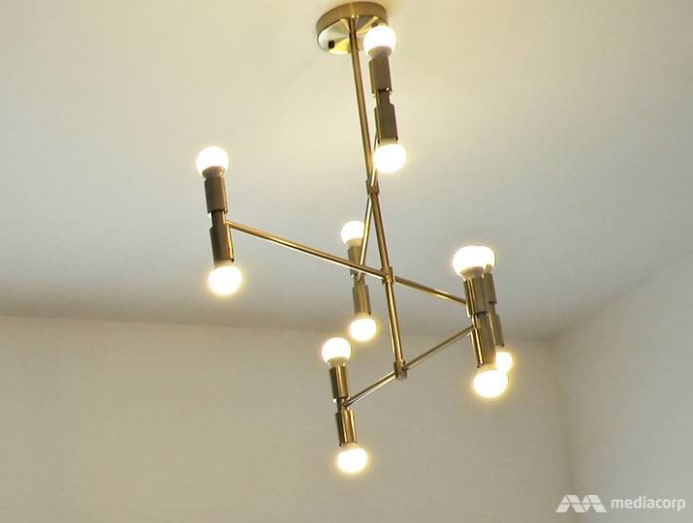 "Three main things that are quite consistent throughout the home: Teak, marble, and brass," said Jasdep.
What's also consistent throughout their home, is their carefully curated and masterfully-arranged selection of tasteful decor items, such as vases, candle holders, tropical greenery in plant stands, trays and trinket boxes.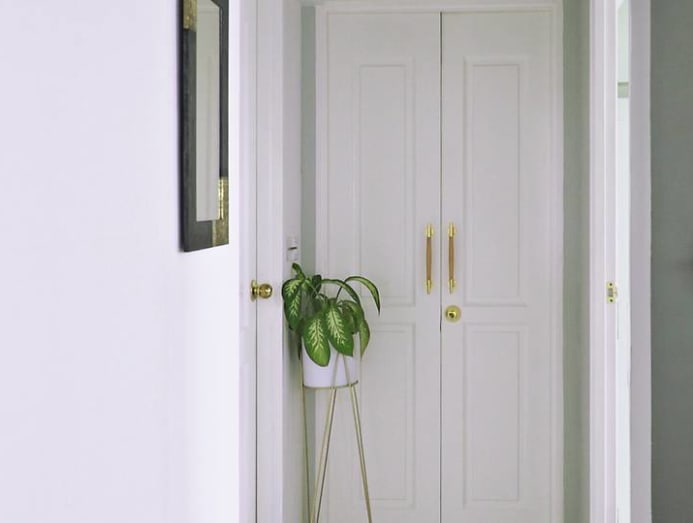 "I'm very proud that we actually did this by ourselves. This home was built with so much love and it's us. This home is us," said Jasvin.