An 808 sq ft bachelor pad that comes with a cosy gentleman's loft bar
CNA Lifestyle's Making Room series look at small homes with big transformations. This week, check out a two-bedroom loft apartment inspired by one of the world's best bars right here in Singapore.
Why go out when you can enjoy your favourite tipples at your own home bar? That's exactly what homeowner Alan Tan had in mind when he engaged interior designer Carmen Tang of Wolf Woof Interior to renovate his 808 sq ft two-bedroom loft apartment in Hillview.
"I'm rather ambivert, so I enjoy a lot of 'me' time, but at the same time, I like to socialise," explained Alan. As such, he wanted a dark, moody home that reflected the former but also had a bar area to entertain friends when they drop by.
CNA Lifestyle's Making Room series look at small homes with big transformations. This week, check out a two-bedroom loft apartment inspired by one of the world's best bars right here in Singapore.
For inspiration, he turned to his favourite bar in Singapore – Manhattan at Regent Singapore.
The bar recently placed 14th in World's 50 Best Bars and 6th in Asia's 50 Best Bars lists. Inspired by the Golden Age of cocktails and fine drinking, it exudes masculine sophistication through the liberal use of deep brown tufted leather Chesterfield sofas, dark wood furnishings, black marble, brass accents and low light.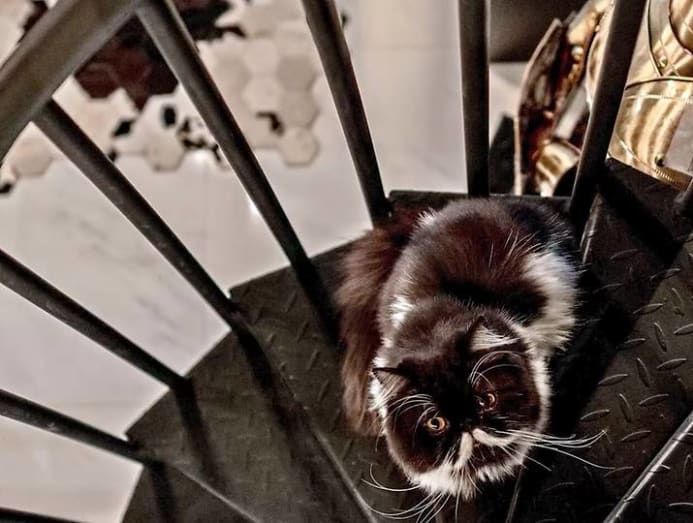 The double volume ceilings of Alan's home meant the bar could be built above the open-concept kitchen without eating into the apartment's footprint.
That said, this required the kitchen's ceiling to be lowered, and its top-hung cabinets to be resized.
To make up for the resulting lost storage space, an extra kitchen counter was built, and the layout transformed from L-shaped to C-shaped. The island, which is moveable, also contains a nifty pull-out ledge which serves as a two-seater dining table, which can be tucked away when not in use, to save space.
To achieve a debonair gentlemen's club-style look and feel, with its brooding sense of mystery, a colour palette consisting mainly of black and dark brown was used on all the walls, cabinetry and even the ceilings throughout the apartment. Providing contrast and visibility were the white marble floor and white kitchen countertops.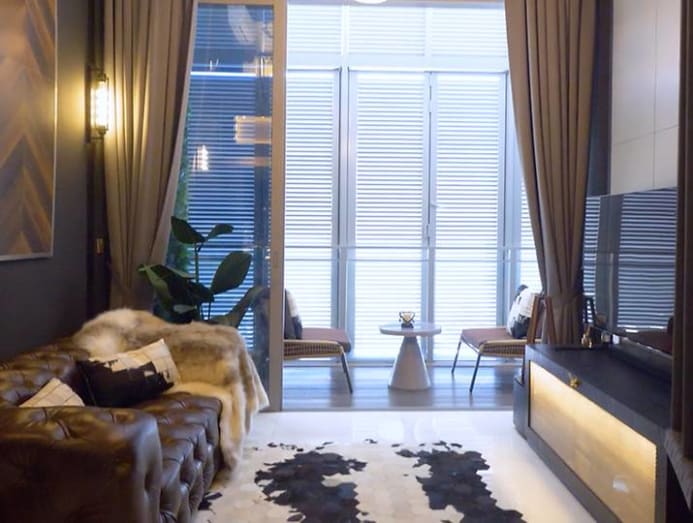 The living room is anchored by a gilt framed artwork featuring a stylised gold-toned stag's head mounted on dark wood panels arranged in a herringbone pattern. Two industrial-chic wall sconces mounted on either side of the artwork, and a cascade of globe-shaped glass lamps fitted with Edison bulbs, cast a muted glow.
A Chesterfield sofa in tufted deep brown leather, a faux fur throw and cowhide rug in black and white tones create a cosy-yet-luxurious British hunting lodge feel.
Opposite, a bronze panel-clad feature wall, which extends all the way to reach the double-height ceiling, serves as a backdrop for the flat screen TV, calling to mind a contemporary fireplace.

What's more, it is accented with a bespoke insignia featuring a stylised Hebrew character which means "grace", and creates the impression of being in an upmarket private club.
An imposing suit of armour, clutching a battle-axe in one hand and a shield in the other, stands guard silently between the living room and a small black metal spiral staircase.
"It's something unexpected, and I didn't know it would gel so well with this place, but it's become a very nice centrepiece," Alan noted.
The spiral staircase leads up to the bar, which overlooks the living room and the balcony. A "Yes, we are open" sign in black and gold welcomes guests to enter the intimate, cosy space, which is low-ceilinged and clad entirely in dark wood panels.
Brushed gold accents, in the form of lion-head cabinet-pulls, the edge of the curved bar counter, overhead spotlights and a pair of metal-framed bar stools with tufted leather seats, add a touch of lustre and luxe. A backlit built-in alcove showcases Alan's whisky collection, while a wine fridge stores a selection of wine.
"This is one of my favourite places in the apartment," said Alan. "It also has a great view of the whole space. It's a very nice place where my friends and I can drink and talk."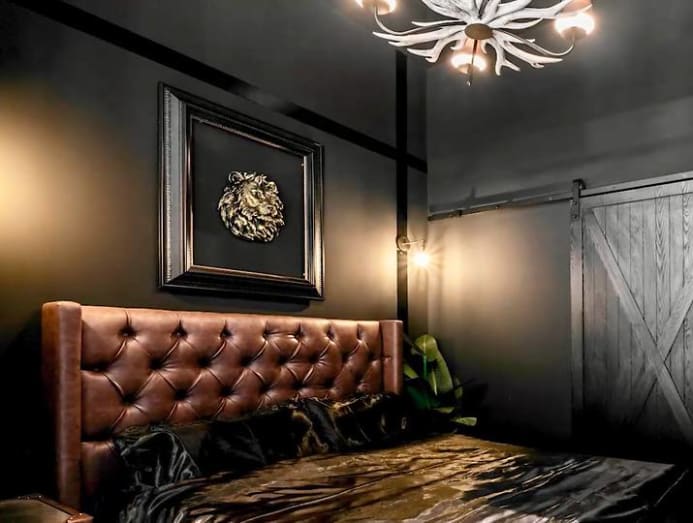 The bedroom is another of his favourite spots.
A framed relief of a pewter-toned lion's head takes pride of place in the black-walled, black-ceilinged space above the master bed, with its imposing tufted brown leather headboard.
"The designer knows I'm a Leo so actually she made an effort to source for the lion head and to make it look like a centrepiece," Alan said.
Overhead, a faux stag-horn chandelier extends that "British luxury hunting lodge" theme, while a pair of matching steel-clad steamer trunk-inspired bedside tables, accented with leather straps and brass hobnails, gleam subtly within the cosy, dimly-lit space.
The wood-toned laminate floor, which resembles wooden floorboards, adds a touch of warmth.
An industrial-looking barn door slides open to reveal the en-suite bathroom, which in turn, leads to a walk-in wardrobe.
In order to maximise storage within the walk-in wardrobe, cabinets were built right up to the full extent of the double height space. A library-style ladder on a sliding rail allows Alan to climb up in order to access items out of arm's reach.
There's room within this dark, brooding space for a sense of whimsy too – the custom-made floor-to-ceiling shoe cabinet within the walk-in wardrobe is also a secret door that opens into the kitchen and living area.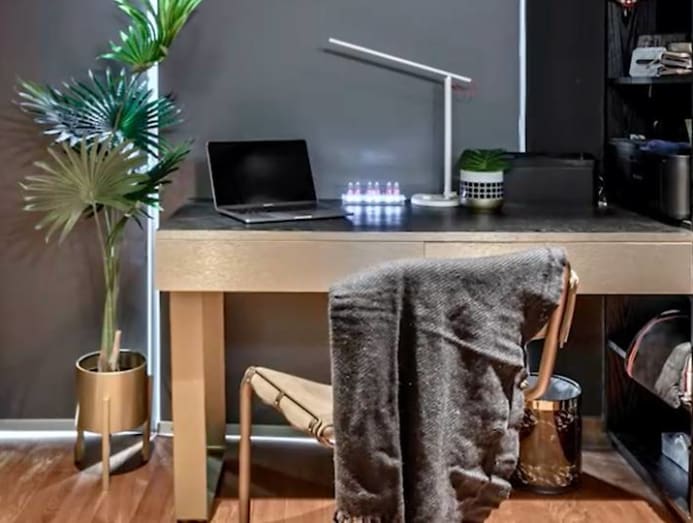 The second, smaller bedroom was turned into a study. Like the other spaces in the apartment, it features dark wood panels all around.
"I don't feel dark and gloomy. It just fits my lifestyle at the moment. Most of the time, I would say, I spend at my study room," said Alan, adding that he sometimes works from the loft bar as well.
"It offers another perspective view which I also like," he says, concluding: "I really love everything. At the end of the day, we as homeowners want to come to a place where we can really chill out and relax. Recently, due to COVID, people tend to stay home a lot more, so it makes me think the investment I made was actually worth it."
And should Alan need to come out of the dark, he can always head out to the balcony right beside his living room.
The rectangular wood-decked space features a lush green wall on one end, and is furnished simply with two comfy contemporary rattan-and-steel outdoor armchairs upholstered in brown, a small round coffee table in glossy taupe, and two rustic-chic rattan lanterns in black.
From there, he gets to enjoy a bird's eye view of the greenery in his neighbourhood – a nice visual counterpoint to his very own bar-themed home.