This family's cafe-inspired HDB maisonette has a huge home library for their books
For this week's CNA Lifestyle's Making Room series, we check out a Hougang home that's bigger than usual – and how its homeowners embraced an awkward space to show off hundreds of books.
Inspired by some of their favourite cosy cafes, married couple Kamal and Sri wanted to recreate the same kind of chill-out atmosphere for themselves and their three kids, Ayumi, Tiara and Kazril.
"We wanted a home with space for a lot of family time. All of us, even the kids, love to go to cafes. Hence, we decided we'd bring into our home the whole vibe of the cafe," said Sri, a civil servant.
CNA Lifestyle's Making Room series looks at small homes with big transformations in Singapore. This week, we check out a Hougang home that's bigger than usual – and how its homeowners embraced an awkward space to show off hundreds of books.
But there was one other architectural quirk that they had to factor in first: The 1,593 sq ft resale HDB executive maisonette that they had bought in Hougang came with a double-volume airwell with curved walls, tucked away in the corner of the living room, next to the balcony.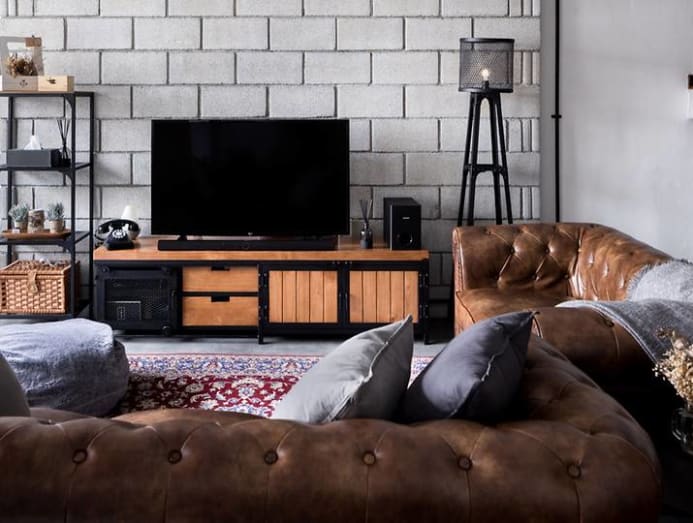 Instead of being put off by it, it was love at first sight.
"The first time we set our eyes on this particular unit, we fell in love immediately with the excess recess area," Sri recalled.
So much so that she decided to make it the focal point of their new family home – by turning it into a home library.
An imposingly massive book tower soars 5.5m skywards, its customised arc-shaped form melding perfectly with the curvature of the wall. Deep, open wooden shelves provide a neutral base against which the colourful spines of several hundred books pop.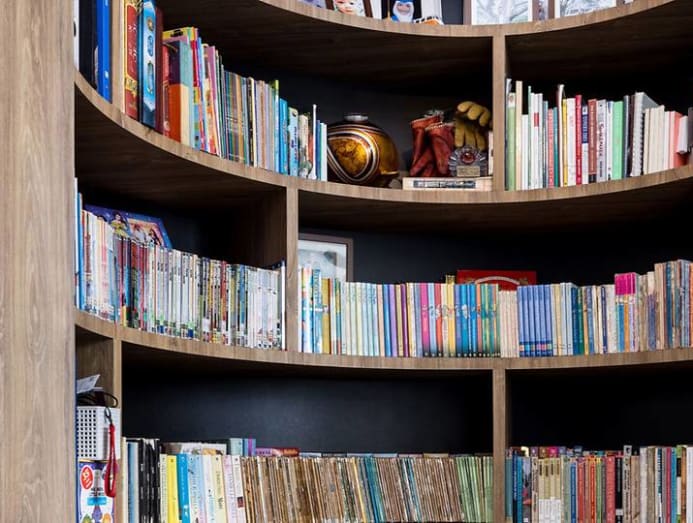 A selection of toys and artwork, placed in between rows of books, adds a sense of whimsy and playfulness. Enclosed cabinets on the bottom row help ground the statement piece of built-in furniture, while providing hidden storage for knickknacks. 
A display of colourful vintage motorcycle helmets takes pride of place on the topmost shelf – their smooth, glossy, rounded shapes contrasting beautifully against the matte rawness and angularity of the exposed brickwork overhead.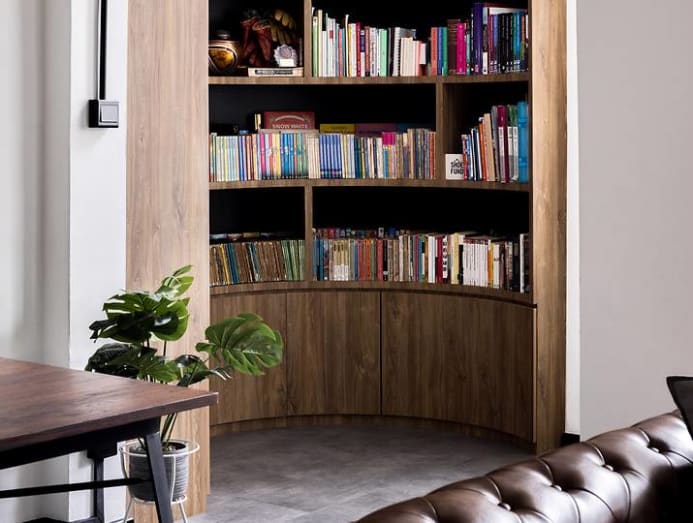 "The first brief we gave our interior designer (from design firm The Local Inn-terior) was the bookshelf because I have a massive collection of books from my childhood, such as the Peter And Jane series, fairy tales, girls' school stories like Enid Blyton's Malory Towers, my English Literature books, as well as my K-pop Super Junior collection," said Sri.
"To throw them away, or sell them off to secondhand stores would have been too emotionally painful for me. (The bookshelf is) perfect to store all these things in one place."
In order to create lots of room on the ground floor for the family to hang out together, the utility room, and the walls enclosing the original kitchen were all demolished, resulting in an expansive, free-flowing space.
A colour palette of mainly white, grey, black, and brown was chosen to achieve the desired rustic-industrial aesthetic. They used materials such as black powder-coated steel, glass, concrete, wood and exposed brickwork.
The walls, which were previously in an assortment of dated pastel colours, were given a coat of fresh white paint, while the flooring was redone in concrete-look tiles.
New window frames and balcony doors with black steel frames were installed. Exposed metal pipes, track-mounted spotlights and wire-cage pendant lamps, also in black, further enhance the industrial-chic feel.
Stepping into the apartment, the eye is immediately drawn to the exposed red brick of the kitchen wall, and a sleek breakfast counter fronted by three steel-and-wood bar stools.
Aside from being a perfect perch from which one can enjoy a freshly brewed cup of coffee (they own not one but two coffee machines), it's also where the kids play mobile games or do homework.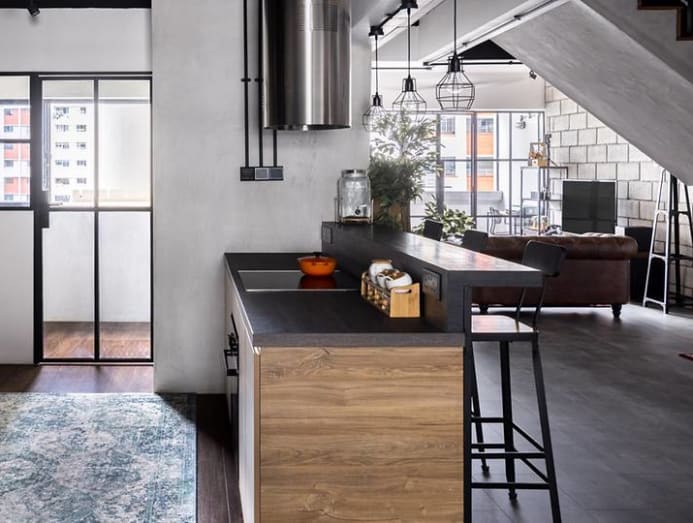 Black countertops, clean-lined bottom-hung cabinets in medium-toned wood laminate, and sleek black-and-stainless steel appliances, industrial-looking hardware and a retro laundry-style porcelain sink give the kitchen a timeless, utilitarian feel.
Vibrant pops of orange from cast iron pots and silicone cooking utensils liven up the place, while potted plants, and a pale grey Oriental rug underfoot soften things up.
A glassed-in half-height wall was built to create a separate laundry/store area without blocking off light or air circulation.
On the other side of the kitchen, a black dining table, with matching leather-upholstered dining chairs, provides a setting for family meals.
The living area, demarcated by a feature wall in exposed grey brick, is furnished with two generously-sized Chesterfield sofas in tan PVC leather, while the remaining furniture pieces – the coffee tables, TV console and display cabinet – are in matching wood and black metal. As in the kitchen, potted plants and Oriental rugs are used to bring a touch of softness and colour to the space.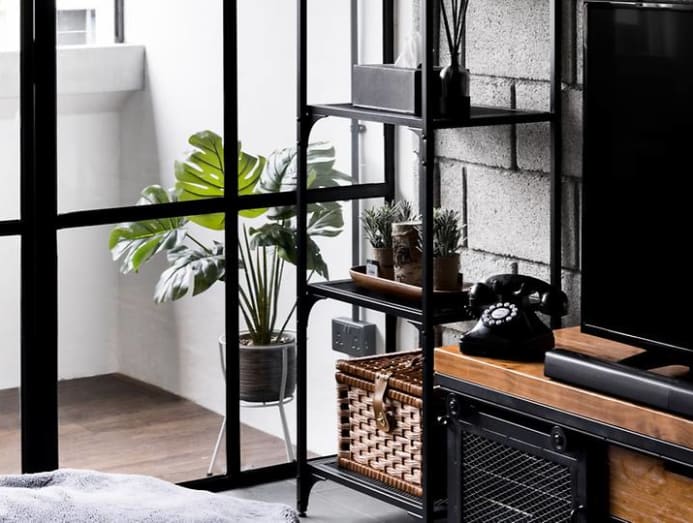 Right behind the sofa, and next to the library, is a rectangular table which seats six.
"This is my favourite place of the house. This is where I play board games with my family and friends," said Kamal, a technical officer at a utilities company, who enjoys sci-fi, fantasy and war-themed tabletop miniature games such as Warhammer and DreadBall.
Sri added: "This is where the whole family congregates together. That's where our family time is. Even though we might be doing different things at the same time, everyone is somewhat bonded invisibly."
She even managed to find a use for the awkward half-height space under the staircase – by adding a rug, it became a cosy reading nook and play area for her son Kazril and his friends, when they have guests over.
Meanwhile, the staircase leads upstairs to three bedrooms. Kazril's bedroom was made a little smaller by moving a wall inwards, in order to create space at the landing for an external shared sink outside the common bathroom, thus alleviating rush hour "traffic jams".
Colourful hexagonal tiles in a mix of different patterns add an element of fun to the common bathroom.
Ayumi and Tiara's shared bedroom is simply furnished with two identical retro-style beds with black curlicued metal frames that channel industrial-chic yet feminine vibes.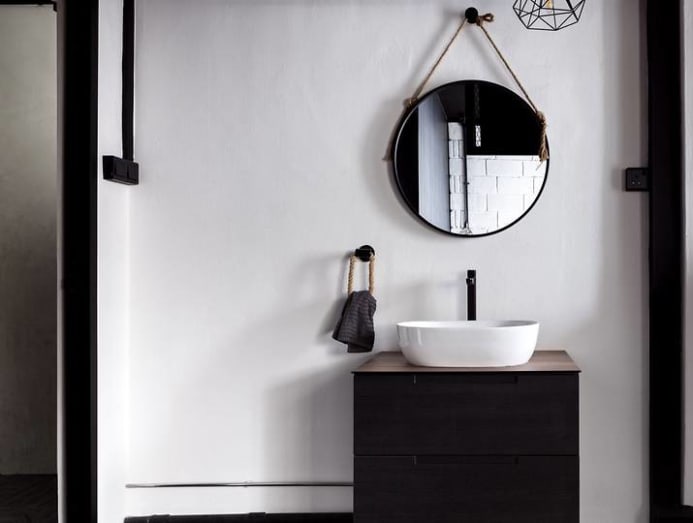 As for the master bedroom, a custom-built wardrobe divides the room into two sections: A narrow alleyway which serves as a walk-in-wardrobe and dressing area, with a small, minimalist sleeping area on the other side.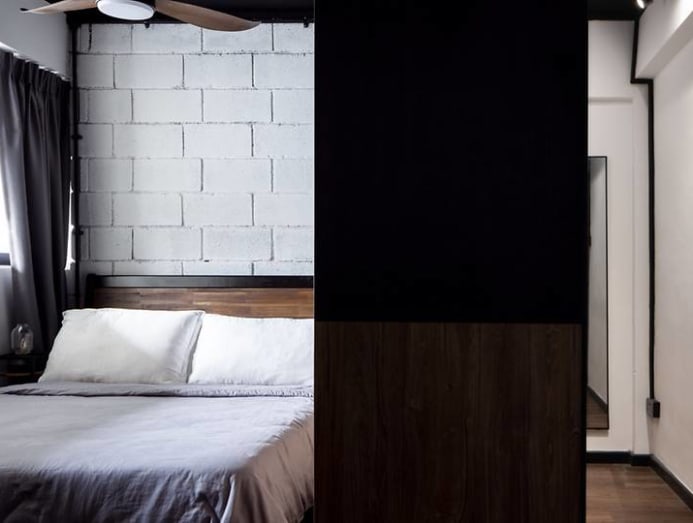 "We want a place to just chill and we realised that when we have this home, we spend less time at cafes that we used to haunt, because whatever in those cafes, we have here," Sri concluded.