A 460 sq ft studio apartment with a literal out-of-the-box space-saving design
CNA Lifestyle's Making Room series looks at small homes with big transformations. This week, it's a tiny bachelorette pad with a giant, architectural "sculpture" for sleeping, storing stuff and entertaining guests.
When it comes to tiny homes, the conventional approach is to try and scale things down as much as possible.
But single homeowner Jocelyn embraced an unusual idea for her 460 sq ft studio apartment in Bukit Panjang. The interior design (ID) firm she engaged, Metre Architects, decided to go big instead with one all-purpose feature – an oversized gradient sculpture that was aesthetically pleasing, space-saving and multi-functional.
CNA Lifestyle's Making Room series looks at small homes with big transformations. This week, it's a tiny bachelorette pad with a giant, architectural "sculpture" for sleeping, storing stuff and entertaining guests.
"This is a very small unit, so the one thing that I was really looking out for was storage space," shared Jocelyn, who works as a civil servant.
"As girls, we normally have a lot of things, whether its clothes or sports equipment. So, in this very small unit, I really do require a lot of storage space to keep all my things."
And the ID firm's creative, out-of-the-box solution offered just that – while also allowing Jocelyn's bachelorette pad to be "versatile" enough so she can toggle effortlessly between work and relaxation, as well as between solo living, and having friends over.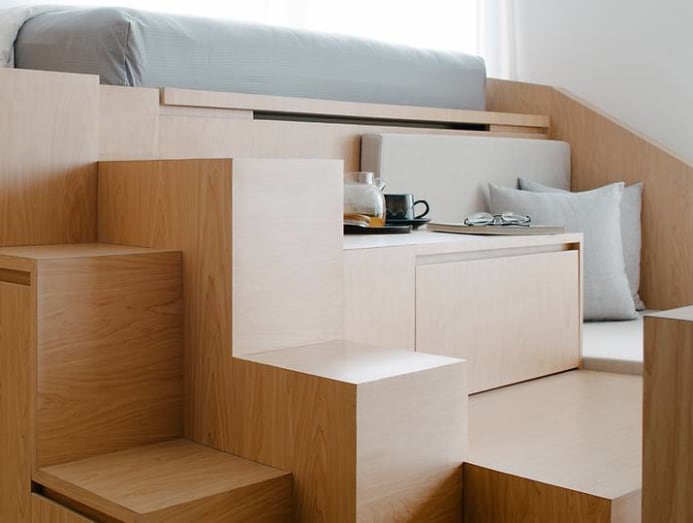 Enter the apartment, and one's senses are immediately soothed by its calm, clean Zen-meets-Scandi minimalist feel, thanks to the pristine white walls, sheer white day curtains, clean-lined, built-in furniture in blond wood, and glossy beige floor tiles.
There's also a deliberate lack of ornamentation in terms of artwork and other home decor items, except for a couple of unobtrusively small, plain vases filled with dried flowers.
The eye is immediately drawn past the compact, narrow galley kitchen with its pale wood cabinetry and white countertops, towards the home's piece de resistance – the lofty, blocky sculptural form in blond wood that dominates the entire space.
With its oversized proportions, elevated, terraced platforms and series of off-set staircases, this MC Escher-like "mountain" that's seemingly made up of wooden blocks resembles an art installation one might encounter in a contemporary architectural museum.
But it is actually the hub of Jocelyn's home, offering the perfect solution for carving out a series of different zones for different purposes – no mean feat especially when considering how tiny the studio apartment is.
Fun, functional and unique, it works as an imaginative, attractive design statement that's also highly practical.
As Jocelyn put it: "It is very aesthetic and it also creates a lot of storage space".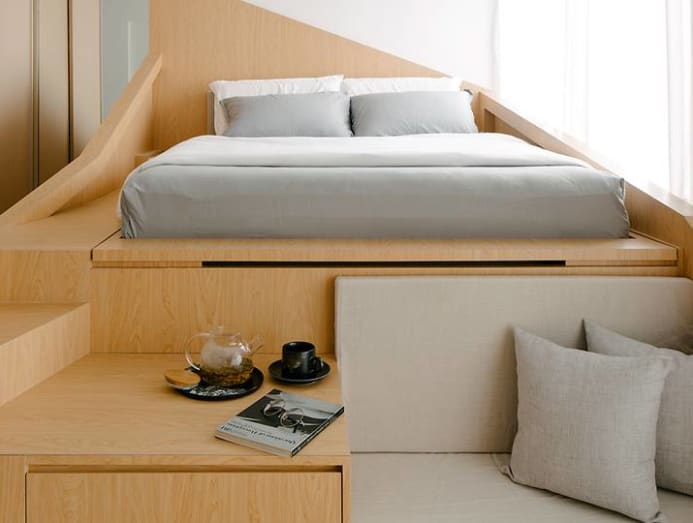 The sleeping area, housing a queen-sized mattress, is tucked away at the highest level of the platform, creating a cosy and private nest-like loft that is segregated from the rest of the space. Situated right beside a window, it allows lots of natural light in, while offering an excellent view of the outside.
"The (other) reason why the bed is so high, is so that I can create a space for a mini storeroom below it," Jocelyn explained.
The lid of the wooden platform, which the mattress sits on, can be lifted up easily thanks to hydraulic pumps. Below is a deep storage space for bulky items. "I can put many things here, even my mahjong table," she noted.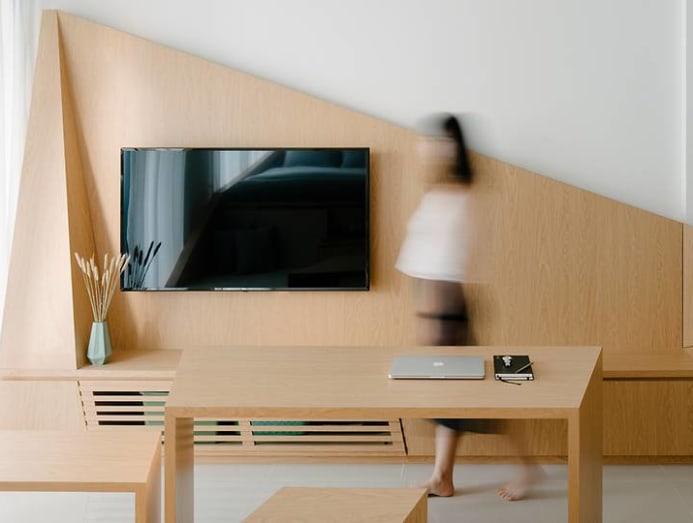 The living area, which is the main feature of the home, is one level below the sleeping area. It comprises a smaller platform that's essentially a daybed. A raised portion beside it serves as a coffee table, with storage space in the drawer below.
Calling it "one of the favourite elements" of her home, Jocelyn added: "It's really very comfortable when I stay at home, watch TV, and I have my snacks just beside me, in a drawer".
A couple of offset staircases link the sleeping and living "terraces" to the ground level. Aside from using them as steps to climb up and down between the different zones, these also serve as extra seats when Jocelyn has guests over.
What's more, lots and lots of cabinets and drawers are included in the design, offering plenty of different compartments for Jocelyn's toiletries, clothing, sports equipment and handbag collection – indeed, it's impressive seeing the sheer amount of stuff the homeowner manages to stash out of sight.
Across the "sculpture" is a feature wall in a matching blond wood that extends all the way to the kitchen, its slanting, angular lines perfectly echoing the design language of the "sculpture".
The feature wall serves as a backdrop for the mounted flat screen TV, and incorporates a long bench which provides hidden storage, and, if needed, more seating space.
The minimalist waterfall table in the same wood tone, which stands between the "sculpture" and the feature wall, is a multi-functional zone in itself.
It serves as Jocelyn's dining table, as well as a home office on days when she has to work from home. And when friends come over, a matching bench tucked unobtrusively below the four-seater table can be pulled out to offer extra seating.
Much effort has been made to keep the apartment looking as minimalist as possible, from the unobtrusive lighting fixtures, plain sheer white curtains, and soft furnishings such as cushions, upholstery and bedspreads in a strict palette of pale grey and white.
The narrow corridor between the "sculpture" and the bathroom serves as a walk-in wardrobe, thanks to a row of full-height, wall-to-wall built-in cabinets. The floor-to-ceiling mirror at the end of the corridor is not just handy for dressing up, it also helps bring more light into the area, and makes it look larger.
A decently-sized balcony, with more than enough space for a small table and two chairs, offers al fresco seating with expansive views over the neighbourhood, and helps prevent the cooped-up-in-a-small-apartment feeling.
"Sometimes at night, I will just sit here, enjoy a cup of tea, and play with my iPad," Jocelyn said.
"Even though it's a very small apartment, it can be adapted to whatever the situation is."