A geeky couple's 1,001 sq ft BTO flat with a gaming room and toys on display
CNA Lifestyle's Making Room series looks at small homes with big transformations. This week, check out a home that's literally a play station for its owners and their friends.
Clemence Feng and Candice Chua are video game enthusiasts and toy collectors who both love Japanese video games such as Final Fantasy, Persona, Kingdom Hearts and Yakuza. The couple also own two Shetland sheepdogs.
So for their first marital home, the couple made sure it had to reflect their personalities and needs.
"We wanted something that really reflected who we are as people, and that really served our purpose in terms of how we live and how we want to use the space," said Candice, who works as an innovation centre manager. Meanwhile, hubby Clemence works in human resources.
They engaged interior design firm Design 4 Space to transform their new 1,001 sq ft four-room HDB BTO flat in Woodleigh into a warm, welcoming home centred around gaming, with ample space for entertaining guests (and their doggos).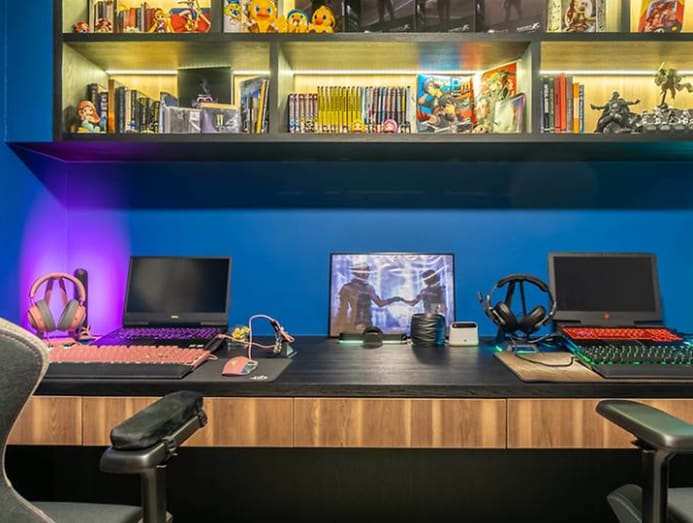 The end result is a surprisingly grown-up and practical space done up in bold hues such as emerald green, dark blue and deep grey, with elegant wood, marble and brass accents.
But instead of displaying paintings, framed photos, vases and other decor items as more conventional home owners are wont to do, Clemence and Candice went with gaming paraphernalia instead.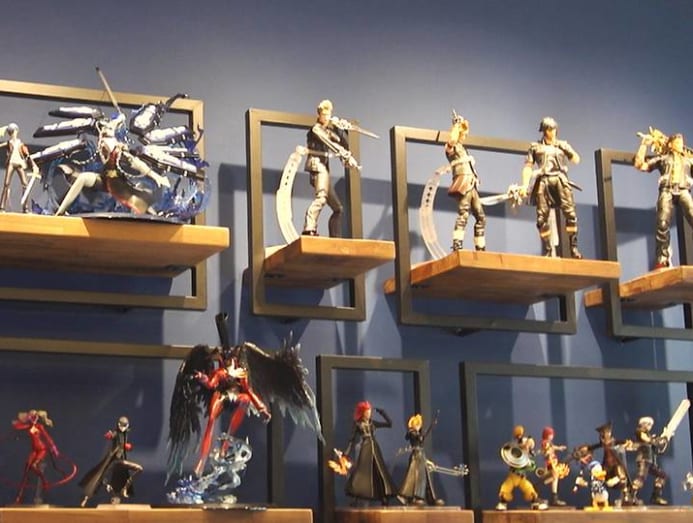 The two main focal points of the living area – the wood and metal floating shelves behind the recliner sofa that display a selection of characters from video games and the huge 65-inch flat screen TV (all the better for truly immersive game play) – are a dead giveaway for the couple's passion for gaming.
"This is my geek area and I can show it off to anyone that comes to my house," said Candice, who quipped about having "a million figurines out on display".
"Is it socially acceptable? Probably not, but it's something that we enjoy, whether it's gaming, whether it's collecting things. As long as it looks great and it makes us happy, why not?"

The living area's pastel aqua sofa (and the matching dog bed), soft grey rug, and the nesting tables and minimalist low-profile TV console in wood tones matching that of the dining table, help add a touch of warmth and cosiness to the space.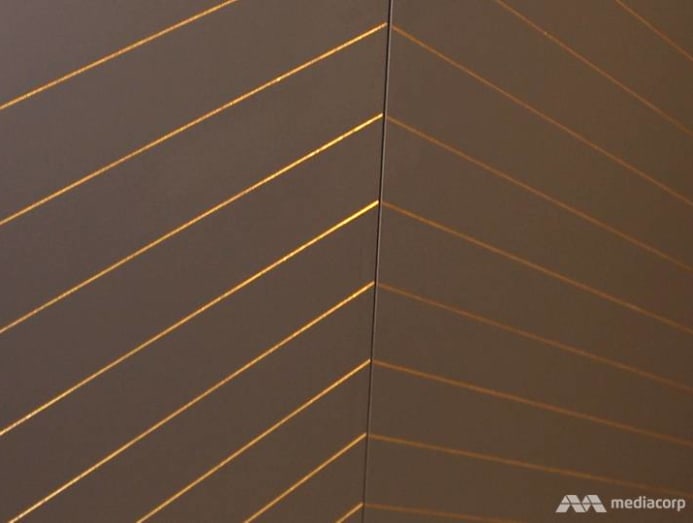 But before all these, the homeowners start off with a bold yet sophisticated style statement at the flat's entryway: A deep brown feature wall with a large, hand-painted chevron design in gold, which also hides the bomb shelter door.
The door and the wall of the original enclosed kitchen near the entrance of the apartment, were removed to create a flowing, open-concept kitchen-dining-living area.
"We like to have our friends over so a very open concept makes it such that I can pretty much be doing anything while my friends are here, and it doesn't feel like I'm not keeping them entertained," Candice explained.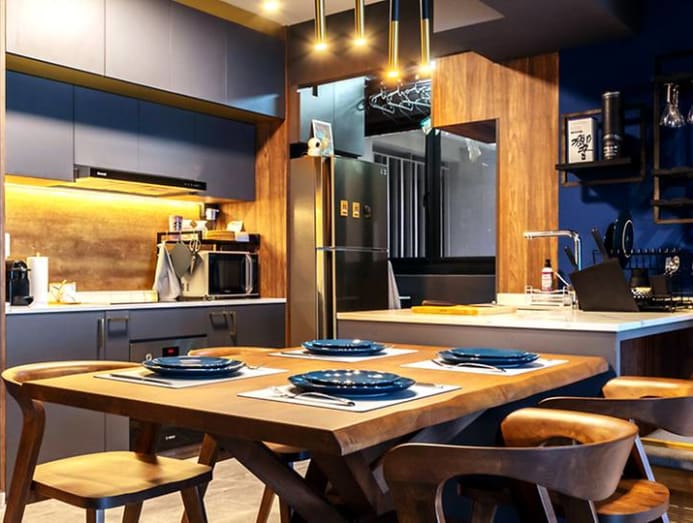 Deep blue walls and grey marbled floor tiles used throughout the kitchen-dining-living area help unify the space.
As the kitchen is on display all the time, marble-look countertops, cabinetry in medium matte grey laminate with brass drawer pulls, an unobtrusive built-in induction cooktop, and a wood-look backsplash keep things elegant.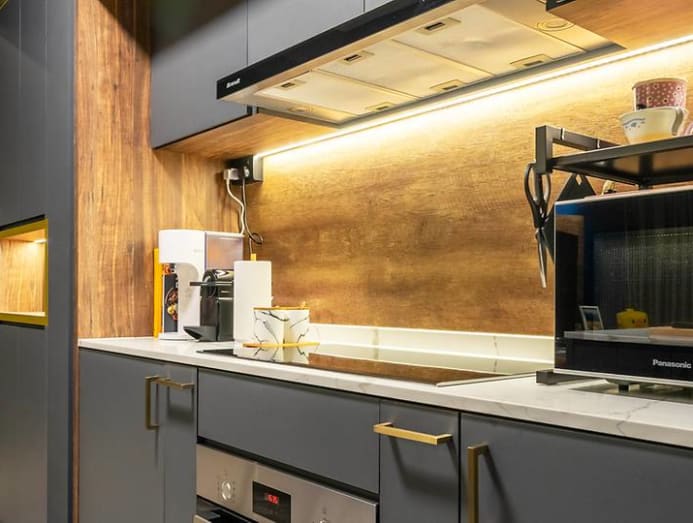 The main kitchen counter is built flush against the back wall. A matching half-height island directly opposite houses the sink and provides a large surface that multitasks as a worktop, a bar, or a buffet counter. A wall-mounted rack close by stores wine, whisky and glasses, allowing the couple to fix their guests drinks quickly and easily.
A rectangular four-seater dining table in medium brown-toned wood, with matching dining chairs, is placed right beside the kitchen island, allowing the couple to interact with friends while preparing and serving food and drinks.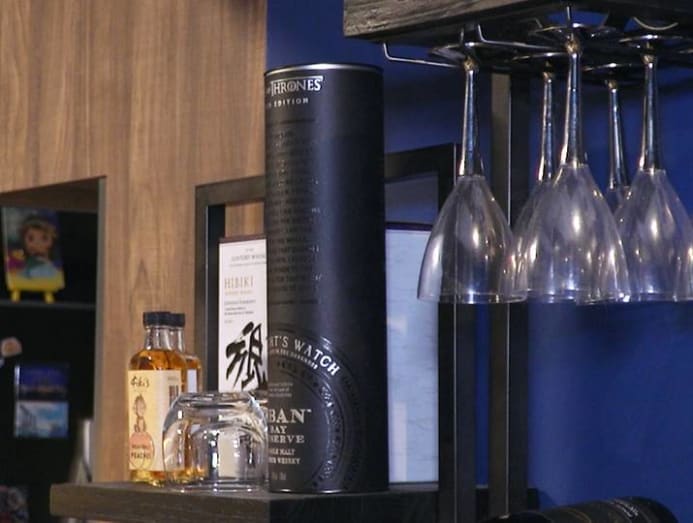 "There's enough space for us to do prep work. I love the induction hob and the wood-textured backsplash which is actually fiberglass, as cleaning up is so much easier, which makes you want to cook a lot more," said Candice.
Meanwhile, when it comes to playing games, the living area is just one of the options. One of the bedrooms was turned into a dedicated gaming room that also serves as a home office and guest room. Blackout roller blinds help shut out distractions.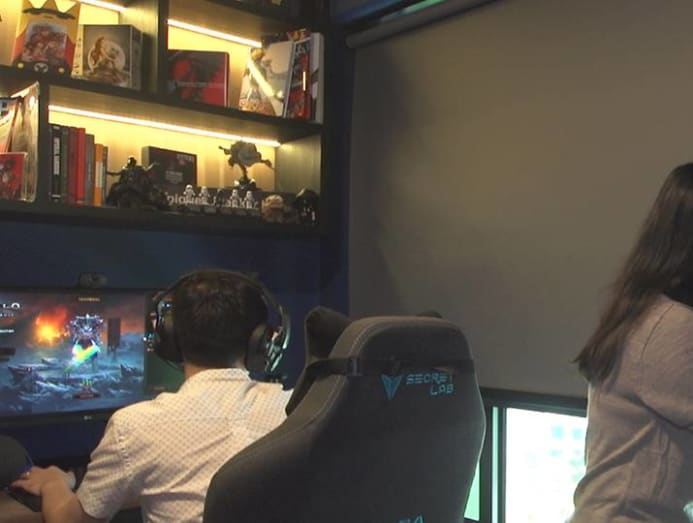 A long, floating desk built against an entire wall hides unsightly cables, and allows the couple to work and play side by side – in super comfy gaming chairs. Above is a backlit wall-mounted display shelf for their manga, figurine and soft toy collections.
And then there's the spacious master suite, which was created by combining the two remaining bedrooms.
A partition wall separates the sleeping area from the wardrobe/dressing up area. The side facing the bed has a wall-mounted TV screen, so Clemence can play his Nintendo Switch in the bedroom when Candice hogs the TV in the living area.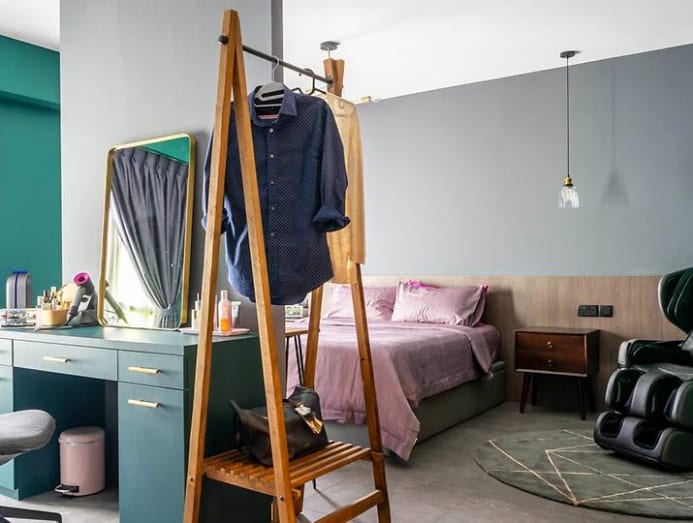 A backlit built-in headboard adds a cosy glow, while a massage chair helps ease aches and pains accumulated during long gaming sessions.
On the other side is a dressing table, behind which is a row of built-in wardrobes in a bold jewel green tone that match the walls of the master suite.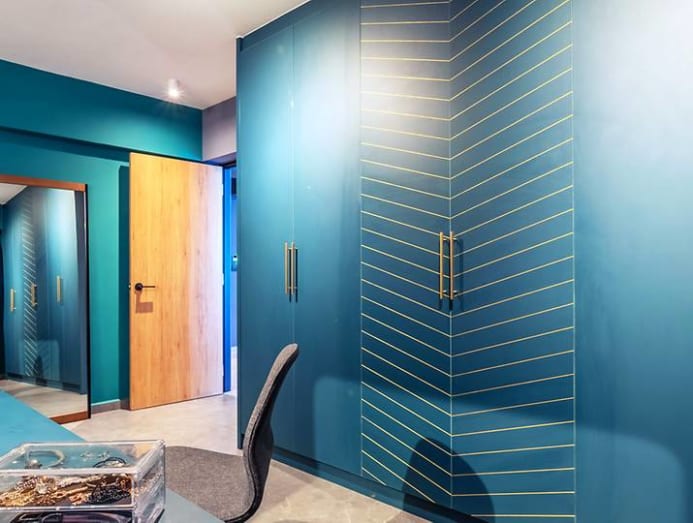 One of the wardrobe doors bears the same gold chevron pattern on the brown feature wall at the apartment entrance, while the master bathroom walls, clad in strips of white marble arranged in a chevron pattern, extend the commonality in design language throughout the home.