Transforming a 510 sq ft HDB flat to accommodate a couple's eclectic passions
CNA Lifestyle's Making Room series looks at small homes with big transformations. This week, we visit a three-room resale flat with some simple tweaks for their sporty lifestyle, their plants and desire for a retro feel.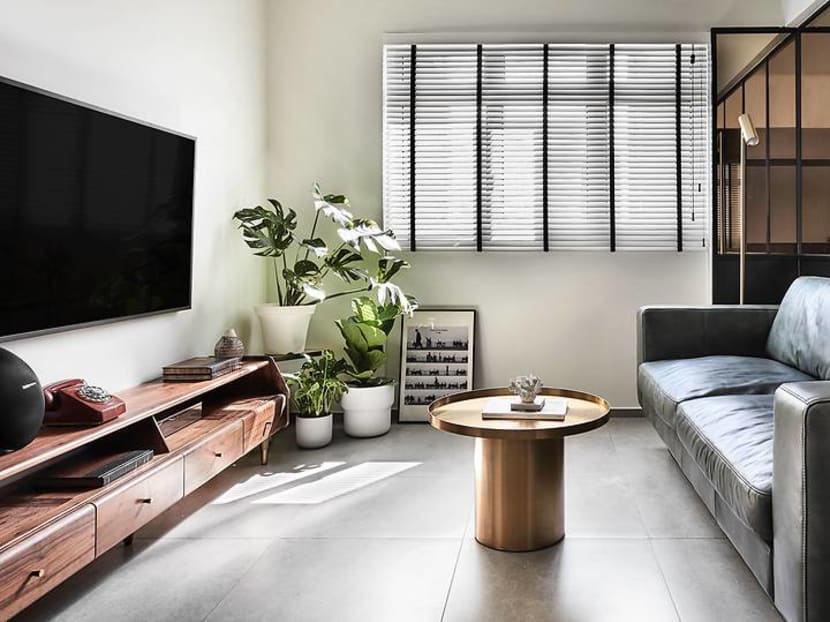 Homeowners Zen and Evie wanted their home to exude a timeless, retro-colonial vibe. They're also fitness enthusiasts who rollerblade and work out regularly, love having friends over, and had just started a burgeoning collection of plant babies.
That's quite an eclectic set of factors to consider for their 510 sq ft three-room resale HDB flat in Crawford Lane, but the interior designer they engaged – Ean Chu of Happe Design Atelier – managed to consider all of these.
CNA Lifestyle's Making Room series looks at small homes with big transformations. The owners are into sports, plants and prefer having a retro feel for their home. Here's a three-room resale flat renovated just for them.
The very first thing he did was to reconfigure the space. "Since they love entertaining friends, they definitely need a big communal space," he noted.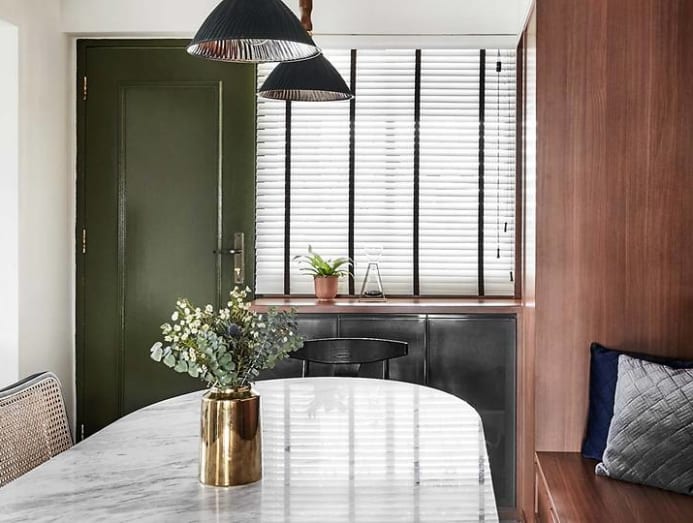 One of the apartment's two bedrooms was sacrificed – its walls were hacked, and the space converted to a living area.
The wall between the kitchen and the dining area was also removed, resulting in a welcoming, spacious, flowing open-plan L-shaped layout which connects the living area, dining area, kitchen, and even the service yard where the bathroom amenities are located.
To create an aura of timeless elegance, Chu chose a subdued, earthy colour palette of white, black, grey, teak brown and olive green. Classic colonial-era materials such as glass and brass, as well as tropical hardwood and rattan, are used as accents to warm up the space visually.
The same floor tiles – in medium grey marble, shot through with delicate white veining – were used throughout the living and dining areas, kitchen and master bedroom for a sense of design continuity, imbuing the entire space with a sense of understated calm and sophistication.
"We chose a marble surface to neutralise the wooden accents of the house," Chu explained.
Enter the apartment through the olive green front door, and one is greeted by a built-in shelf stocked with leather-bound vintage encyclopaedias, and a half-height cabinet accented with an hour glass and a potted fern, below which shoes (and the couple's roller blades) can be quickly stashed out of sight.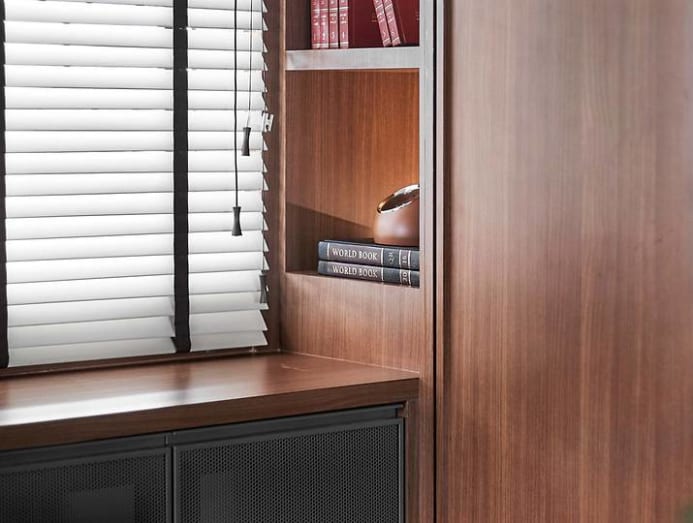 The first thing you notice is how one side of the entire length of the apartment is dominated by teakwood wainscoting that goes almost right up to the ceiling.
Aside from giving the apartment a posh gentleman's club feel, the wainscoting conceals lots of built-in cabinetry as "sufficient storage was a key point," said Chu. Another row of concealed cabinets in white laminate was built above. They blend seamlessly into the ceiling, while creating an illusion of height.
In the middle of the row of wainscoted cabinets is a cosy, recessed alcove. It provides extra bench seating without eating into the flat's footprint. A combination of open shelves and drawers below the bench provides additional storage space, while a backlit nook behind houses framed artwork and home decor items.
Visually, this feature creates a pleasingly symmetrical focal point within the apartment that highlights the dining area, which is lit overhead by a row of three pendant lamps in wood, brass and blackened steel.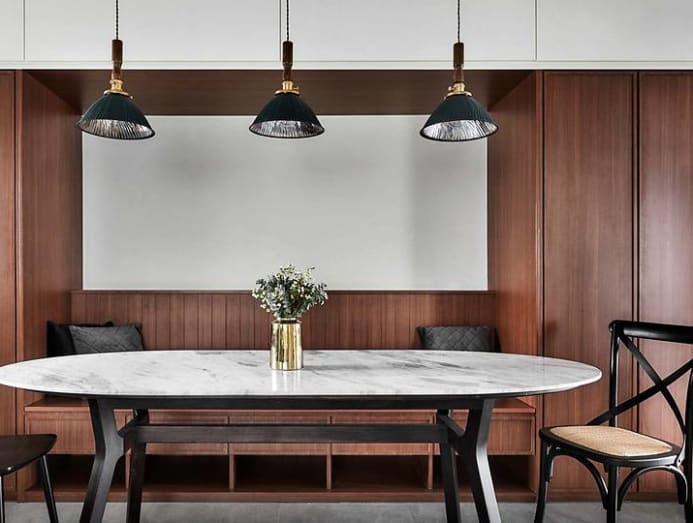 The large oval marble-topped dining table with dark wood legs is reminiscent of the old kopitiam tables found in colonial-era Singapore. It seats up to 10 for dinner parties, and performs double duty as a generous work-from-home space for two. Mismatched dining chairs in a mix of black wood and natural rattan are quirky, without being jarring.
The living area, which is right beside the dining area, feels cosy, intimate and elegant all at once, thanks to the black half-height wainscoting and bronze-tinted mirror panels that demarcate the space. The tinted mirrors also help bring light (but not glare) into the space, while making it look twice its size.
Even though it's furnished simply, the rich tones and textures of the furnishings and decor items – the moss-green vintage leather sofa, the round brass coffee table accented by a piece of coral, the long mid-century-styled teak TV console, and the triangular rattan-topped side table – as well as the strategic placement of large potted plants (for their other hobby), make the space feel warm and inviting.
A small, curated selection of decor items, such as a red telephone and leather-bound books, add a pop of muted colour and retro charm.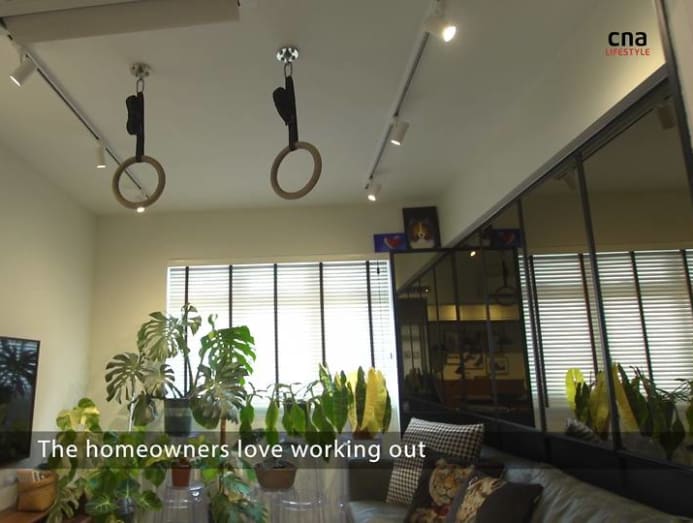 While the homeowners used to bring their gymnastic rings to the nearby park for their workouts, Chu decided to hang them within the living room instead so they could exercise at home if they wished – another design decision to cater to the sporty couple.
"The most interesting feature of the house is the connection of the space from the communal area to the kitchen and yard," Chu pointed out.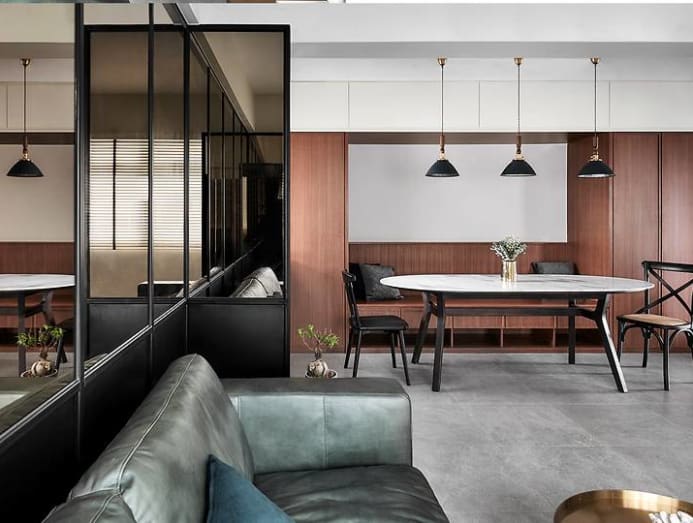 Indeed, while the space is mostly kept open, white metal-framed and glass sliding French pocket doors make it possible to segregate the dining area from the kitchen when there's heavy cooking taking place, without blocking out the light or impeding visibility.
Likewise, it's also possible to segregate the kitchen from the bathroom/utility area at the farthest end of the flat.
"The retro-infused kitchen meets the colonial-style yard – both continue to maintain a modern approach with a fresh colour palette and clean simple lines."
The galley-style kitchen, with its top and bottom cabinets in teak, marble-look countertops and backsplashes, echoes the design elements of the dining area.
The bathroom/backyard setup maintains the standard layout of the traditional three-room HDBs, with separate shower and WC "stalls", and an external sink between the two.
Most homeowners would hide away such a small, functional space, but Chu turned it into a distinct, striking and sophisticated design statement.
The flooring is done up in antique white terracotta floor tiles featuring an eye-catching sunburst design in moss green.
An oversized vintage style sink, black-steel and glass doors for the shower and WC stalls, a row of white shiplap-clad cabinets (for concealing cleaning equipment) and potted tropical plants channel a breezy "old world" charm.
Last but not least, there's the couple's master bedroom. It was extended to accommodate a spacious walk-through wardrobe on both sides by way of minimalist-looking built-in cupboards in pristine white laminate.
The sleeping area is dominated by a custom-made teak-stained bamboo platform backed by a full-height feature wall. A semi-circular bronze-tinted mirror serves as the headboard, creating a focal point in the room, while bringing more light in.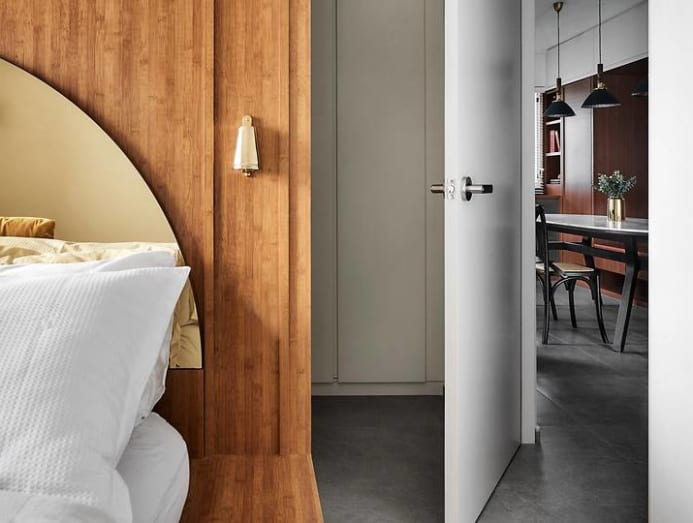 Two identical wall sconces placed on either side of the mattress are a clever way to provide light and introduce a sense of symmetry to the room while doing away with the need for bedside tables in this cosy space.

Chu thoughtfully designed the platform with drawers below it, and a flip-top lip under the mattress, to meet the couple's storage needs.
A pair of delicate frosted glass pendant lamps, and old-school steel window grilles installed over the window, round up this elegant ode to nostalgia.