How grandma's Peranakan dresser inspired a 731 sq ft BTO flat that's also a smart home
CNA Lifestyle's Making Room series looks at small homes with big transformations. This week, we visit a three-room flat where treasured family heirlooms meet mid-century chic, with a modern spin.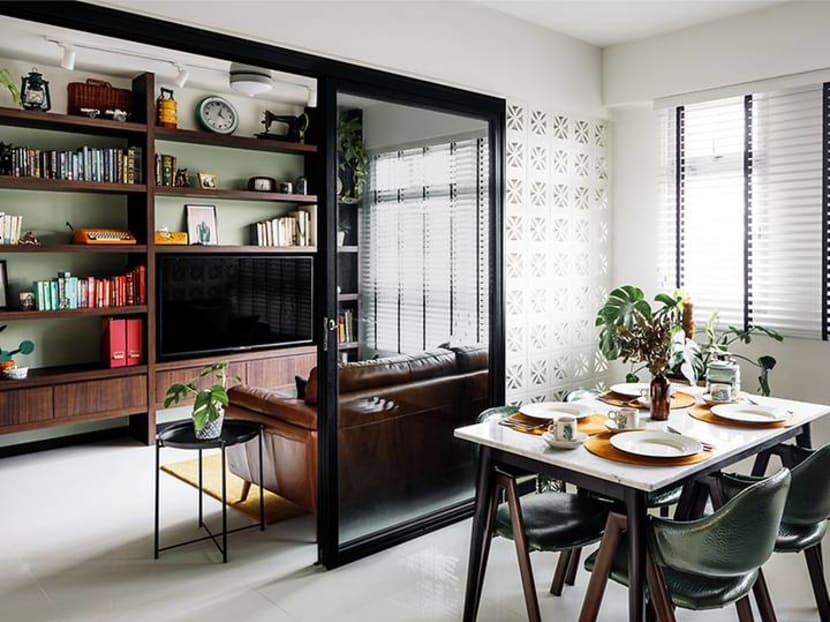 Social media manager Nadiah Othman and her husband Ridzwan Ismail love things of sentimental value.
"We are both very old souls," said Ridzwan, who is also a design director. "We believe we were born in the wrong era. We imagine ourselves as adults in the 60s."
So naturally, they wanted their home, a 731 sq ft HDB BTO flat, to showcase their family heirlooms, their personalities, and their lifestyles.
"We knew that we were coming in with some inherited pieces," said Nadiah, referring to items such as a vintage Singer treadle sewing machine that had been with her family for many generations, and an antique marble-topped dresser that belonged to her grandmother.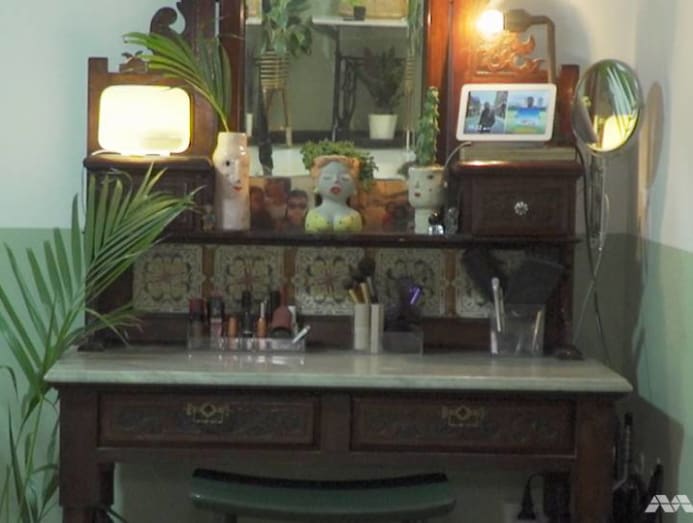 Referring to the dresser, she said: "It's a beautiful Peranakan piece from the 1940s with accents like flower knobs, brass handles, and vintage tiles. When we inherited it, we knew this was what we would use to inform our design decisions throughout our home."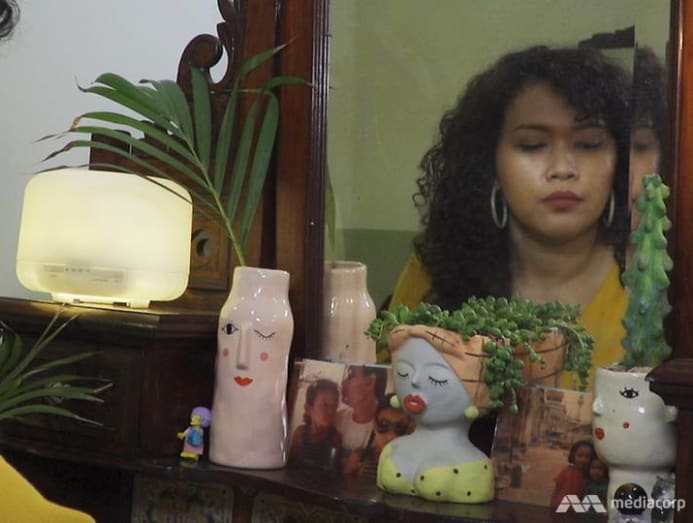 "If you see a lot of textures, colours and materials in the house, they are actually directly inspired by it (the Peranakan dresser)," said Ridzwan. "The overall flavour is a bit Peranakan, a bit local. I would say it's mid-century modern."
And since his favourite colour is green, it's no surprise that the hue pops up in various shades throughout the apartment.
The first thing that catches the eye upon entering their home is a console table. It comprises a marble slab perched atop the aforementioned vintage sewing machine's heavy, cast-iron base. On top of the table, you've got a table lamp and a tiered rattan catchall, which neatly corrals daily-use items, such as earphones and hand sanitiser.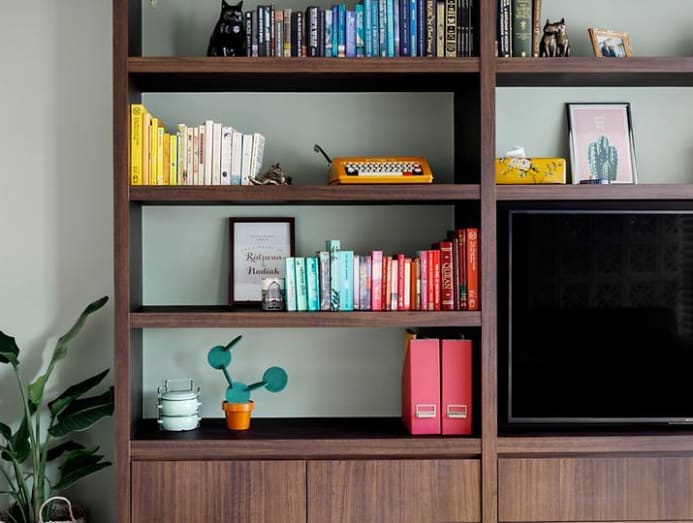 On either side, potted plants in rattan stands and baskets add a touch of green and extend the retro vibe. The sewing machine, which was separated from its base, now serves as a home decor item, along with other quaint bric-a-brac such as a rattan picnic basket, a hurricane lamp, and old cameras.
The largest wall in the living room is painted a milky pastel green that was commonly used in the 60s, and serves as a backdrop for a massive floor-to-ceiling custom-built shelf in a dark wood laminate.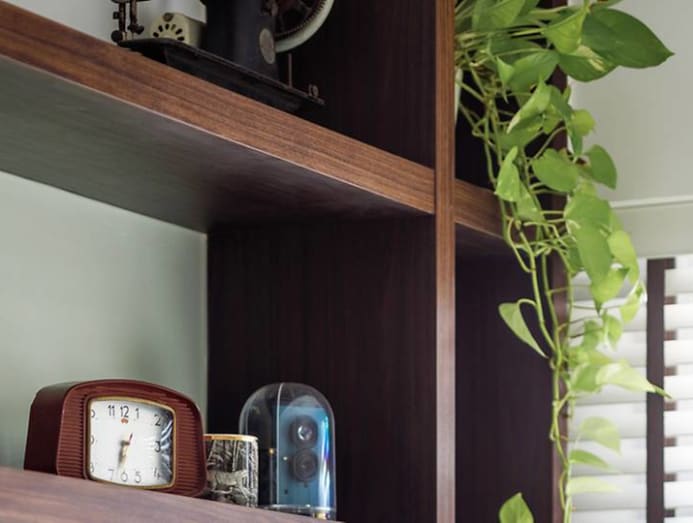 Aside from housing the flat-screen TV and books, "it's the centrepiece of our home, so we showcase a lot of things that shout 'us'," said Ridzwan. "We love to read!"
It also displays items that tell a story – such as the yellow typewriter passed down from Ridzwan's mother – and finds from their secondhand treasure hunts.
A Marshall speaker resembling a miniature vintage guitar amplifier turns out to be completely up to speed with modern technology.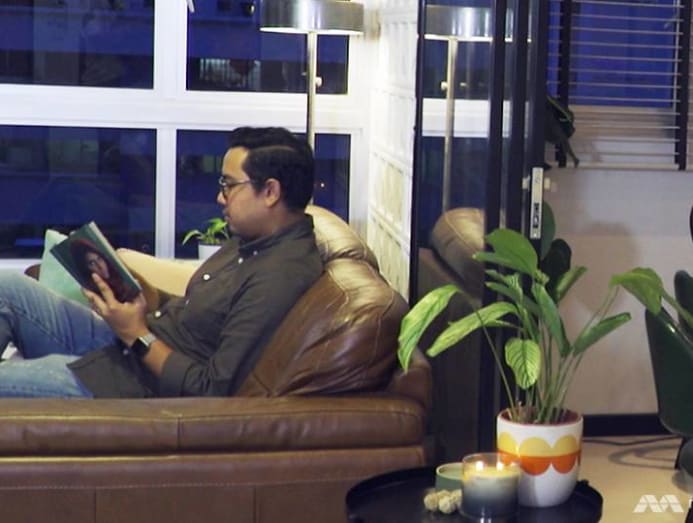 "It looks like it was designed in the 50s, 60s, maybe 70s. But it's actually a smart speaker. You can give it commands to switch on the air-conditioner, the lights. So this place looks like it's from the 60s but it's a smart home," said Ridzwan. Of course, the speaker streams music, too.
An unapologetically squishy brown leather sofa and a mustard-yellow rug complete the old-is-gold atmosphere.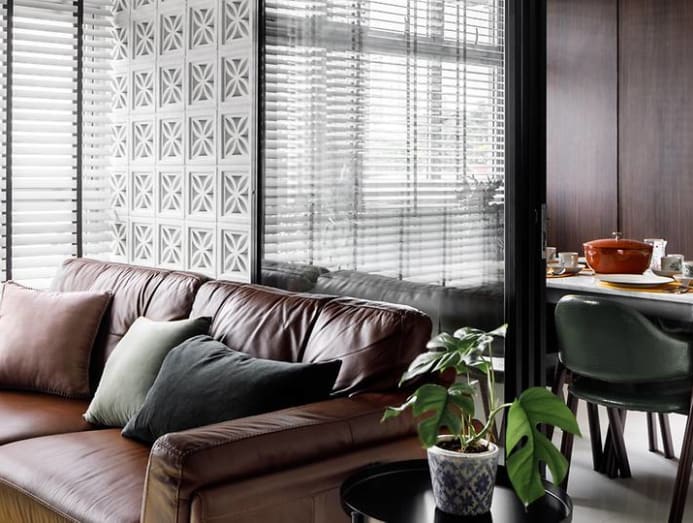 The sofa backs onto another key design feature of the living room: A feature wall made of white cement breeze blocks.
The couple transformed their second bedroom into a hybrid dining/study/wardrobe space. They knocked down the walls and replaced them with breeze blocks and glass panels/sliding doors. 
These help segregate the hybrid space from the living room without closing it off entirely, making the entire flat appear brighter and more spacious.
"The breeze block feature wall reminds us of my grandmother's home back in Marine Parade, and helps facilitate air flow, while lending such a nostalgic feel," explained Nadiah. It also doubles up as a vertical garden.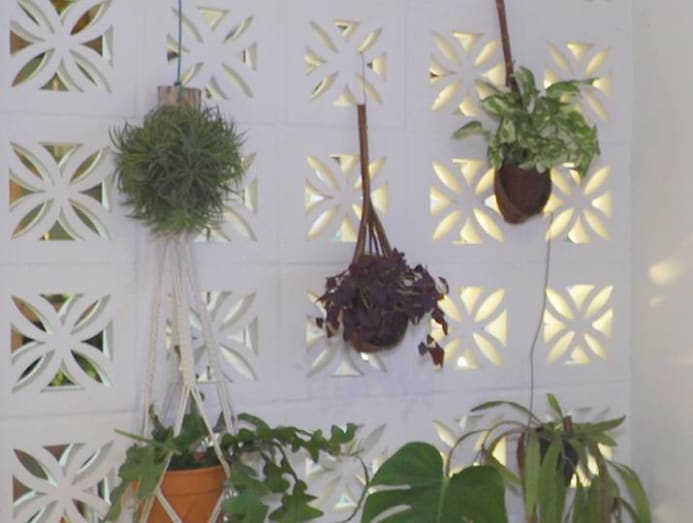 The wood-laminate feature wall, which provides a warm, cosy backdrop for the rectangular marble-topped dining/study table, turns out to be a built-in cupboard for the couple's clothes, affording them a more spacious, uncluttered master bedroom.
The master bedroom is simply but cosily furnished. Its walls are painted up to half-height in the same shade of soft, milky green as their living room accent wall, and a soft cream everywhere else. It proves a clever way of introducing a pop of colour to a space without overwhelming it, or making it look too dark.
A queen-sized bed with a rattan headboard is placed against the window. It's flanked by pair of identical wooden bedside tables topped with matching classic bankers' lamps with their brass bases and green glass lampshades.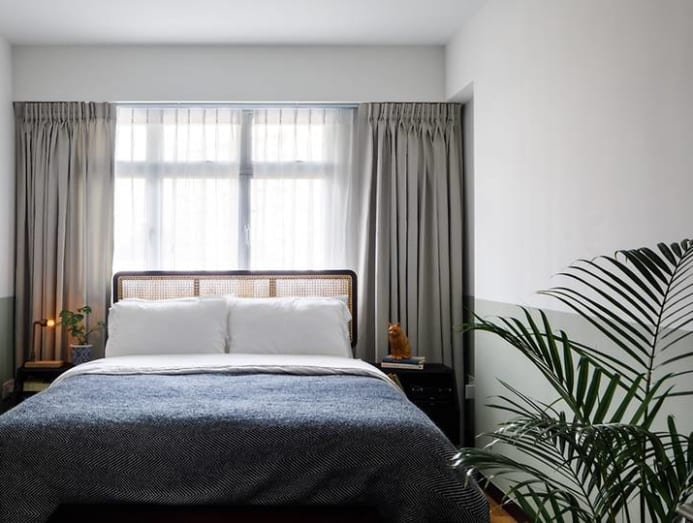 At the foot of the bed is a plain wooden bench. Near it is a wall-mounted mirrored cabinet with hidden storage for storing jewellery and accessories – the headboard, bankers' lamps and mirrored cabinet were bargain finds scored from secondhand online shopping platform Carousell.
A potted palm and the vintage dresser, which inspired the entire home, complete the master bedroom setup.
As Ridzwan had mentioned earlier, he loves the colour green. So, it was no surprise the bathroom is green and gorgeous.
"When we were looking for bathroom tiles, I fell in love with these forest green ones … every tile is different," he said, referring to the bathroom's feature wall covered in glazed ceramic tiles in variegated green hues. The black-and-white penny mosaic floor provides a handsome contrast, while a round Peranakan basin sink adds character.
Nadiah's favourite space in their home is the kitchen. "It's like my safe and happy space," she said.
The original kitchen and service yard were combined to create a galley. All-white top-hung cabinets and countertops, base cabinets in medium-toned wood laminate, and the same black-and-white penny mosaic floor as seen in the bathroom, make for a smart-looking and functional space.
A frosted glass backsplash adds lightness and transparency, and the homeowners can scribble on the day's menu and recipes in erasable marker. Open floating shelves allow easy access to cookbooks.
The washer/dryer is tucked away neatly right at the very end of the kitchen, below the countertop. This area also serves as a nook for their container garden of home-grown herbs such as curry, pandan, and lime. 
"It really helps because these are all herbs I use every day in my cooking," said Nadiah.