An 850 sq ft condo in Joo Chiat goes for a 'Japandi' look with a Peranakan touch
CNA Lifestyle's Making Room series looks at small homes with big transformations. This week, we visit a bachelorette pad that blends Japanese and Scandinavian designs with a nod to the neighbourhood's heritage.
Tucked away in the heart of Joo Chiat, this 850 sq ft apartment is a peaceful oasis that provides the female homeowner much-needed respite from her high-pressure banking job.
"The homeowner had an interesting combination of styles that she wanted. She had lived in Japan, so she would like a bit of the Japanese influence. She was also drawn to the whole Scandi kind of look and feel," said Arjan Nijen Twilaar, the Dutch-born founder and principal designer of interior design firm Aiden T.
CNA Lifestyle's Making Room series look at small homes with big transformations. This week, we visit a bachelorette pad that blends Japanese and Scandinavian designs with a nod to the neighbourhood's heritage.
So, he decided to infuse the apartment with "Japandi" design, which mixes Japanese and Scandinavian influences. 
"The underlying design philosophy is clean spaces, neat lines, and light colours. Combining these two styles together works," he explained.
Arjan added: "But because we're in the historic centre of Singapore, Joo Chiat, we wanted to bring in a bit of that Peranakan vibe as well. It's a nice bridge because the Japanese look, in terms of its clean lines, is a little bit hard. Whereas working with a female homeowner, I wanted to create something a bit softer."
The original beige marble floors of the living and dining areas were kept intact and given new life thanks to the addition of a polished wood border.
As the overall goal was to create elegant and minimalist spaces rooted in functionality, Arjan decided to create various visual zones within the apartment.
"When you design small spaces, people tend to go small scale, so you end up with a small home with a small sofa, a small painting, and everything becomes small, small, small. If you really want it, make it more of a design statement; you overscale some of the stuff," he said.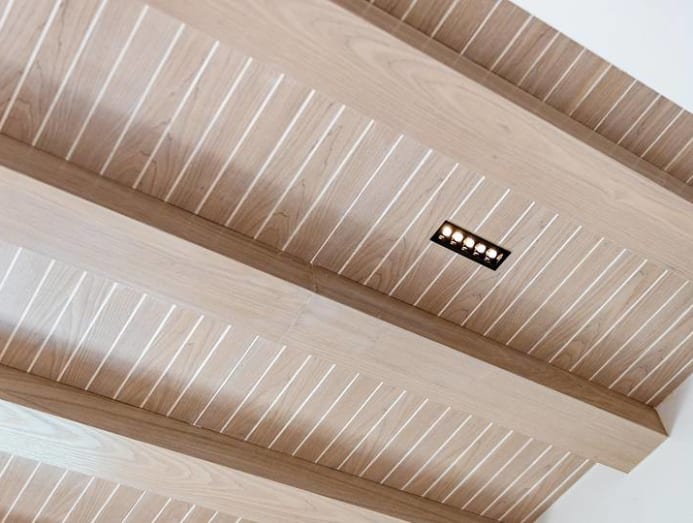 The first thing that catches the eye upon entering is the ash wood beam ceiling of the living area. A large black-framed contemporary painting of a woman in a graceful white gown against a deep beige background imbues the space with an undeniably feminine vibe.
A clean-lined leather sofa, in the same shade of beige as the painting's background, and accented by Scandi-print cushions, anchors the living space. 
Across from it are two mid-century-styled wooden armchairs upholstered in muted pink fabric, against which blue-and-white tile-print cushions pop. A round coffee table, which features vibrant Peranakan-inspired turquoise and pink floral motifs, completes the ensemble.
The small balcony beside the living area overlooks the pool, and is furnished with a pair of wicker chairs, and a small round table with a wire cage base for an airy feel.
"The living room is actually very plain – four walls, a floor and a ceiling. But where are my design details? They're actually on the floor and ceiling," Arjan explained.
A deep blue vase on a small accent table in stone and brass, placed in front of a sculptural wall-mounted sconce, subtly demarcates the living area from the adjacent dining area.
An oversized monochromatic landscape painting of mountains forms the main focal point of the dining area, providing a dramatic touch to the space, which is furnished simply with a round dining table in pale wood.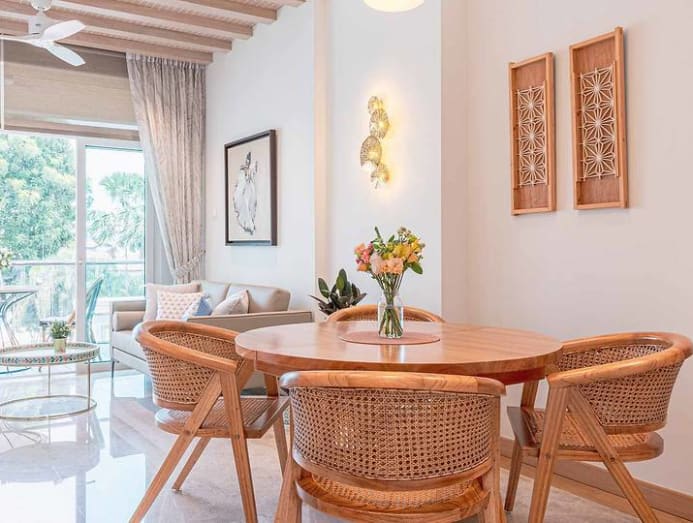 The custom-made piece is expandable as well, and can fit anywhere from six to eight people. Matching rattan-backed dining chairs channel the austerity of Japanese design, with a nod to tropical living. Overhead, a vintage glass pendant lamp casts a soft, warm glow.
There was an electrical distribution box on a wall bordering the kitchen – "a very unsightly little thing", said Arjan – so, he concealed it by building an elegant rattan-fronted cabinet with brass handles, thus creating storage space in the process.
Other smart storage solutions include pushing out a wall near the front door and building cabinetry flush with that new wall, for integrated and almost invisible shoe storage.
Glass doors bring more light into the kitchen, where beige terrazzo countertops, a white-tiled backsplash and white top-hung cabinets align with the Japandi principle of simple lines and plain colours. Deep brown base cabinets, accented by brass drawer pulls, add a touch of warmth.
The common bathroom draws heavily from both Japanese and Peranakan aesthetics, thanks to earth-toned multi-patterned fish-scale wall tiles, and honeycomb-shaped floor tiles in muted grey. A deep blue under-sink cabinet with vintage crackle-glazed porcelain knobs adds a charming finishing touch.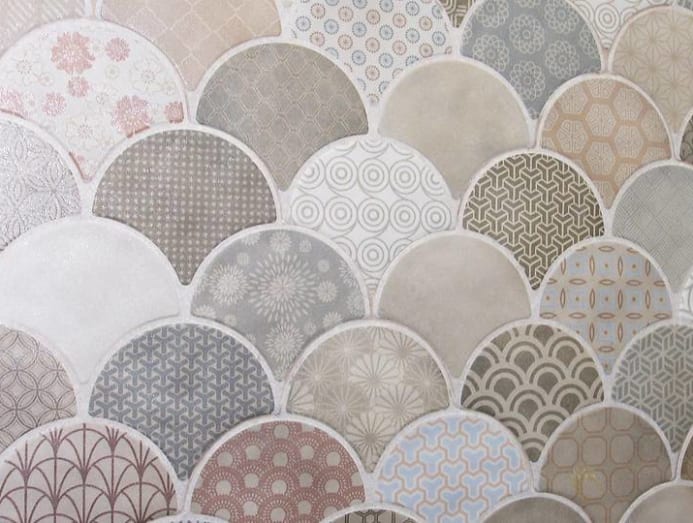 The master bedroom is designed as a calm and gentle Zen space, with pastel blue walls, a  celadon-green chest of drawers and floral arrangements adding a touch of softness and colour to the otherwise minimalist space with its austere wood furniture.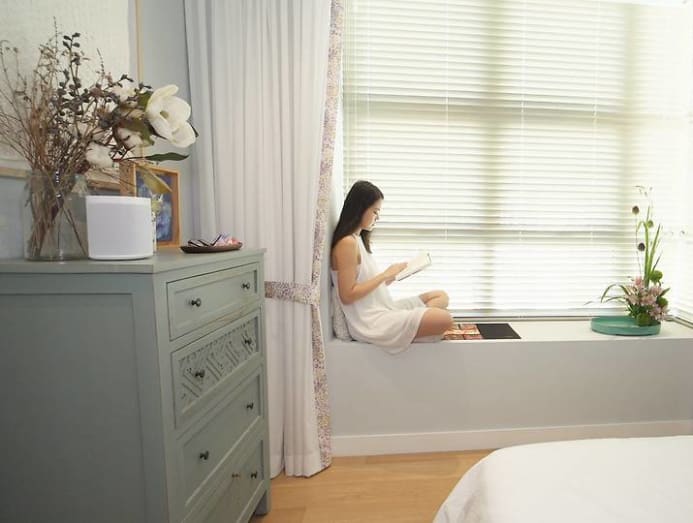 The bay window was transformed into a light-filled reading nook, thanks to the use of white blinds and sheer curtains.
But Arjan's favourite thing in the entire apartment, is the bold, eye-catching feature wall comprising cement breeze blocks against a mirrored back, which conceals the passage to the bedroom.
Breeze blocks were commonly used in Peranakan architecture for privacy and ventilation. Their geometric design also adds a sense of nostalgia. "It embodies all the design elements of this home," he said.