No discrimination against Singapore Specials – this dog groomer understands them well
Christine Seah opened Ruff Cuts salon resolving that no dog owner would experience the "microaggressions" she herself faced as the owner of a Singapore Special dog.  
When Christine Seah adopted Bubba, a local mongrel known as a Singapore Special, she began to realise that people were often making prima facie assumptions about him.
For example, she said, if you called the vet's office to make an appointment and told them your dog was a Special, they might ask you to muzzle him before even asking about the dog's temperament. And, she added, some people automatically show fear when they see her dog.
For an owner who has put in the work to understand and train their pet, encountering reactions like these on a regular basis can be vexing.
"The common misconception about Singapore Specials is that they're very aggressive, very difficult to manage, extremely difficult to train and very unpredictable," she said. As a result, "I've experienced every sort of microaggression any Singapore Special owner could possibly face".
Her experience with Bubba led her to switch careers from being a trained chef – the 31-year-old famously concocted the viral drink Unicorn's Tears a few years ago when she co-owned Dapper Coffee – to opening Ruff Cuts, a dog grooming salon that "loves and celebrates dogs of all sizes and all breeds".
Ruff Cuts quickly gained a reputation for their skills in handling Singapore Specials, especially those who might be nervous or skittish.
"It was unintentional – but I would say the Singapore Special community is very tight knit. We had a few successful cases here and there, and word just sort of started spreading," she said. For instance, she was able to successfully trim the nails of a dog who previously had not allowed anyone else to do it.
Now in its second year of operation, Ruff Cuts expanded its premises in February, occupying the unit next door.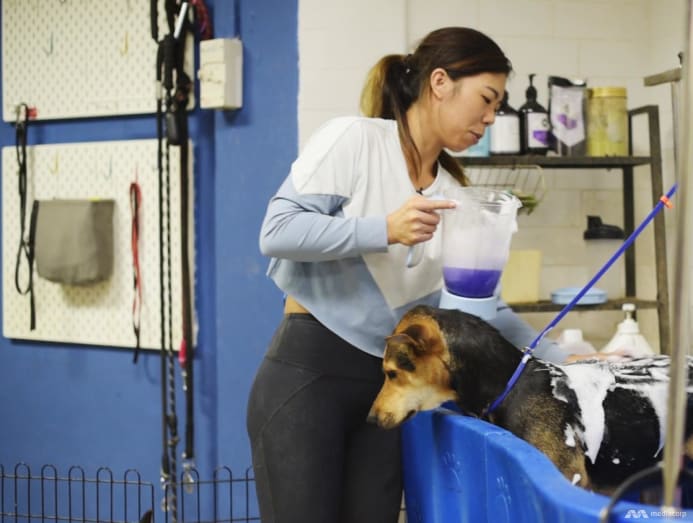 "A lot of Singapore Special owners feel that they get discriminated against," Seah said. "Most of the time, the owners are extremely anxious" when they drop their dogs off for the first time. "It's important to me that the owners themselves leave feeling better."
Bubba, of course, is her assistant – he's an old hand and knows how to make on-edge dogs feel calmer with his presence.
It's thanks to him that Seah has gained the skills to handle dogs of all kinds.
It all started when Christine Seah adopted a Singapore Special named Bubba and realised the breed was often discriminated against because the common misconception is that they're aggressive and difficult to manage. So she opened Ruff Cuts, a dog grooming salon that "loves and celebrates dogs of all sizes and all breeds".
When Bubba was a puppy, he was "quite a handful", she recounted. His destructive chewing led to her losing "a few laptop chargers, shoes and bags".  "I decided to sort of delve deeper into dog behaviour to figure out why he was acting this way, and how I could manage him better. In the end, I found it so interesting that I decided to just switch careers entirely."
Besides absorbing all the materials she could on dog training, she also apprenticed with professional trainers, and was even a contestant on the third season of reality show Cesar's Recruit: Asia. She was also a dog walker and worked at a pet hotel.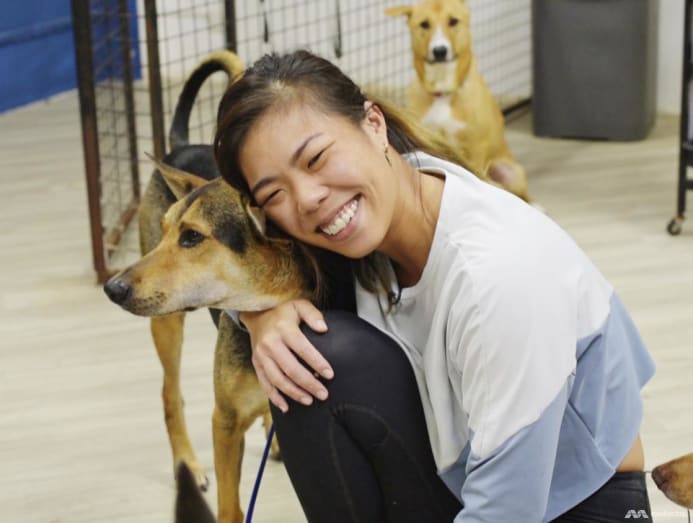 Now, as a certified groomer, the secret to her success is her approach from a trainer's perspective. Being able to read canine cues and know how to communicate requests to the dogs is helpful for everything from getting a water-shy dog into the bathtub to making sure no fights break out in the salon. She also thinks that engaging a dog trainer is beneficial for every dog owner.
"After doing this for five or six years and meeting thousands of dogs – every single dog is unique, like how every single person is unique," she said. "I believe that every dog should be treated as an individual."
The term "Singapore Special" is quite a recent one, and Seah thinks it's helpful for dispelling the negative connotations that come with terms like "stray" or "mutt". These dogs range vastly in size and appearance, which is why she hesitates to categorise them. What's essential to remember is that "we are on their land", she opined. Singapore Specials, she believes, embody dogginess in its most canine form, as they are products of natural selection and not selective breeding by humans.
"Think about what a dog would need to survive in the wild," she said. "For example, you could make a broad sweeping statement that Singapore Specials are generally skittish. In the wild, skittishness is a survival mechanism, because obviously, you'd have to avoid things that are dangerous. Most Specials are extremely agile – they can jump and run – and it's a survival mechanism, because if they're going to live in the jungle, then they're going to have to navigate it. They'd have to protect their resources in the wild, so they tend to be a little bit cautious about people and new things. They're usually extremely smart – in the wild, if you don't learn things quickly, then you might end up hurt. These are adaptive features."
She added, "Whatever you want to call them, I still like them. They're very independent. I sort of relate."
Her advice for Singapore Special owners – and for dog owners in general – is to set realistic goals, and follow through on them unwaveringly.
"To take a dog, especially a dog in the wild, and to put it into urban human society and immediately expect it to abide to human rules, is unrealistic. You have to train this animal if it's going to adapt to your lifestyle," she said. "It's not necessarily 'my way or the highway' – it has to be a collaboration between you and your pet. You have to put in place rules that you are going to be comfortable with for the next 15 to 20 years. And the same thing for the dog – you should ideally give it a lifestyle that it's going to enjoy for 20 years."