Singapore theatre shows and events postponed, NUS Arts Festival cancelled
Concerts aren't the only entertainment events being disrupted as local theatre has also taken a hit due to the coronavirus outbreak.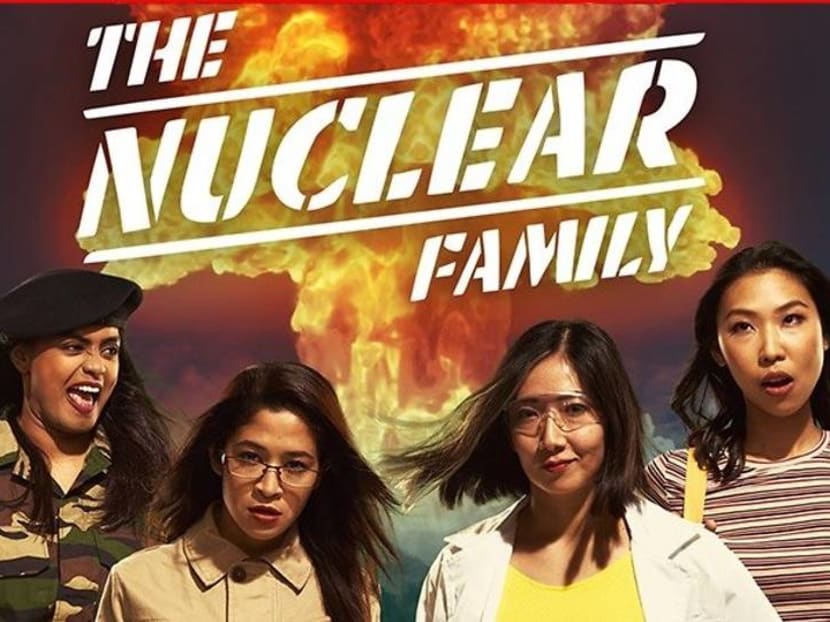 Sorry, theatre-goers. In light of the heightened DORSCON alert level, a trio of theatre companies has decided to push back their events to a later date.

Three companies who made the decision to change their shows are Singapore Repertory Theatre (SRT), Checkpoint Theatre and Nine Years Theatre.
The Nuclear Family show by Checkpoint Theatre has been postponed for a year. It was originally scheduled for Mar 12 until Mar 22, but has since been moved to Mar 2021.
In a statement posted on their website, joint artistic directors Huzir Sulaiman and Claire Wong said: "This was not an easy decision, but our priority is to safeguard the health of the public and of our team members."
They added that they would be working to contact ticket holders and arrange for full refunds as well.

Joining Checkpoint Theatre is Nine Years Theatre, which also postponed the release of its production First Fleet from Feb 14 this year to Mar 2021, according to an announcement on their Facebook page.  
First Fleet was meant to be jointly presented with the Singapore Chinese Cultural Centre, about the first convicts from the British Empire on their journey to Australia.
The announcement also stated that those who have already purchased tickets will be contacted about a full refund.
SRT has made the smallest change so far, moving their show Fly High to Mar 23, according to the Straits Times. The show, about two friends trying to build their own flying machine, was originally scheduled for Feb 19.

Additionally, the NUS Arts Festival will not be taking place this year. The NUS Centre for the Arts released a statement that the event would be cancelled, with discussions ongoing to try to postpone student productions to the later part of the year.
The festival was meant to be held from Mar 13 to Mar 28, with more than 30 shows.
"While this is disappointing for all our performers, tutors, and academic partners, we have had to make this difficult decision for the safety of all involved. The students, along with the professional artists, have been working extremely hard in rehearsing for the shows. We certainly hope to be able to present some of the shows in the next semester," said Sharon Tan, Director of the NUS Centre for the Arts.
Those who have already purchased tickets will be refunded through Ticketek.
As part of the raised DORSCON alert to orange, the Ministry of Health has advised larger, non-essential events to either cancel or postpone their events to a later date as a precautionary measure.
While many have put their plans on hold or cancelled them altogether, some have decided to press ahead.
In a post on Facebook, theatre company Pangdemonium announced that it would be going ahead with its production of The Son, which will open on Feb 20 and run until Mar 7.
The company will be conducting temperature checks and sanitisation of seats at the Drama Centre. They also stated that staff at the Drama Centre would be screened twice daily, with a more stringent cleaning routine for facilities, lift buttons, escalator handrails and door handles.
"Unless instructed by government health authorities to cancel our run of THE SON, the show – as the saying goes – must and will go on," it said.
Local theatre company Wild Rice is another group that will not cancel or postpone their production, The Importance Of Being Earnest, according to an update on their Facebook page.
Staged in Funan Mall, patrons will undergo a temperature screening, and Wild Rice has also stated that it was sanitising seats between shows.
The post added that Funan Mall has also stepped up cleaning efforts.