Turning a 721 sq ft HDB flat into one big living space with no walls and doors
CNA Lifestyle's Making Room series looks at small homes that were given big transformations. This one has is an eclectic open-plan home with some vintage touches.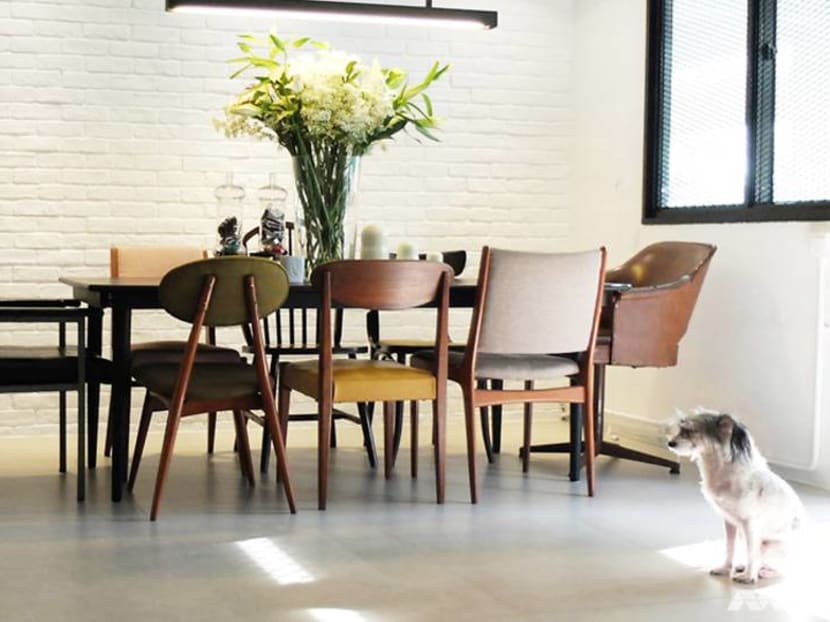 Enclosed areas can sometimes make media professional David Chan feel a little claustrophobic. So he was looking to have a home that offers "lots of wide, open space that facilitates relaxation, laughter and expression".
But, at the same time, added the print producer who works from home: "It needed to be homely; I didn't want a showroom."
So Chan set about transforming a nondescript-looking, 721 sq ft, three-room resale HDB flat into "just one big living space".
"What I told the interior designer was to knock everything down so there's no walls, no doors," he said. The result? Living, dining, work and sleeping zones occupy an open-plan, loft-like rectangular space.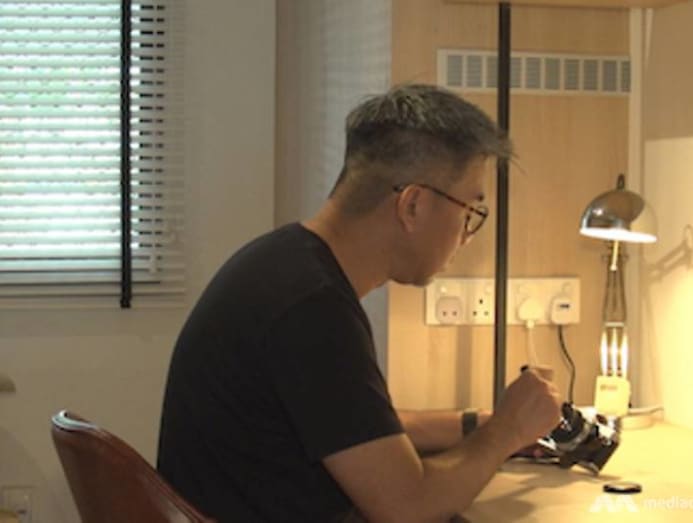 "I wanted a cafe kind of feel, so I had white brick walls. I also wanted an industrial chic look, so we had this all scraped and exposed," Chan said, referring to the raw, exposed concrete structural beams and pillar that add character and texture to the space.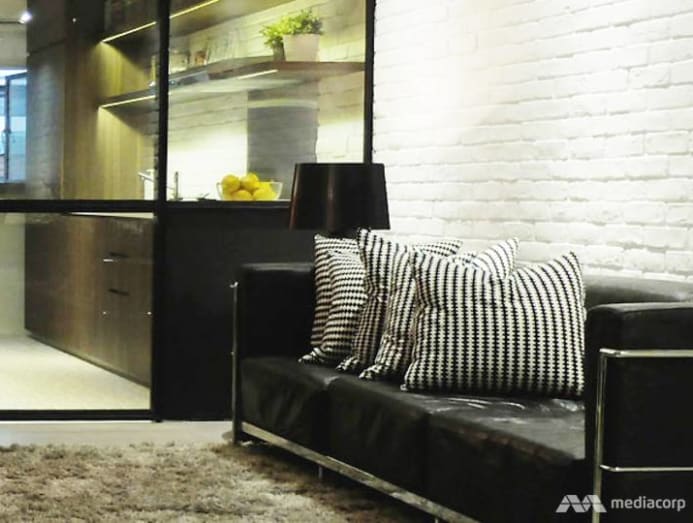 Aside from white brick and grey concrete, the other dominant base material used is blond wood, which is used for the minimalist-looking custom-made platform bed, built-in wardrobe and desk.
The stark backdrop is the perfect foil for Chan's extensive and eclectic collections of vintage home decor items. "Some people shop for clothes, I shop for retro furniture," he explained.
Upon entering the apartment, the first thing that catches one's eye is the cluster of eight chairs around the dining table. None of them match in terms of provenance, colour, style or material.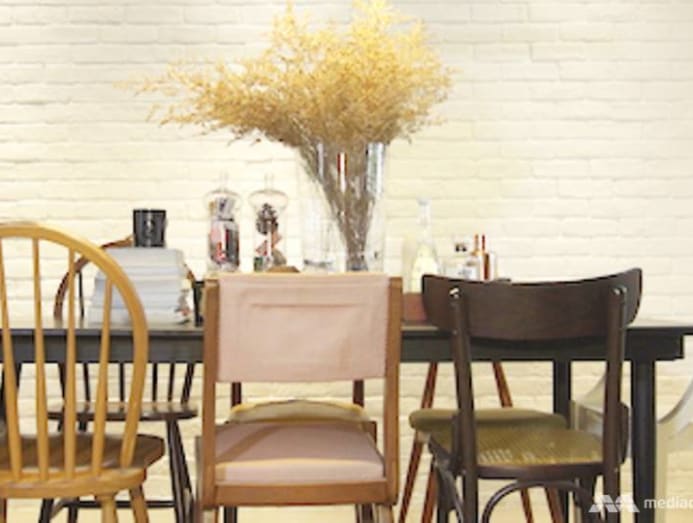 "I wanted the dining area to look different and I like chairs, so all these chairs are different. There's no matching set; they are all individual and all have a certain history to them," said Chan, referring to how each of the vintage chairs reflects the design trends and production innovations of a different decade.
It's also a charming conversational starter, which encourages guests to interact with the space. "My friends will come, and choose their favourite chairs," he added.
Another benefit of not having a matching set of chairs? Chan doesn't have to worry about replacing all eight at one shot if one is damaged.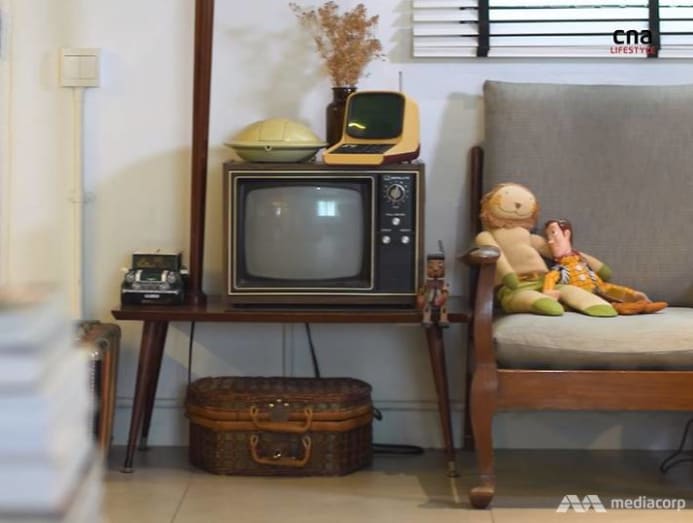 Elsewhere in the apartment are other iconic design "thrones", such as an original Arne Jacobsen "Egg" armchair and a replica of a Harry Bertoia "Diamond" chair, as well as carefully curated and artfully displayed collections of old clocks, TVs, cameras, lamps, telephones, toys and children's books.
"I wanted an eclectic feel to the entire flat; as you can see, it has a retro-modern-classic design," he explained. "The retro furniture you see has been collected over the years as I travelled around."
Proving that the best things in life can be free, Chan added: "Some of my furniture are not bought. They're actually found.  My study chair was found in a void deck and I had it re-upholstered."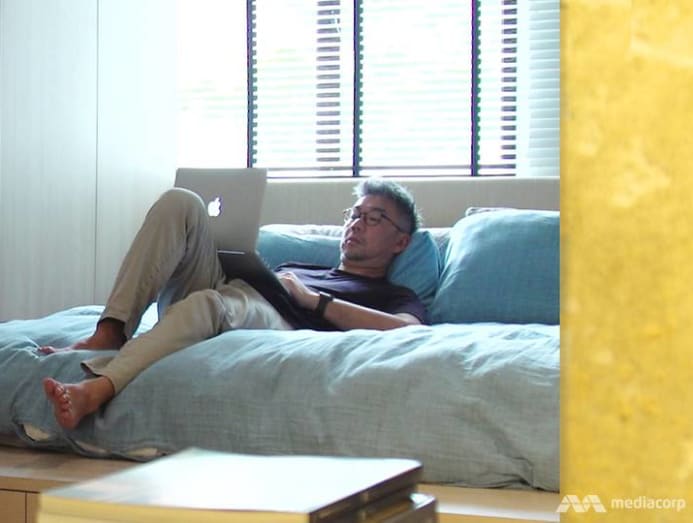 Chan's sleeping platform is a Zen-like cocoon of calm, with a built-in wardrobe on one side, and a built-in bookcase on the other, which serves as a divider for the living area. 
Not only does the platform serve to visually demarcate the sleeping area, it also comes with pull out drawers and a hydraulic "lid" under the mattress that lifts open to reveal plenty of hidden storage. The sleeping space can be further compartmentalised with curtains for increased privacy.
"I use the bed area a lot as it gets good light coming in. I work from home so that's the most comfortable part of the home," he said.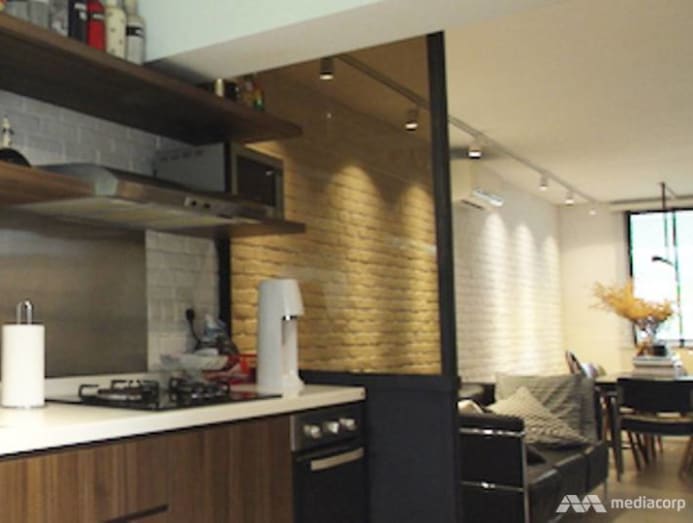 A black metal-framed and tinted glass sliding door leads from the living area to the galley kitchen, a sleek space with dark wood laminate cabinetry that conceals not only his cooking utensils and pantry staples, but also his fridge and water heater. One of the bottom-hung cabinet doors folds up to create a breakfast/work counter.
"I do like spending time in my kitchen. It's a good place for me to have breakfast, to have a cup of coffee and start work, so that's the place where I do spend some time in."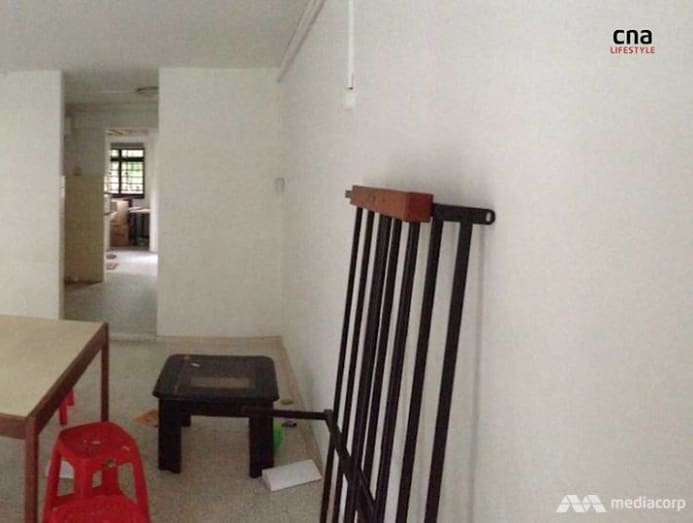 A custom-built bench by the kitchen window provides a sun-lit perch for his potted plants, and serves as a coffee nook with a view.

Other clever touches abound: In order to incorporate the exposed gas pipe into the decor, a second pole was added to create a sense of symmetry. 
The yard doubles as storage and laundry space; a custom-made bathroom door extends the shower area; a mirrored cabinet not only hides unsightly bathroom piping, it also provides a space to stash toiletries away.