The Singaporean jeweller whose fashionable mum inspired her love of style
After being asked to design an engagement ring for her best friend, Alexandra Yeo was inspired to start her jewellery brand, Alexandra Alberta.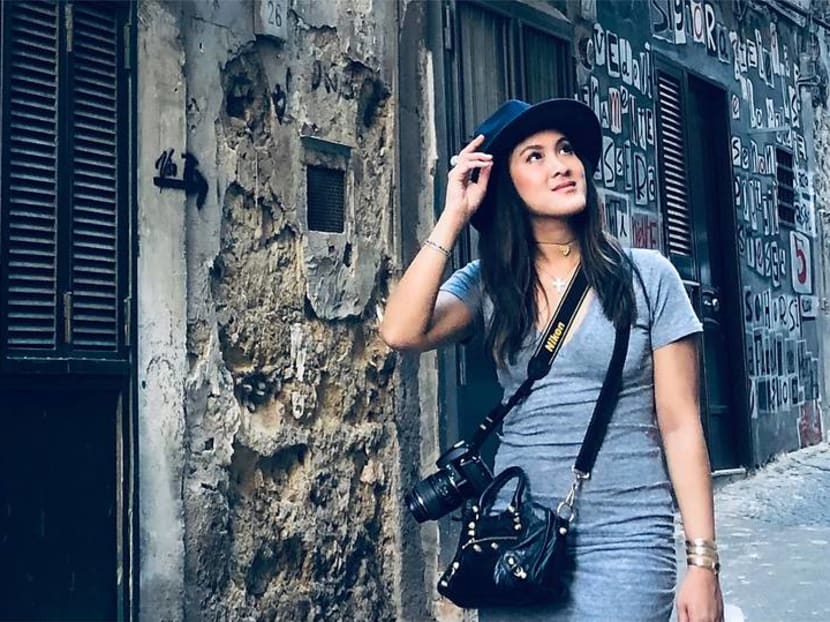 Certified gemologist and designer Alexandra Alberta Yeo founded her eponymous jewellery brand in 2010 and quickly made a name for herself in London, where she was based at the time.
Over the last decade, Yeo, a Singaporean who has lived and worked in both the US and UK, has been heralded as a designer to watch. In 2014, the Alexandra Alberta Baroque Collection was named one of the Top 5 Emerging Designer Collections in the United Kingdom by the very industry-respected Professional Jeweller Magazine.
Fashionistas, influencers and media alike note Yeo's ability to combine playfulness and whimsy with sophistication and elegance.
Having moved home a few years ago, she is hard at work designing new collections as well as improving her brand's online presence, embracing the reality that e-commerce is very much the future of retail.
DID YOU ALWAYS KNOW YOU WANTED TO MAKE BEAUTIFUL THINGS?
When I was little, my mother had many pretty things, namely, jewellery from brands like Givenchy and Chanel that she would buy on her trips to Paris and Italy.
My mother was a fashion buyer, so she has excellent taste. She had this beautiful box of jewels of many different colours, and I would take them out every day and admire them. I was so lucky. She would buy me very unique, cute clothing from Paris. During my free time at home, I loved to style myself with her beautiful jewellery and clothing, sometimes scarves and things.
So, yes, from a young age, I was very fortunate to be exposed to beautiful things. Because of that, I think my sister and I grew to love beautiful things. That definitely inspired me to create jewellery that I hope people see as beautiful.
YOU WORKED AT SOME GREAT LUXURY BRANDS WHEN YOU STARTED YOUR CAREER. WHAT LESSONS DID YOU LEARN FROM YOUR EXPERIENCES THERE THAT YOU HAVE CARRIED OVER TO YOUR OWN BUSINESS?
I have been fortunate to have lived in Los Angeles and New York, both during college and when I started my career. I spent my summers and time after college working for designers and fashion houses I admire and love: Rag & Bone, Opening Ceremony and Lanvin.  What I learnt from these amazing creative companies is that it is really important to form relationships with your clients.
I also learnt that it is really important to sharpen one's design vision, and be really clear about the brand's ethos.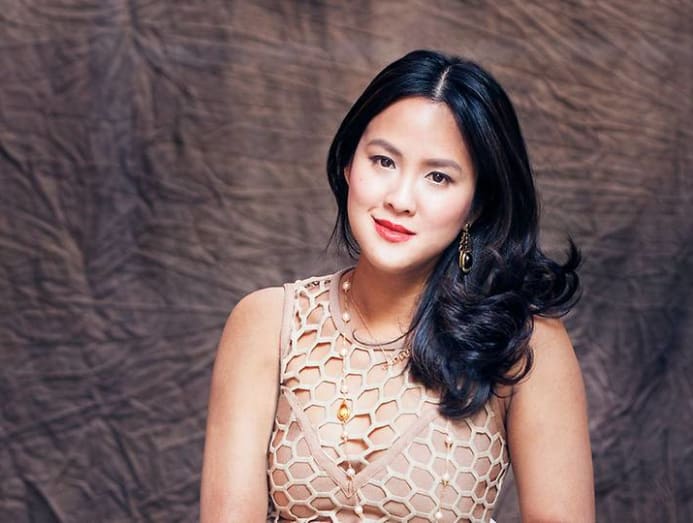 WHEN AND WHY DID YOU DECIDE TO MOVE INTO JEWELLERY?
I moved into jewellery after working at some fashion jobs. I felt that my interest really was focused on jewellery. I felt that my forte and passion had always been in accessories. As a student growing up, I'd always get caught for over-accessorising! So, after a few stints in fashion, I enrolled at the Gemological Institute of America in New York.
AND WHAT DOES ONE LEARN THERE? HOW DOES ONE TRAIN TO BE BOTH A GEMOLOGIST AND A JEWELLER?
Training to be a gemologist, you have to complete coursework in both Diamonds and Coloured Stones. Mine was done at GIA New York but there are other schools offering this programme. I also went on to do training in jewellery design at Central Saint Martins as well as at the GIA in London for technical drawings. I would say the Gemology courses are challenging. Gemology is a science that is about accuracy and precision. So, you need to score 100 per cent for your tests. Any less is not accepted.
DID YOU ALREADY HAVE A PLAN FOR ALEXANDRA ALBERTA WHEN GOING THROUGH YOUR GIA COURSES?
No, I did not. But prior to graduation, my best friend's boyfriend approached me to custom-make an engagement ring for her. It was a pink kunzite spodumene, pink tourmaline and diamond ring.
Working on that first commission prompted me to start my own business. The decision to start the business came quite naturally. It was an easy one actually.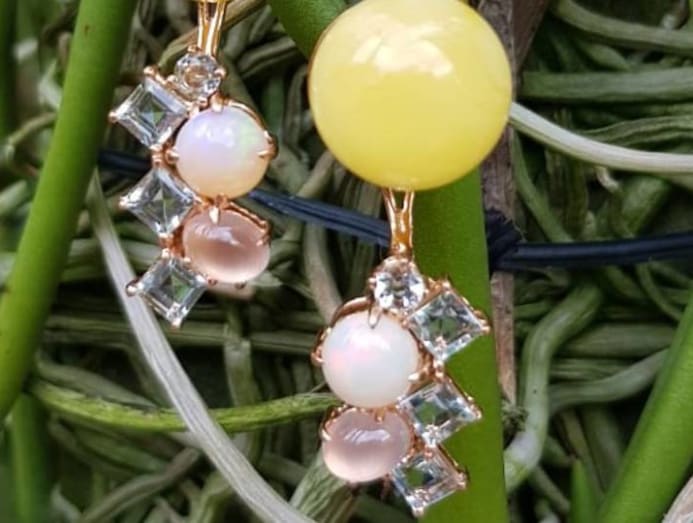 HOW DO YOU DEFINE THE STYLE OF YOUR PIECES?
I would say the style of my pieces is whimsical and edgy.
I am inspired by architecture, nature and unusual colour palettes. I like to find inspiration in the details. As I said earlier, I've loved jewellery since I was a child and channel this youthful love into my designs as well.
WHAT HAS BEEN THE BEST THING THAT HAS HAPPENED TO YOU TO DATE BECAUSE OF THE BUSINESS?
Well, I would say just having amazing people believing in me enough to commission me to create unique and special pieces for them. I also really enjoy re-creating and rejuvenating their pre-loved pieces, injecting new and fresh life into them. 
Additionally, seeing my jewellery pieces physically in stores, and now online with amazing retail partners, is definitely very gratifying.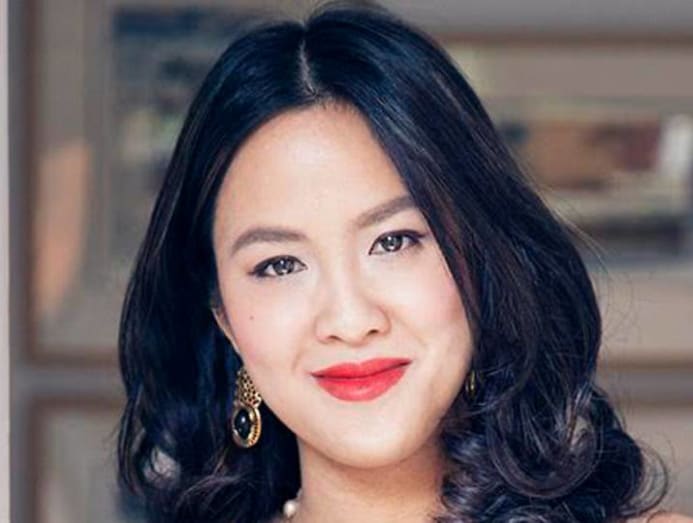 AND WHAT WAS THE TOUGHEST OBSTACLE YOU HAD TO OVERCOME?
The initial few years was the toughest. I had to build everything from scratch. No one prepares an entrepreneur for just how much you have to do yourself. But it's all worth it in the end.
I UNDERSTAND YOU'RE BACK IN SINGAPORE NOW. ARE YOU BACK PERMANENTLY OR JUST DURING THE PANDEMIC?
I'm back in Singapore permanently now after living in Los Angeles, New York and London. It's great to be home.
WHAT, IF YOU HAD TO SINGLE OUT CERTAIN PIECES, ARE YOUR HERO PRODUCTS?
My Khrysler Earrings are definitely iconic to my brand. They are strongly inspired by the Art Deco era. They are from the METROPOLIS collection. The EXOTICA durian earrings also are special as they are a tongue-in-cheek representation of Southeast Asia. That first ring I made for my best friend is still a very special piece for me. First, it was for my best friend and second, it helped catalyse my company (into being).
There are other great pieces I am proud of, such as a rare 8-carat flawless ceylon sapphire encrusted with diamonds, and my multi-gem pastel shade earrings mixed in with diamonds.
WHAT PERCENTAGE OF YOUR BUSINESS IS BESPOKE?
About 40 per cent of my business is bespoke. I really enjoy the process of making something unique for a customer. It's a little more personal. I love getting to know clients, learning about them and what defines their style.
WHAT, IN YOUR OPINION, DEFINES LUXURY?
Luxury is being able to have something unique, something well-made, something long-lasting.
HOW HAS THE PANDEMIC AFFECTED YOUR BUSINESS?
We have placed more effort into revamping our website as – and I am sure most people would agree – the Web is the future. However, I still believe in in-store products. Something like jewellery sometimes needs to be touched and tried on.
ANY COOL PLANS FOR THE YEAR YOU WOULD LIKE TO SHARE?
Yes, I have some new collections that I will be launching. And I am working on a new sustainable concept. Stay tuned.