Singaporeans are now getting more sleep, but not many are satisfied: Survey
The findings were published in a study by Royal Philips to commemorate World Sleep Day on Mar 13. Among the things that are keeping us up: Stress and worry, sleeping environment and mobile device usage.
Singaporeans have been known to strive for the best in many things but one thing that seems to elude us is being good at getting enough sleep.
The good news is that we're making progress.
In its fifth annual sleep survey published on Friday (Mar 13), health technology company Royal Philips found that Singaporeans get an average of 6.9 hours of sleep every night, an improvement from the average of 6.4 hours seen in 2019.
It's an encouraging sign, said Dr Lim Li Ling, a neurologist at Singapore Neurology & Sleep Centre, Gleneagles Hospital, as anyone who does not get enough sleep regularly will tend to need short naps to catch up, also known as paying off a "sleep debt".
"Any increase in sleep hours, even a small one, is helpful, because when we pay off our sleep debt, we are better able to achieve optimal physical and emotional health and mental alertness," said Dr Lim.
The number, taken across weekday averages (6.7 hours) and weekend averages (7.5 hours), is an encouraging sign that we are finally hitting the recommended minimum number of hours of sleep, which is seven to nine hours. However, it doesn't seem like this improvement is enough to keep Singaporeans happy with how we're sleeping.
Out of the 1,000 respondents who were surveyed from Nov 12 to Dec 5, 2019, almost half (49 per cent) said they were not satisfied with their sleep, while 34 per cent believed that getting enough sleep was out of their control.
Some of the top reasons cited for not being able to sleep included stress and worry (34 per cent), sleeping environment (15 per cent) and mobile device usage (14 per cent).
It also seems that we really love our mobile devices. Just one quick scroll through Instagram or that last YouTube video couldn't hurt, could it?
Despite experts' recommendations not to do so, the survey reported that a large majority (82 per cent) of Singaporeans use their phones in bed.
Around half of respondents (51 per cent) said that the last thing they saw before falling asleep was their mobile phones, and 45 per cent said that their phones were the first thing they looked at when they woke up. Also contributing to a restless night was the fact that 13 per cent said they respond to calls or texts that would wake them up while they were sleeping.
However, it does appear that Singaporeans are trying to be more proactive in solving their sleep issues with six in 10 people interested in strategies to improve their sleep. Twenty-eight per cent of respondents said they were trying to reduce their caffeine intake, and 27 per cent were trying to implement a proper bed time or wake-up schedule. Another 23 per cent took up reading to try and sleep better at night.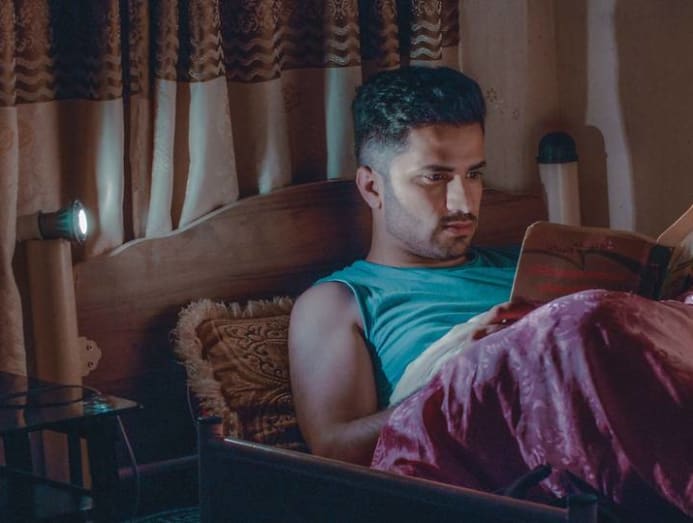 Dr Lim noted that if you do consume caffeine, it should be limited to three or four cups a day, and consumed well before bedtime and ideally before 12pm, as the alerting effects of caffeinated beverages can remain even 12 hours after consumption.
Additionally, she cautioned against eating a large meal or vigorous exercise too close to bed time, excessive stimulating activity and not exercising enough, as these were factors that could lead to poor sleep.
Besides a regular bedtime and a conducive sleeping environment, Dr Lim suggested having a wind-down period an hour or two before sleep, during which one could read a book or listen to music. She added that one of the best natural ways to achieve deep sleep is to have energetic exercise before dinner and well before bed time.
DEALING WITH SLEEP CONDITIONS
The survey also revealed a worrying trend in Singaporeans with regards to obstructive sleep apnoea (OSA). According to Royal Philips, OSA is characterised by repeated interruptions in breathing throughout the sleep cycle, preventing oxygen from reaching the lungs. Symptoms include choking or gasping for air during sleep, loud and persistent snoring and excessive daytime fatigue, and poor concentration during the day.
One thing that holds Singaporeans back from getting diagnosed is the fear of knowing they have the condition. Twenty-six per cent of respondents said they believed that they might be at risk but 24 per cent were afraid to take a sleep test for fear of getting the results.
Said Ivy Lai, country manager, Philips Singapore: "Although it's positive that Singaporeans now see the importance of sleep for overall health, it's still troubling that many are unable to get a restful night of sleep and not wanting to know that they suffer from OSA. We would strongly urge Singaporeans to get themselves diagnosed and be treated."