Singles' Day is coming: How to get the best deals on Taobao
Ready for 11.11? We've got you covered with this handy online shopping guide.
Get your credit cards ready. Nov 11 is the one day retailers slash their prices, to the joy of online shoppers everywhere. 
The Singles' Day sale – made popular by Alibaba and also known as 11.11 – saw shoppers spend US$25.4 billion on the Alibaba platform in just 24 hours in 2017, and a whopping US$30.7 billion in a day last year. 
Many countries have since jumped on the bandwagon after seeing Alibaba's success, with some retailers in Asia and the United States launching pre-sale deals days before Nov 11.
I personally start adding items into my cart as early as September, in preparation for Christmas. My favourite deal so far? A buttery-soft navy leather tote for just S$40 before shipping. I purchased it two years ago and it still serves me well. 
For some, shopping on Taobao (Chinese for "hunting for treasure") can be quite daunting. With millions of retailers offering a wide variety of items – from USB drives to sofas – it can be hard to figure out where to begin. It's also trickier if Chinese is not your first language.
But if you'd like to dip your toes in the vast world of Taobao, here are a few tips on how to get bang for your buck.
COLLECT VOUCHERS
Discounts on 11.11 are not limited to the prices displayed. Some stores also offer additional vouchers that entitle the shopper to further discounts. For instance, the picture below shows vouchers which will give shoppers a 40RMB discount with a minimum purchase of 399RMB, or 80RMB off with a minimum purchase of 599RMB. The voucher in the middle, which entitles shoppers to 150RMB off with a minimum spend of 999RMB, has already reached its collection limit.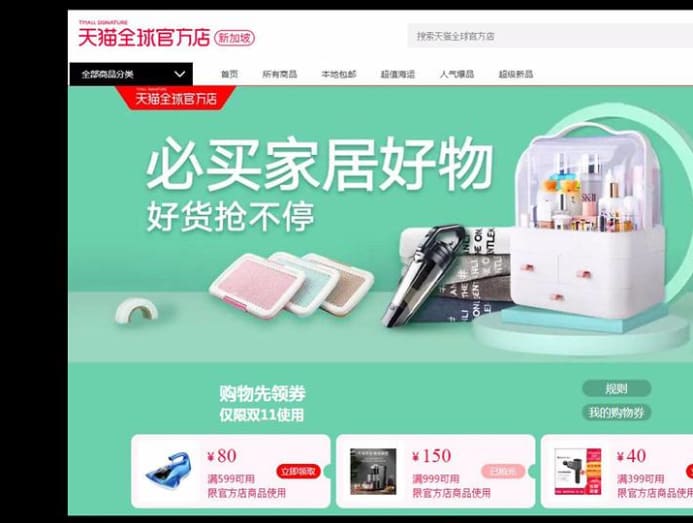 Additionally, you can also start collecting vouchers that can be used on Singles' Day. For instance, the picture below shows a store offering a 5RMB voucher with a minimum spend of 5.01RMB. Simply click on the link at the end of the sentence to collect the voucher, which can be used on 11.11 itself.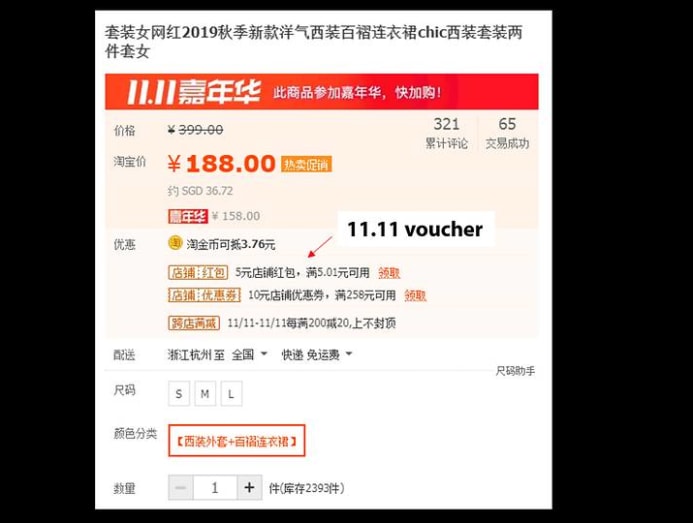 You can also add the items to your shopping cart ahead of the day (don't check out just yet, though!) to see if you have missed out on any vouchers. Click on this icon to see if your purchase is eligible for a further discount.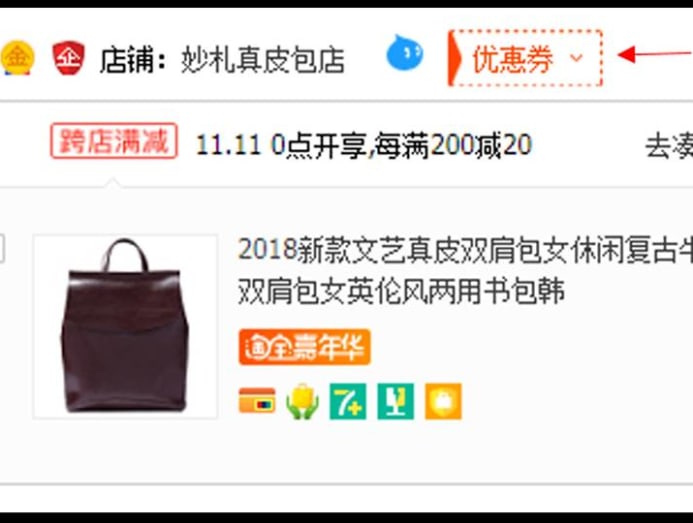 SEARCH AND YOU SHALL FIND
If you're looking for a particular item, you can enter the search term in English on taobao.com. To refine the search results further, look out for suggested search terms Taobao provides, and turn on Google Translate in your browser. Then click "show original" to remove the translations. Copy the particular item you want that is now in Chinese, and paste it into the search bar to get better results.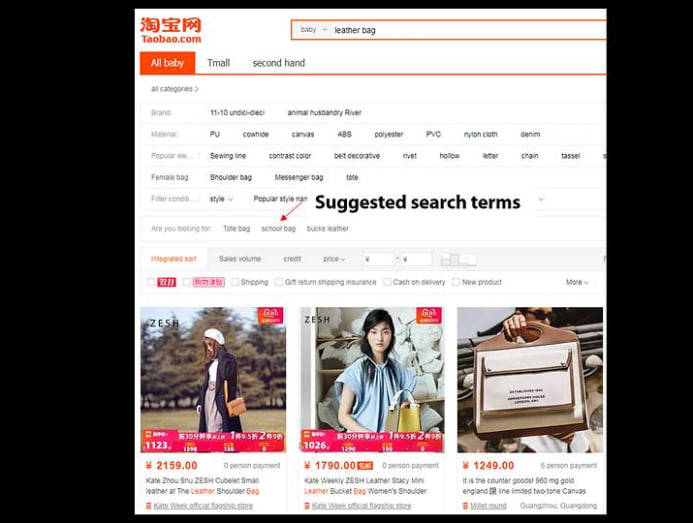 Use the reverse image search function if you already have something in mind. To do so, first search for something on the homepage. Then click on the camera icon in the search bar to upload your photo.
If you're using the Taobao mobile app, the search bar is right at the top: 
USE FILTERS
Try using the different filters if you feel overwhelmed by the sheer number of search results. The "Sales volume" filter will show the best-selling items first, while items under the "Credit" tab will be from stores rated as trustworthy according to other Taobao users.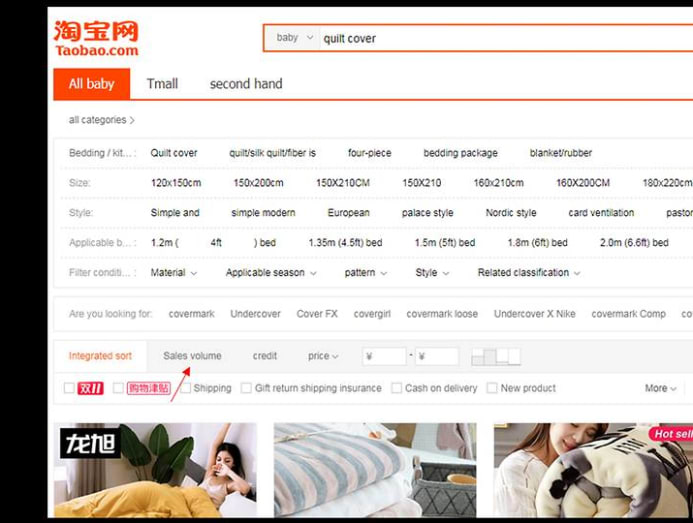 COMPARE PRICES
If you see an item you like but want to check if other stores carry the same thing at a different price, hover your mouse over the search result. You'll see two options: "Find similar" and "Find the same". Click on "Find the same" to find the exact same item, or "Find similar" to find items in a similar style.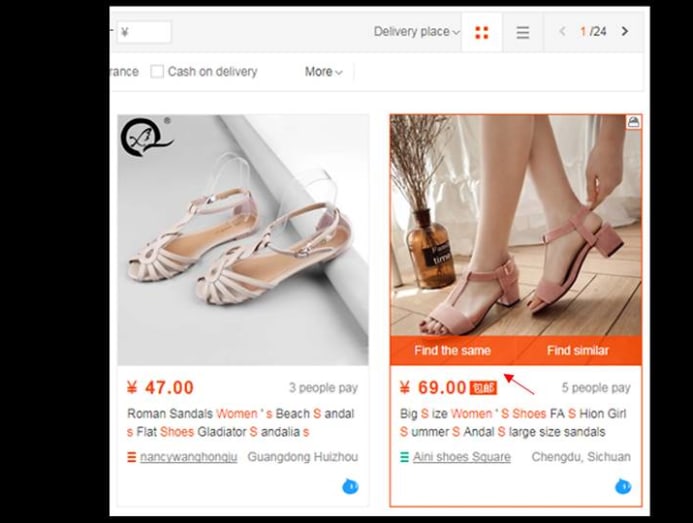 You'll then be able to compare prices for the same item:
SCORES AND REVIEWS ARE IMPORTANT
Look out for the store's score, given by shoppers who have purchased goods from them previously. Each shopper can give the store a maximum of five points for the accuracy of item descriptions, service, as well as delivery. It's often a measure of how reliable the store owner is.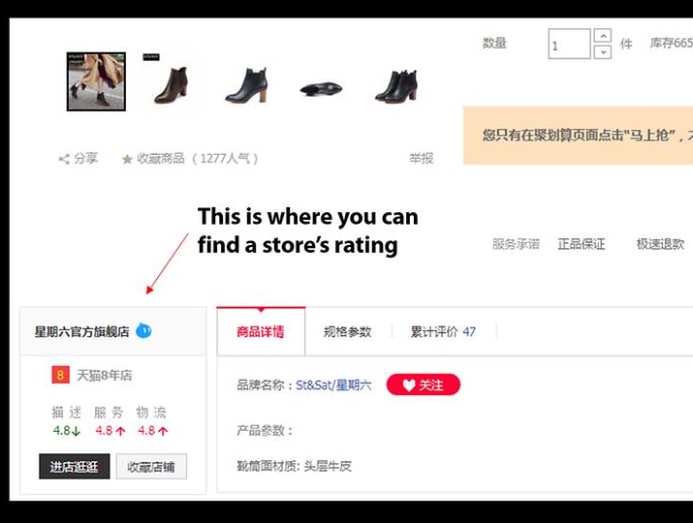 Check out reviews to determine if users who have purchased the item previously are happy with it, and if the descriptions given are accurate. This is especially important for clothes and shoes, which may run larger or smaller than the given sizes. Some reviewers may also provide feedback on whether the item was delivered in a good condition.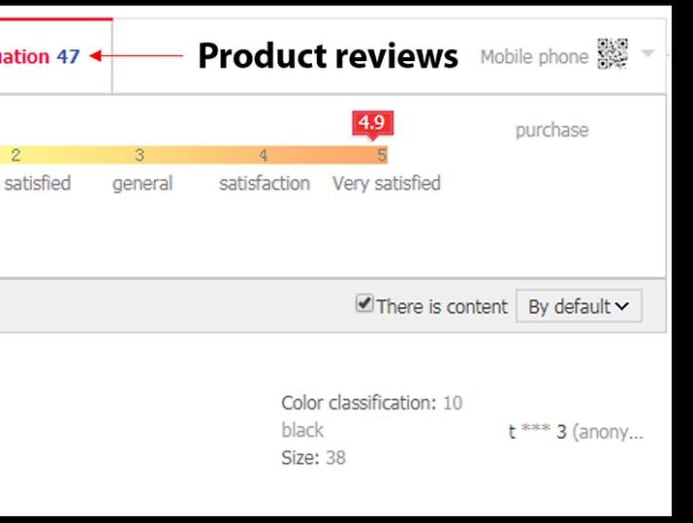 IF SOMETHING IS TOO GOOD TO BE TRUE...
Anything that is super cheap could be of a lower quality than what you are expecting. There are many horror stories of clothing running several sizes too small or electronics not working at all. If in doubt, check the reviews or just don't take the risk. 
COMBINE SHIPPING
It's often cheaper to ship your items all at once, as parcel-forwarding companies typically charge more for the first kilogram of items. 
Note though, that your items could take longer to arrive due to the sheer number of orders placed on 11.11. 
You also have the option of going with Taobao agents such as ezbuy if you're based in Singapore, who can help with liaising with store owners, as well as check if the right order was shipped out.
However, getting a third party to assist with your Taobao order may mean missing out on voucher discounts like the ones above. 
BEGINNERS' GUIDE TO TAOBAO
If you've never used Taobao before, here are a few tips to get you started: 
1. Set up your Taobao account
First, head to the Taobao homepage. If you are using Google Translate, you will notice a "Log in/register" button on the top right. Clicking that will lead you to this page:
You'll need to first key in your mobile phone number, as well as the verification code sent to you. Later, fill in other details such as your email address and preferred username.
2. Start browsing!
Taobao has launched a dedicated 11.11 microsite that collates all retailers taking part in the sale. 
Simply start clicking on items that catch your eye, or plonk what you are searching for in the search bar on top. 
3. Check your shopping cart
It's time to pay for your purchases. After clicking on "Settlement", a window prompting you to save your delivery address should pop up on your browser.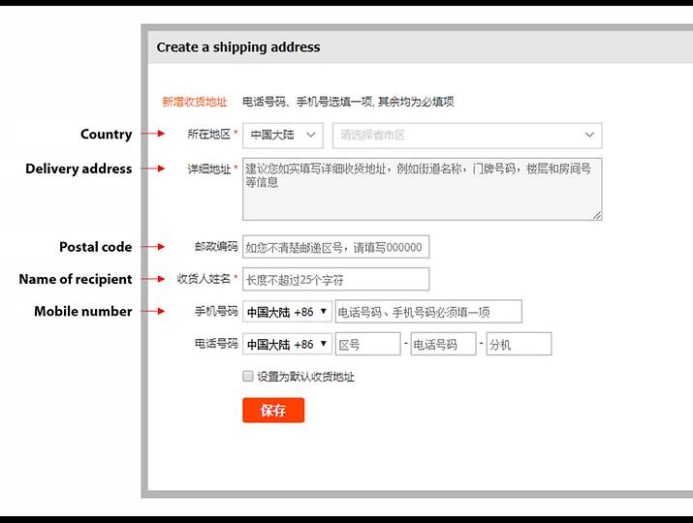 Thereafter, you'll be directed to a page to choose shipping methods. You have the option of getting your items mailed to you right away, or consolidating it with other users who have also made purchases. Consolidated air shipping will cost slightly more than sea shipping as it will arrive faster.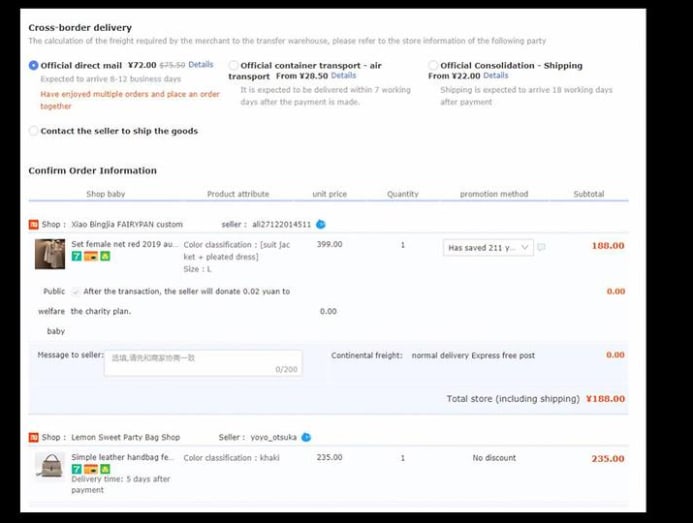 Last but not least, you'll need to pay for your items. Be sure to pick the "overseas" payment option – payment is available via major credit cards.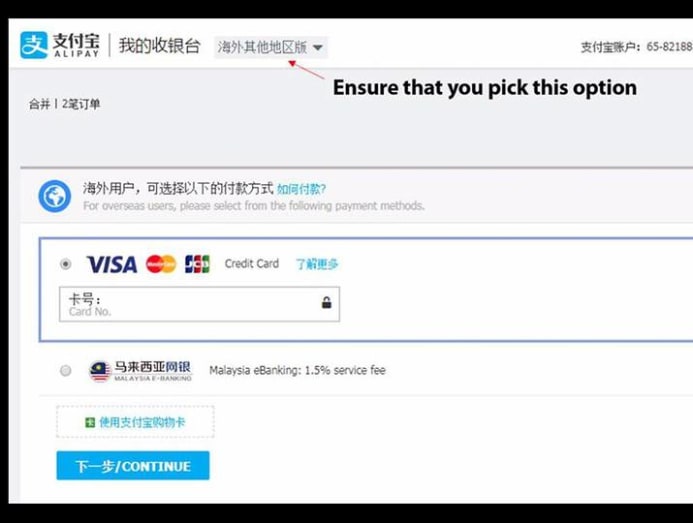 4. Track your package to see if it has arrived at the warehouse and choose to consolidate or send out individual items
Taobao has also put together a guide for this process.