Neopets turns 20: Why some Singaporean players refuse to say goodbye
The once-mighty virtual pets game could finally collapse next year. CNA Lifestyle speaks to still-loyal Singaporean players about the slow, painful decline of their virtual world.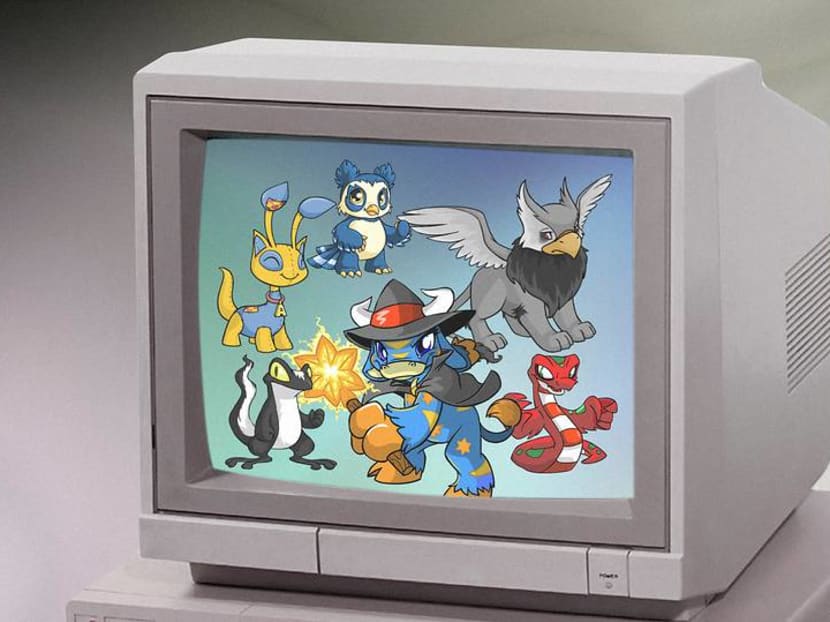 You might have owned a Neopet or two. You know, those cute Pokemon-like digital critters (not the scary ones) you couldn't resist feeding, fussing over and playing with. The ones you were doting over instead of replying to work emails or paying attention in computer class. 
Neopets turn 20 this year. Launched in 1999, the website had its heyday in the mid-2000s, boasting 35 million unique users and four billion monthly page views.
I can still do the same things I did when I was in primary school. That's the biggest draw for me.

The world of Neopets was so popular (you could even get pets for your virtual pets), more than a million players came from Singapore alone, reported Los Angeles magazine in 2005. A fan meet at Suntec City in 2003 drew thousands of fans who spent hours waiting in line for official plushies, bags, T-shirts and trading cards.

But that was a long time ago. Today, Neopets is languishing like an abandoned virtual puppy. The cause? Its reliance on Javascript and Flash animation.
Steve Jobs's famous open letter in 2010 highlighting his concerns over Flash's security and its impact on battery life didn't help. Adobe ending its support of Flash at the end of 2020 sounds the death knell.
What will still-loyal Neopet owners do when their favourite virtual pet website gets put out to pasture? CNA Lifestyle spoke to three Singaporean players about why they have stuck around for as long as they have.
HEY, BIG VIRTUAL SPENDER
Quigglypook, or Nicholas Fong in real life, is a respected name among the 100,000-strong Neopets community today. The University of Melbourne undergraduate was introduced to the website by his older brother nearly 12 years ago when the larger player base then meant that updates were more frequent, board topics received replies quicker, items solder faster in virtual shops, and interaction with other players was easier, said Fong.
On Neopia, the 22-year-old is renowned for owning the Mystery Island Stamp Avatar, a top-tier achievement unlocked only when a player collects a complete set of 25 virtual stamps. Earning those bragging rights cost Fong over a billion Neopoints, the official Neopian currency.
"As of now, only two other active players have the same avatar, and only about 12 players have ever achieved it."
Following his big-ticket purchase last year, Fong is now working to stay in the black. "I'm mostly focusing on earning Neopoints and saving up so I can purchase items that I may want without worrying."
I will be upset, of course, as everything will disappear.

The years have not been kind to Neopets and their owners. In 2005, Neopets was sold for US$160 million (S$216.42 million) to Viacom, which introduced banner ads and Neocash, an alternative form of in-game currency bought with real money.
Long-time Neopian Sophia Huang, who goes by the username unusual_monkey, felt the introduction of Neocash "complicated" gameplay and diminished the childlike innocence Neopets was known for. "I miss the simplicity of the game before it got all complicated with Neocash, which, as a child, I wouldn't spend money on buying," said the 22-year-old undergraduate.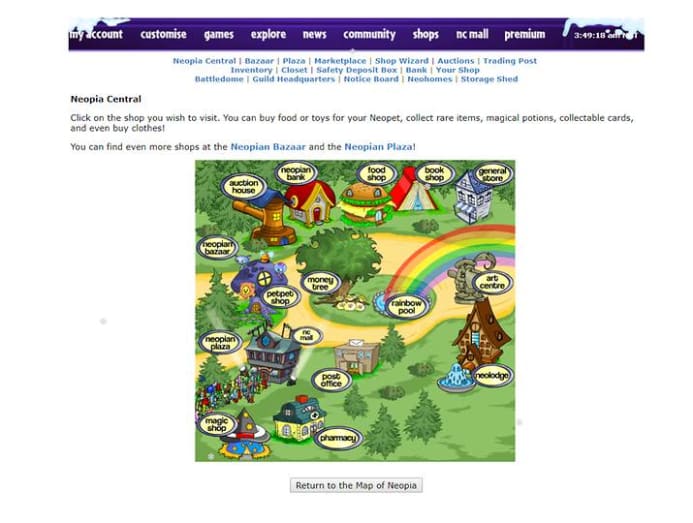 In 2014, Viacom sold the site to edutainment company JumpStart, owned by Knowledge Adventure. Three years later, the Chinese gaming company NetDragon acquired JumpStart.
BEING BOUGHT AND SOLD

"That was when it truly felt like the team didn't understand how the site worked and made changes that negatively impacted player experience. That was also probably when the (number of) players really started to drop," said Fong. "It could take up to a minute to load a single page." The lag lasted at least a month from 2014 to 2015, he added.
Instead of fixing the lag, JumpStart chose to focus on creating spin-offs for mobile devices instead. In February, the Neopets Legends And Letters mobile word game was launched. The mobile game arrived nearly a year after the first spin-off, Neopets Ghoul Catchers, was launched in February 2018.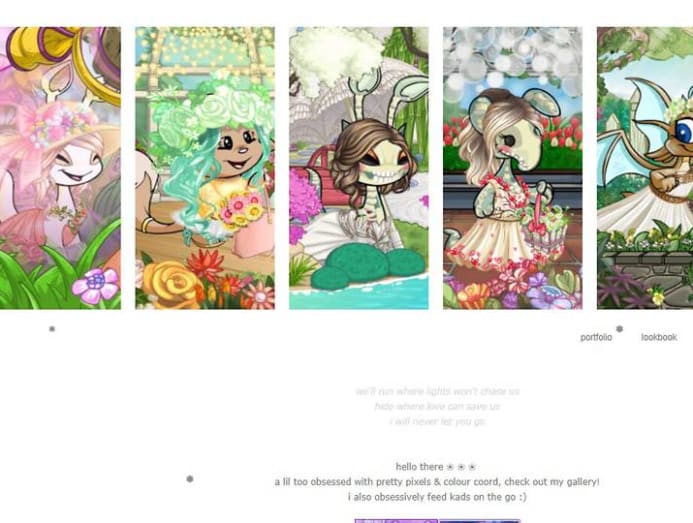 In their attempt to gain new fans among the younger generation, JumpStart may have alienated players of their core game, who are growing increasingly frustrated with the company's inaction. A Singaporean female in her mid-20s, who goes by the username breakeven, is not confident that JumpStart will fulfill its promises.
I've made quite a lot of friends on the site, and one even flew over to visit me from Canada.

"The two current game apps are not gaining a lot of traction among existing Neopets players," said the marketing professional. "A complete app would definitely bring people back to the game since the website is currently not mobile-friendly, (but) I think they will face a lot of technical issues like they already have with the website."
LEARNING REAL LIFESKILLS FROM FAKE PETS
For players like breakeven, Neopets was a gateway to pick up skills that served them well later in life. "Neopets helps me pass time, but I also learned how to code a little," she said. "It also taught me a lot about buying and selling when I was younger."
Similarly, Fong picked up the basics of coding while playing Neopets. "I actually learnt a tiny bit of coding so I could edit my pet's pages for personal display, which came in handy when I did beginner coding in high school."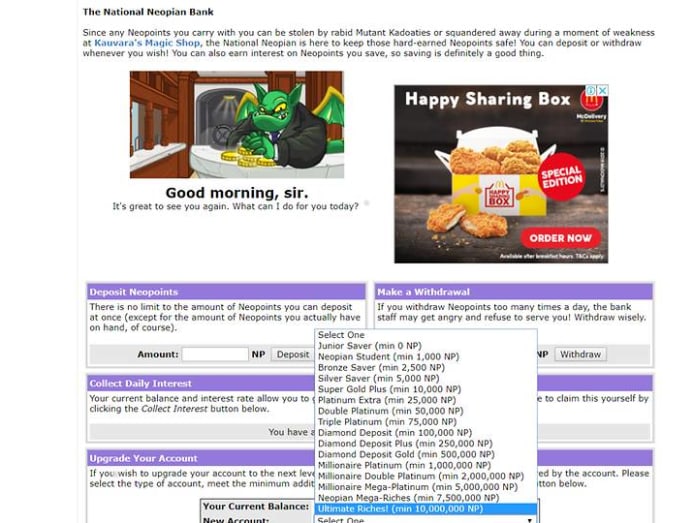 For Huang, Neopets taught her the importance of saving money. To this day, she still plays the game with her elder sister, 27-year-old Hannah Huang. "I enjoyed the different tiers in the Neopian Bank where I could compete with my sister to see who had more money, more interest and a higher account type."
"My ultimate goal is to qualify for the Ultimate Riches! tier in the bank. I would be really disappointed and upset if Neopets closes down before I can achieve that."
NEOPIA FOREVER
While the game has fallen far from its prime, Fong treasures the friends that he has made from the site, some of whom have become close friends. "It's been quite depressing to watch the site slowly decline, but I feel like it's been a haven for a lot of people who aren't necessarily super extroverted and instead, prefer to communicate and bond online."
He added: "I've made quite a lot of friends on the site, and one even flew over to visit me from Canada. We're close enough to talk about our personal lives and troubles to each other. It's nice because they can offer opinions without bias since they aren't physically there in my life."
Before Neopets meets its demise, breakeven would like to continue her streak as one of the top 20 Kadoatery feeders in the game. Similar to an animal shelter, the Kadoatery is an in-game challenge where players attempt to feed the feline-like Kadoaties specific foods that they are craving. A trophy on breakeven's page shows that she has fed a staggering total of 5,897 Kadoaties.
Speaking about the end of the website, breakeven said, "I will be upset, of course, as everything will disappear. There's actually so much potential for this site, but I'm glad I still have my international friends to keep. I have learnt a lot about different cultures and countries through Neopets and it's great".
Huang said she would miss the ethereal and enduring nature of the game, which she regrets taking for granted. "I enjoyed having a virtual world where I wasn't restricted physically and could go anywhere in Neopia. I like that I can leave it alone for as long as I want to before going back to it when I get busy."
"I like that I can still do the same things I did when I was in primary school," she said. "That's the biggest draw for me."