Now boarding: Why Star Awards 2021 at the airport was bittersweet for some
Best Actress Zoe Tay shone in a runway fashion shoot, but Best Actor Qi Yuwu was a little sad about not being able to fly home to visit his family.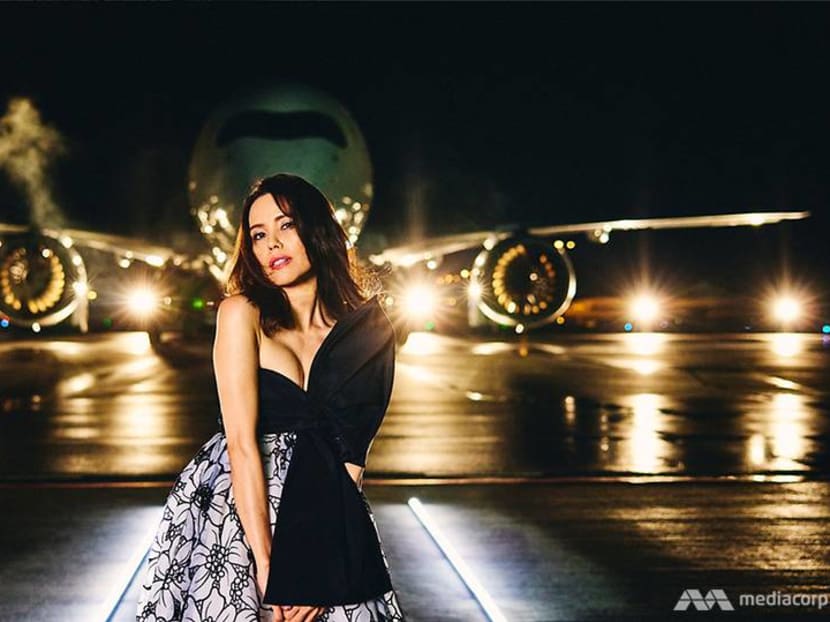 The Star Awards 2021 took off at full speed on Sunday (Apr 18) in an exciting departure from its usual format: For the first time ever, the event was held at Jewel Changi Airport and Changi Airport Terminal 4.
Instead of gathering in a theatre, groups of artistes were seated in individual armchairs in front of different stages in various locations, such as at boarding gates and in front of Jewel's iconic HSBC Rain Vortex, in line with safe distancing measures. 
Of course, everyone left their passports at home, but for many artistes, there were mixed feelings about being at the airport going nowhere. 
Accepting his Best Actor award for his work in the drama A Quest To Heal, Qi Yuwu mentioned in his thank-you speech that the last time he'd been at the airport, it was to go home to see his family in Guangzhou – something he unfortunately hadn't been able to do in a long time.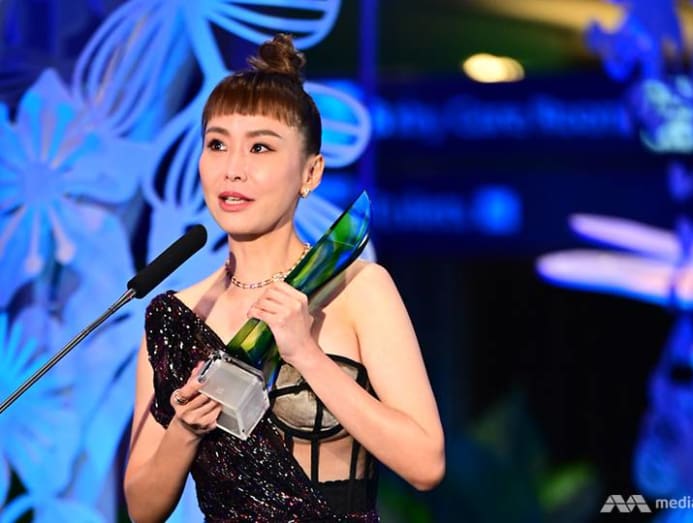 And when Ann Kok, back on the scene for the first time in seven years, received a Top 10 Most Popular Female Artistes trophy to her teary-eyed surprise, she also referenced the venue, saying, "Getting this award feels like I'm taking flight again".
Mediacorp's Star Awards was back with a bang in 2021. Held at Singapore's Jewel Changi Airport and Terminal 4, there was a special "red carpet" with an airplane as a backdrop, a handful of international guests and more.
For hosts Guo Liang and Quan Yi Fong, leading the show's proceedings at Jewel Changi Airport in the midst of a pandemic presented an unusual challenge. The pair were stationed at their own stage, without a live audience.
"It's the first time in my many years of hosting live shows that there has been no audience," Guo Liang remarked during an interview with media after the show. "There weren't any artistes in front of us, and there was no one to interact with."
That makes a host's job more difficult, said Yi Fong, because "we have to generate our own energy and excitement, instead of relying on interaction with the audience".
And, she added, having to raise her voice so she could be heard above the waterfall's crashing waters resulted in a sore throat.
Still, the novelty of holding the show at the airport was exciting, said most artistes we spoke to.
"I think this is something that might not happen ever again in the future, so I'm really blessed that I'm part of this historic event," Desmond Tan told CNA Lifestyle, before he bagged a Top 10 Most Popular Male Artistes award.
In addition, he and other celebs including Zoe Tay, Elvin Ng, Rui En, Rebecca Lim, Chantalle Ng, Xu Bin and Ian Fang got to do a runway fashion shoot on the tarmac, in front of a Singapore Airlines Airbus A350-900.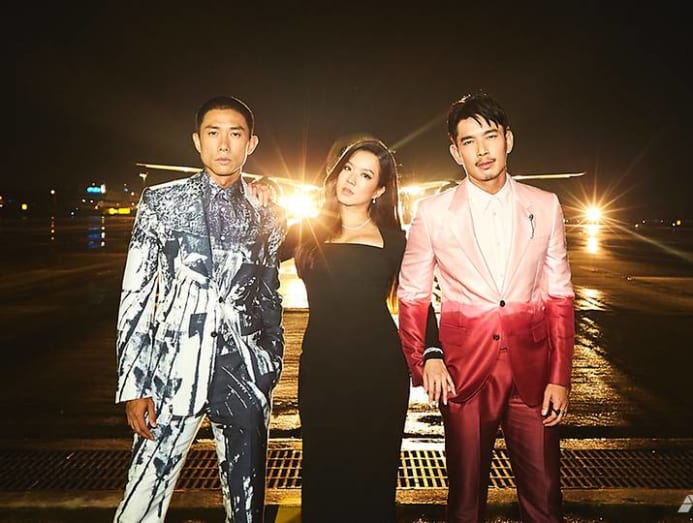 Zoe shared that the shoot had been planned for the daytime, but because of rain, it was pushed back to the evening. The end result, though, was very satisfying, she said, as the still-glistening ground reflected the light of what Desmond called the "golden hour".
At one of the high points of the show, everyone applauded when a visibly stunned Zoe's name was announced in the category of Best Actress. Mediacorp's Ah Jie beat out favourites including Felicia Chin, Rebecca Lim and Rui En to the top acting accolade for her turn as a single mother who goes from riches to rags in the drama My Guardian Angels, making this her second win in a row – she also won Best Actress at the last Star Awards in 2019.
Ahead of the Star Awards 2021, CNA Lifestyle hung out backstage with Desmond Tan, Rebecca Lim, Kym Ng, Romeo Tan, Pierre Png, Bonnie Loo, Edwin Goh and Bryan Wong as they prepared for the event. What's it like to be part of an unusual edition after there was none held last year?
She wasn't the only nominee who wasn't expecting to win, though. Looks of surprise flashed across the faces of veteran artistes Chen Shucheng and Jin Yin Ji when their names were called out during the presentation of the Top 10 Most Popular Artistes awards.
Because voting this year was carried out online and not through telepoll, "I thought my friends wouldn't know how to go on the Internet," Shucheng said. "People told me, 'Never mind, I'll ask the youngsters at home to help me.' I don't know how many of them did, but I'm very thankful to friends for voting."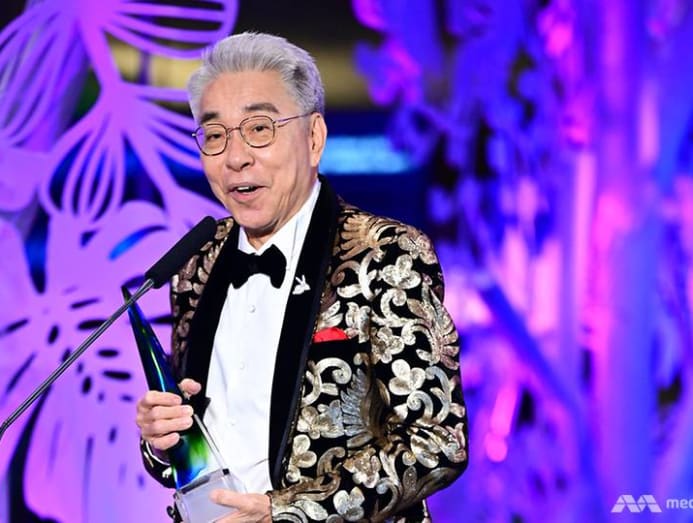 Younger actresses Hong Ling and Bonnie Loo were also pleasantly surprised when they received their first coveted Top 10 trophies.
But perhaps no one was more elated than Marcus Chin, who, at the age of 67, received his first popularity award. "I can't believe it. I'm shaking," he said. "I never thought I would ever win this. I even feel taller after winning this award!" He added that hard work pays off, saying, "I invest in believing – believing in myself, believing in action and believing in perseverance."
Of course, there were also those who surprisingly lost out on popularity awards, such as Felicia Chin, Xu Bin and Chantalle Ng.
Chantalle had also been nominated for Best Supporting Actress for her work in Terror Within, and received an outpouring of positive feedback for playing a Vietnamese bride in My Star Bride.
Speaking to media after the show, her mum Lin Meijiao said it was okay that Chantalle hadn't bagged an award, as it was her first nominations. In fact, it might even have been too soon if she had won, she said, because "there's still a long road ahead of her".
For others, winning an award was bittersweet. Accepting her ninth Top 10 trophy, Rebecca Lim said a special thank-you that she later explained was meant for her late grandfather, and apologised to her family for "not being able to share moments, including sad ones, with you".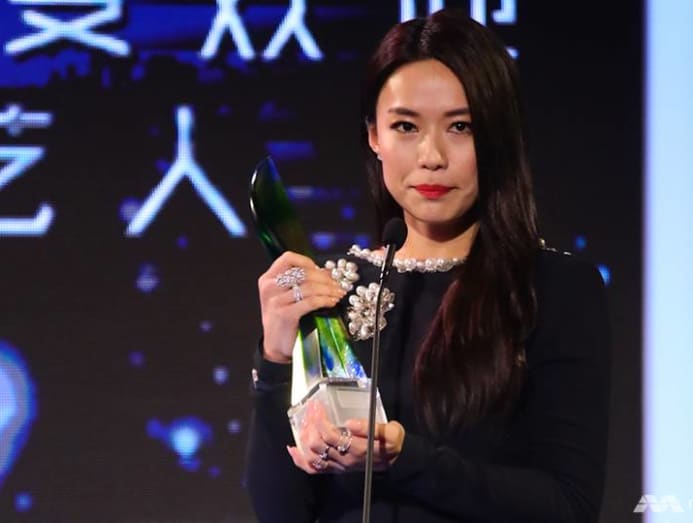 She later told media backstage that the life of an artiste really isn't all glitz and glamour. "Often, we don't have time to spend with people we love. Many people don't realise this. Sometimes, we suffer indignities. I don't think it's a bad thing – I have grown a lot and become very strong – but I do sometimes wonder whether it's necessary to go through so much."
Bryan Wong, on the other hand, opined after winning the Best Supporting Actor prize for his portrayal of an evil eunuch in time-travel drama A Quest To Heal: "We're human. At our low points, we wonder if we made the right decision. But that regret lasts only a couple of minutes."
The 50-year-old was speaking of his decision to switch career paths at 40, going from hosting to concentrating on acting.
"Either you're very brave or you're just plain stupid. I hope I'm not plain stupid," he said. "In certain things, I'm still a dreamer. I still believe this world is beautiful. I believe if you have the passion and chase your dreams, maybe one day, you'll get good results. And today I got it."
Catch the repeat telecast of Star Awards 2021 on Apr 25 on Channel 8, with the Walk of Fame at 2pm and the main show at 3.30pm. Also available on meWATCH and Mediacorp Entertainment Channel on YouTube. For more information, visit mewatch.sg/sa2021.