Star Awards 2022: A night of surprises for Chen Hanwei, Huang Biren and Brandon Wong
The three veterans did not expect to win this big or at all at the awards.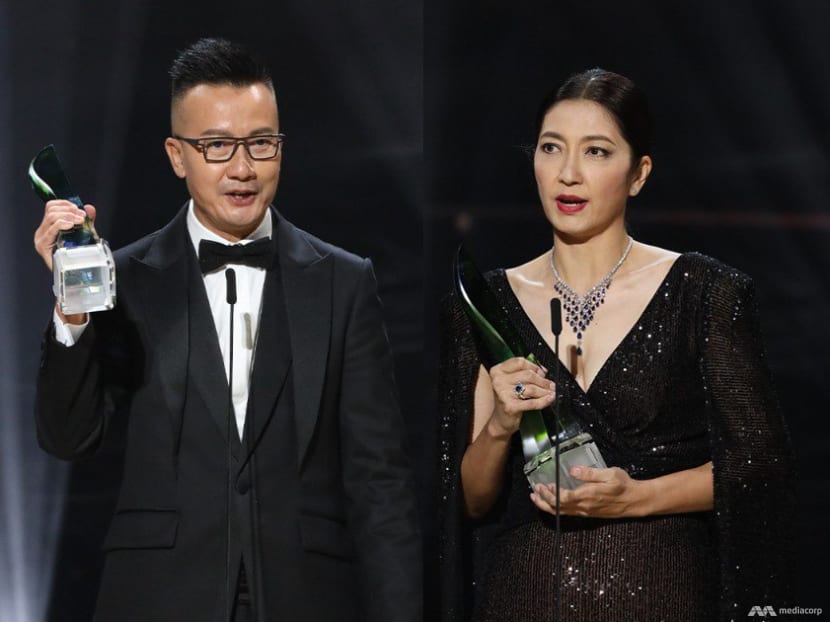 The Star Awards took place at The Theatre at Mediacorp on Sunday (Apr 24) with the theme "When the stars align, dreams come true".
And what an evening of surprises it was for the nominees, especially for Brandon Wong, who managed to earn the accolades of both hero and villain in a single night. The 50-year-old was officially named the Most Hated Villain earlier on in the awards show as part of the new My Pick! Awards.
But as the night progressed and the Top 10 Most Popular Male list was being filled up, Wong's name was unexpectedly announced for the 10th spot – he had waited 27 years to win his first Top 10 award.
An ecstatic audience cheered as an emotional Wong accepted his award. "I'm worried that I have to wait for another 27 years for another prize," he said, wiping away tears.
Sweeping the awards this year was My Star Bride – Lin Meijiao took home the Best Supporting Actress award, while her daughter, Chantalle Ng, picked up a trophy for Top 10 Most Popular Female Artistes. The series also won Best Drama Serial and Best Theme Song. 
"My name was the last to be called and I was very nervous," recounted Ng. "(My mum) and (actor Zhu) Hou Ren held my hand and gave me strength.
"I really want to congratulate my mum. I was more moved than if I had gotten an award. I really love her and feel so proud of her. I believe she's also proud of me," she said of her mother's win.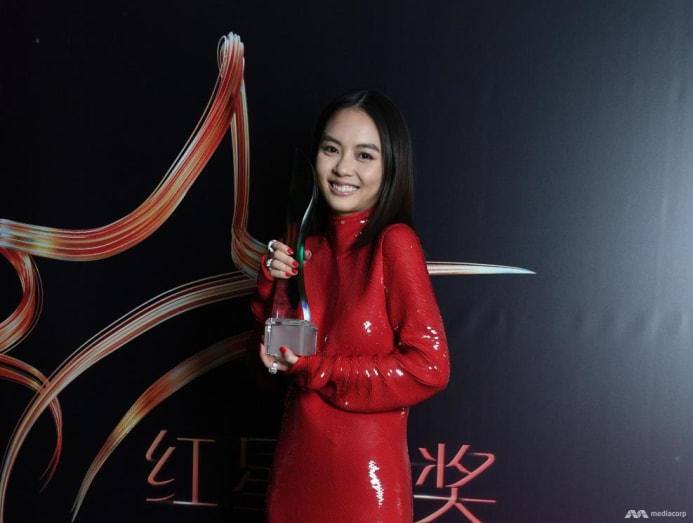 HOST WITH THE MOST... SKILLS
And while there wasn't slapgate like at the Oscars, it was still stressful for host Chen Hanwei. "I was so very nervous and suddenly my voice went hoarse," he said. "It's my first year, so I have gotten more attention but I think if I do it next year, no one will pay attention."
In addition to working with overseas guest emcees, Chen also designed the outfit for MediaCorp's resident hunkle Zheng Geping. But the feather that capped his hat has got to be the Best Actor award he took home.
"I really wanted new actors to win," said Chen. "I wanted to stand on stage and hand the award to someone young. When I got the award, I wasn't unhappy; I just wondered why the newer actors didn't have the same luck."
TIGER MUM WINS BIG
Best Actress awardee Huang Biren was just as surprised by her win. "I bought many, many mirrors," she said of the preparation she did for her winning role in Recipe Of Life. "When I read the script and had the feel, I'd say my lines to the mirror to see if I could meet my own standards."
As for her next project? "I'm usually at home with my kids, keeping an eye on their schoolwork. I only take on roles that I like and if my schedule permits. If I take a project, it's because I like it.
"I remember my teacher telling me that acting is like life. Think about what your co-star is saying and react. When you experience something, save it up in your heart. You might be able to use it in a future role."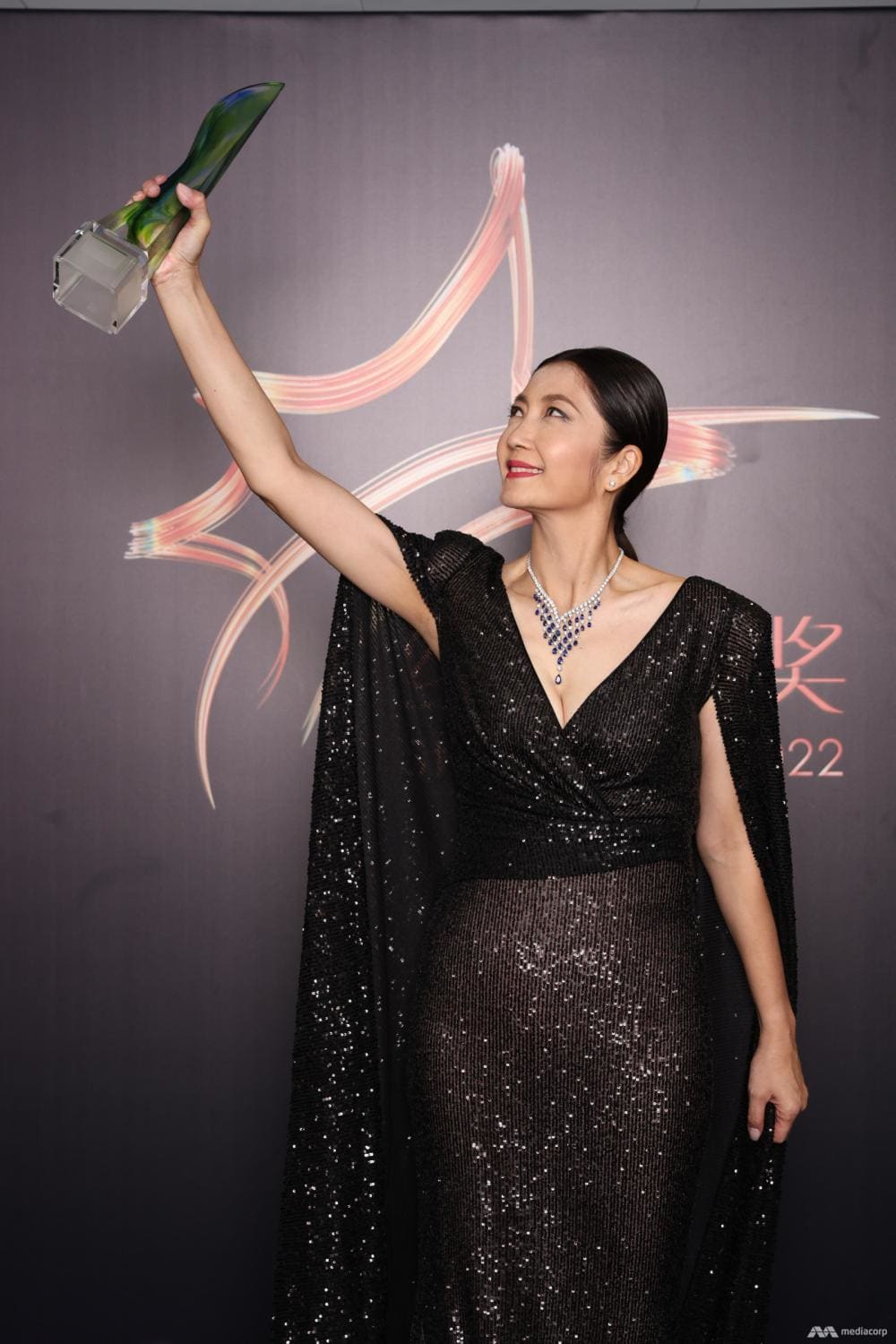 GETTING TECH-Y
This year's Star Awards certainly had some high-tech features such as an AI-assisted robot that delivered trophies to the winners and special virtual appearances by Asian stars including Aaron Kwok, Carol Cheng, Jacky Wu and Moses Chan, who were beamed in as life-sized, three-dimensional holograms. Local personalities such Irene Ang, Jaspers Lai and Xiao Ming also took the stage to present awards.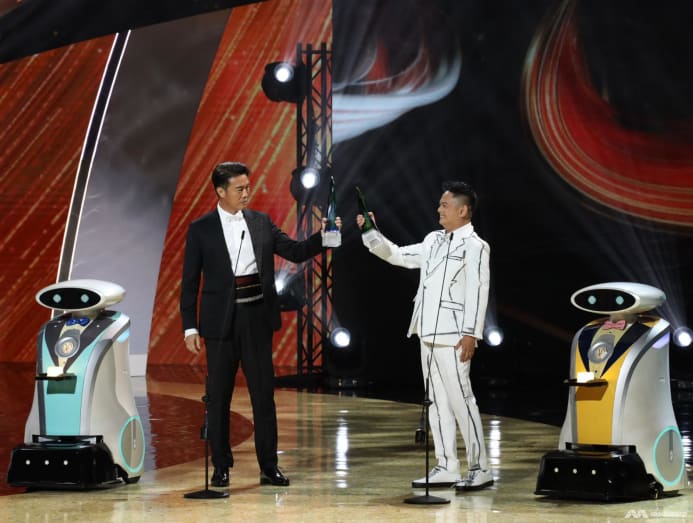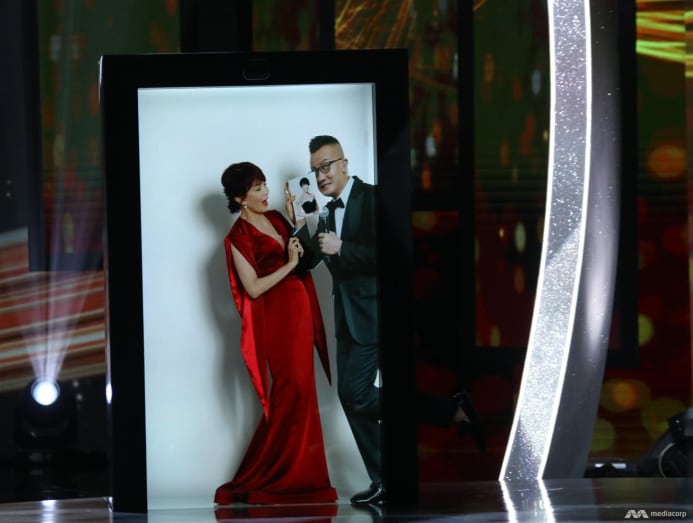 Here's a look at the night's winners:
Top 10 Most Popular Male Artistes:
Desmond Tan

Romeo Tan

Lee Teng

Shaun Chen

Ben Yeo

Pierre Png

Marcus Chin

Guo Liang

Xu Bin

Brandon Wong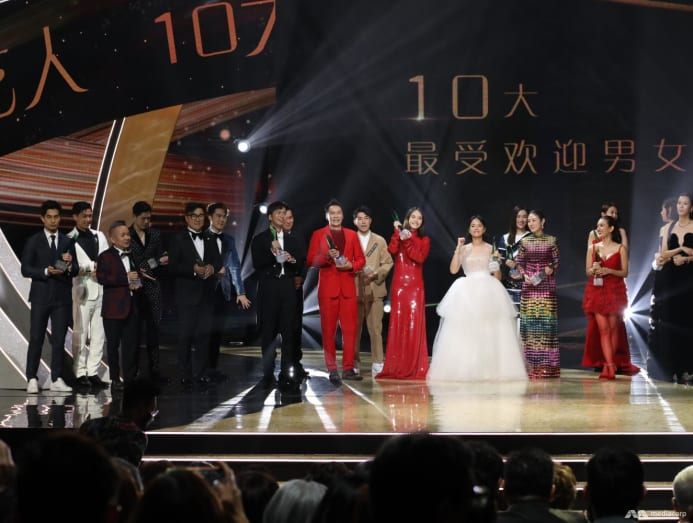 Top 10 Most Popular Female Artistes:
Paige Chua

Ya Hui

Jesseca Liu

Yvonne Lim

Rebecca Lim

Carrie Wong

Hong Ling

Cynthia Koh

Felicia Chin

Chantalle Ng
Best Actor: Chen Hanwei (Recipe Of Life)
Best Actress: Huang Biren (Recipe Of Life)

Best Supporting Actor: Jeffrey Xu (The Takedown)
Best Supporting Actress: Lin Meijiao (My Star Bride)

All Time Favourite Artistes: Zheng Geping and Dennis Chew
Evergreen Artiste: Xiang Yun
Best Programme Host (Entertainment & Infotainment): Quan Yifeng (Hear U Out S2)
Young Talent Award: Goh Wee Ann (The Heartland Hero)
Best Drama Serial: My Star Bride
Best Entertainment Programme: The Inner Circle
Best Entertainment Special Programme: Star Awards 2021 – Awards Ceremony
Best Infotainment Programme: Cooking For A Cause
Best Short-form Drama Serial: Mr Zhou's Ghost Stories@Job Haunting
Best Short-form Entertainment Programme: Storyteller Behind The Wheels
Best Theme Song: Wen Xi, performed by Jocie Guo
Best Radio Programme: LOVE 972 – The Breakfast Quartet
My Pick! Awards:
Favourite CP: Chantalle Ng and Xu Bin

Male Show Stealer: Xu Bin

Female Show Stealer: Chantalle Ng

Most Hated Villain: Brandon Wong

Perfect Combo: Chen Biyu, Dennis Chew, Marcus Chin, Mark Lee (Yu Jian Huang Chong Weekend Edition)

Most Attention-grabbing New Gen Host: Herman Keh
Catch the repeat telecast of the Star Awards 2022 on May 1 at 3.30pm (Walk of Fame at 2pm).