Meet Herman Keh, Zhai Siming and Tyler Ten: Star Search's new celeb trio is ready for the big time
These three 25-year-olds have made promising starts in acting, they're big on TikTok and they're really tall. But what else do they have in common? CNA Lifestyle got to know them a bit more.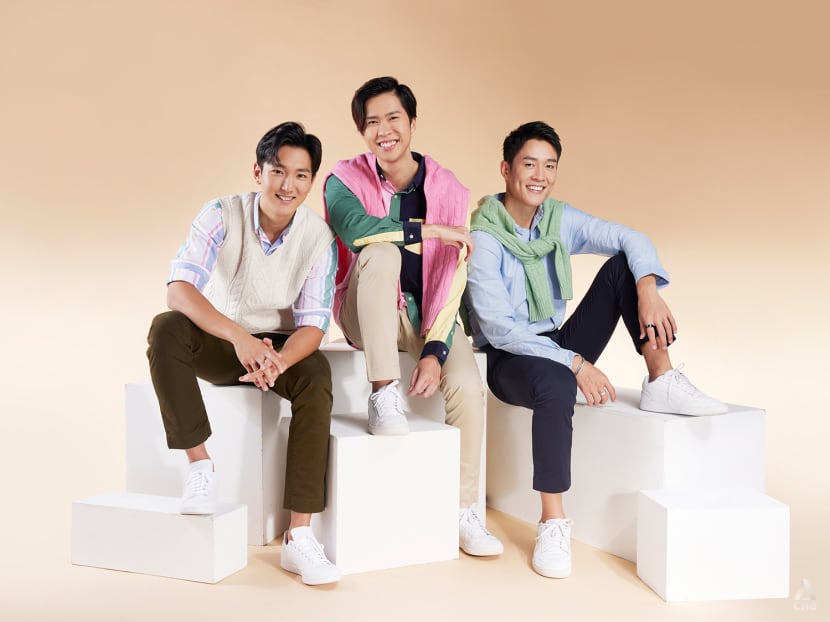 Friendships often spring up organically, but it's not every day that they prove to be marketable.
Meet Star Search 2019 alumni Herman Keh, Tyler Ten and Zhai Siming, all 25. Individually, they're head turners. But as a band of three, they're a textbook demonstration of the "cheerleader effect": Multiplied presence, star appeal and youthful energy.
Their management knows this, so they're now being marketed as "HST". It's a band name that first originated with their fans, who collected the first letters of their names. "The trio will officially team up as HST to explore different collaboration opportunities", reads a press release.
It is the first time since the formation of the "8 Dukes" in 2014 – comprising Romeo Tan, Desmond Tan, Zhang Zhen Huan, Ian Fang, Jeffrey Xu, Shane Pow, Xu Bin and the late Aloysius Pang – that Mediacorp's talent managers have branded a collective of artistes.
Keh, Zhai and Ten have so much in common that it seems meant to be.
Firstly, they were all born in 1996. They're also nearly the same height: Keh is 1.91m, Ten is 1.9m and Zhai is 1.87m tall. And what's more, they were acquainted with one another even before joining the Star Search competition, as they were signed to the same modelling agency. So, it's no surprise that they hit it off while journeying through the competition together.
While Keh emerged the runner-up – 28-year-old Zhang Ze Tong clinched first prize – the other two gained their share of supporters, too. And the trio has been especially popular on TikTok, where their goofy videos and spontaneous dance moves have earned them thousands of young fans.
Since they make frequent appearances on one another's social media accounts, it's only natural that audiences have come to think of them in conjunction with one another. (Chantalle Ng even got two of them mixed up, tagging Ten as Keh on her Instagram stories. She apologised after, saying that people often mistake her for Tay Ying, too.)
How does it feel to be a three-man squad in the eyes of the public? The boys are taking it in their stride.
"If you go as a group, you can feed off each other's energy," Keh opined. "Like what they say: If you want to go fast, you go alone. If you want to go far, you go together. One person's weakness might be another's strength." And, he added, "I think we are funnier when we come together".
Indeed, while we were shooting photos of the boys, there was so much giggling and good-natured ribbing that our photographer turned to us and quipped, "I think it's going to be a long night". He wasn't wrong.
HERMAN KEH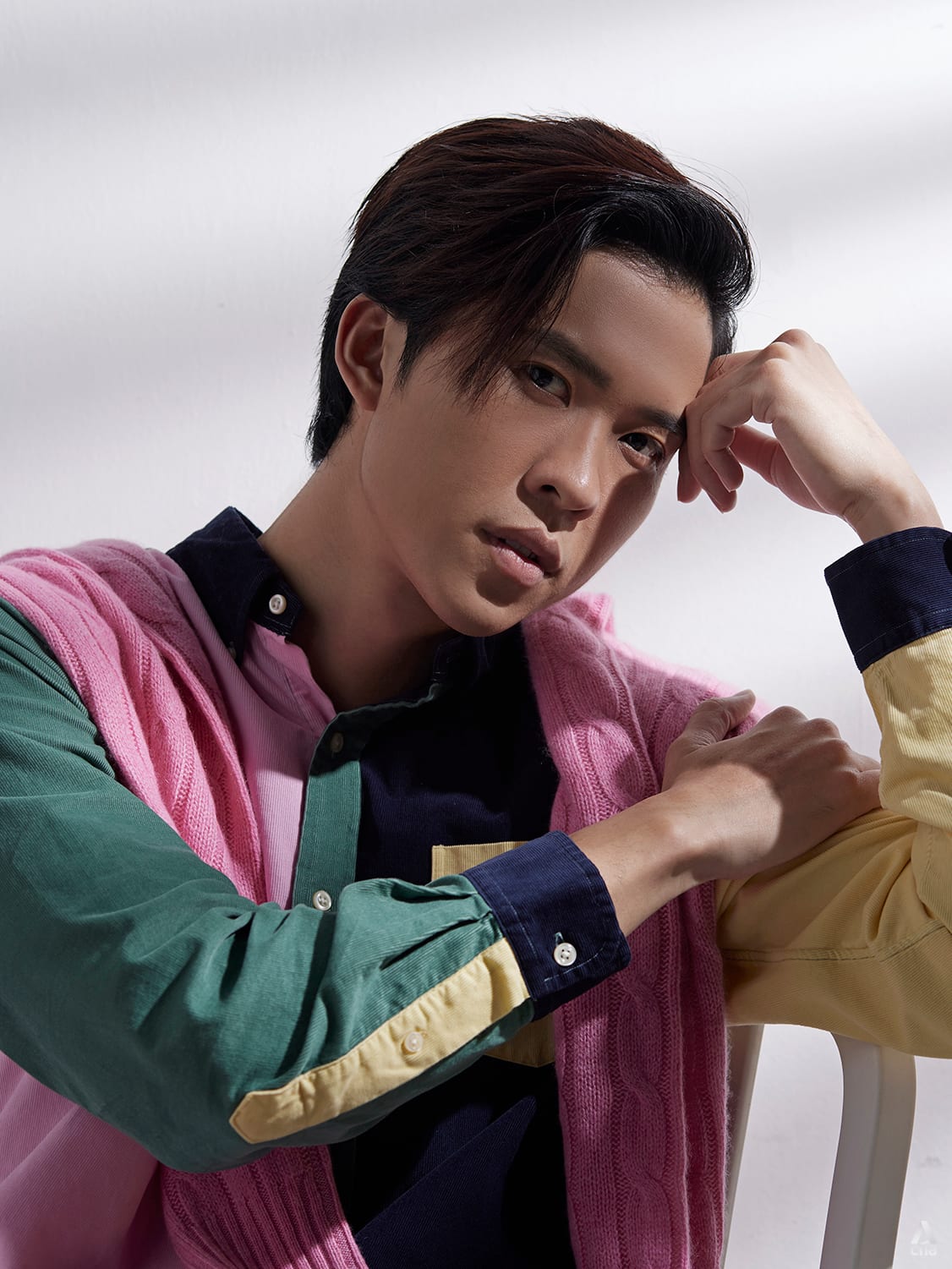 Herman Keh is a LASALLE College of the Arts graduate who's devoted to dance. Prior to joining Star Search, he was a dance instructor, and having some nifty moves is a skill that's stood him in good stead, especially in the entertainment world.
Apart from dancing rings around his fellow actors, he's also widely known as a class clown. Finding the humour in every situation comes naturally to him, he said, quipping, "I think I'm just born to be funny".
Keh's best asset is clearly his versatility – on top of the severely underrated gift of not taking himself too seriously, that is.
After clinching second place in the Star Search talent competition, he swiftly snagged his first major role playing the second male lead in the crime drama Mind Jumper, which aired earlier this year and also starred Joanne Peh and James Seah. He's also seen in the variety programmes Curious City and Just Swipe Lah, as well as the online show Intern Survival Guide.
He's currently filming for the Hokkien drama I Want To Be Towkay, which will air early next year.
TYLER TEN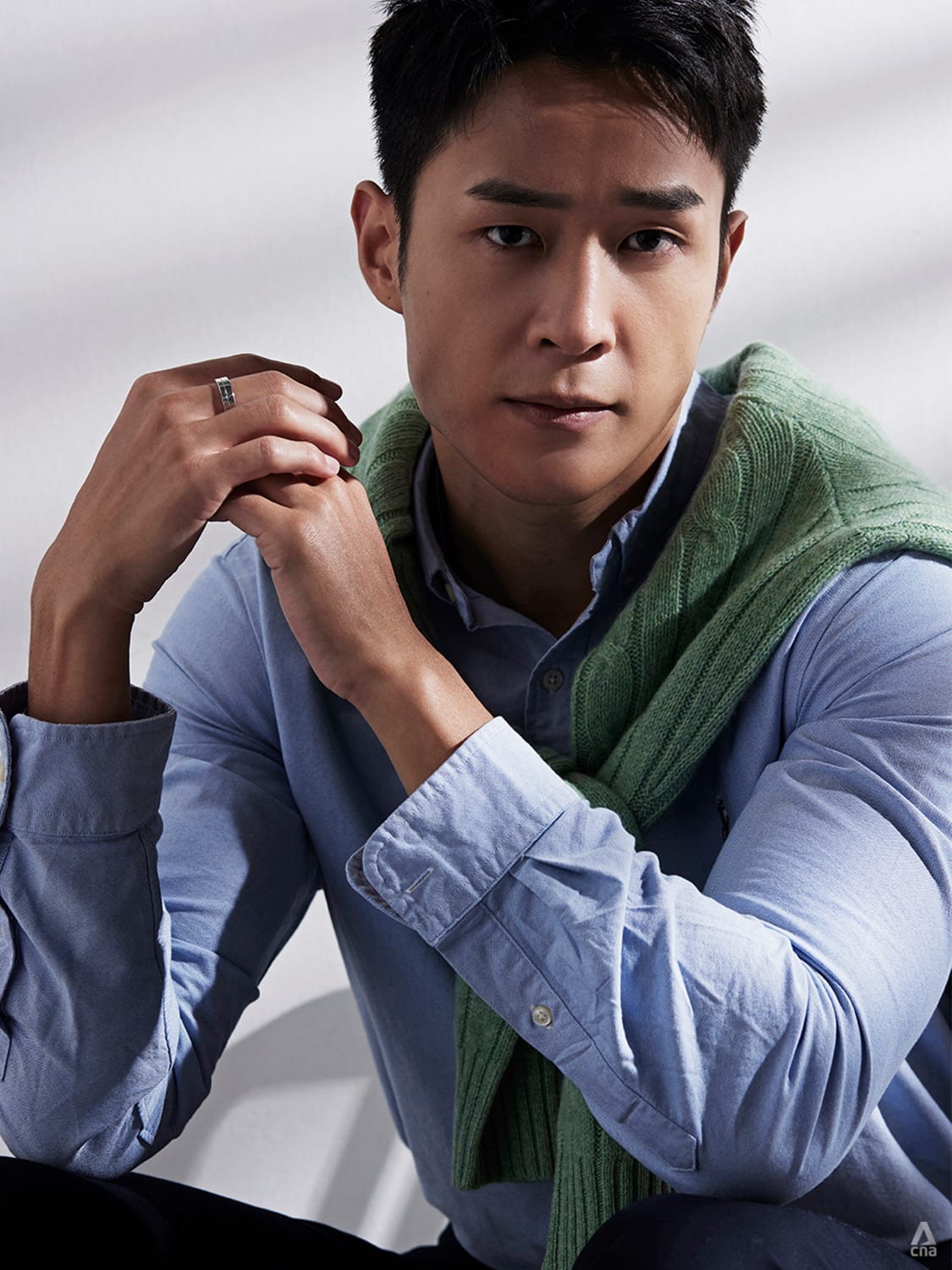 With his classically rugged looks and square, masculine jaw, Tyler Ten has a face and build that's ready to pair well with local television's resident leading ladies.
He has already filmed for his first lead role, in the firefighting-themed drama In Safe Hands that will air in March next year. And his current projects include filming for the nursing-themed drama You Can Be An Angel 4.   
A gym buff and a martial arts instructor, Ten has practised the art of Muay Thai from a young age, winning his first competition at 14. He was also into bodybuilding, and was much bulkier before joining Star Search. He has since had to take on a leaner physique in order to be more versatile in taking on roles – a sacrifice he's had to make for his chosen profession.
The three boys frequently go to the gym together and have also trained in Muay Thai together, with Zhai describing Ten as "very professional".
ZHAI SIMING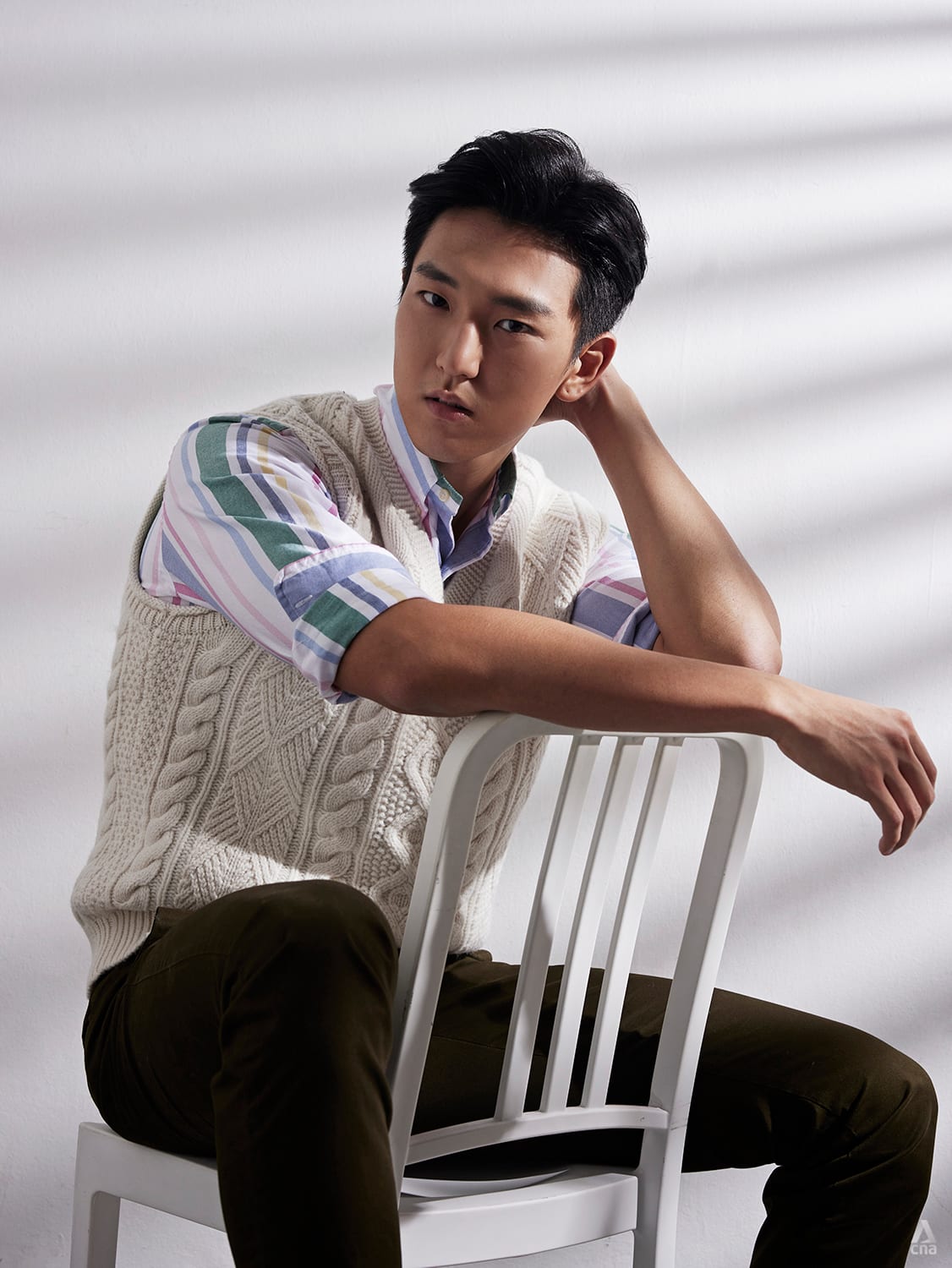 Zhai Siming was born in Hebei, China but moved to Singapore with his mother at the age of eight. Growing up attending local schools, he says he's now more proficient in English than in Chinese, although he still lapses into Mandarin when looking for the right words in conversation.
A basketball fanatic from a young age, he got his start in showbiz at the age of 17 when he auditioned for and clinched a part in the 2014 basketball-themed movie Meeting The Giant, directed by Tay Ping Hui.      
For Zhai, basketball, acting and his relationship with his mum are all closely interconnected.
"I played basketball since I was young but my mother never supported me because I was very competitive and aggressive. I always fought with people and broke my hand and ankle," he told us.
But when his basketball skills led him to the path of showbiz, "She was so excited. It kind of influenced me to be an actor. I didn't believe I could, but she always said I could. Maybe because I'm very expressive and talk a lot of nonsense. I felt like she saw the potential in me. When I was walking the red carpet at the gala premiere, and my mum was there – I felt I had made her so proud".
While talking about his mother, he choked up with emotion. "My mum is in the US. I haven't seen my family in a very long time," he said. His mother emigrated when he was 19 and the plan was for him to join her after completing his studies here, but Star Search and subsequently COVID-19 threw spanners in the works. It has been six years of separation. So, whenever the subject turns to his mum, he can't hold back the tears – especially because she's his biggest fan.
"Every time I feel like I cannot make it as an actor, she'll be there to give me support," he said.  
THE BOYS IN THEIR OWN WORDS
Can you each describe the other two guys?
Herman Keh: Tyler has an interesting and funny side that he doesn't want to show. He always likes to act cool. Siming has the ability to talk and converse with anyone. He talks genuinely – you can feel it. It's not for the sake of talking.
Tyler Ten: Siming is someone you can confide in and give advice. He might seem quite happy on the outside but he has a lot of emotions and life experiences.
Zhai Siming: I'm quite sensitive to people's feelings. Maybe because I grew up in a single-parent family. Herman is very creative and artistic. He thinks in a different kind of way. Maybe because he studied in an arts school. You'll know when you watch his TikToks. He doesn't care about his image.
If you were a boyband, what would your individual boyband persona be?
Keh: So obvious! Of course I'd be the joker, lah! The joybringer! The sunshine!
Ten: I think I'd be the cool one. The silent killer.
Zhai: I'm the basketball guy. The normal guy.
Ten: He's the real lady killer.
Zhai: Different ladies like different styles. We are all different styles. So the ladies won't be confused.
Keh: Yeah, sometimes they get mixed up and call you Tyler!
Have you seen Siming in action using a pickup line on someone?
Keh: Got a lot leh!
Ten: I can't remember, but it was pretty smooth.
Zhai: Pickup lines are more like a warmup with the girl, to see what her attitude is towards you. If she's not really interested, she'll probably just ignore you. But if she laughs or responds, that's a sign that she likes you. A pickup line is more of a test-water thing.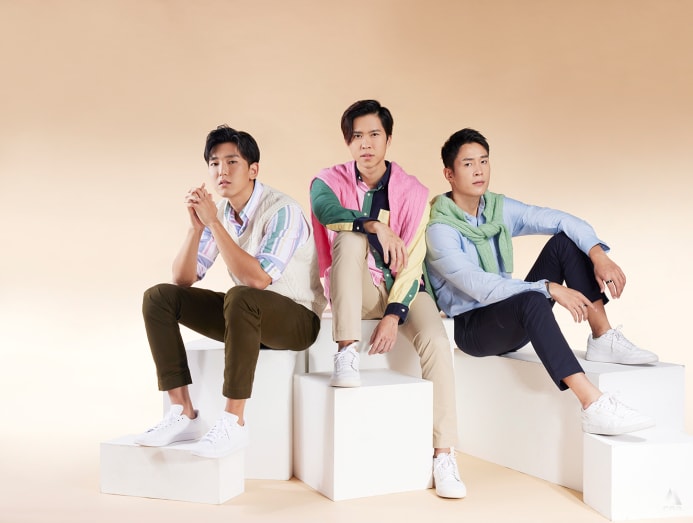 What's Tyler's wild side like?
Keh: He's very wild at the gym.
Zhai: I thought of something but I don't dare to say. Pre-COVID-19, when we had some drinks – when he gets a bit tipsy, he'll stand on the table and dance.
Keh: You'll see him dance when he cannot even dance.
Tyler, how long have you been practising Muay Thai?
Ten: I've been doing it for 10 years. Just now I just finished up a session. I started because in the past I was very skinny and vulnerable. So I got bullied quite a fair bit. I got into Muay Thai after watching a movie called Om Bak. I picked it up. I fell in love and I started competing locally.
Keh: And now he bullies people. Zero knock-outs, leh. He's never lost before.
Ten: Yeah, because I've only had two competitions.
What's the secret to TikTok success?
Keh: Just do everything. One of them will be seen by people. After seeing the videos on the "for you" page, you just have to come up with something new or something stupid. For me, I always go towards the stupid side. Stupid and funny. It's more comfortable and easier to do, compared to acting cool and changing outfits.
Ten: I saw his recent video and there's a comment: "Why Mediacorp actor like that one?" (Everyone laughs.)
Keh: I think I'm just born to be funny. I'm glad I'm able to bring joy to people around me.
Zhai: There's so much competition. YouTubers, TikTokers, live streamers, actors. I feel we need to find a platform to help Singapore or other countries' audiences know about us. When people know about us, they will look out for our shows. Also, I feel, as an actor, if you don't have certain popularity, it's very difficult to get roles or projects.
Have you thought about your goals in the industry?
Ten: I want to venture overseas – China or Taiwan. I've never travelled overseas for filming before. I hope that the chance will come soon.
Keh: Never really thought that much. I'll see how it goes. For now, I hope to film a movie. That's all. That will be a good challenge that's very different from filming a drama.
Zhai: Actually, I have very big dreams. I want to do a defining movie. I want people to recognise me as a Singapore actor and when they see me, say, 'Eh, this  guy can act, and I love his shows'. I want to earn this title through my projects. Every show I do, I put in a lot of effort and time to prepare.
Eddie Peng is one of my biggest inspirations because he does a lot of action movies. In his first few years, nobody really wanted to cast him. They didn't think he could act. He put a lot of effort into his shows and once trained for months just to get into character. I can feel his determination and passion. I want to be someone like him in Singapore and have a movie that can inspire the younger generation to chase their dream.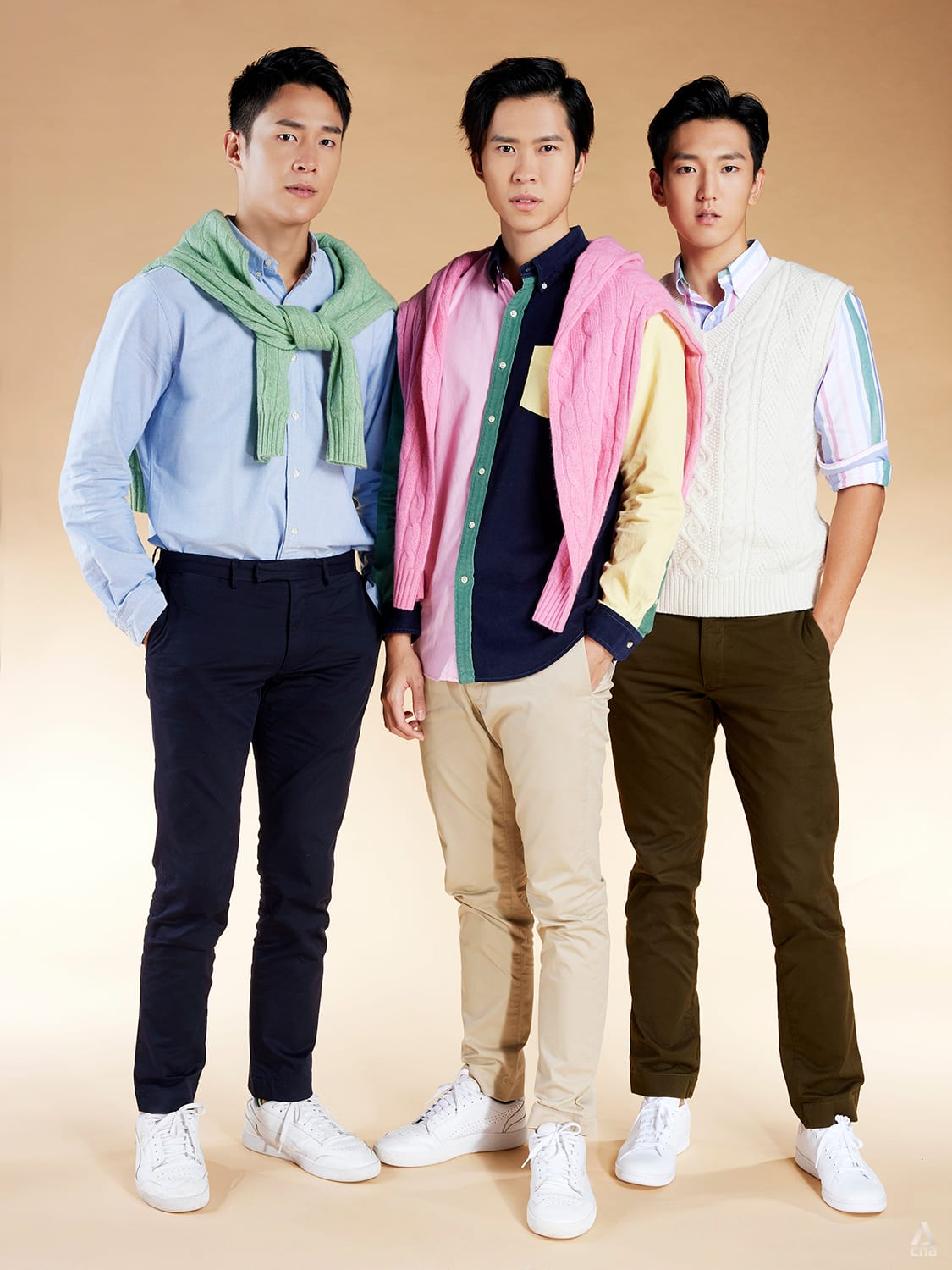 Now we'd like to give you each the chance to ask the others a burning question that you've always wanted to ask.
Ten: Okay, so, assuming the two of you fall in love with the same girl. You are all very close friends. The girl gets together with Siming. The girl is trapped in a fire in a building with a friend. There are two people to save but Herman is the only one there. The girl dies but her friend emerges alive. Herman says Siming's girlfriend asked him to save the other girl first. But the other girl said she asked him to save Siming's girlfriend. But he didn't, resulting in the girlfriend's death. Would you believe what he said or what the girl said?
(Everyone looks confused.)
Zhai: My girlfriend is in a building with another girl?
Keh: I would know my girlfriend well enough to know –
Zhai: But she's not your girlfriend.
Keh: Huh? But I'm the one who saved them?
(Long discussion ensues)
Zhai: Die already what. Doesn't matter already.
Ten: So you won't be friends with him?
Zhai: (Agitatedly) My girlfriend won't come back either way! Tyler!
Keh: Tyler is very funny. (Asks his question) There are two diverging train tracks. On one track there's me, on the other are five people you don't know. Which one will you let the train go on?
Zhai: This kind of question is like Squid Game right?
Ten: I wouldn't think in my perspective. I would think in general.
Zhai: You would kill your friend and save five people? I'd go for friendship. How do you know the other five are not bad people?
Keh: There's no right or wrong.
Zhai: What if it was your mother and five other people?
Keh and Ten: Wah!
Keh: I would choose somebody that I know.
Zhai: If you hadn't joined Star Search, what would you be doing now? Being an actor has always been my dream job. So I've sort of achieved my dream job.
Keh: I would be a dance instructor and just live a very simple life.
Ten: I would be a gym instructor.
Zhai: (Disbelievingly) That's your dream job?
Keh: Tyler would not be this size. Before he entered Star Search, he couldn't fit through this door.
Ten: I was really into bodybuilding. But now, I've developed a newfound interest in acting.
Zhai: (Teasingly): After a kissing scene with someone? Wah, I've got another burning question. If you had a longtime girlfriend but she didn't like you being in the industry, what would you do?
Keh: Break up. If I don't do this, what would I do?
Which local actress would you want your first kissing scene to be with?
Ten: Zoe Tay. That answer won't offend anyone.
Keh: Felicia Chin, because I'm a fan of hers and I've always thought she was very pretty, since I was young.
Zhai: Rebecca Lim. She's my idol. I feel she's a very big role model.
Keh: Since when? I've never heard you say that before!
Ten: Dawn Yeoh. Actually, many! 
Herman Keh, Tyler Ten and Zhai Siming's outfits courtesy of Ralph Lauren.