Harry Styles praises Stevie Nicks as a 'lover', she mistakes him for NSYNC
The faux pas was made when the 70-year-old Fleetwood Mac singer thanked the One Direction member when he introduced her at the Hall Of Fame induction.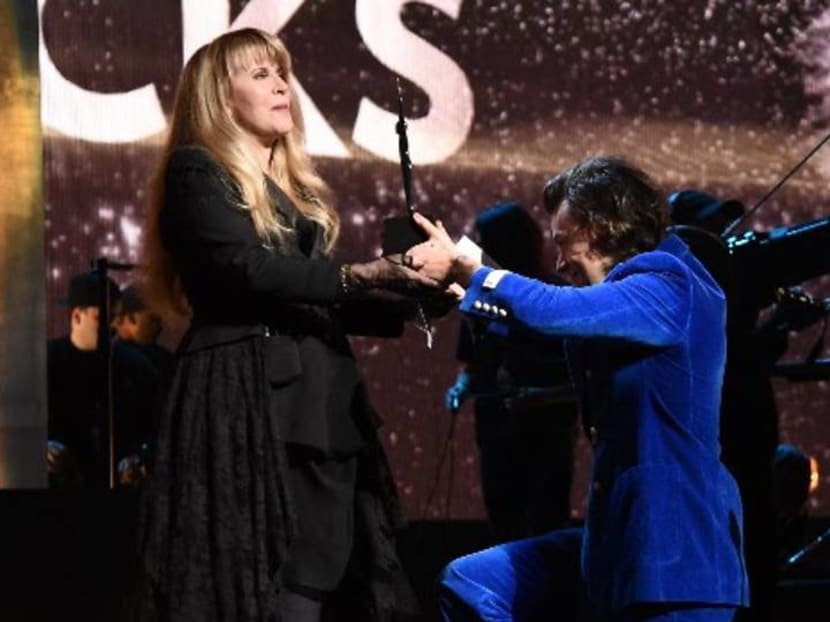 Stevie Nicks was inducted into the Rock And Roll Hall Of Fame at the ceremony held on Friday (Mar 29) – a big deal as it is the first time in music history that a woman has been inducted for the second time. Her first was with Fleetwood Mac in 1998.

But Nicks may just be remembered for something else at the occasion: Mistaking Harry Styles for being part of NSYNC. The 70-year-old made the faux pas when she thanked Styles: "When he decided to make a solo record from NSYNC – sorry, not NSYNC," she said, quickly realising her mistake. "I'm never going to live that one down, I know."

Ironically, Styles of One Direction had introduced Nicks earlier on, highlighting her accomplishments and declaring her his idol.

"She is everything you have ever wanted in a lady, in a lover and in a friend," the 25-year-old said. "Stephanie Nicks, I love you, we all do, and that is true, Stevie." Eyebrows were raised as no one knew why Styles reckoned the veteran rocker is the perfect lover.

Perhaps listening to Nicks' songs as a youngster created that impression as Styles reminisced: "Dreams was the first song I knew all the words to, before I really knew what all the words meant. I thought it was a song about the weather. But I knew it was a beautiful song about the weather. I always knew the words and I love them all".

He continued: "If you're lucky enough to know her, she's always there for you. She knows what you need, advice, a little wisdom, a blouse, a shawl. She's got you covered. Her songs make you ache, feel on top of the world, make you want to dance, and usually all three at the same time. She's responsible for more running mascara – including my own – than all the bad dates in history combined. That is true Stevie".

They later performed a medley together.