Move along but keep your mask on and practise safe distancing
Stormtroopers are roped in to entertain and enforce safe distancing measures in Orlando's reopened Disney mall.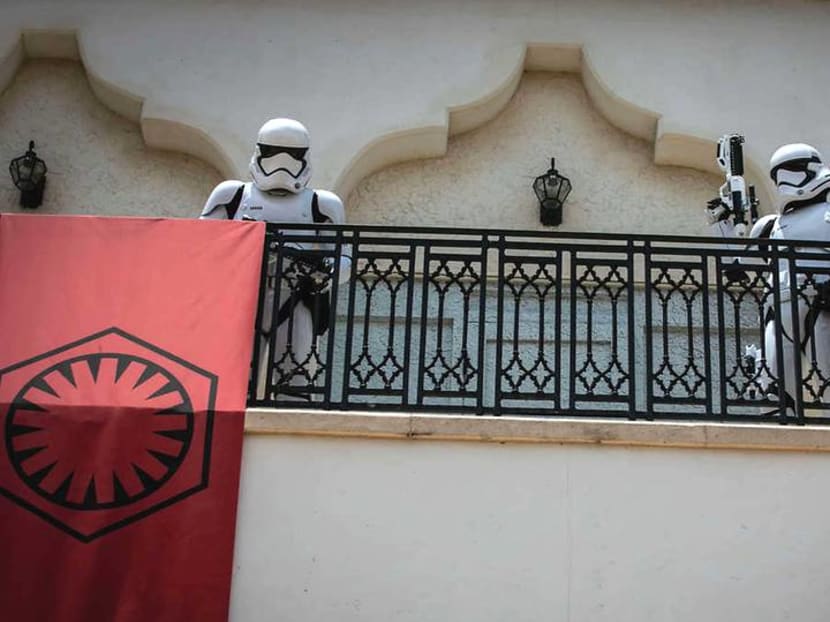 Looks like Disney has called in the big guns from a galaxy far, far away to maintain social distancing at the reopened Disney Springs in Orlando, US.

A video taken at the Disney World's shopping district by Attractions Magazine shows a pair of First Order Stormtroopers "enforcing" mask wearing and keeping the appropriate distance among shoppers – and between themselves.

The Stormtroopers' pre-recorded dialogue was played over speakers as the actors brandished blasters from a balcony to entertain the shoppers below.

At one point, the male Stormtrooper got too close, prompting his female co-worker to say, "Stay in your sector!" as she drew an imaginary line to separate them.

Later, the duo got to chatting about banthas (the hairy creatures ridden by Stormtroopers in A New Hope) and noted that the male ones can reach 3.9m long. "Yeah, I'm going to need you to move one male bantha's length away, please," said the female Stormtrooper when he got too close again.

"Roger that," replied the other Stormtrooper as he increased his distance.

The shoppers were also involved in the skit. While assessing the shoppers below, one of the Stormtroopers commented: "Some nice face coverings down there. Probably nicer than these helmets."

Later, he yelled out: "Hey, you! With the face covering!"

"They all have face coverings," his co-worker retorted.

"Well, we made them all look," he replied. "And now they all know who's in charge."

Disney Springs reopened on May 20. Shoppers are required to have their temperature checked and wear masks before entering the mall.

The main Disney World park, however, will reopen in mid-July. Safety protocols such as limiting the number of visitors, mandatory mask-wearing and roaming squads to reinforce social distancing will be implemented.