Stranger Things took us back to 1985 – when these songs were the biggest hits
From Tears For Fears' Shout to Katrina And The Waves' Walking On Sunshine, here are nine of the hottest songs to come out that year.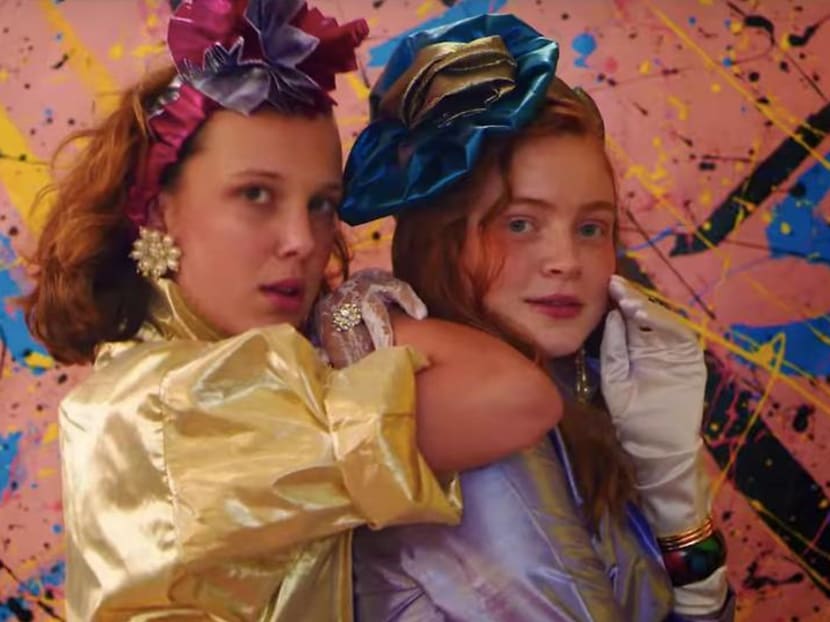 Netflix's beloved nostalgia creep-out Stranger Things is currently on its third season, bringing us not just into Hawkins, Indiana, but into the summer of 1985. In towns that didn't have a portal to the Upside Down, those months may have been memorable for films like Back To The Future, cultural events like Live Aid and landmark sports victories, like the Lakers defeating the Celtics in the NBA Finals. Here's a playlist of nine hits that were floating in the musical ether back then.
TEARS FOR FEARS: SHOUT
No 1 for three weeks in August 1985, Tears For Fears' beaming, anthemic call to protest was the unequivocal song around that time.
PRINCE: RASPBERRY BERET
The gently psychedelic, string-laden Raspberry Beret was the first single to follow Prince's cross-media Purple Rain domination. "The history of the song is shrouded in mystery," the Prince sessions expert Duane Tudahl wrote in his 2017 book Prince And The Purple Rain Era Studio Sessions: 1983 and 1984. "But considering how Prince worked, that isn't a surprise."
A-HA: TAKE ON ME
The chorus of this indelible synth-pop hit was inspired by the rising melody of Richard Strauss' Also Sprach Zarathustra (best known from the bone-throwing "dawn of man" scene in 2001: A Space Odyssey). The breakthrough for Norwegian trio a-ha, this song was released three times in 1984 and 1985, but it became a hit only after its visionary, rotoscope-animation video conquered MTV.
KATRINA AND THE WAVES: WALKING ON SUNSHINE
Katrina And The Waves were underground vets but their early singles didn't land – until they got some attention when the Bangles covered their 1982 album track Going Down To Liverpool. A slick production and a horn arrangement on another old tune turned Walking On Sunshine into a giddy smash. Katrina Leskanich told The Guardian in 2015, "I'd been this sulky goth and suddenly I was 'Chrissie Hynde with a smile' fronting 'the new Monkees.'"
DEAD OR ALIVE: YOU SPIN ME ROUND (LIKE A RECORD)
This dance smash was the first US hit for the production trio Stock Aitken Waterman, whose mix of Motown melody and strobe-light throb yielded big tracks for Bananarama, Rick Astley and Kylie Minogue. The band's leader, Pete Burns, produced a demo for it that was inspired by Luther Vandross' 1984 tune I Wanted Your Love and Little Nell's See You Round Like A Record, a quirky piece from The Rocky Horror Picture Show actress Nell Campbell).
DEPECHE MODE: PEOPLE ARE PEOPLE
A warm message of acceptance housed in a chilly industrial production. British synth-pop pioneers Depeche Mode had their first US pop hit with this ice-cold collection of keyboards, drum machines, tape loops and clanging metal. Dave Gahan told Entertainment Weekly about this era: "We used to go into studios, and the first thing we'd do, we'd ask where the kitchen was – literally for pots and pans and things that we could throw down the stairs, and record the rhythms they would make crashing around, and then make it into loops."
DURAN DURAN: A VIEW TO A KILL
In a DVD commentary for A View To A Kill, Duran Duran bassist John Taylor said he had met the James Bond franchise producer Cubby Broccoli at a London party and asked, "Hey, when are you gonna have a decent theme song again?" A collaboration with John Barry, the composer of the original iconic Bond theme, A View To A Kill became the first – and, to this day, only – Bond theme to hit No 1.
PAUL YOUNG: EVERY TIME YOU GO AWAY
Every Time You Go Away was originally recorded by Hall & Oates in 1980 as a Southern soul-styled weeper. With modern production and electric sitar, British balladeer Paul Young turned it into a sappy ballad and a No 1 hit.
QUEEN: RADIO GA GA (LIVE AT LIVE AID)
One of the greatest live performances of all time was broadcast around the globe in the summer of 1985. Queen's six-song set at Live Aid on Jul 13 was so monumental that it became the climax of last year's Oscar-winning biopic Bohemian Rhapsody. For the band's second song, Radio Ga Ga, the audience at Wembley Stadium in London, an estimated 72,000 people, clapped along.
By Christopher R. Weingarten © 2019 The New York Times