Suhaimi Yusof getting a degree at 52 is an inspiring reminder that 'education has no boundaries'
The Singaporean actor recently announced he had graduated alongside his daughter, after previously dropping out of university thrice. And it's a lesson for all of us.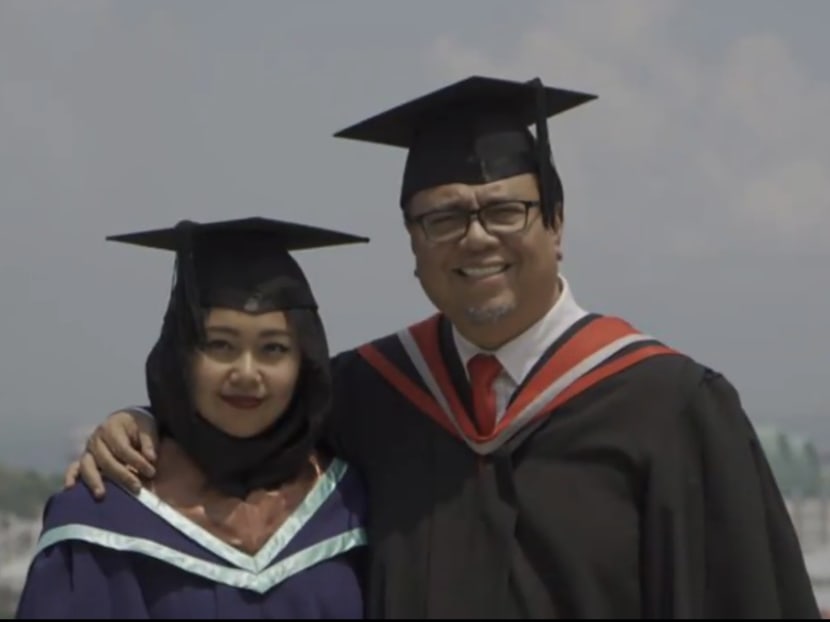 Suhaimi Yusof is a familiar face to many Singaporeans, famously appearing on the spoof news show The Noose as Jojo Joget. However, not many knew of the veteran comedian's lifelong dream to earn a degree: which finally came true last year.
At the age of 52, Suhaimi earned his cap and gown for a Bachelor of Arts with First Class Honours in Broadcast Media Production from Teesside University. Although he had completed his studies in 2021, the pandemic postponed his convocation ceremony to this year.
And to make the achievement even sweeter and more memorable, he also graduated the same year as his daughter Nuruljannah Suhaimi, who earned a Bachelor of Fine Arts in Design Art from Nanyang Technological University.
In a video posted on Instagram on Sunday (May 15), Suhaimi shared clips from his and his daughter's convocations overlaid with his family's conversation, where he said: "(My daughter) graduated at the age of 25, and I graduated at the age of 52. Education has no boundaries." 
He added that he had wanted to pursue a degree 30 years ago, but chose to further his career first instead. In the post, he mentioned dropping out of university thrice while working full-time and thinking: "That's the end of the road. Too much workload and too little time. Really?" 
Suhaimi's incredulity towards his past self manifested when Nuruljannah began her undergraduate studies. He said: "I thought, wouldn't it be fun to graduate with my daughter in the same year?" 
And so, he did, reinforcing his sentiment that learning is a lifelong process. Thanking his family and university lecturers, Suhaimi further encouraged his Instagram followers to pursue education, saying: "Jojo Joget now has a Bachelor's degree in Jogetology. If I can do this, anyone can."
Suhaimi's far from the only local celebrity chasing lifelong education. Last month, actor and DJ Dennis Chew started pursuing a diploma in Chinese Media and Communication at Ngee Ann Polytechnic.