The show is back on: Supertrees light and sound display to return from Jan 8
The 12 Supertrees at Singapore's Gardens by the Bay will "dance" once more when the full-length Garden Rhapsody show restarts after being on hiatus.
The popular light and sound display at Gardens by the Bay's Supertree Grove will return with its full version from Friday (Jan 8).
The 15-minute Garden Rhapsody show – where lights on the 12 Supertrees change in time to a musical soundtrack – will take place nightly at 7.45pm and 8.45pm.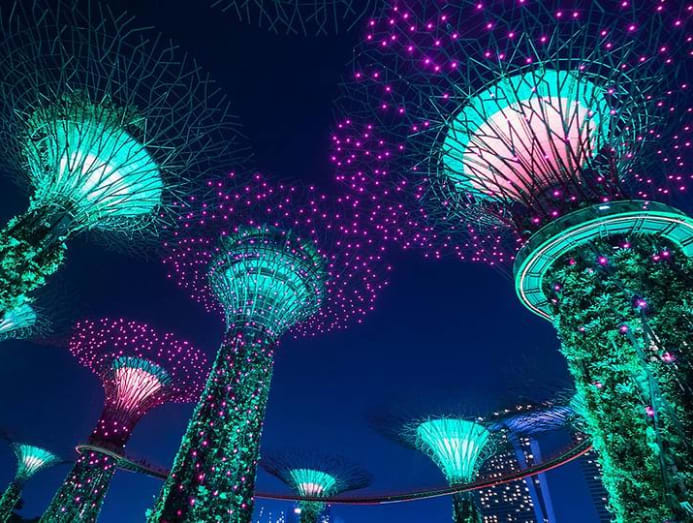 There are 10 shows planned for this year with different music and light choreography taking place.
In January, visitors will experience the Garden Waltz, a compilation of music from composers such as Frederic Chopin's Grande Valse Brillante, Johann Strauss Jr's By The Beautiful Blue Danube and Emile Waldteufel's Skaters' Waltz.
According to Gardens by the Bay Senior Director of Programming and Events Chua Yen Ling, this "particularly rousing soundtrack" was chosen for the first show to "uplift the spirit".
Safe Distancing Ambassadors will be on site when the full programme starts in order to ensure visitors comply with precautions such as keeping an adequate distance from each other and wearing face masks at all times.
Chua added: "Garden Rhapsody is free for all, and with safety measures in place, we hope our visitors will not only enjoy the show, but also receive a boost to morale as they immerse themselves in the magical atmosphere of our magnificent Supertrees".
The show in its original form went on hiatus during the "circuit breaker" period last year and restarted in a different form in September where background music with soft lighting was played from 7pm to 10pm daily.