Singer Suthasini fulfils childhood dream of writing and producing a National Day song in Tamil
The music video for Nam Singapore, which the singer-songwriter spent S$7,000 of her own money to produce, has garnered more than 371,000 views on YouTube within a week of its release.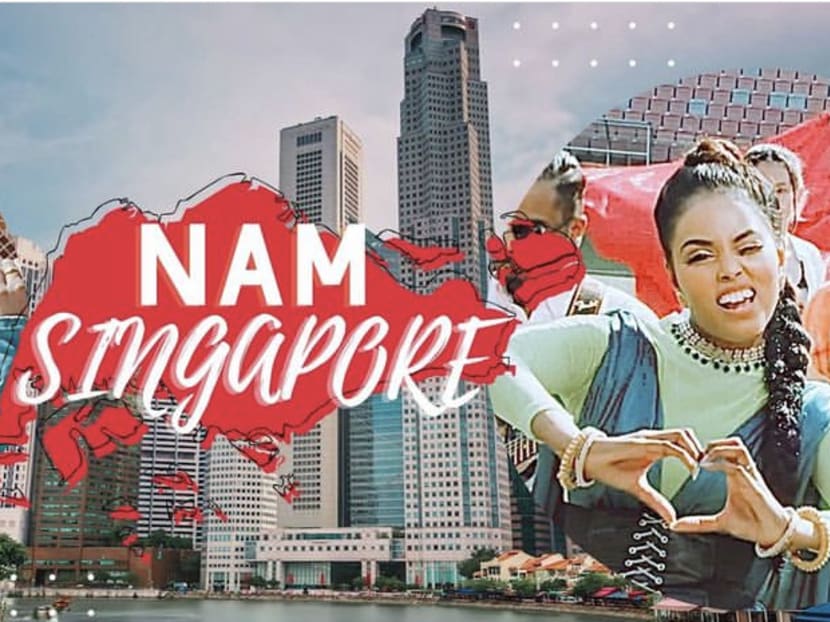 Singer and musician Suthasini Rajenderan always wanted to write a song for Singapore. And this year, the 32-year-old Vasantham Star 2011 winner has finally achieved it.
This National Day season, she has been performing Nam Singapore, an upbeat tune urging Singaporeans to come together, celebrate and conquer obstacles, at official celebrations in the heartlands.
And the music video, released a week ago, has garnered over 371,000 views on YouTube.
Nam Singapore is Tamil for "our Singapore".
 
"Since I was a child, I always dreamt of doing a song and performing it for Singapore," Suthasini told CNA Lifestyle. "Ever since I entered the industry, I always tried to work on a song for the National Day Parade (NDP), but things never fell into place."
She wrote the tune and lyrics of Nam Singapore back in 2020, she revealed, but because the song was about celebration, "it did not fit the situation we were all facing" as the pandemic fight was still being waged.
"This year felt right as all of us are moving towards the new normal, stronger and more equipped than before," she said.
She added: "I also feel that there aren't enough Indian songs for National Day. The only go-to song we have is Munnaeru Vaalibaa. I wanted to add my fresh take to the existing list of songs and give back to the community. That is how Nam Singapore was born."
The song is partly self-funded and produced in partnership with the Tamil Language Council and Mediacorp, Suthasini told CNA Lifestyle. Nam Singapore was launched on Jul 29 by Vasantham and Oli 96.8FM.
She herself put in about S$7,000, and the rest of the song's S$13,000 budget was met by sponsors. "I decided not to monetise the song as I want Singaporeans to enjoy and celebrate with it for years to come," she said.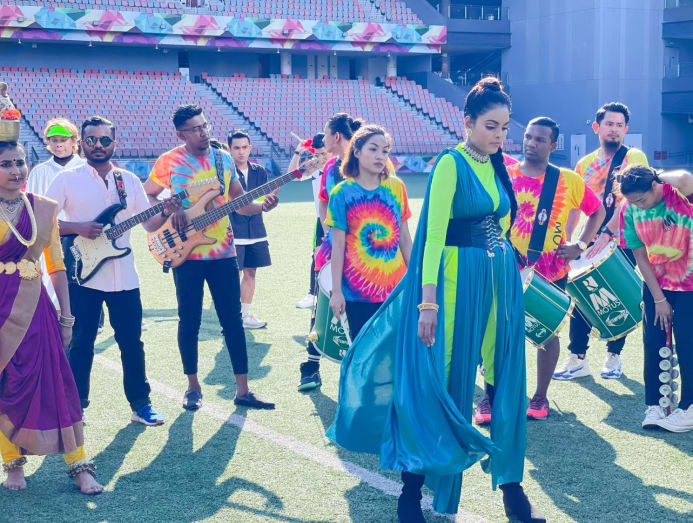 The biggest challenge was filming the video in just one month. "Confirming the right venues, crew and talents based on their availability and getting various organisations on board was very challenging due to the time limit," she said. "One of the locations, Tampines Hub Stadium, was only available for filming on weekdays. Since my talents are all working or studying full time, I had a hard time pinning down a filming date that everyone agreed on."
Besides dancers and percussionists, the video also includes profiles of Singaporean frontliners and athletes.
"I featured a nurse, a teacher, a bus captain and a police officer, to represent some of our frontliners. For the past two years, they worked tirelessly to help keep things in order," Suthasini said. "As for the athletes, I featured them to honour their achievements and contributions in representing our nation."
You'll notice that the video also features quite a lot of food, including satay, nasi lemak and kothu prata.
"To me, our food has a lot of meaning and representations of different traditions and culture," she enthused. "We can identify with and relate to different ethnic groups just by indulging in different foods.
"I recently travelled to Europe and was very underwhelmed by the food choices. That was when I appreciated our country even more for what we had to offer in terms of flavour," she quipped. "I could go on and on about that!"