Creative Capital: The Singaporean tattoo artist making his mark in the world
The reputation of tattoos in Singapore has changed greatly through the years, and among the country's internationally-known artists is Feather Cloud's Shane Tan.
Back in 1992, I was in my final year of National Service. Like many boys that age, I thought it would be cool to get a tattoo. I also waited until I was just about done with NS for a reason: I knew that tattoos were flagged because, back then, there was a supposition that a tattoo meant you were affiliated with a gang.
After a little research – and I do mean little because this was way before search engines and research meant opening the Yellow Pages, asking people or physically looking around – I came to realise my options for tattoo studios in Singapore were Johnny Two Thumbs, Johnny Two Thumbs or Johnny Two Thumbs. Because back then, that Far East Plaza parlour was the only studio anyone I knew had ever heard of.
Twenty-seven years later and things have changed here in the Lion City. Not only have tattoos become socially acceptable and no longer automatically associated with gangs, but also the level of artists and artistry in Singapore has grown exponentially. Today, you've got many award-winning and internationally celebrated artists. One of them is Shane Tan, whose one-man studio is called Feather Cloud.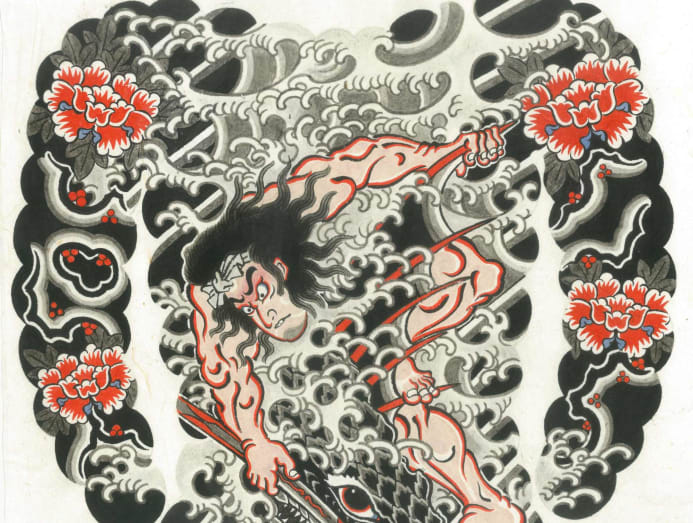 I had the pleasure of meeting Shane in 2014. He had just returned home after living and working in Zurich for seven years. I had seen his work on Instagram and fell in love with it. 
The 34-year-old Singaporean is celebrated for his Japanese-style of tattooing. He has close to 40,000 followers on Instagram and several clients that are more than happy to make the trip to Singapore to be worked on by him. 
While striking and tough in looks, he's also one of the nicest guys I've met, who admitted he loved nothing more than walking through green fields and visiting unspoilt lakes in Switzerland. He's also a doting dad who has come home, first and foremost, so that his son can grow up here.
Ahead of opening his new studio next month, I had a chat with one of Singapore's very best tattoo artists.
I UNDERSTAND YOU WENT TO ART SCHOOL – IS THAT HOW YOU GET INTO TATTOOING?
I've wanted to be a tattooer since I was about 14, way before I went to an art school. I was always attracted to tattoos because my dad had some tattoos done in the 70s. My cousin also had a biomech sleeve, done in the late 80s or early 90s, that is always amazing to look at. Tattoos weren't seen as anything negative in my family. I grew up seeing them every day and I'm extremely grateful for that.
To be honest, I never had a career plan. I started tattooing at the age of 16 and there was not much money involved. I did most tattoos for free or for less than S$10. I don't think it was ever about the money. I draw pictures I see in my head and around me. It's as simple as that. I view the world in slow motion sometimes. Analysing certain details and attempting to capture what I see on paper. I've been this way since I was a kid.
WERE YOU ALWAYS DRAWN TOWARDS ART AND DESIGN GROWING UP?
I've been drawing since I was about five. Teachers in school used to get p****d off at me because I was constantly drawing in my books. It was weird because I never saw drawing as anything bad but in that particular primary and secondary school system I was in, we were always told that art was only to be done outside of school. For many years, I wasn't allowed to be creative, because creativity was at times seen as an act of rebellion. I'm sure the schools are different now compared to the 90s.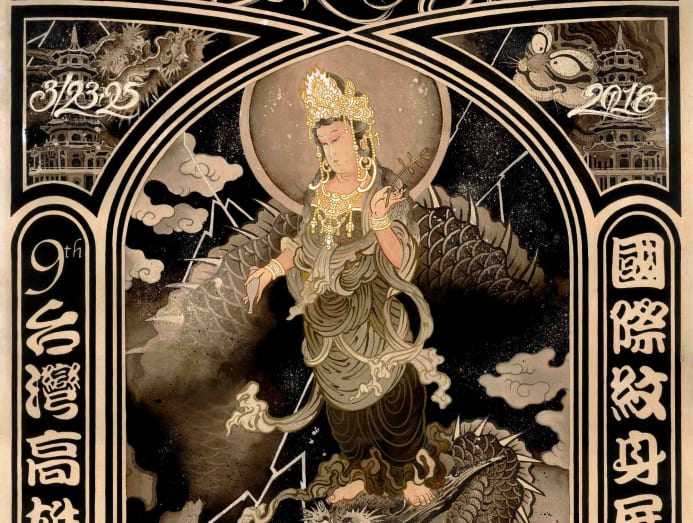 WHAT'S THE PROCESS OF TRAINING TO BE A TATTOO ARTIST LIKE?
Apprenticeships can take anywhere from six months to five years depending on who you're learning from. These days, apprentices start tattooing after three months, but if you're learning from a particular master in Japan, a traditional apprenticeship might last half a decade. In Japan, you're not allowed to ask questions or do anything tattoo-related during the early stages of the apprenticeship. Most days you're just there cleaning up after the master and watching him work.
That being said, I can't give much advice on apprenticeships because I never went through it. I got a starter kit from my dad for my 16th birthday. I practiced on both my legs, which turned out really weird but I've refuse to re-work or cover them up because they serve as reminders of how I started.
WHAT WAS THE REACTION OF YOUR FAMILY AND CLOSE FRIENDS WHEN YOU STARTED?
Like I said, my dad bought me my first tattoo machine so I doubt it shocked him. My family was chill about it – until I tattooed my face. Then they got a bit freaked out.  A face tattoo is a little more extreme but they got over it.
YOU LIVED IN SWITZERLAND FROM 2007 TO 2014. HOW DIFFERENT WAS IT FROM LIVING IN SINGAPORE?
It was my first time living abroad and life was amazing. Work was good. I had loads of customers. And after work, I would go for walks in the nature. I would climb mountains, swim in glacial lake, visit waterfalls and explore different cities by train or bus. I know I don't look it, but I love nature. There would be times where I walked for hours in the forest and not a single soul was in sight. That was great. Oh and I chewed gums till my jaw hurt – Singaporeans will know why!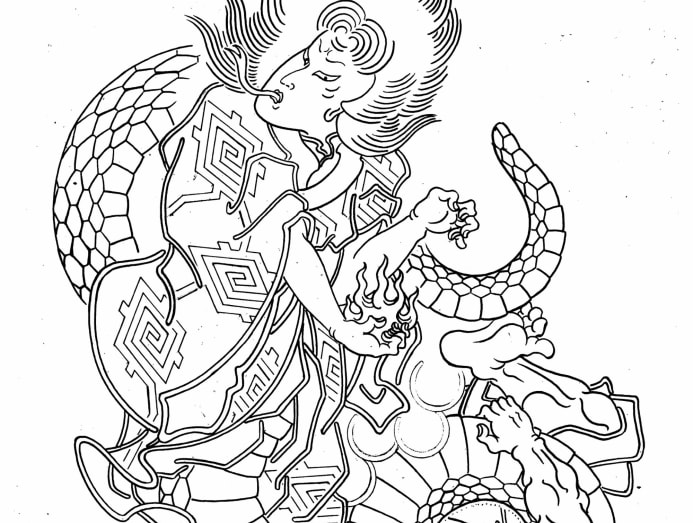 YOU HAVE A SOMEWHAT MEMORABLE APPEARANCE. HAVE YOU HAD PROBLEMS HERE IN SINGAPORE?
When I was younger, I'd have a lot of problems with the police. I would get stopped all the time because I was heavily tattooed. I don't blame them because back in the day, tattooing was obviously linked to the gangs. That made it understandable for them to act a certain way when they saw a heavily tattooed kid. It's annoying but I got used to it. But here's a fun fact that I have come to realise over the years – the worst criminals in the world are dressed in expensive suits and have no tattoos.
HOW HAS THE IMAGE OF TATTOOS CHANGED IN THE YEARS SINCE YOU STARTED BACK IN 2000?
There's so much positive change. We're no longer seen as criminals. I tattoo doctors, lawyers and educators. And they get body suits or back pieces. I find that really amusing, that these super respectable people are hiding huge tattoos. It's really pretty awesome!
WHY DID YOU DECIDE TO FOCUS ON JAPANESE TATTOOS?
Life would be boring without dragons, warriors and mythical creatures. I couldn't imagine myself doing any other style. I can't relate to western art and traditions. I grew up seeing temples and traditional Chinese art everywhere, so it was easy getting into Japanese tattooing. Both cultures have very similar imagery.
WHAT'S BEEN THE MOST CHALLENGING PIECE YOU'VE DONE?
I think I struggle with small tattoos. I'm so used to working with the entire body, that when I get asked to do palm-sized tattoos, I get nervous and worry too much that I would mess up the lines.
WHAT'S BEEN THE STUPIDEST REQUEST THAT YOU SIMPLY HAD TO SAY NO TO?
I've had a lot of weird requests. Let's not go there! Or we can go there off the record over a drink one day.
IF A CLIENT GAVE YOU COMPLETE FREEDOM, WHAT WOULD YOU WANT TO TATTOO ON SOMEONE?
A Japanese-style background and flowers. I know that sounds boring but there are so many ways to manipulate the background to make it flow with the contours of the body. I find that really fun to do.
HOW HARD IS IT TO BE A PROFESSIONAL TATTOO ARTIST IN SINGAPORE?
I'm still alive after more than 19 years, so I guess it's not that hard, right? But honestly, Singapore is tiny. And it's easy to gain recognition on this island if you work hard and push yourself. You just have to stay focussed.
Today, I do make a living from it and I have a mortgage to pay and a family to support, but I've always treated tattooing as a hobby rather than a job or a career choice. It's been such a big part of my life for so long. It's more than a career. It's a way of life.