Schwarzenegger: Linda Hamilton is back – and she's the biggest 'badass' at age 63
CNA Lifestyle was in Seoul for the Terminator: Dark Fate premiere and, according to Arnold Schwarzenegger, Hamilton has "set the standard for what women can do on the screen".
If there's one thing you can count on when it comes to Arnold Schwarzenegger and the Terminator franchise, it's this: He'll be back.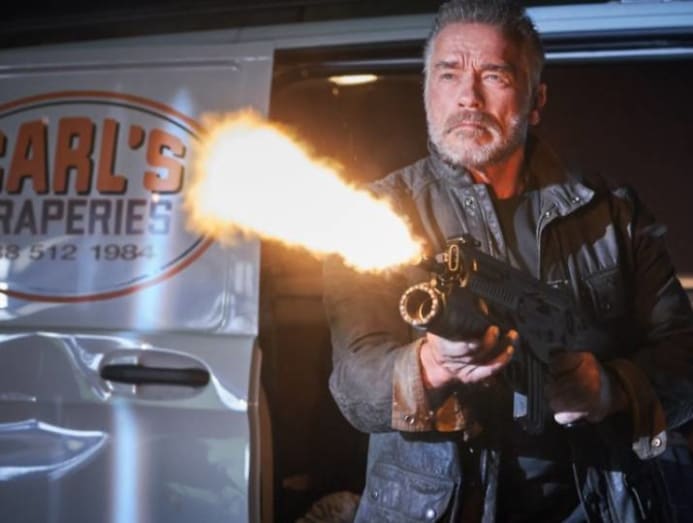 Indeed, the former governor of California has appeared in all but one of the films in the series over the last 35 years (Schwarzenegger's 1984 face makes a digital appearance in 2009's Terminator Salvation but the actor wasn't actually part of the project).
But he wants everyone to focus on this: Forget Schwarzenegger – Linda Hamilton is back, baby. And she's the biggest "badass" at age 63.
The 73-year-old actor told CNA Lifestyle and other media at the Terminator: Dark Fate press event in Seoul that it was "absolute heaven" when he and Hamilton reunited on the set of this sixth instalment of the iconic sci-fi franchise on as T-800 and Sarah Connor, respectively.
"I was so happy and delighted when James Cameron told me that we're going to bring Linda Hamilton back," said Schwarzenegger.
Dark Fate is a direct sequel to director James Cameron's beloved original two films – The Terminator and Terminator 2: Judgment Day – completely ignoring the three films and short-lived television series in between. This reunion has been long-awaited by fans, seeing how it is the first time since 1991's T2 that Hamilton and Cameron have returned to the franchise.
Terminator creator Cameron served as producer on Dark Fate and also wrote the story.
"But at the same time I said to myself that without any doubt, the most pressure is on Linda Hamilton in this movie," added Schwarzenegger. "The reason is because she raised the bar so high in Terminator 2!"
"I don't think there was a woman that ever was such a badass, as Linda Hamilton was," he declared. "She has set the standard, I think, not only for women on what they can do on the screen, but also what a 63-year-old woman can do on the screen."
"Everything she did in Terminator 2 – from the chin-ups to the fighting – totally looked believable. That's because of the look of her body. And because she trained hours and hours for months and months to get ready for this part. How do you top that? But she did in Terminator: Dark Fate."
Schwarzenegger revealed that Hamilton started training from the moment she agreed to be in the movie.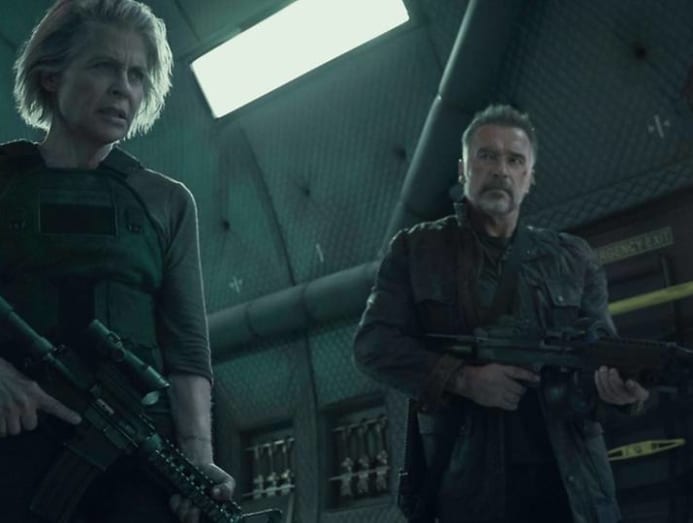 "It took one year and she trained every day! It's the same kind of training to prepare for the role she did for Terminator 2, and for a woman at the age of 63, it's a whole different ballgame I'm sure," he said. "But she did!  And when I watched Linda's first day back in action on set – the way she moves and the way she handled the guns – I said to myself, 'Linda Hamilton is back!'"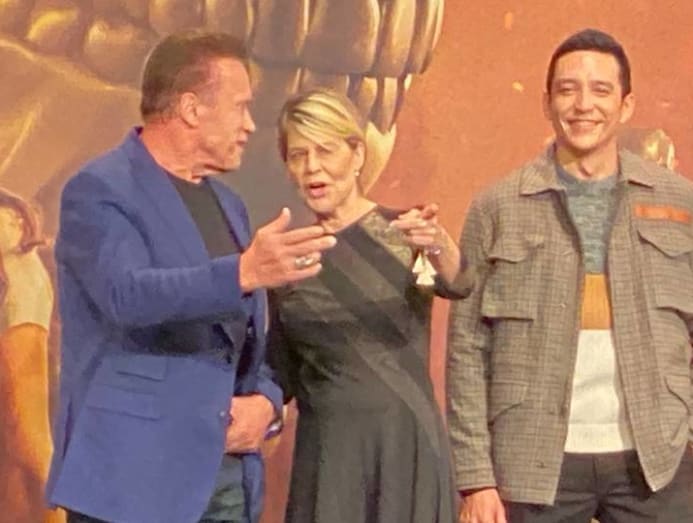 Hamilton was equally effusive about her reunion with Arnie, even though she revealed that they had not spoken for quite a few years.
"We had forged a great friendship in our earlier incarnations as Sarah and T-800, but we really we lost touch when he became the governor, and you know he's just awfully busy," she said, smiling. "But it was a fantastic moment to see Arnold again."
"Being on set in our costumes, I think it was a very natural, organic place that we just fell right back into it. I mean, I had to work and train for a year and I felt very ready [to be Sarah Connor again]. And then seeing Arnold and working with Arnold – it just sort of finished the picture, you know? It made me feel 100 per cent."
"I've never been happier," said Hamilton. "Truly."
Terminator: Dark Fate opens in Singapore on Oct 24.