Green Book wins Best Picture at Oscars 2019 and other shockers
The film surprisingly won over Netflix's Roma while Britain's Olivia Colman took home the best actress Oscar for The Favourite, beating presumed front-runner Glenn Close for her much lauded turn in The Wife.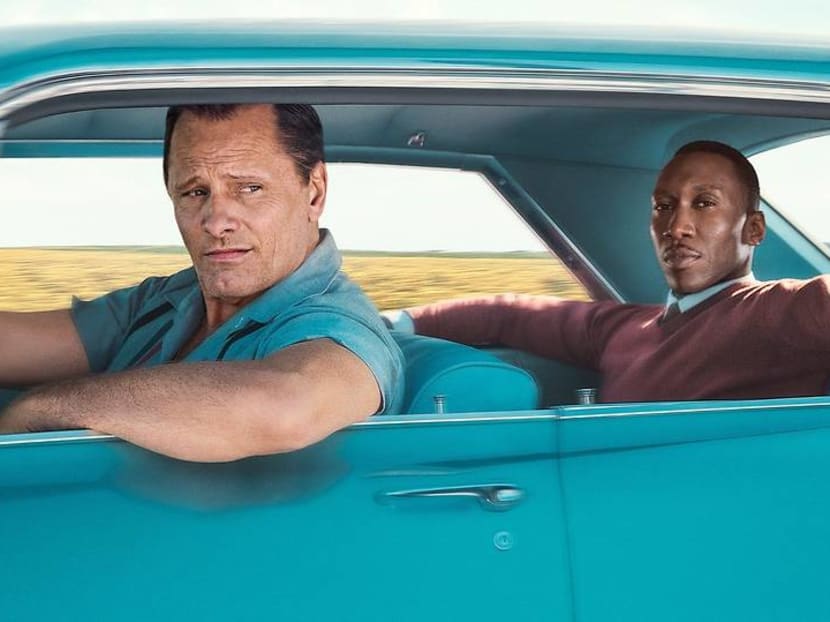 The Academy Awards  – arguably the highest honors in the movie industry – were handed out on Sunday Feb 24 ( Feb 25 Singapore time) in Hollywood. It was a night of firsts for many of the Oscar winners and for the categories in which they won.

Green Book was named Best Picture in a surprise victory over Netflix's Roma, during a ceremony filled with diversity, historic wins and a lack of a host.
The feel-good comedy drama, starring Mahershala Ali and Viggo Mortensen and directed by Peter Farrelly, had been followed by problems during awards season, and some people have questioned the veracity of its supposed true story, about the friendship between pianist Don Shirley and his chauffeur Tony Lip.

The film also took home two other statuettes – Best Original Screenplay and Best Supporting Actor for Ali. 

Ali's turn as the genteel concert pianist Shirley marks his second Oscar after 2016's Moonlight. He is the first African-American man to win two Best Supporting Actor Oscars. Donning a beanie, Ali dedicated his win to his grandmother, "telling me that if at first I don't succeed, try, try again. I can do anything I put my mind to."
Netflix's Roma, helmed by Best Director winner Alfonso Cuaron, was a favourite to win the top prize, having won the big award at both the BAFTAs and the Critics' Choice Awards. 

Another shock win of the night was in the Best Actress category.
Britain's Olivia Colman won a surprise best actress Oscar for her clever performance as an ailing, petulant monarch in historical film The Favourite, delighting the audience with a tearful and humorous acceptance speech.
It was the first Academy Award nomination and win for Colman, 45, who is considered one of the most beloved and prolific actresses in British television. Colman also won the Golden Globe and British BAFTA awards for her performance.
"It's genuinely quite stressful. This is hilarious," Colman said in accepting the trophy, which she won over odds-on favourite Glenn Close as well as fellow nominees Lady Gaga, Melissa McCarthy and Yalitza Aparicio. "And my kids who are home watching - well if you're not, kind of well done," she continued. "I sort of hope you are. This is not going to happen again."
The Favourite sees Colman portray Britain's 18th-century Queen Anne as an insecure, frail and tempestuous royal who treats her horde of rabbits as if they were her dead children and has secret love affairs with characters played by Emma Stone and Rachel Weisz.
Her shock win leaves Close without an Oscar after seven nominations. 

"Glenn Close you've been my idol for so long and this was not how I wanted it to be. I think you're amazing and I love you very much," said Colman.
The Best Director prize went to Alfonso Cuaron for Roma, his second directorial win after Gravity. "I want to thank the Academy for recognising the film centered around an indigenous woman," said the Mexican director. "One of the millions of the domestic workers around the world without rights."  The Netflix film, which is hailed as an award circuit breakthrough for the streaming platform, also nabbed Cuaron the Best Cinematography and Best Foreign Picture awards.
Rami Malek won his first Oscar as best lead actor for his portrayal of singer Freddie Mercury, the flamboyant late frontman of the British rock band Queen, in the musical drama Bohemian Rhapsody. He was a favorite for the Oscar in recent weeks after winning Golden Globe, Screen Actors Guild and British BAFTA awards.

A Los Angeles native of Egyptian descent, Malek took on the role of Mercury, born to ethnic Parsi parents from India who moved their family to England when their son was in his late teens. Taking the stage to accept his award, Malek drew parallels between his and Mercury's real-life experiences in coming to grips with their personal identities and finding their voices as artists.
"We made a film about a gay man, an immigrant, who lived his life just unapologetically himself, and the fact that I'm celebrating him and this story with you tonight is proof that we're longing for stories like this," Malek said.
"I am the son of immigrants from Egypt. I'm a first-generation American, and part of my story is being written right now," he said to applause.
A crowd favourite moment laid squarely on the shoulders of director Spike Lee who won Best Adapted Screenplay for BlacKKKlansman, his critically acclaimed film about the Ku Klux Klan.
Unbelievably, this is Lee's first competitive win at the Academy Awards after three decades of nominations and snubs. 

The outspoken director famously nominated in 1990 for his screenplay for Do the Right Thing – and just as famously passed over in that category, in addition to being snubbed in the Best Director category, where he wasn't nominated at all. He was nominated again in 1998 for his documentary 4 Little Girls, though he did not win. He did however receive an honorary Oscar in 2015 for his decades of groundbreaking cinema.
"The 2020 presidential election is right around the corner... make the moral choice between love and hate. Let's do the right thing," said Lee in a nod to his 1989 comedy drama, after koala-hugging presenter Samuel L. Jackson onstage.

When Green Book was eventually announced as the Best Picture winner, Lee apparently stood up and attempted to leave the Dolby Theater, the Associated Press reported.
Lee reportedly appeared "visibly angry" over Green Book's win, waved his hands, and walked to the exit with his Oscar in hand. He was reportedly stopped by staffers and walked back to his seat. 
In the press room, Lee reportedly said, "Every time somebody's driving somebody, I lose." Do the Right Thing did not win any accolades the year Driving Miss Daisy won multiple awards including Best Picture.
Lee reportedly added, "Whether this film won Best Picture or not, we're on the right side of history."
The Oscar ceremony went ahead without a host for the first time since 1989 and instead was filled with powerhouse music performances from Queen, Bette Midler and Jennifer Hudson. Lady Gaga and Bradley Cooper performed an intimate duet of Shallow from A Star is Born, which brought Gaga her first Oscar.

Following is the list of Oscar winners in all the key categories:
Best Picture: 
Green Book
Best Actor:
Rami Malek - Bohemian Rhapsody
Best Actress:
Olivia Colman - The Favourite
Best Director
Alfonso Cuaron - Roma
Best Supporting Actor
Mahershala Ali - Green Book
Best Supporting Actress
Regina King - If Beale Street Could Talk
Best Original Screenplay:
Green Book
Best Adapted Screenplay:
BlacKkKlansman
Best Animated Film:
Spider-Man: Into the Spider-Verse
Best Documentary Film:
Free Solo
Best Foreign Language Film:
Roma - Mexico
Best Original Song:
Shallow - A Star is Born