Creative Capital: The Singaporean hip-hop and dancehall artist who has headlined festivals all over the world
MAS1A has returned home to claim her place at the top of Singapore's music scene.
Chances are, you watched box office smash hit Fast and Furious 8 when it hit the cinemas back in April 2017. But did you know that the song sampled in the film's title track Speakerbox – which was also used in the global trailer – was by a Singaporean artist?
The name of the song sampled is Warriors Tongue and the artist is MAS1A.
Born in Singapore and raised in Canada, MAS1A – previously known as Masia One – earned her stripes in the rap and hip-hop scene in the United States and was inspired by the sounds of Jamaica. Most of her career was established overseas, during which she worked with such luminaries as Pharrell, Dr Dre, The Game, RZA of Wu Tang Clan fame, and the Red Hot Chilli Peppers' John Frusciante.

She's back on home ground now, breathing life into her art and injecting some new coolness to our Lion City's music and creative scene.
Architect, artist, entrepreneur, arts educator, festival producer, sauce-maker – MAS1A bills herself as all that, and more. She is both a calm, collected intellectual, as well as a rebel wild-child, eager to shake things up.
Here, in a new CNA Lifestyle series where we speak with creatives making their mark in Singapore, MAS1A chats about her creative processes, being business savvy, and her special jerk chicken sauce.
WHAT ARE YOU WORKING ON RIGHT NOW?
I'm finishing my new album Far East Empress, which is my first album since returning to the place of my birth, Singapore! I've collaborated with Southeast Asian artists to bring a unique sound to a hip-hop and dancehall influenced album. The media has labelled me the hip-hop queen of Singapore, but I feel Empress (the album) is more unique to my heritage and character. We released the first single and video off the album at Straits Clan last month called Time Wastin' (which was shot in local nightspot Sum Yi Tai), and it's creating quite a buzz. 
WHAT ARE SOME OF THE THINGS THAT INSPIRE YOU AND HAVE CONTRIBUTED TO THIS LATEST ALBUM?
Dance inspires me because it always fascinates me how an individual can challenge himself or herself toward their personal best by expressing with their bodies. Dancing is fun and a stress reliever that teaches us not to take ourselves too seriously! I used to insist that any producer, DJ or collaborator that I worked with had to dance to our song. If our creation doesn't make your body respond, then it's not the right song. In Singapore, I attend dancehall instructional classes at O School, EV Dance Studio or Beat Factory Dance. 
Before life as a performer, I was a painter. I was shy, hated photographs or being in the public eye. Now, whenever I need to recollect my thoughts, I will find [a quiet spot] and just paint. It is an imagination palette cleanser and it reminds me of where my journey started.
WHO IN SINGAPORE INSPIRES YOU?
Singaporean designer Lisa von Tang. She creates gorgeous statement jackets and dresses that I have only dreamed of – and she made it a reality. I remember watching her pre-fashion show madness. Everyone was asking her questions and she handled them decisively and efficiently. It's not enough to be visionary – you need decisiveness to show you really know what you want. She's iconic to me. If I need to make a decision I'll say "What would LVT do?" followed by "Ok, so now what would the Far East Empress do?" 
AS A CREATIVE, HOW MUCH BUSINESS SAVVY DO YOU NEED TO HAVE? DO YOU CONSIDER YOURSELF BOTH AN ENTREPRENEUR AND AN ARTIST OR JUST THE LATTER?
I consider myself an artist-entrepreneur but always leading with the artist title. The joy of being an artist is creating something from nothing – call it imagination, problem solving or just playfulness. The entrepreneurial side I would frame in the context of making this creation relevant, scalable and sustainable. It's about seeing things come to fruition beyond your own artistic madness.
Business savvy is important to any artistic craft even if you have a huge team. Understanding your business allows you not to get ripped off, and to hire the right people for your team. With technology making so many things hands-on these days, having business savvy becomes more and more relevant. I look at business savvy as another form of artistic expression.
DID YOU EVER HAVE ONE OF THOSE "WHAT IN THE WORLD AM I DOING?" MOMENTS?
Yes. I moved here from Jamaica where I used to tend to my mango trees, [go for swims] in the ocean, cook jerk chicken with old Jamaican aunties, write songs every day, sing with my friends (even the ones that couldn't sing) then fly to New York once a month to share the music and lyrics I've written with the label. There has been a culture shock of my own culture, but I'm learning and enjoying the process.
HOW IS BEING A CREATIVE IN SINGAPORE DIFFERENT THAN IN OTHER COUNTRIES?
I hear "No Lah Masia, cannot!" a lot more often than in North America, especially for anything that has never been done before.
I think collaboration is more difficult in Singapore, due to the competitive nature of the culture. There is a prevailing suspicion for "stealing ideas and contacts" as opposed to collaborating on concepts and networks. That said, I do find this is changing with the younger generation as they reach out beyond our borders.
WHAT HAS BEEN THE TOUGHEST CREATIVE CHALLENGE YOU'VE FACED SO FAR?
Costs. Ideas are like an endless well – there's always more where that came from. Unfortunately, funding is not always as immediately replenishable. Singaporeans are also accustomed to a high level of quality and comfort – so the expectation for the venue, free gifts or hospitably elements are high. It's the chicken and egg conundrum: You want to attract the funding but first you need to create the scenario that will require that funding. 
TELL ME ABOUT YOUR JERK CHICKEN SAUCE? AND IS THAT THE FUTURE FOR YOU?
I really missed Caribbean cooking after moving to Singapore, and noticed how much Southeast Asians love spicy food. "Jerk" is a Jamaican way of marinating food – it is smoky and very spicy because of the chilli they use called "scotch bonnet". You can't get those flavours here, so I embarked on growing the spices in Singapore and Malaysia. For the past two years, I tested the marinade recipe at my Singapura Dub Club Jerk Chicken pop-up events and people loved it, coming back for seconds and thirds. It will finally be ready for sale at the end of this year, just in time for Christmas.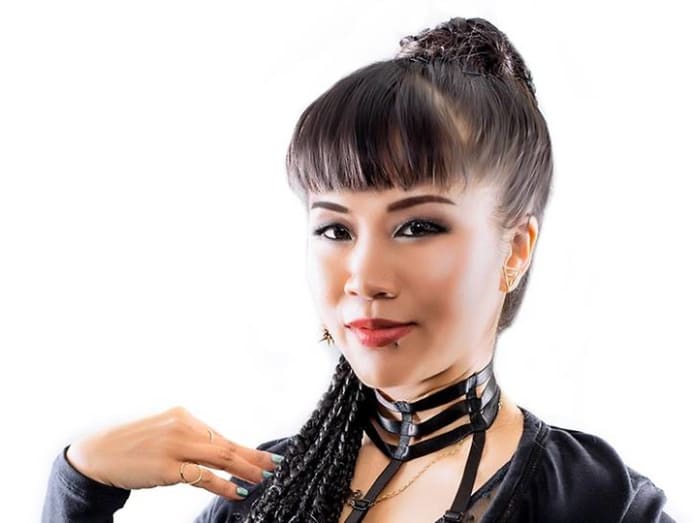 TELL US SOMETHING ABOUT YOUR CREATIVE PROCESS WE WOULD NEVER EXPECT.
I take my creations to the person that would be the most unlikely audience for it. It's so as to understand the flaws. For example, if I write a rap song, I'll make my mom – who does not listen to hip-hop – check it out to see what confused her or if she found anything offensive. If I make a jerk chicken marinade, I'll go to the kopitiam uncle who wants his S$3 kolo mee and find out his response.
This doesn't mean I will censor myself or drastically change anything. I just want to understand perspectives that are not my own, so that I don't become too self-obsessed as an artist. Artists create to express and share a message, but there is less purpose when your message is not understood. 
WHAT'S THE DREAM?
It's a big one. First, I want to successfully earn the respect and recognition as an artist, MC and songwriter that broke stereotypes and pioneered sounds before there were Asian faces in hip-hop and dancehall music.  As any good Singaporean would – I want to be remembered as one of the best to ever do it. Secondly, I want to open a jerk shack in Singapore and franchise it throughout Southeast Asia. Thirdly, I want to create a hip-hop and reggae-inspired kids show, through which I can share positivity, creativity and possibilities.