What's the first thing you'll do once it's safe again after the circuit breaker ends?
Seeing mum, supporting migrant workers and hopping on a plane to Antarctica: Local celebs have got the future all planned out. In the meantime, stay safe, people.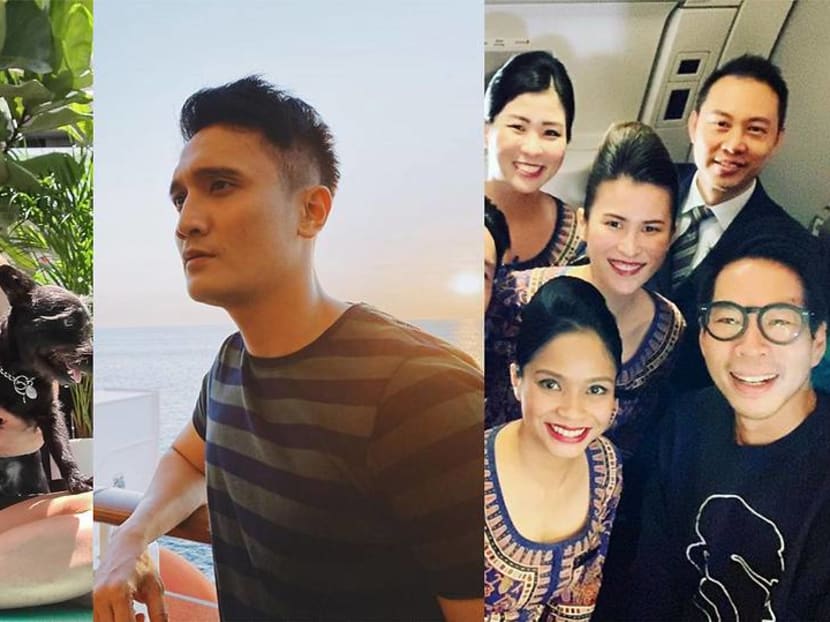 Now that the "circuit breaker" period has been lengthened, any form of revelry that does not involve TV, Ben or Jerry may feel as distant as a faraway galaxy. It's an unprecedented time in recent history that carries a lot of uncertainty, but two things are certain:
First, this will pass. We just need to play our part to help.
Second, none of us will emerge from the COVID-19 situation unchanged.
For many of us, the circuit breaker has been a time to reflect. It's tweaked our perspectives, made us reflect on our reality and helped us appreciate things we might previously have taken for granted.
If you've thought about the first thing you want to do once the circuit breaker ends, restrictions on social gatherings have been lifted and it's safe to go about our daily lives again, your answer might reveal the things that are really important.  
It certainly does for these celebrities, who tell us what they're hankering to do after the public health situation takes a turn for the better.
Meanwhile, they are here if you need some company, with lots of new shows such as Home Together, Sofa So Good, Gold 905: Ask The Expert and #StayHomeWithMe Class 95. 
That's right – #StayHome everyone, so that all these hopes and longings won't have to be too far off.
YASMINNE CHENG
First thing is, I want to see my mama! We didn't manage to spend her 72nd birthday together because of this circuit breaker. She's a tuition teacher and has stopped all classes so essentially, she's in total isolation, which is for the best. She's considered vulnerable because of age, so we only did a quick FaceTime call – but she hated it and swears that one looks way worse on a video call! 
After that, I'd like to have a good catch-up hangout sesh with my closest friends at home. We've been Zoom-ing and using the Houseparty app but it's not quite the same, lah.
DESMOND TAN
After the circuit breaker is over, I want to meet my family and friends for yummy food! Carrot cake for breakfast, mee rebus for lunch and good steak and wine for dinner. Then, head out for drinks and chat all night long! 
During this stay-home period, I truly appreciate the preciousness of non-digital social interaction and everything that we have taken for granted. Other than loved ones and Singaporeans' favourite thing – food – I miss my work and colleagues, too. I hope to go back on set soon!
SHEILA SIM
Strangely, the first thing that I would really like to do is to go for a swim! It's the simple things we take for granted. And I want to go see my grandma, too! She's had a stroke, so even when I do a video call with her, she can't really interact with me. I miss being with her physically.
FAUZIE LAILY
Besides the usual dining out with my loved ones and hanging out with my friends once again, one of the more important things I'd like to consider is looking at contributing to our friends from the dormitories who have been badly affected by the virus. Too many are going through a tough time and it's bad enough that they are so far away from home. We need to be doing more for our fellow nation builders.
YA HUI
I want to go to the beach and catch the sunset! The only thing I can't live without is connecting with nature. I love the sound of waves and the breeze – and the beautiful sunset. I usually go to different places to watch the sunset. There was one day on which, after wrapping filming at Changi Beach around 3am, I sat there alone until 6am, then rushed to another point to catch the sunset from there.
CHUA ENLAI
I'm walking straight into Changi Airport and buying a plane ticket to the furthest destination. Maybe Antarctica. I think I should start packing my luggage now! I've actually just bought a new hand-carry in anticipation of take-off. KrisShop had a sale. And someone said that I missed travelling so much, I had to buy something normally only available on a plane.
EBI SHANKARA
The first thing I'll do is head back to work – I actually miss filming quite a bit. I'll also spend some time with my mum and in-laws. I will still avoid gatherings outside for a few weeks, but after that, I will head to my favourite eateries, and probably have a small house party with close friends.