5 reasons why you should watch the crazy ride that is Thor: Love And Thunder
Even as reviews for the latest MCU installment stand divided, there's always Chris Hemsworth's deliciously uncensored nude scene, a multitude of star-studded cameos and enough nudge-winks to warrant that trip to the cinema. Be warned, gentle spoilers ahead.
For anyone thinking that director Taika Waititi has calmed things down for Thor: Love And Thunder – the sequel to his much-lauded Thor: Ragnarok – you are very much mistaken.
"This film is the craziest thing I've ever done," he proclaimed in an Instagram post leading up to opening of highly anticipated fourth Thor film.
Starring Chris Hemsworth, who returns as the titular God of Thunder, the film boasts two Oscar winners joining the fray: The return of Natalie Portman (she played Jane Foster in 2011's Thor and 2013's Thor: The Dark World) and her transformation into Mighty Thor, as well as the introduction of Christian Bale to the Marvel Cinematic Universe (MCU) as the frightening Gorr the God Butcher.
Although reviews have been considerably mixed by Marvel standards (Love And Thunder currently stands at 68 per cent on review-aggregation website Rotten Tomatoes compared to Ragnarok's 93 per cent), fan appreciation for one of the original and most popular Avengers is still on an all-time high. Especially when Thor is at his absolute "bonkers" best.
It's also one of the shortest MCU movies ever, running at a mere 119 minutes compared to the whopping 181 minutes of Avengers: Endgame. And that means you're guaranteed a zippy and zany experience at the movies.
So here are five fun reasons why Thor: Love And Thunder is worth that trip to the cinema. Gentle spoilers ahead so proceed with caution!
GIANT SCREAMING GOATS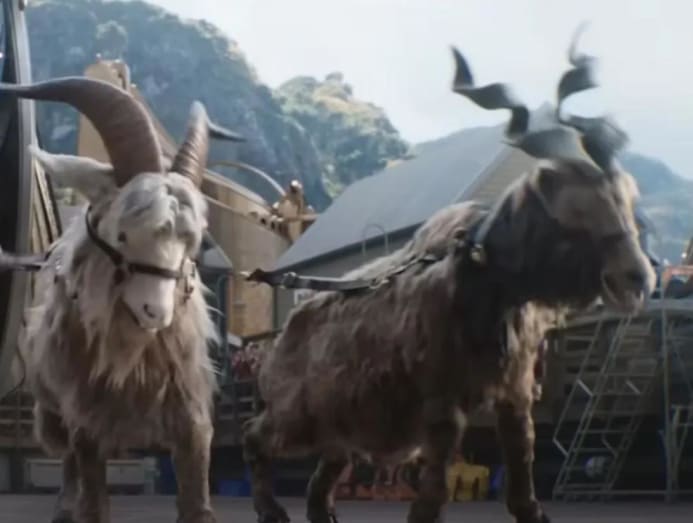 Known as Toothgnasher and Toothgrinder, these hilarious screaming goats have been long-established allies of Thor in both the Marvel Comics and in original Norse mythology. In the movie, they are wailing good fodder for a laugh.
They are probably best described in the banter between characters Thor and Korg: "They are wonderful but they also scream quite a lot".
At a press conference for Love And Thunder, Waititi revealed exactly where those skin-crawling screams come from.
"The goat-kind, those screams came from a dance or an EDM song," he said. "We were listening to it and I thought, 'Oh, I'll just put those in'."
MATT DAMON, LUKE HEMSWORTH, SAM NEILL AND MELISSA MCCARTHY AS ASGARDIAN STAGE ACTORS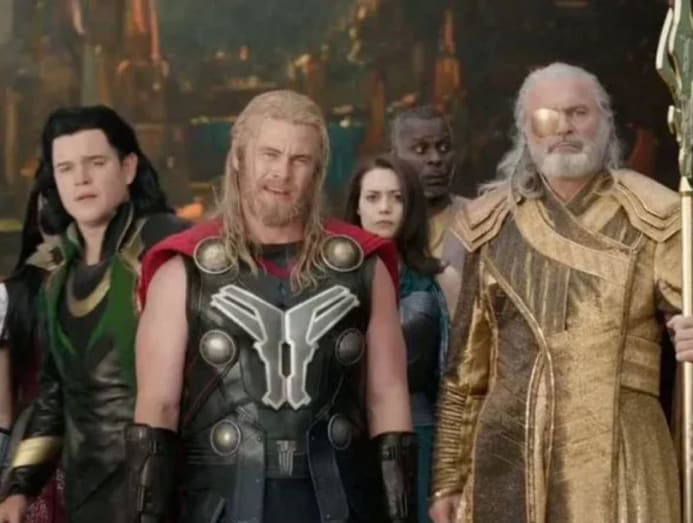 Love And Thunder is undisputedly star-studded, featuring cameos coming from all directions, including the entire motley crew from The Guardians Of The Galaxy, Kat Dennings' Darcy Lewis, Jaimie Alexander's Lady Sif and even Hemsworth's wife Elsa Pataky as a wolf woman. And don't even get us started on the post-credits (no spoilers here!)
But the stand-outs have to be Matt Damon, Luke Hemsworth, Sam Neill and Melissa McCarthy going entirely over-the-top re-enacting Odin's death in Ragnarok.
The trio of Damon, Hemsworth and Neill already slayed their cameos in Ragnarok, where they played Loki, Thor and Odin respectively, in a re-enactment of a scene in The Dark World.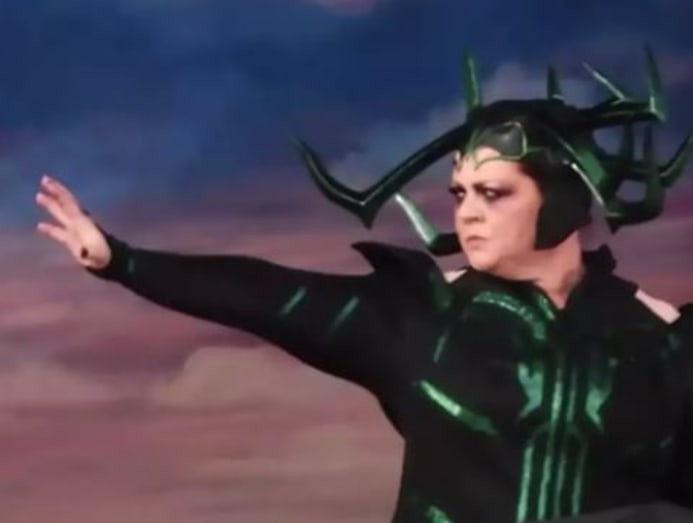 This time round, they upped the ante as actors performing for tourists in New Asgard and are joined by a hilarious McCarthy playing third Odinson sibling Hela.
INDIA HEMSWORTH AND THE CELEBRITY CHILDREN OF THOR: LOVE AND THUNDER
Without giving away too many spoilers, Chris Hemsworth's real-life daughter and eldest child – 10-year-old India Rose – plays Gorr the God Butcher's daughter. His eight-year-old twin sons – Sasha and Tristan – share the role of young Thor.
And according to Hemsworth, co-stars Portman's and Bale's kids are in the film too, along with director Waititi's. And yes, all are spotted playing Asgardian children.
"It's really cool. They really wanted to be in it," Hemsworth said in an interview. "Taika had his children in there. Christian Bale had his. Natalie had her kids as well. It felt sort of like a one-off, fun family experience."
He added: "I don't want them to now go and be child stars and actors. It was just a special experience we all had and I loved it. They had a great time."
NATALIE PORTMAN'S ARMS… AND TRANSFORMATION TO MIGHTY THOR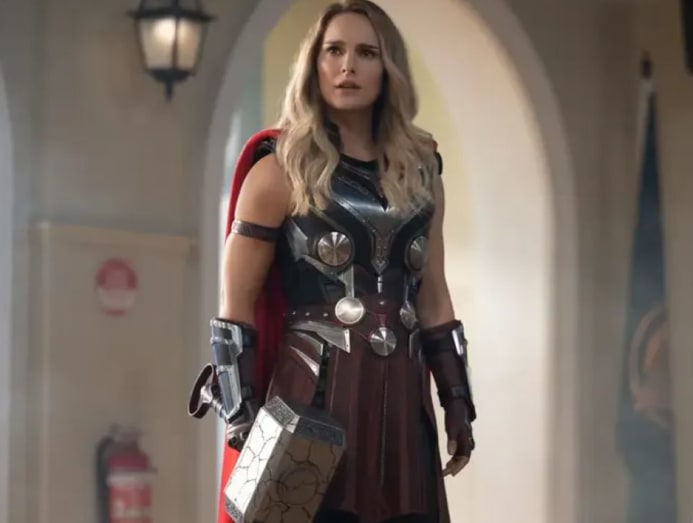 In order to gain the brawn of the Mighty God(dess) of Thunder, Portman embarked on an intensive training regime, working with a trainer for 10 months before and during filming to build a physique that mirrored the muscles in the comic book upon which the movie is based.
Portman shared in several different interviews that the experience of transforming her body into superhero shape not only yielded physical changes, but it also brought some fascinating insights about how she moved through the world too. 
"To have this reaction and be seen as big, you realise, 'Oh, this must be so different to walk through the world like this'," she said in her interview with Variety.
"When you're small – and also, I think because I started as a kid – a lot of times, I feel young or little, or like a pat-on-the-head kind of person. And I present myself that way, too, because of that."
CHRIS HEMSWORTH'S NUDE SCENE
Yes, everyone's seen it in the trailers. But to witness Hemsworth's tight derriere in full uncensored glory on the big screen is worth the ticket price alone.
"It was 10 years in the making, that scene," Hemsworth told Variety in an interview regarding the baring of his buttocks in Love And Thunder, adding that it was "kind of a dream of mine".
He continued: "The first time I played Thor, I took my shirt off and I thought, 'You know what's going sweeten this… a decade from now it's all going come off'."
Indeed it has, and we are all so much happier for it. 
Thor: Love and Thunder is showing in cinemas now.