Looking for love on Tinder? Your date might be selling you insurance instead
You think it's all going swimmingly well – until the man or woman of your dreams brings out an iPad to sell you an accident plan. Yes, insurance agents going on dating apps is a thing.
With Valentine's Day coming up, we're guessing a lot of lonely people looking for romance will be turning to dating apps for solace. But if you're on Tinder, you might want to be a little bit more careful about who you swipe right on – your Romeo or Juliet might turn out to be an insurance agent.
Yes, insurance agents who catfish – or pretend to be someone they're not – on Tinder is a thing.
Remember those scenes in the Mission: Impossible movies, where someone rips off their rubber masks to reveal they're not really who they are? Well, judging from some of the stories we stumbled upon on the Singapore subreddit about bad Tinder experiences, it's been happening for the past few years.
Not quite as insidious or dangerous as other types of catfishing, it makes for some amusing encounters – or annoying, if you were at the receiving end of it.
Take, for instance, user Internationallybadger's experience. "Met a girl off Tinder. Things were progressing fine on the first meet up," he wrote a month ago. "We planned to meet up next and the conversation steered towards like current job, financial situation etc. Which to me was ok la.. I mean wouldn't you at least want to know how the other person handles their $$."
Which all sounds pretty sensible and promising, right? Unfortunately, Internationallybadger's match pulled off the metaphorical rubber mask and revealed that she was, in fact, an insurance agent. To rub it in, she offered to help "sort out" Internationallybadger's financial position so he can "be more attractive to other girls."
Ouch.
Internationallybadger isn't the only one who has mentioned insurance agents using Tinder as a cover. Many threads on the Singapore subreddit have also alluded to unwittingly being matched with an insurance agent. And while first contact is usually made through these online dating apps, it does not seem to be isolated to just the virtual world.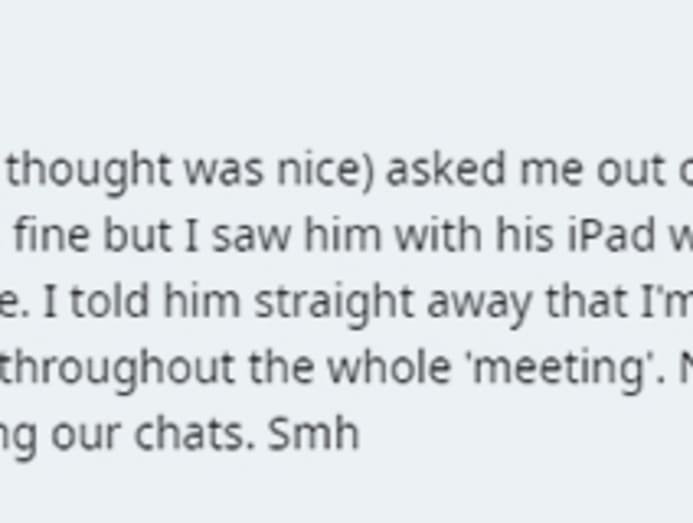 On a separate thread, user kweenbey posted that she was asked out on a date to a nearby Starbucks. When she arrived, she noticed that he was carrying an iPad with the logo of a well-known insurance company, and knew right away that she was being targeted.
She said: "I told him straight away that I'm not interested in any insurance and he just kept quiet throughout the whole 'meeting'."
While these comments have helped warn potential users about potentially meeting insurance agents, it seems to have unintentionally brought to light a new tactic for other would-be agents-in-disguise.
Reddit user tastytrashbags posted that he did not have any experience with OkCupid, another dating application, but that he would check it out since he sold insurance.
Similarly, another user Bra1nwashed said: "You just taught me a new prospecting method."
Looks like the spaces we thought we could find true love in Singapore just got a whole lot smaller.