A hug, a hunk, a cockroach: Tokyo Olympics' most memorable non-sporting moments
Even if you aren't into sports, this year's Games had plenty to offer on the sidelines. CNA Lifestyle lists them down. What were your favourites?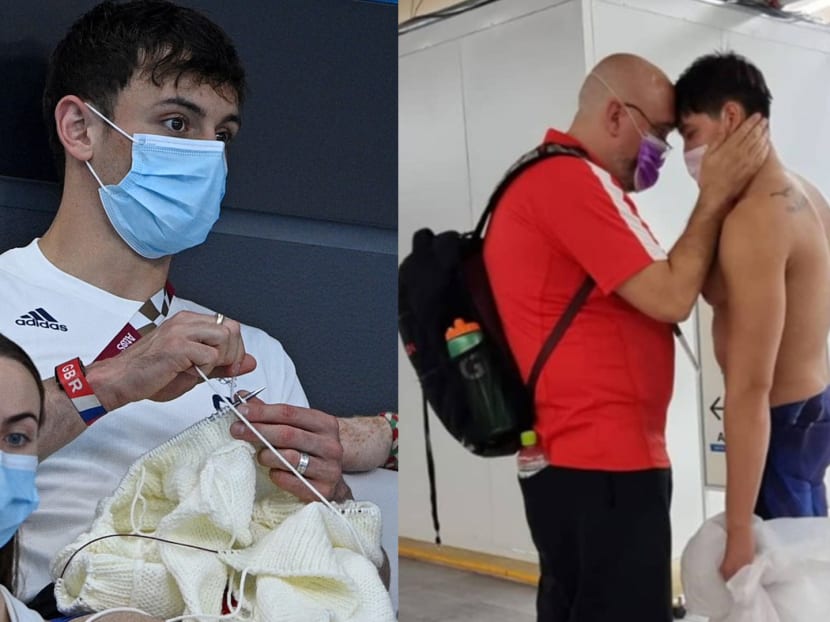 And so the Tokyo Olympics is coming to a close on Sunday (Aug 8). And as thrilling as it has been, there were undoubtedly some non-sporting moments that happened during the Games that stole the show – enough to distract even the casual viewer or those with zero interest in dazzling feats of athleticism for a brief second or two.
Here's a look back at some of them. From a marriage proposal to a condom that saved the day – 11 things we will remember from the Tokyo Olympics. Aside from all the sports stuff, of course.
THAT SHIRTLESS HUNK FROM TONGA
We are going straight into this because let's be real, you're probably looking for him on this list. Pita Taufatofua, who is also famously known as the "shirtless Tongan guy" went viral for his glisteningly fit body during the opening ceremony of Tokyo Olympics.
Yes, he is a recurring headline every time he appears in the Games but who's complaining? The flag bearer also made his appearance in previous editions, including the 2018 Pyeongchang Winter Olympics. Yes, he was shirtless, too. In winter.
Taufatofua, however, is more than just the legendary icon –  he is also the first athlete to participate in three consecutive Olympics Games, summer and winter combined. He competed in Rio 2016 for taekwondo, then went on to be the first Tongan athlete in the Winter Games when he competed as a cross country skier at the 2018 Pyeongchang Games, then now in Tokyo 2020 for taekwondo. He is really more than just the shirtless Tongan guy. But even if he was, we're fine with that.
THAT JAPANESE VIDEO GAMES SONG
Apart from the gruelling competitions in the Games, the opening ceremonies are the highlights of the Olympics. As the countries marched out for their parade, Japan took the opportunity to use the soundtracks of Japanese video games as background music because it's just too golden.
The orchestral medley developed by Sega, Capcom and Square Enix echoed through the stadium and thrilled fans around the world with their familiar tunes such as Star Light Zone from the original Sonic The Hedgehog and the main Final Fantasy theme.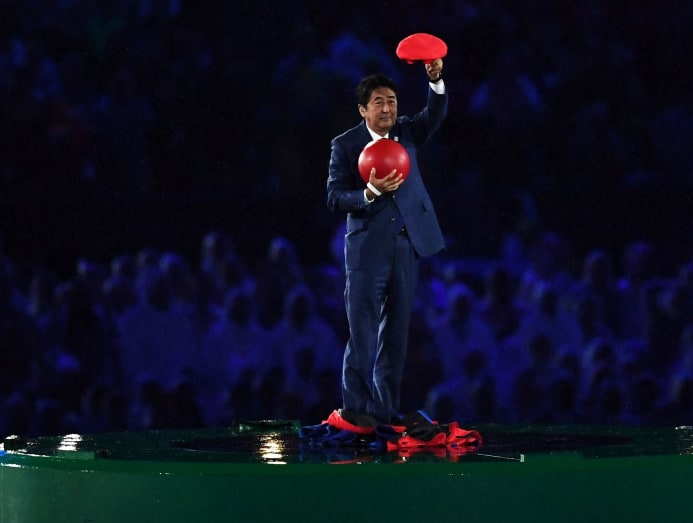 This is giving us major flashbacks to four years ago where former Japanese PM Abe Shinzo dressed up as Mario in the Rio closing ceremony. Kawaii!
JOSEPH SCHOOLING'S COACH GIVES HIM THAT HUG
The Olympic Games isn't always about the shiny medals. It is also about the kindness and support shown to one another during stressful or disappointing moments – and one of the most poignant ones we saw was that hug Joseph Schooling got from his coach.
Coach Sergio Lopez Miro shared a picture of him giving Singapore's first Olympic gold medallist a tight hug after the latter missed out on qualifying for the semi-finals of the 100m butterfly event. The picture was accompanied by a heartwarming message, thanking Joseph for the amazing journey and saying that they will keep moving forward.
This is the team spirit that we love to see.
THE GERMAN JUDO POWER RITUAL
Every athlete needs some hype before they step onto the stage to compete. German Judo coach literally took matters into his own hands in a viral video where he was seen grabbing the jacket of Judo star, Martyna Trajdos, and shaking her violently before giving her two slaps on both her cheeks.
The video circulated online and while many people were amused, some were concerned. The fighter then came out to defend her coach saying this is the pre-match ritual she has chosen to get herself fired up. You do you, girl!
WHEN THE AUSSIE COACH WENT WILD
By now we've probably all seen Australia's swimming coach Dean Boxall doing his, erm, super excited celebrations when swimmer Ariarne Titmus won her first of two gold medals in Tokyo.
It was a sequence of actions that wouldn't look out of place as the next TikTok trend: It went from fist pumping the air to ripping his mask off to hip-thrusting a railing. Choose your own soundtrack.
What made it all the more amusing was the shocked look on the Japanese volunteer's face, not knowing how to calm him down and return him to his zone. His reaction pretty much sums up all our inner thoughts throughout the Olympic Games.
THE ULTIMATE OLYMPIC LOVE STORY
We are all suckers for a good love story and who knew the Olympics would serve us such content?
Argentina's fencing coach popped the question to fencer Maria Belen Perez Maurice during her interview after being eliminated from the women's sabre event. He appeared behind her, holding up a sign that said, "Will you marry me? Please?" (in Spanish). She said yes and the rest is history.
The couple have been together for 17 years and he actually proposed 11 years ago but she rejected it. We guess she's no longer sitting on the fence about it.
WHEN A COCKROACH MADE ITS OLYMPICS DEBUT
You would expect full-on sports events when you watch the Games. But a particular cameraman gave us a few seconds of the National Geographic channel when he cut to a cockroach during the women's hockey game.
The cockroach made its Olympics debut in Tokyo and the video was shared on Twitter, garnering more than 8.4 million views. The Spanish-language announcer commented "La Cucaracha" upon seeing it, which is actually a popular Mexican folk song about a cockroach that can't walk.
Not sure if the roach is bugged by its one minute of fame.
CONDOM SAVES THE DAY
At this point, literally anything can happen, right? Aussie slalom canoeist Jessica Fox shared a TikTok of how she channelled MacGyver and repaired the damaged nose of her kayak using a condom, then proceeded to win a gold and bronze medal.
Apparently the condom was used to protect the carbon mixture or something like that. Either way, we are all impressed by her engineering skills and how the condom actually prevailed through this one.
THOSE CARDBOARD BEDS
Speaking of condoms, there was one thing that prevented any other sort of "exercise" from taking place outside sporting events. American athlete Paul Chelimo tweeted pictures of the now famous cardboard beds in the Olympic Village. He claimed that the beds were constructed with the material to "avoid intimacy among athletes".
Of course, the organising committee explained it was actually because of the environmentally friendly and recyclable aspects that cardboard was chosen. Fair enough. We still like Paul's explanation.
TOM DALEY KNITTING
The British diver made the headlines twice this year: First, for his first-ever gold medal in the men's synchronised 10m platform event, and second, for knitting a sweater while watching the women's 3m springboard in the stands. Turns out he was knitting for Izzy the frenchie, an Instafamous dog.
The gold medallist picked up knitting last March to get himself through the COVID-19 lockdown and it's his way of coping with stress. He posts his creations on @madewithlovebytomdaley, his knitting and crochet instagram account and it features rainbow sweaters, dog sweaters, and even a fresh pouch for his gold medal.
WHEN BESTIES SHARED A GOLD MEDAL
We said at the start that this was going to be a list of non-sporting moments. But we can't help it – the Tokyo Olympics was full of heartwarming and inspiring incidents that happened during the events themselves.
One example was when athletes Gianmarco Tamberi of Italy and Mutaz Essa Barshim of Qatar decided to share first place for the men's high jump, both bagging a gold.
The pair jumped 2.37 meters and failed their attempt at 2.39m, which left them with two options: To settle it with a jump-off or share the gold.
With no hesitation, Barshim asked the official if there could be two golds and before the official could finish explaining, the athlete reached out to Tamberi. The duo shook hands in agreement, and the crowd went wild.
The two athletes met in a competition in Canada in 2010 and even though they are rivals, they are even better friends. "He is one of my best friends, not only on the track, but outside the track. We work together. This is a dream come true. It is the true spirit, the sportsman spirit, and we are here delivering this message," Barshim said.
That's it, that's the true spirit of the Olympic Games. That and seeing a cockroach on TV.
Catch the Olympics Games Tokyo 2020 LIVE with 14 dedicated channels on meWATCH. Sign in now at mewatch.sg/tokyo2020 and get into the action with Mediacorp, Singapore's Olympics Network.