Trailer for film starring Zac Efron as serial killer Ted Bundy raises eyebrows
Netizens thought it looked "too fun" for a movie about a notorious criminal, although critics lauded Efron's performance.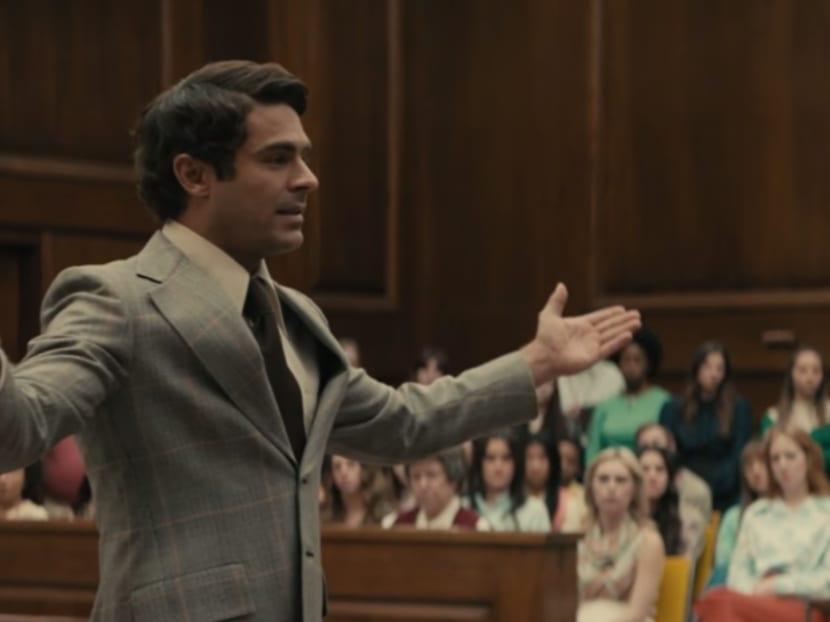 The first trailer for the upcoming Ted Bundy thriller starring Zac Efron was released over the weekend. The film, which premiered at the Sundance Film Festival last Saturday (Jan 26), has already proven divisive, with some saying it casts the serial killer in a sympathetic light.
At a minute and a half, the trailer for Extremely Wicked, Shockingly Evil And Vile is set to rock music and features Efron as a charismatic anti-hero, charming his partner and the rest of America in his subsequent trial, to an unsettling degree.
"This looks way too... fun... for a movie about a serial killer," wrote user Kundel Bury on YouTube.
"The upbeat tone of the trailer seems to be on purpose, kind of illustrating Bundy's charismatic persona on the media, which clashed with his horrible crimes," commented Gui Porto on the trailer.
Twitter user Mother Of Doggons noted a contrast between Efron's good looks and popularity, and the notorious real-life criminal he plays.
Directed by Emmy-winning director Joe Berlinger, the film's trailer arrives just days after his other Bundy project, Conversations With A Killer: The Ted Bundy Tapes premiered on Netflix. The four-part series features interviews and archival footage of Bundy and those affected by his crimes.
Born Theodore Robert Cowell, Bundy was an American serial killer and rapist who assaulted an unknown number of young women and girls in the 1970s and possibly earlier. After a decade of denials, he confessed to 30 homicides committed between 1974 and 1978. Bundy was executed in 1989, aged 42.
The film is based on the accounts of Bundy's romantic partner, the naïve Elizabeth Kloepfer, in her 1981 memoir The Phantom Prince: My Life With Ted Bundy, which she wrote under the pseudonym Liz Kendall.
Played by English-American actress Lily Collins, Kloepfer was a single mother who once tried to turn Bundy in to the police. The film is told through her perspective and details her struggle to accept the reality of her boyfriend's twisted nature.
Critics who watched the film in its entirety at Sundance, however, had only praise for Efron's nuanced portrayal of Bundy's complicated figure, though they felt the film achieved little else.
Benjamin Lee of The Guardian commended Efron, both for his acting and his commitment to more serious roles in film.
"He ruthlessly weaponises the boyish charm that's propelled much of his career, slyly convincing us of the spell he cast, not only on Liz but the many other women who were fighting his corner, sure of his innocence," wrote Lee.
"It's the career-changing moment he was clearly seeking and with an executive producer credit, one can understand his impassioned involvement, a juicy opportunity to break away from his pretty boy shackles and prove that he's deserving of more dramatic work."
But Richard Lawson of Vanity Fair was of the same opinion as the disturbed netizens who shared their thoughts about the trailer, writing that the film "puts Bundy so palpably at the centre of the film that we can't help but become invested in his flights from justice.
"He's the hero, and (director Joe) Berlinger fails to properly contextualise the grim loyalty Bundy stokes."
The film is expected to be released this year.