Watch: U2's Bono wrote a new song to lift up spirits during the pandemic
The singer took to U2's official Instagram with a piano ballad titled Let Your Love Be Known, which was inspired by the Italians singing during lockdown.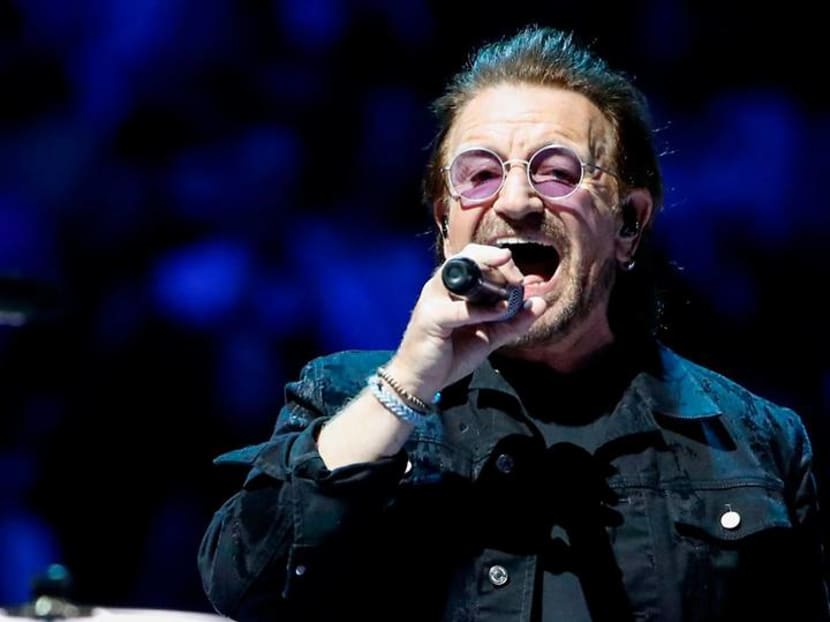 As COVID-19 cases soar and social distancing is putting a dampener on almost everything, trust Bono to try and lift up everyone's spirits with a song.
The U2 singer posted an original song on Instagram on Wednesday (Mar 18) – a piano ballad that was inspired singing Italians and also written for the Irish.
"For ANYONE who this St. Patrick's day is in a tight spot and still singing. For the doctors, nurses, carers on the front line, it's you we're singing to," he wrote.
The Italian inspiration he mentioned appeared to be the many Italians in home isolation singing together through open windows in their neighbourhood, as Italy undergoes a nationwide lockdown. Even Italian opera singers joined in, with a video of Maurizio Marchini singing from his window being shared widely over social media.
Bono's video on Instagram opened up with him saying: "A little postcard from Dublin."
"On this St. Patrick's Day, a little tune made up here about an hour ago. I think it's called Let Your Love Be Known," he continued, before launching right into it.
The chorus sees Bono hit some high notes as he sang: "You can't touch, but you can sing across rooftops / Sing on the phone / Sing and promise me you won't stop / Sing your love be known / Oh, let your love be known."
He continued with some encouragement: "Yes, there is isolation / You and me we're still here / Yes, when we open our eyes we'll stare down the fear."
Music seems to be a source of strength for many, with some Asian artists also composing their own songs of support in the earlier days of the outbreak.
A music video starring big names such as Jackie Chan and Li Bingbing was released on Feb 1 and dedicated to frontline medical workers in China, while JJ Lin and Stefanie Sun also composed a new song called Stay With You to show their own support.