Little red huat: Celebrate CNY Singapore-style with these quirky local creations
From a pineapple tart pouch to your very own "Fortune Daddy", usher in a year of prosperity by supporting our local creatives.
Start the Year Of The Pig off on a prosperous note by support our local creatives. As in prosperous for them – you'll be spending money. Think of it as national pride.
From apparel to home decor, these uniquely Singaporean Chinese New Year products will get you in the festive mood. They also make great conversation starters during small talk with the relatives you only see once a year.

WHO'S YOUR (FORTUNE) DADDY?

Available at a discounted price till the end of February, you won't need to rely on a "fortune daddy" to afford these tongue-in-cheek patches. The Fortune Daddy Embroidery Patch and the New Year Homies Embroidery Patch (S$12.90) by The Toxic Friends Co. put a millennial spin on the gaudy designs of Chinese New Year decorations.

Fortune Daddy Embroidery Patch, S$10.90, The Toxic Friends Co.
https://www.thetoxicfriendsco.com/product-page/fortune-daddy-embroidery-patch

FLAUNT YOUR TART
Let everyone know you really love your grandmother's homemade pineapple tarts by carrying a replica around when visiting. The Pineapple Tart Pouch by Nom & Co keeps all the S$1 coins you've been stashing away for Chinese New Year blackjack with your cousins safe. You could even keep one spare real pineapple tart in there, in case of snack emergencies. Also serves as a great prop when taking slightly awkward family photos.
Pineapple Tart Pouch, S$10.90, The Farm Store
http://www.thefarmstore.sg/product/SSC16-056A
FOR THE ONE DAY OF THE YEAR YOU DON'T WEAR BLACK
Be the highlight this Chinese New Year with this striking top from The Authority. The Contrast Collar Pullover off their Spring 2019 collection features a slightly fitted cut and a dropped shoulder for that extra width added to your lithe build.
Contrast Collar Pullover Red, S$59, The Authority. Available at #03-03 Orchard Gateway and https://theauthority.co/shop/contrast-collar-pullover-red/

MICHELANGELO'S LESSER-KNOWN MASTERPIECE
The newly-released Ah Wang Shirt is what Michelangelo would have painted if he was Chinese. catch The Toxic Friends Co. at their upcoming pop-up at the Light To Night Festival, where they'll be setting up shop on Feb 2 and 3 at the Empress Lawn, beside the Asian Civilisations Museum.

Ah Wang Shirt, S$27, The Toxic Friends Co. 
Pre-order via https://www.instagram.com/p/BsUeIX0FHgJ/ 

COLD DRINK, WARM RECEPTION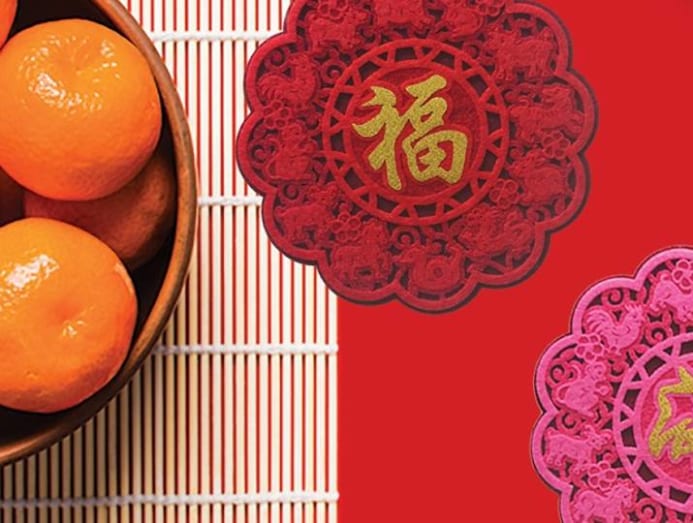 Stop chilled beer cans from leaving water marks on your coffee table with these detailed embroidery coasters featuring the 12 animals of the zodiac. Also doubles as a conversation starter for guests whose names you cannot remember and refer to strictly as "auntie" and "uncle".
12 Zodiac Embroidery Coasters (Set of 2), S$13.90, Shevron
https://www.shevron.com.sg/shops/chinese-new-year/yellow-12-chinese-zodiac-coasters-detail

WELL COME ON IN, GOOD FORTUNE
Usher in a year of prosperity right at your doorstep with this bright doormat from The Little Drom Store. Founded in 2010 by two graphic designers, the brand houses products inspired by local culture.
Huat Ah Premium Door Mat, S$19.90, The Little Drom Store, The Farm Store.

http://www.thefarmstore.sg/product/SGS16-050B