Who was crowned winner of singing competition Vasantham Star 2023?
Navein Gunasekaran edged out four other finalists to bring home the trophy and a cash prize of S$20,000 at the Grand Finals on Sunday (Mar 26). 
After weeks of intense competition, Navein Gunasekaran was crowned the winner of Mediacorp's Indian singing competition Vasantham Star 2023 at the Grand Finals held on Sunday (Mar 26) evening.
Navein – a Sociology & Public Policy undergraduate at the Singapore Management University – edged out fellow finalists Mohamed Yacob, Sindhu Vimalkumar, Prajeeth Venkatesh and Ashok Kumar Shwetha to bring home the trophy and a cash prize of S$20,000.
The champion also impressed the show's special guest judge, Indian film composer D Imman, who offered Navein a chance to sing on one of his songs.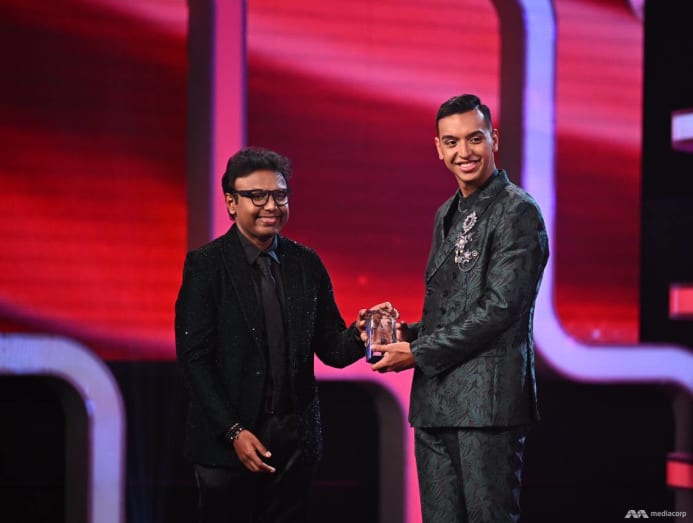 Navein said: "I am thrilled to be crowned the winner of Vasantham Star 2023. I would like to thank my family, friends and supporters for believing in me throughout the competition and express my gratitude to our vocal coach and judges, who helped me to improve through their coaching and constructive feedback.
"I am also overjoyed by D Imman's offer for me to perform in one of his song compositions, and hope to continue on my musical journey and have more opportunities to perform for more audiences in the future."
The finalists went through three rounds during the Grand Finals – the first saw them performing songs they chose themselves, the second saw them singing individual renditions of Tamil song Moongil Thottam from the film Kadal and in the final round, they had to improvise and perform an original song.
Sabanitha Shanmugasundram, Mediacorp's Head of Content Commissioning & Indian Community Engagement, said: "Vasantham Star 2023 underscores Mediacorp's ongoing commitment to nurture budding homegrown talents by providing them a platform to pursue their dreams and showcase their talents on the big stage. We are inspired and incredibly proud of the contestants who have participated in the competition, and we hope to see more of their musical and acting endeavours in the future."
Hosted by veteran artiste Saravanan Ayyavoo, Vasantham Star 2023 is the sixth edition of the competition.
Catch Vasantham Star 2023 and digital-exclusive content on mewatch, Ungalukkaga Mediacorp's Instagram and Facebook as well as Mediacorp Entertainment on YouTube.