Wang Lei raised more than S$180,000 in donations for recent Johor flood victims in less than 1 hour
This is not the first time the Getai star was involved in fundraising for victims of a disaster. He gathered donations for victims of a fire in Malaysia in 2021 but received criticism from those who said he wasn't being transparent with the money.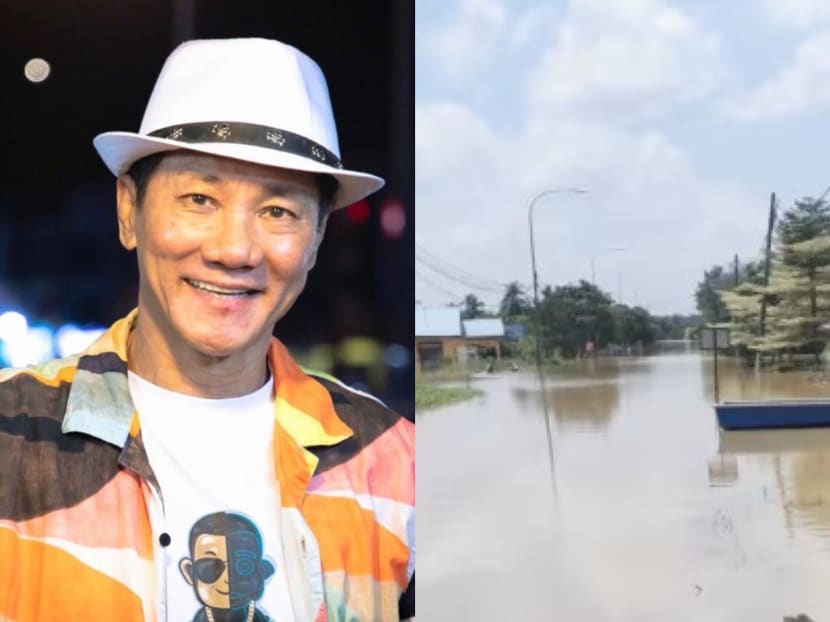 Recent flash floods in Johor have resulted in submerged roads, displaced citizens and several deaths in worst-hit districts.
Live-streaming sensation and Getai star Wang Lei, 61, has once again stepped up to raise donations for victims of the disaster.
On Mar 6, the live streamer, known for his online selling prowess, took to his page to rally donations from his viewers.
The next day, Wang Lei announced on social media that he had not only reached his target, but far exceeded it.
Turns out, he had managed to collect a total of RM$600,000 (S$180,000) in monetary donations, far surpassing his initial goal of RM$300,000 in a short span of 50 minutes.
He also added that there were netizens who were still contributing to the cause post live-stream. Touched, he wished them "a blessed life" in his post.
As of Mar 8, Wang Lei updated his followers that they have raised RM$750,000.
Wang Lei also mentioned that he was previously involved in a similar fundraiser, where he gathered donations for the victims of a devastating fire in Malaysia in 2021.
Back then, he similarly raised a total sum of RM$750,000 but was met with a lot of criticism from netizens about an apparent lack of transparency.
"The haters said that I didn't list the breakdown of the RM$750K and said things to attack me. Back then, I thought to myself that RM$750K was not a sum that I had to list out, and every time I donated to a place, [my team] and I would film ourselves to prove where the money went. But it's okay, I have nothing to hide, the heavens see whatever I am doing!" he recounted.
After that incident two years ago, Wang Lei had initially decided against involving himself with the current crisis. However, he was met with many requests from netizens who hoped that he would start fundraising again. On top of that, he "couldn't bear" to see the devastation wrought upon countless families, and thus decided to launch the current fundraiser.
According to Wang Lei, he will not be using donation funds to purchase necessities for the victims this time. Instead, he will hand the money over to volunteer groups in Malaysia.
He also expressed his thanks to Malaysian badminton star Lee Chong Wei for his support of the fundraiser.
This story was originally published in 8Days.