When Queen meets sci-fi: First look at We Will Rock You musical when it comes to Singapore in January
Ahead of its staging in Singapore in January, CNA Lifestyle went to Manila for the global premiere of the reimagined We Will Rock You, the sci-fi comedy jukebox musical inspired by Queen's music.
In partnership with GMG Productions.
Everyone knows the legendary British rock band Queen. And even if you're not a hardcore fan, you would still know how to clap to Radio Ga Ga, stomp to We Will Rock You, pump your fist to We Are The Champions, and sing the first two verses of Bohemian Rhapsody (we all love our karaoke).
But seeing these anthems sung by dancing cyborgs in spacesuits while wearing VR headsets and zipping around on hoverboards?
WE WILL ROCK YOU IS BACK
After many unavoidable postponements due to COVID-19, GMG Productions finally debuted the brand new and reimagined iteration of the iconic Ben Elton and Queen's musical We Will Rock You in Manila last week. After that, it will make its way to Singapore with a 22-show run at the Esplanade from Jan 5, 2023.
The last time it was here was back in 2008. Since then, Queen has undoubtedly added a few more Netflix and Spotify-weaned converts, thanks to new album reissues, the movie Bohemian Rhapsody with Rami Malek, and a successful musical partnership with American Idol alum Adam Lambert. 
Plus, this version has reimagined the set and costume designs, and added some "updates" to the original storyline.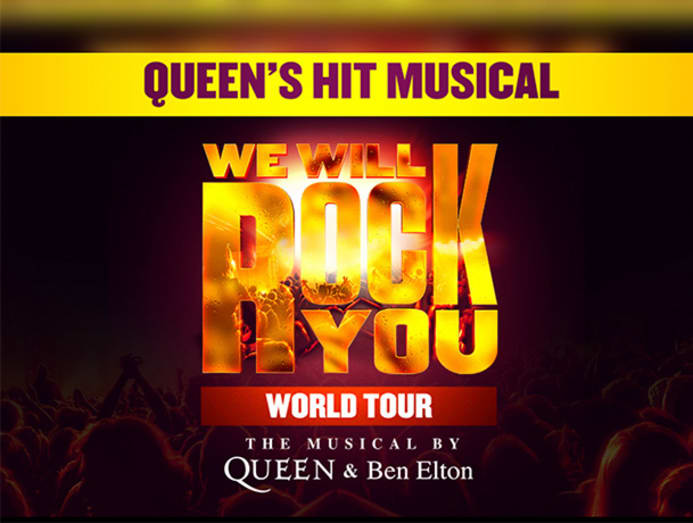 "The original production has been seen by over 20 million people worldwide. We can't think of a better title to come back with after such a long intermission," said Carlos Candal, GMG Productions CEO and We Will Rock You producer.
"We are confident that our We Will Rock You showcase feels like a musical-plus-rock concert and is one that the whole family can enjoy," he added.
When asked if Queen's Brian May or Roger Taylor would make a surprise appearance in one of the shows, he quipped: "Obviously they are aware that we're doing the production and we would love any of the members of Queen to turn up. They are welcome anytime. So Brian, give us a call."
NEW VISION
For the uninitiated rockers, this musical is not about Queen's life. While the show does offer Easter egg tributes to the late Freddie Mercury, like his iconic pose, We Will Rock You actually has little to do with the band's journey. Instead, you might want to think of the story as if it were Star Wars, Blade Runner, The Hunger Games and Mad Max were mashed up with Queen songs as the soundtrack.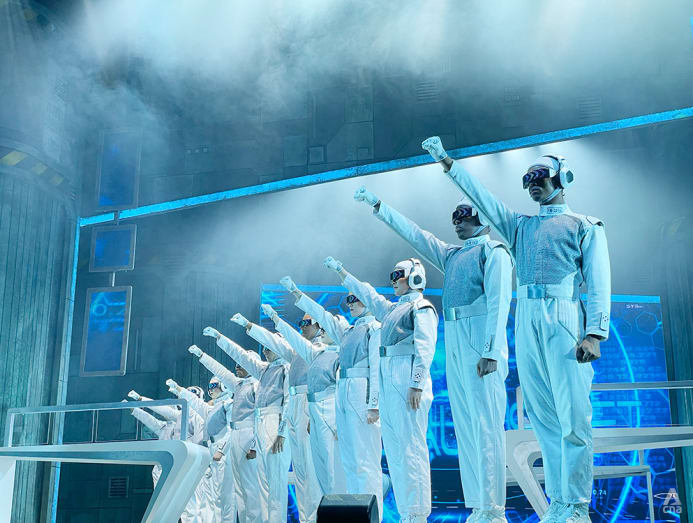 In We Will Rock You's dystopian world, rock 'n' roll is dead. Musical instruments and composers are banned. Everyone acts, dresses and thinks the same. Galileo Figaro and Scaramouche (sound familiar?) try to "break free" from the reign of the sinister Killer Queen (another familiar name), and join a bunch of rebels called Bohemians to bring rock music back to the world.
The storyline is inspired by 24 of Queen's songs, including We Are The Champions, Radio Ga Ga, Under Pressure, Bohemian Rhapsody, Another One Bites The Dust, Don't Stop Me Now, Killer Queen and, of course, the titular track.
After catching the premiere night in Manila, this writer couldn't help but smile (and maybe shed a tear or two) after seeing some of her favourite songs being brought to life on stage.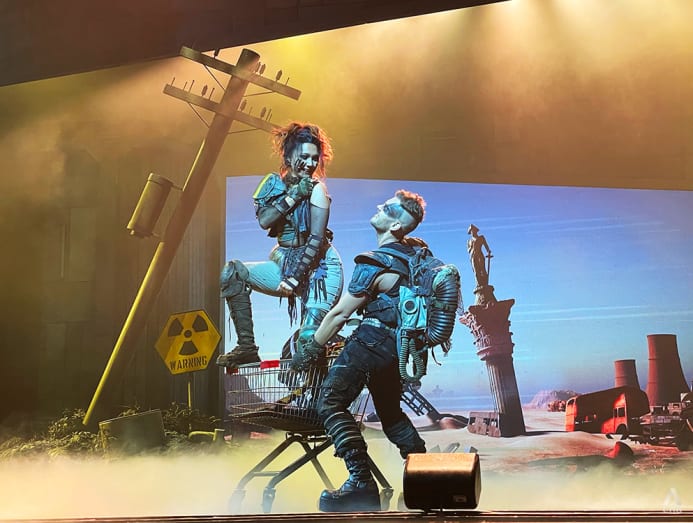 The original show was created in 2003, before smartphones and Facebook even existed. Although the fundamental storyline of this reimagined production remains the same, it's been "updated" so it's more "relevant and accurate, with the specific tech that's being used", Candal explained.

"The redesigned set has been upgraded to give you a brighter, more exciting, faster, punchier feel, and of course, all interlinked with the Queen songs, which brings that humour and fun to the whole show. The story is more relevant now than in 2003."
In addition to Queen's songs, there are also many playful and cheeky references from other pop culture movies and songs. See how many of them you'll recognise!
A KIND OF SCI-FI MAGIC
This musical not only pays homage to Queen's songs but also to science fiction – which isn't an unfamiliar world for the band. Remember the flying car in the Radio Ga Ga music video and "Frank" the giant robot from the News Of The World cover?
As soon as you enter the theatre, you are transported to an Orwellian future with a Matrix-esque backdrop, surrounded by echoes of AI-voices. And right off the bat, the first scene looks like something right out of Blade Runner with its neon-lit digital cityscape. The theme continues with its first number, Radio Ga Ga, where you see hints of Star Wars and The Hunger Games in the set and costumes.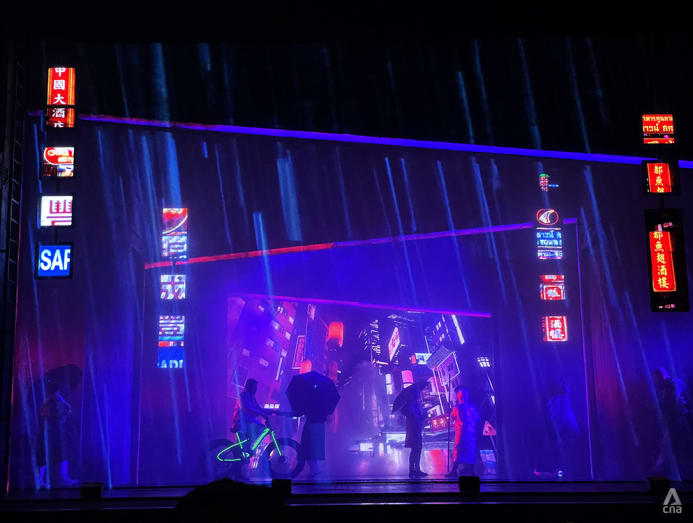 "For the fans of Queen, the fans of musicals, and for the fans of a galaxy, far far away, this is for you." quipped Nick Winston, who's the director and choreographer of the show.
"I'm a massive fan of science fiction films, especially stories set in a dystopia, so I jumped at the chance to explore this world on stage. It's been fun to create the aesthetics with our brilliant creative team and I'm looking forward to sharing our new vision of this musical with the world. There are lots of Easter eggs within the show for diehard science fiction fans," said Winston.
He continued: "The story has all the characteristics of dystopian fiction; government control, environmental destruction, technological control, survival, loss of individualism. It was important for me to create a world that properly represented that."
Although the story is now 20 years old, he reckons it will resonate with people now more than ever because "we are getting closer to that world". 
"And you thought you'd come to watch a jukebox musical!"
STEPPING INTO QUEEN'S SHOES
For the cast, it's been a privilege stepping into the shoes of one of the greatest rock bands in the world.
"Nick, who was the director, spoke to me and said you need to go and watch what Freddie does. And obviously I took a lot of inspiration from that," said Stuart Brown, who plays the rebel Galileo, whose character bears the closest resemblance to Freddie Mercury.
"But I also took a lot of inspiration from people around me. Our characters are fictional – they are from Bohemian Rhapsody – so we could really create our own and add our own flavour. It makes it more relatable to our audiences."
Nicolette Fernandes, who plays the other rebel Scaramouche, said she even researched musical icons who inspired Freddie Mercury to get inside his head. "I did something a little odd. I made a playlist of the songs that he would listen to and be inspired by. For instance, for Somebody To Love, Aretha Franklin was a massive inspiration for that song."
While the cast is all musically trained, taking on Queen's distinctive vocal range has its own challenges. "We're theatre trained and that's one way. But this is rock. And rock has a soul behind it," Fernandes shared.
WHO WANTS TO LIVE FOREVER?

Today, nearly 31 years after the passing of Freddie Mercury, Queen's legacy still lives on forever. And through tributes like this musical and the movie, they have been able to gain new audiences.

"There's no doubt that Queen and Queen music, is transgenerational, transnational, it has an impact like no other show we had," said Samantha Sewell, who's the associate producer of the show.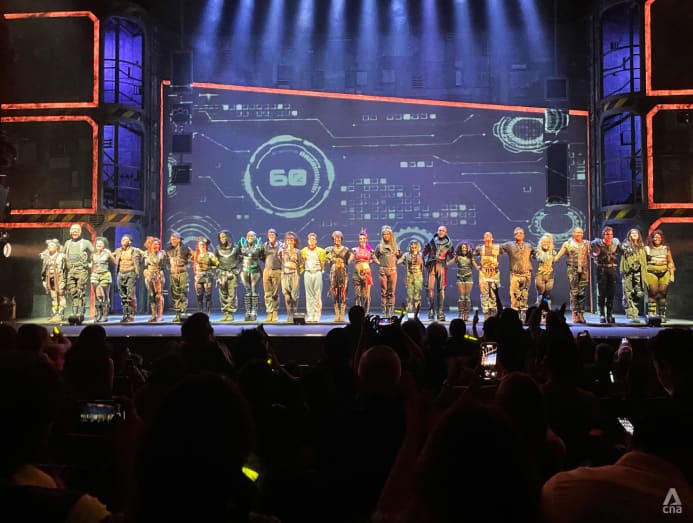 And it showed during the performance in Manila, where audiences were seen in their glam rock wear, leather jackets and iconic white Freddie Mercury tank top.
"I really think that the audience will walk away with an indescribable feeling. You are almost on cloud nine. It's one of those shows that gets you to put the soundtrack on in your car, on the way to work. Or singing out of the theatre," said Darren Greeff, who's the resident choreographer of the show.

"It's a rock concert. It's a party. It's a fashion show."

CNA Lifestyle was in Manila at the invitation of GMG Productions.

Queen's hit musical We Will Rock You runs from Jan 5 to 22, 2023 at The Esplanade. Tickets and info available here.