Fans are obsessed with Wednesday Addams' dance moves on TikTok – but to a Lady Gaga song?
Instead of The Cramps' Goo Goo Muck song that Jenna Ortega's character danced to in the Netflix series, TikTokers are flailing their arms to a sped-up version of Lady Gaga's 2011 tune, Bloody Mary.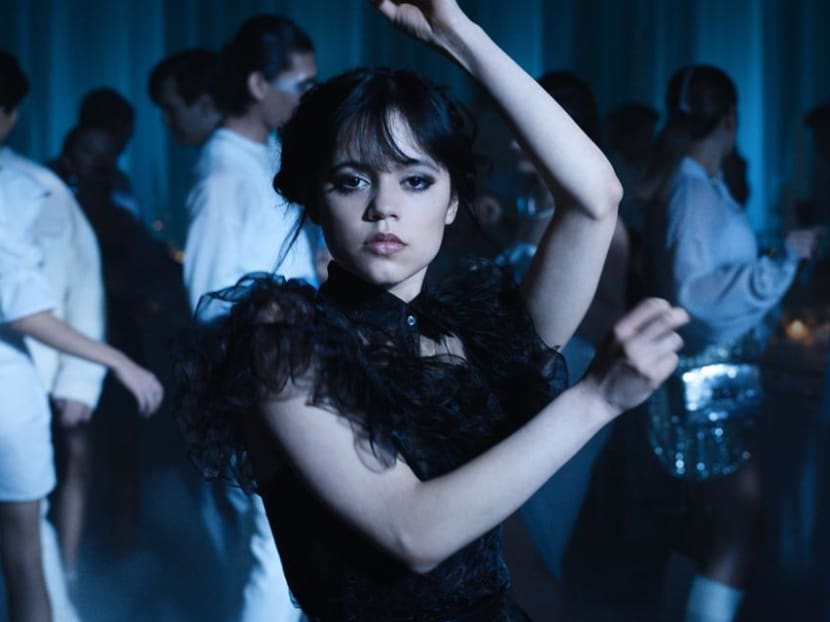 She's creepy and she's kooky. Mysterious and spooky. She's all together ooky. She's Wednesday, the daughter of TV's beloved Addams family – and star of the Netflix reboot series, who almost single-handedly (well, she did have help from Thing) revived goth culture in pop consciousness, along with her own unique brand of moves.
Along the way, the eight-episode series has racked up a billion hours' worth of views just three weeks after debuting on Nov 23 – a feat only surpassed by Squid Game and Stranger Things 4, according to Variety. And did we mention it has also picked up two Golden Globe nominations?
The coming-of-age, supernatural, dark comedy has something for everyone, and not just TikTokers and Gen Z obsessed with Jenna Ortega, the 20-year-old actress who plays the deadpan heroine.
From the shade of her dark lipstick to her now-viral dance set to The Cramps' 1981 song Goo Goo Muck and gothic schoolgirl fashion, everyone wants to be the braid-wearing, cello-playing teen.
Speaking of that viral dance scene that Ortega shared with her prom date Tyler Galpin (played by Hunter Doohan), it was actually choreographed by the actress herself. "I think it's very obvious that I'm not a dancer or a choreographer," she said in a Netflix interview.
Among her inspirations, Ortega tweeted, were Siouxsie Sioux, Bob Fosse's The Rich Man's Frug, Lisa Loring (the child actress who played Wednesday in the 1960s) and archival footage of goths dancing in clubs in the 1980s.
But in virtual reality, it is not Goo Goo Muck that netizens have been dancing to on social media. Rather, it is Lady Gaga's Bloody Mary, albeit a sped-up and higher-pitched version of the 2011 song, that have fans flinging their arms around a la Wednesday Addams. 
It could be the fitting lyrics that go perfectly with the moves ("I'll dance, dance, dance, with my hands, hands, hands, above my head, head, head") or that the Just Dance singer is known as Mother Monster to her fandom.
Whatever the case, Lady Gaga herself has gotten in on the action as she recreated Ortega's dance moves and posted it on TikTok on Dec 8, complete with braids, knee-high argyle socks, black blazer and a frill-collared top that Nevermore Academy, the school that Wednesday attends in the series, would approve.
Lady Gaga had also previously showed some love to the Addams character, tweeting that she was "welcome at Haus of Gaga anytime (and bring Thing with you, we love paws around here)". 
That was all it took to inspire even more fans to unleash their inner goths, let their braids down and put their best resting bitch faces forward – black frock optional.