The giving season: We must teach our kids the importance of charity
In this week's Chubby Hubby, Portly Papa column, Aun Koh tries to figure out how to actively give back, as a family, even in a small way.
Merry Christmas. It's a rare opportunity to have a column that runs on Christmas day so let me please start off by wishing you and your loved ones a very merry Christmas.

This Christmas morning (because I'll pretend that the first thing you do each morning is open your browser to the CNA Lifestyle page to catch up on all the latest cultural, entertainment and lifestyle news), I'd like to weigh in on a few things.

First, I'd like to weigh in on the whole Disney-Orchard Road debate. It's not that I think my opinion has much gravitas, but I've always loved how Disney does Christmas. For Christmas last year, I actually took my kids to DisneyLand and DisneySea in Tokyo. The resorts were decked out in enough fairy lights to light up several football fields; Christmas carols could be heard around every corner; festive treats were abundant (and abundantly expensive), and the characters were all wearing the cutest Christmas outfits. It was, well, simply magical. And for the kids, it was a really special experience.

When the Disney Orchard displays went up, the kids were thrilled, partly because they now already associate Disney with the festive season, but also because it combined two things they love: Christmas (which, in their minds is not about the Christian commemoration of a holy man's birth, but a time for family and giving of gifts) and Disney.

'TIS THE SEASON FOR GIVING

Of course, Christmas is much more than the season for receiving presents. More importantly, it's the season for giving. And that's something my wife and I are trying to inculcate with T1 and T2.

Giving to family and friends is expected, but what we really want them to understand is giving to charity and to those not as fortunate as they are. That's unfortunately a much harder lesson to teach.

For better or for worse, our kids have wanted for little since they've been born. Not that we're one-percenters. Like many, we struggle with the rising costs of living, raising and educating little ones in what has become one of the world's most expensive cities. But we are also fortunate. Our kids have never been hungry, or not had new clothes when they needed them. Between grandparents, their parents, and domestic help, they're very well cared for – even if they don't really understand this fully nor appreciate it.

We've just come back from a trip to Hong Kong. My wife's sister's family lives there and my rug rats are very close to their cousins. As someone who grew up literally on the other side of the planet from any of my own cousins, I try to make sure my kids get as much family time as possible. 

On one of the days when T1 and T2 hung out with mama and papa, as opposed to the cousins, we walked through Landmark, a ritzy shopping and office complex in Central. They have, this year, an incredible Christmas setup – an animatronic chocolate factory manned by monsters. T2 spent a good 30 minutes circling it over and over, inspecting every aspect of the cleverly designed exhibition.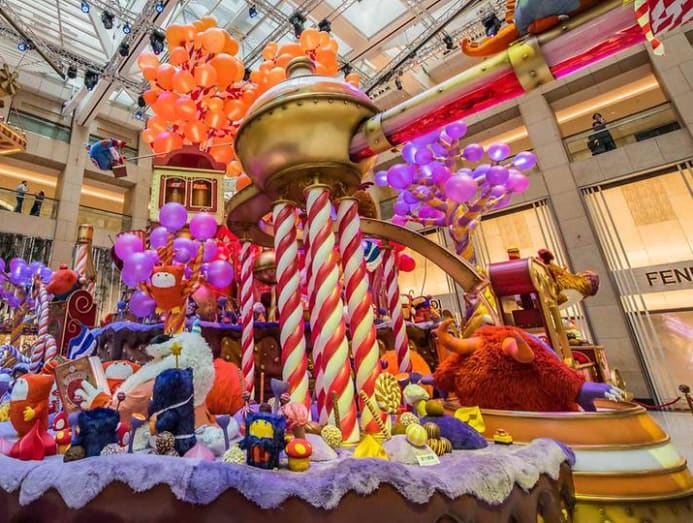 Even better, there was a counter with souvenirs for sale next to the display. All proceeds from the sales go to the Make A Wish Foundation, one of the charities I personally admire. There was also a large interactive display. For every HK$20 (S$3.50) you donate to Make A Wish, you get to play one of a number of video games. The game that my own kids became obsessed with was an electronic version of whack-a-mole, with monsters peeping out of giant donuts.

T1, after his first game, worked out a strategy. I was ordered to oversee the two donuts that made up the top row, with him and his sister taking care of the bottom two rows. The game, he smartly and quickly reasoned, could never be won with just one pair of hands. Score enough points (at least 850) and you can win a stuffed toy. Even if you don't perform all that well, you're rewarded with some souvenir chocolate.

Most importantly, at the end of the game, the display tells you who the donation is going to and what his or her wish is. For example, the donation that allowed us to play our second game is going towards helping a little boy with leukaemia achieve a Spider-man themed bedroom.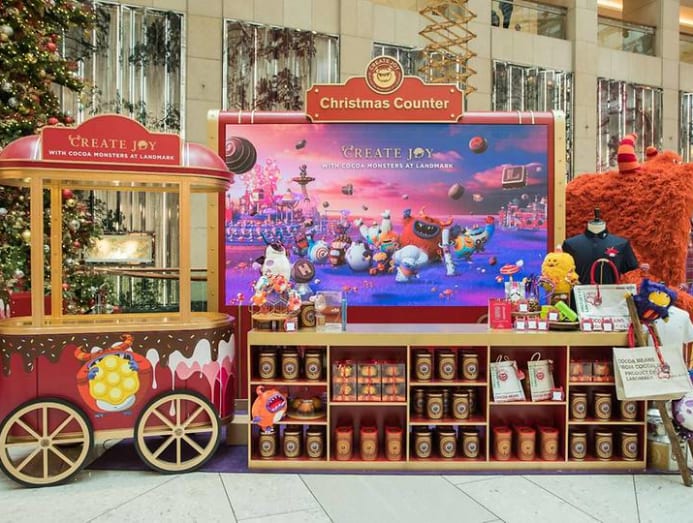 A CONVERSATION STARTER

This created the opportunity for a great conversation between T1 and us about children who were suffering from critical illnesses, and what that meant for them and their families. And while you might consider that a rather morose and sobering discussion for the holidays, I think taking the time to talk to one's youngsters about those less fortunate than them one of the very best things you might try and do in what we have come to call the season of giving.

Fortunately, the Missus feels similarly. In fact, she's decided that we have to do more than just talk to our kids about issues. We need, as a family, to actively give back, even in a small way.

This coming weekend, Su-Lyn is hosting a little Christmas shindig for 15 young boys and girls who have just finished K2 and who are graduating from ReadAble's preschoolers program. ReadAble is, in its own words, "a community of passionate people who believe in beating poverty one word at a time". It's a great movement started by our friend Amanda, a brilliant, artistic, charitable dynamo who does more things in a week than I do in a year.

ReadAble runs weekly reading and language arts classes for children aged two to 15 in the Chin Swee neighbourhood. As two former journalists, we love any movement that encourages an appreciation of reading and an aptitude for creative and expository writing.

Su-Lyn has already been speaking to T1 and T2 about this little celebration, getting their opinions and making sure they know they'll have to be on duty that afternoon, to help out and take part in gifting a great Christmas experience to these young boys and girls. So far, T1 and T2 have been very receptive, which has made me one proud papa.

If it goes well, maybe we'll make this, and other similar activities, an annual tradition. And if giving to others becomes something our kids take to heart… Well, that would be the best Christmas gift I could think of.