Fans do not love blue Will Smith in the new Aladdin trailer
The surprise trailer aired during the Grammys did not inspire hope the movie will translate well as a live action film.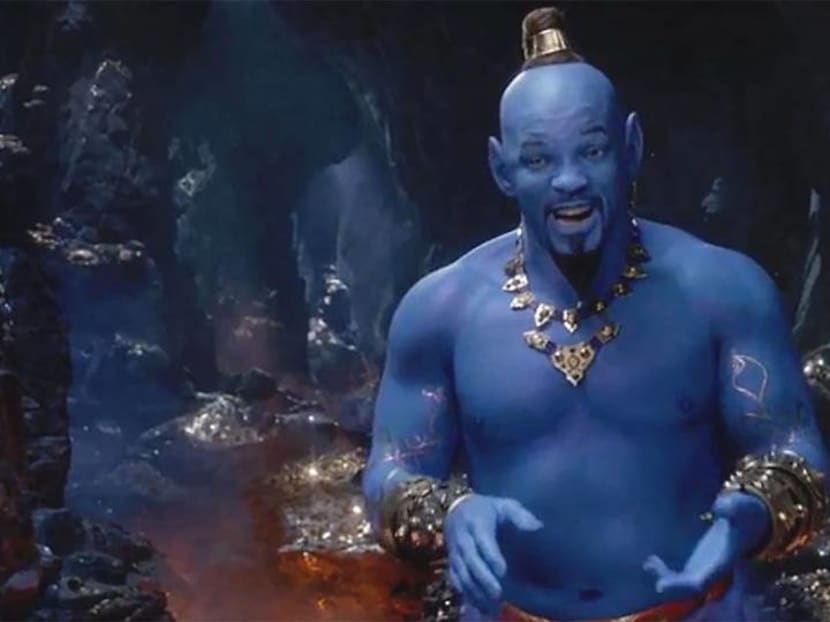 The first reveal of Will Smith in blue as Genie in Disney's live action Aladdin remake has not gone down well with fans. 
A surprise trailer for the movie was aired during the commercials of the Grammys yesterday (Feb 11), but American audiences were less than thrilled with the minute-long teaser.
"Will Smith genie is what appears in my room when I have sleep paralysis," tweeted one viewer, while another said "All three of my wishes would be to unsee the Will Smith genie."
The trailer sees Aladdin approaching the Cave Of Wonders in search of the lamp, followed by his initial meeting with Genie.
"You really don't know who I am?" Genie asks Aladdin at the end of the sneak peek. "Genie? Wishes? Lamp? None of that ringin' a bell?"
Even M&Ms took the chance to plug their character, Blue.
The Aladdin film has been plagued by doubt since Disney's announcement in 2016. Fans questioned the unusual choice of director (English crime filmmaker Guy Ritchie) and how Disney would handle a story set in the Arab world.
The film drew criticism in 2017 for its decision to add a new original white character by casting actor Billy Magnussen as Prince Anders, which sparked accusations of whitewashing to the film.
The casting of Will Smith as Genie, while initially divisive, offered some star power to a cast mostly made up of unknowns.
The film is set to be released in the US on May 24 this year.