Singaporean actress Xiang Yun and family pay tribute to late mother who died at age 84
The actress revealed last year that her mum was diagnosed with dementia during the pandemic.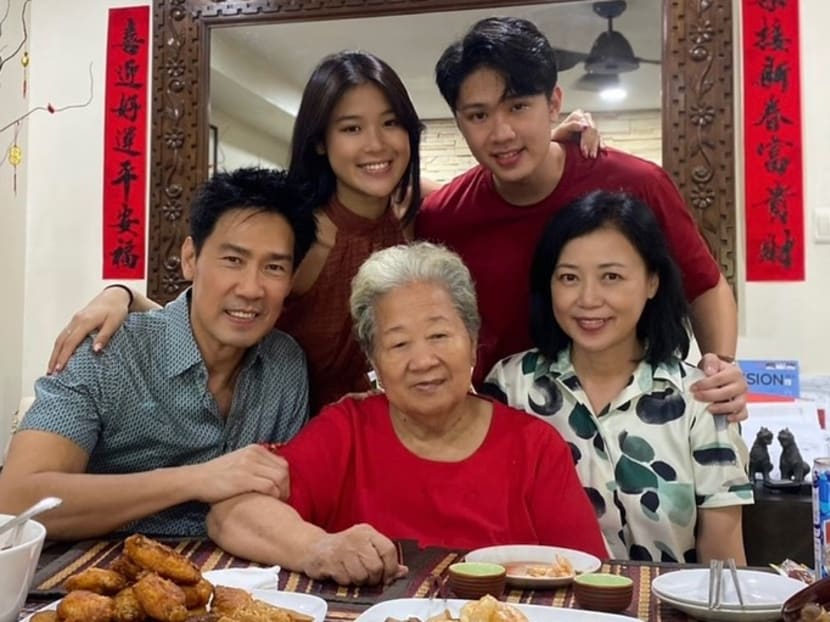 On Sep 12, Xiang Yun took to Instagram to share that her mother Mdm Chew Koi had passed away at the age of 84. 
"Dear mum, thank you for everything you've done for this family and your children. Thank you for teaching me to become a person who's not afraid of hardships and is tenacious, friendly and kind, just like you," wrote the 61-year-old actress. 
"We will always remember what you've taught us, and will always miss you. We love you! Love you so much! Rest in peace!" she added with three heart-shaped emojis.
Xiang Yun's husband Edmund Chen, 62, as well as their children Chen Xi, 32, and Chen Yixin, 23, also paid tribute to their mother-in-law and grandmother. 
Describing his mother-in-law as a bright and warm sunflower, Edmund wrote: "Thank you for your care and love all these while, thank you for loving this family. Rest in peace, we love you always."
Meanwhile, Yixin wrote: "To the cutest Koreaboo to ever live on this planet, I'm glad I got to see you one last time. I love you Popo, till we meet again."
Unfortunately, Chen Xi, who moved to the UK to study arts management at King's College London last week, did not manage to be with his grandma before she died.
"Woke up to heavy news this morning. Amidst the chaotic house hunting and administration duties to settle, my grandmother passed away in the wee hours of the morning," said Chen Xi.
"I am sorry I couldn't be there by your side Popo, I love you so much," he added.
According to Xiang Yun's Instagram post, her mother's wake started at 4pm on Tuesday (Sep 12) at MacPherson and will end on Saturday (Sep 16) with the cortege leaving for Mandai Crematorium in the morning.
In an interview with 8days.sg last year, Xiang Yun shared that her mother was diagnosed with dementia during the pandemic. 
Xiang Yun, who played a nurse with a mother living with dementia in You Can Be An Angel 4, said her "heart really hurt" when she received the script for the drama because she understood how difficult it is for a family to care for someone with the illness.
At that time, Xiang Yun revealed that her mother's condition fluctuated. 
"Sometimes, she forgets things or is mistaken about certain stuff too. I think it's very lucky that I have four siblings so all of us are able to split the responsibility of caring for her. I don't think I'd be able to cope if I was the only one looking after her – it would be too taxing and difficult to deal with."
She explained: "Once in a while, it's like she's tuned to an entirely different channel. When that happens, we just need to be there for her."
Despite that, Xiang Yun constantly reminded herself to not take her mother's actions or words to heart.
"I felt really hurt at the time. All of us have been hurt by her but we know that she doesn't mean it and that all of us will grow old one day. She's our mother so we know that she loves us," said Xiang Yun. 
This story was originally published in 8Days. 
For more 8Days stories, visit https://www.8days.sg/