Yvonne Lim's 'fried chicken cake' and other Father's Day tributes from Singapore celebs
Christopher Lee, Chew Chor Meng, Sheila Sim, Fiza O, Elvin Ng and more marked the occasion with heartwarming posts.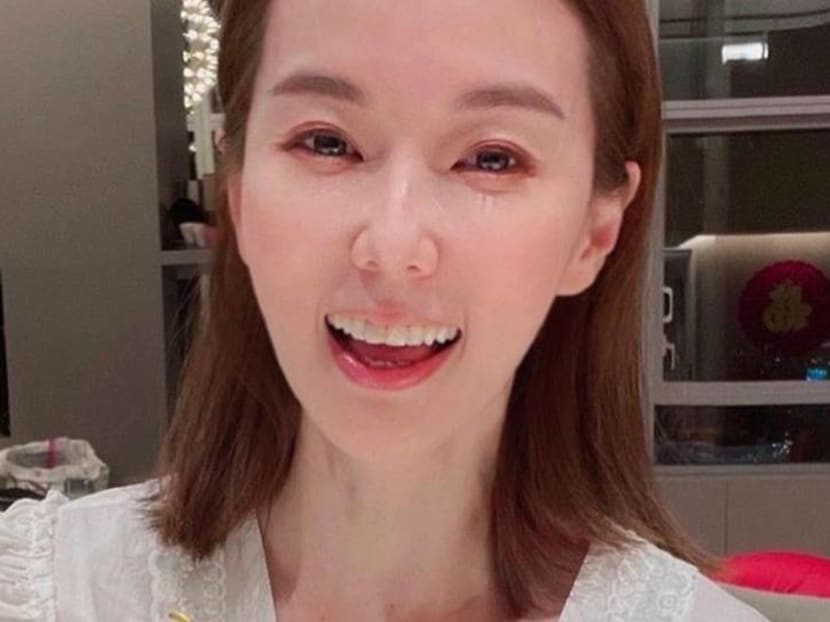 A fried chicken cake and a nasi lemak cake were some of the unusual centrepieces on Singapore celebrities' tables this year as they marked the special occasion of Father's Day.
Artistes took to Instagram to celebrate their fathers, as well as the fathers of their children.
Some remembered their fathers who are no longer with them.
And others who aren't biologically fathers but still take the time to care for and nurture younglings also got to celebrate the occasion.
YVONNE LIM
This Father's Day, Yvonne went all out to please her husband Alex, who's father to their two young children. Being an enthusiastic home baker, she wanted to bake him something homemade, since "the way to a man's heart is through his stomach". But the problem was that he doesn't like sweets, she shared.
Her solution? To bake a cake, order fried chicken along with his favourite foods, and top the cake with the chicken. Voila!
"The savoury fried chicken cake that I put in effort to make got Alex's approval in a big way," she wrote. "Although we can't go out, we have good food and our family is together. Being able to bake a cake for my family is something to be grateful for."
At the same time, she's thinking of the healthcare workers who have been on the battleground for a long time, she said, going on to thank them for their contributions and sacrifices.
DENNIS CHEW
Dennis has adopted several godchildren, and it seems Felicia Chin is one of them.
The DJ, comedian and actor posted a picture of Felicia, her boyfriend Jeffrey Xu and himself holding a cake with the Chinese character for "father" written on it in icing.
"My daughter brought me cake," he wrote. "After dinner, she asked me, like a little girl, 'Would you like some cake?' I opened the box and saw 'father' on it. I'm thankful for my daughter's thoughtfulness. I am very blessed."
Felicia commented on the photo, saying, "Happy Father's Day, Godpa!"
CHRISTOPHER LEE
Chris posted pictures of the drawing his young son Zed had made him for Father's Day, writing, "He said he drew a bag of potato chips for me. I took a close look and yes, there were chips!"
Zed looks pleased as punch with his artwork, so, yes, those are indeed potato chips, and delicious looking ones too, no matter what anybody says.
CHEW CHOR MENG
Proudly wearing a 'Best Dad ever' T-shirt, the actor shared a photo of his 'nasi lemak cake' – fried chicken, peanuts, ikan bilis and egg piled on top of a bed of rice held together by twine-tied cucumber slices. The icing on the cake was a cake topper proclaiming, 'Dad is the handsomest.'
CHEN HANWEI
Besides wishing his father and all fathers out there a happy Father's Day, Hanwei wrote that he hopes the pandemic will be over soon so that he can go home to be with his family. He's comforted by the fact that his dad has old friends who have tea with him, but Hanwei also longs to be in his dad's company. "As long as I can have a meal and chat with my dad and mum, I'll be fully satisfied," he said.
SHAUN CHEN
Similarly, Shaun Chen, whose parents are Malaysian, also wrote that he hasn't seen his parents in a long time. In a caption addressing his dad and mum, the actor, who is himself a father of two girls, wrote, "I'm very grateful that you can take care of yourselves. I hope we'll be able to meet, have a meal and talk soon. I hope you'll have good health and long lives."
FIZA O
Fiza posted a tribute video of her husband spending quality time with their sons and having fun as a family.
"Two boys later, here we are. Happy Father's Day Ayah, we love you," she wrote.
KELLY PAN
Kelly's post was in remembrance of her father, who's passed on.
"Happy Father's Day, Daddy! Been a few years since you left us," she wrote. "Missing you so much and hope that you are well at your end." You are always in my heart."
In the picture, she and her sister are striking cheeky poses behind her parents, who are prim and proper. 
"You never liked us to be goofy during family picture time, but here's your two rebellious girls," she wrote.
BEN YEO
In tribute to his father, Ben wrote, "He's the oldest of his siblings. At just eight years old, he started earning money to feed his family. He worked all his life but not for himself."
SHEILA SIM
New mum Sheila celebrated her husband with a post about how she feels whenever she watches dad and daughter bonding.
"All these moments I sit there watching and documenting the both of you, mostly with pride, sometimes with jealousy. The effort and love you've put in for her, she's felt it all," she wrote. "Thank you for making our family such a warmth (sic), safe, secure and happy one."
Sheila also hinted at a special surprise she had in store for her husband, saying, "Everything else that I have to say will be in the card along with your long-awaited gift."
ELVIN NG
Elvin remembered his father, who passed away nearly a decade ago.
"It's been almost ten years. Happy Father's Day," he wrote.
"Like a rock, fathers play a very understated but anchoring role in our lives. They steady the ship and provide the foundation for dreams and castles to be built."
ZHANG ZE TONG
Ze Tong dug up an old photo of his family, taken when he was a child. "At my age, my father had gotten married, had kids and built a career. Me? Let's not talk about it," he quipped.
He went on to thank his dad for taking care of the family, saying, "You have to take good care of your health so that I can take you on a round-the-world tour."