Actress Zoe Tay tries out indoor skydiving, shares videos of her 'flying'
The veteran actress admits it's not as simple as she initially thought but it was lots of fun.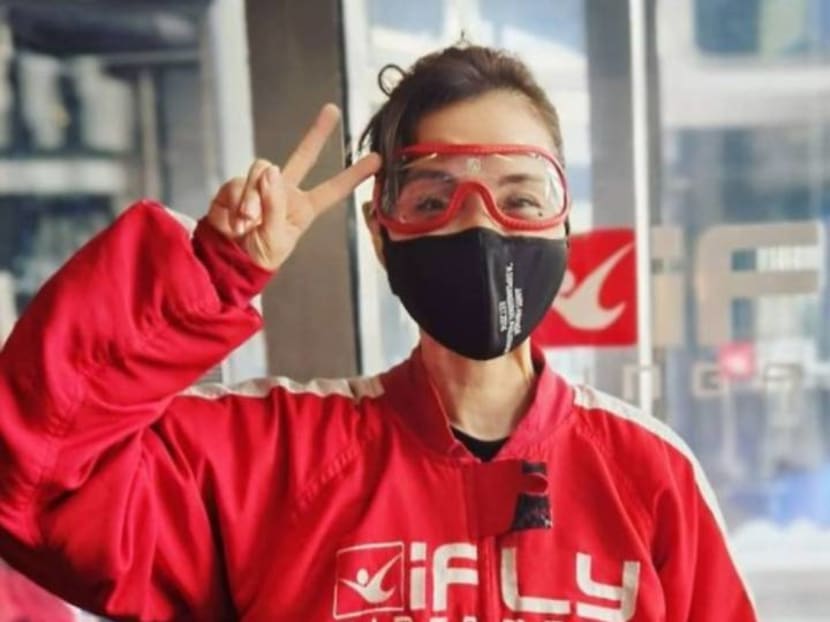 Veteran actress Zoe Tay is all for new experiences. Ah Jie posted on Instagram on Tuesday (Dec 1) that she and her family had gone to try out indoor skydiving at iFly Singapore. 
She shared in the post that she initially thought that it would be very simple, "but it is not".
Tay added: "It is very difficult to control the movement of your limbs with the powerful fan. The body sways uncontrollably. The strong wind often blows you up and down".
The 52-year-old actress credited the instructor for teaching participants how to control the direction and maintain balance.
Ultimately, she said, the experience was exciting and everyone had a lot of fun. She also posted video clips of her 'flying'. 
"The children and adults all had a great time, and my son shouted out that he wanted to play again," she shared.

She even ran into indoor skydiving champion Kyra Poh there. 

Tay appears to be filling her time with lots of new experiences and activities. She posts often on social media about enjoying her hikes at MacRitchie and in October, she joined CNA journalists Matthew Mohan and Gaya Chandramohan on parts of their epic walk around Singapore.
She also tried skateboarding for the first time in November, together with fellow actress Vivian Lai.
She wrote on Instagram at the time: "I've always wanted to learn skateboarding, but it always seemed like something that I couldn't even imagine doing. But as it turns out, it's not as difficult as I imagined. I learnt the basics in the very first lesson".
Her enthusiasm and passion for tackling new experiences is certainly an inspiration.